The Bureau of Alcohol, Tobacco, Firearms, and Explosives (ATF) has a new chief. The Senate confirmed former US Attorney Steve Dettelbach as the agency's first official director since 2015 and only the second in its history. The Biden nominee cleared the Senate on a 48-46 vote when Republicans Susan Collins of Maine and Rob Portman of Ohio voted with their Democrat counterparts. Collins and Portman also provided the deciding votes that advanced Dettelbach's nomination out of committee.
Who is Steve Dettelbach?
Dettelbach is Biden's second nominee for ATF Director, following gun control activist David Chipman, who couldn't even sway all the Senate Democrats. The new director seems better qualified than Chipman, but the zealously anti-gun Biden chose him for a reason.
Dettelbach ran for Ohio Attorney General as a Democrat in 2018. He was endorsed by Mike Bloomberg's Everytown for Gun Safety and Moms Demand Action. The same groups supported his ATF nomination. He advocated for an "assault weapons" ban and promised to crack down on gun crime in general. Dettelbach also called for so-called "universal" background checks. He lost the election to NRA-endorsed Dave Yost.
The new director's positions are harder to pin down than Chipman's He has expressed support for gun control groups via Twitter, but his language is usually couched in supportive terms for victims, followed by calls to "do something." What "something" is, remains to be seen.
An "Assault Weapons" Ban?
Senator Tom Cotton asked Dettelbach to define an "assault weapon" during the Senate hearings. Dettelbach couldn't do it. Cotton then called him out for pushing a ban on something he couldn't define. Dettelbach responded that defining such things is Congress' job. "I acknowledge that's a very difficult issue," he said. "That is for this body to decide."
Gun owners know that such words from the ATF are meaningless. The agency's rogue nature is well known. But the Supreme Court may have mitigated Dettelbach's ability to set his own agenda. The recently decided West Virginia vs. EPA curtailed that agency's ability to make sweeping regulations amounting to federal law. The same standard now applies to all federal agencies, including the ATF. The goal was to return power from unelected bureaucrats to the elected members of Congress. We'll have to see whether Congress chooses to embrace it.
Steve Dettelbach and Joe Biden
Dettelbach runs the ATF, but he ultimately answers to the White House. He is charged with implementing Biden's call to rein in "rogue gun dealers" who transfer firearms to ineligible people. Biden promotes a zero-tolerance policy in such matters.
Senator Chuck Grassley asked Dettelbach if "zero tolerance" included clerical errors, as opposed to willful bad conduct. Dettelbach replied that "The key to enforcement programs, it has to be fair, it has to be consistent, and it has to be effective. As a lawyer, the word 'willful' implies something more than an inadvertent error. It implies an intentional misstatement. And I would commit…to continue doing that to hear all perspectives to be a fair regulator." We all know Biden would love to harass all gun dealers out of business. We'll have to see whether Dettelbach feels the same.
Dettelbach's testimony emphasized partnering with local and state law enforcement, a promise to stay above politics, and strong and fair enforcement. He also stated that he would use the tools given to him by Congress, implying he will stay in the lines. Take that as you will. I'll believe it when I see it.
Like I said, Biden picked Dettelbach for a reason, and the President calls the shots. Or whoever is making Biden's sock puppet mouth move. Same thing either way. Again, West Virginia vs. EPA may help here. Seeing how ATF operates in the nation's many Second Amendment sanctuaries should also be interesting since those localities have barred cooperation with feds acting Unconstitutionally.
Moving Forward
Honestly, this was bound to happen. The ATF needs a full-time director. That will at least provide a consistent hand on the helm. I'm wary of Dettelbach, but I'd rather have him than the ideologue Chipman. As a former US Attorney, Dettelbach has some qualifying experience, unlike Chipman. He may also be more willing to stay within the law instead of going it alone like ATF has done in the past.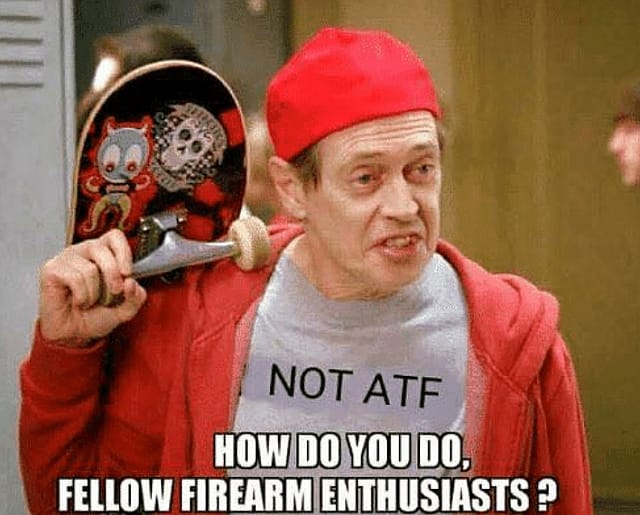 Maybe that's wishful thinking. We know that Dettelbach sees firearms law from the Democrat perspective. He will no doubt carry that bias into his job. Gun owners will have to remain vigilant and involved. The ATF is not immune to legal challenges, and emerging Second Amendment legal organizations are willing to take them on. We can also address our Senators and Representatives in terms of West Virginia vs. EPA. Whether they will listen is another matter, but we do have that tool now.
I expect the ATF will continue to do whatever it thinks it can get away with. It is, after all, a federal agency staffed by government bureaucrats. History shows that such people are rarely impacted by a new politically appointed boss. Probably the best thing I can say about Steve Dettelbach right now is that he's not David Chipman. Unfortunately, that bar isn't hard to clear.