The latest in the Springfield Armory Saint series is the Saint Victor Pistol in 308 Winchester. It's a 30-caliber, direct impingement AR 10 pistol configuration with a 10.3 in. CMV barrel, with an SB Tactical SBA3 five-position brace. Total length is just a little over two feet (28 in., specifically) when the brace is collapsed. That length, combined with an unloaded weight of just 8 lbs. 6 oz., makes the new Saint iteration an excellent option for a pack or truck gun.
Additional furniture includes a BCM Gunfighter Mod 3 pistol grip, a free-float M-LOK handguard, and an SA 2-piece blast diverter. Springfield says the combination of those features makes it easy to manage the .308 cartridge.
In fact, Travis Pike addresses this fact on The Armory Life.
"…shooting .308 out of a package this size is going to create some recoil — that's just basic physics. And while controlling said recoil and muzzle rise is the challenge, it is also part of the fun of this weapon. Shooting this gun is a literal and figurative blast.
I found that while the gun is quite powerful, the blast diverter and overall design of the gun made it more controllable than I expected. Yes, it's a .308 that is around 28″ long, but it is more than shootable."
Handguns Magazine also reviewed the new Saint, noting:
Interestingly, the Saint Victor .308 pistol weighs significantly more than the Saint Victor .308 rifle. That weight difference is due solely to the front end. Not only is the barrel of the pistol significantly thicker, the pistol's beefy two-piece all-steel blast diverter is heavier than the muzzle brake found on the rifle.
Springfield could have used a thinner barrel to shave significant weight off the pistol, but I understand why designers didn't. Even with a red dot mounted and a loaded 20-round magazine in place, recoil in the pistol was substantial.
Unlike a muzzle brake, the blast diverter—a proprietary design with a multi-port muzzle brake inside a steel cylinder—does nothing to reduce recoil. Its sole purpose is to reduce noise to you and those around you. While the pistol was loud to shoot, it was not abusive, even though there was a huge amount of gas coming out of the muzzle—to the point it caused my chronograph 12 feet away to sway.
First Shots from NRA Publs.
Additional specifications include:
• High Pressure Tested and Magnetic Particle Inspected bolt
• Melonite finished barrel with a 1:10 twist
• Pinned low profile gas block
• Enhanced nickel boron coated, single-stage flat trigger
• Forged lower receiver with Springfield's Accu-Tite Tension System
• Ambidextrous Quick Detach sling socket on the SB brace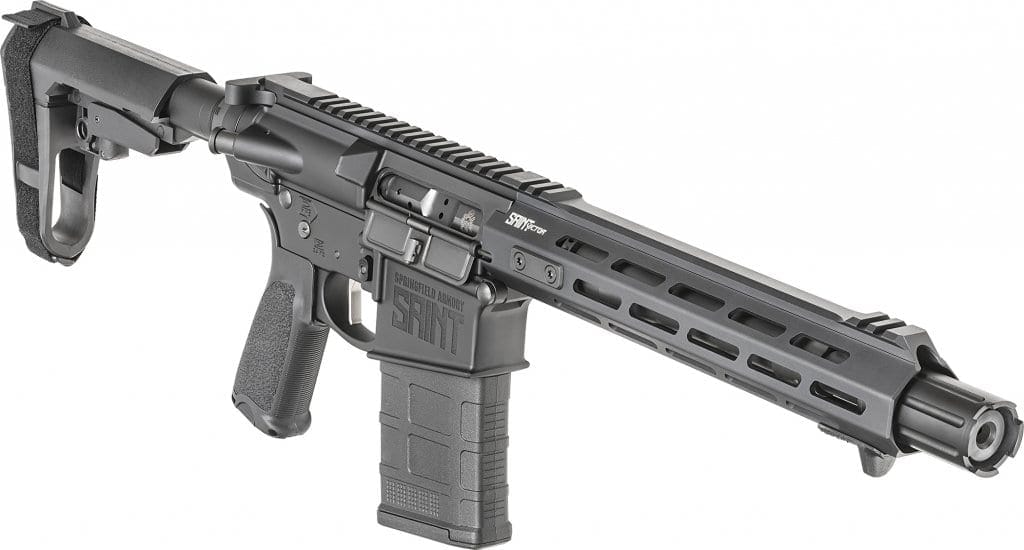 Steve Kramer, VP of Marketing at Springfield, advises:
"The SAINT Victor Pistol in .308 gives shooters a premium featured AR pistol that delivers serious power in a small, lightweight, and easily maneuverable platform. If you want a SAINT Pistol that offers more power than 5.56, then this is the one for you."
Learn more online at the Springfield Armory website.