Have you been wanting to get into long-range shooting? Shoot out to 1,000 yards and even a mile? Do Precision Rifle Series matches seem enticing to you? Well, then you may want to give the Ruger Precision Rifle some consideration. Let's take a closer look at one.
Ruger Precision Rifle
Why you should consider buying one.
I will be honest, I started with the Ruger Precision Rimfire first (you can read my review here). The RPR Rimfire is like a gateway drug into precision rifles. It is a lot of fun and is very accurate without trying very hard.
At the time I wasn't fully ready to spend the money for a Ruger Precision Rifle (RPR) centerfire and tried the Ruger American Predator in 6.5 Creedmoor instead. I have heard good things about the latter caliber and the Predator was a great gun for what it is. However, it is not a precision bolt gun. While I was able to reach out to 700-800 yards with the Ruger Predator, I could not be consistent at 1,000 yards.
I exhausted my patience and eventually realized that neither my ammo nor skill was significantly at fault for missing at those long ranges. I got rid of the Ruger American Predator and bought an RPR in 6.5 Creedmoor last November while taking advantage of pre-Black Friday sales.
I opted for the Barrett Brown version of the Ruger Precision Rifle.
I did upgrade my RPR a little bit.
Having fallen in love with the MPA EVG (Enhanced Vertical Grip), I used it to replace the factory Ruger AR-style pistol grip. The MPA EVG is vertical, more ergonomic for me personally, and has two key features that I like for shooting precision bolt guns: it has a thumb shelf and a trigger finger swell so my trigger finger is more consistent touching the trigger.
The RPR came with an ambidextrous safety, but that interfered with the MPA EVG so I swapped it out for a standard AR safety and upgraded one of my ARs with an Ambi safety. Win-win.
The second upgrade I did was to swap out the factory muzzle brake for the VG6 Lambda PRS65.
It is a phenomenal muzzle brake and really cuts down the recoil a lot. It's perfect for quickly settling the RPR back down to spot my hits or misses downrange. The Lambda PRS65 was designed by my friend Jayden Jung of VG6 Precision. The spiked collar only needs to be hand tightened. No need to use wrenches, crush washers or shims. Once you time the muzzle brake you just tighten the collar by hand. The angled tines catch the muzzle blast and cause the collar to be self-tightening.
The stock of the Ruger Precision Rifle is adequate. It is attached to an AR-15 carbine buffer tube. Some people have opted to switch out the factory stock for stocks like the Magpul PRS stock. I have not found this to be necessary but that is a personal preference.
The stock can fold to make it easier to get the RPR to fit in a rifle case or bag. The barrel is 24″. The overall length of the rifle is around 45″ long but with the stock folded the overall length drops to just 35″.
In order to remove the bolt, you need to fold the stock so the bolt can be removed out of the rear.
RPR Takes ALL The Mags: AR-10, AICS, M1A
Most precision rifles use one type of magazine. Bolt guns typically use an AICS pattern magazine or a proprietary magazine. Precision gas guns typically use SR25/AR-10 pattern magazines. Then you have the venerable M1A rifle by Springfield. Well, what would you say if I told you that the RPR can use all without any modification?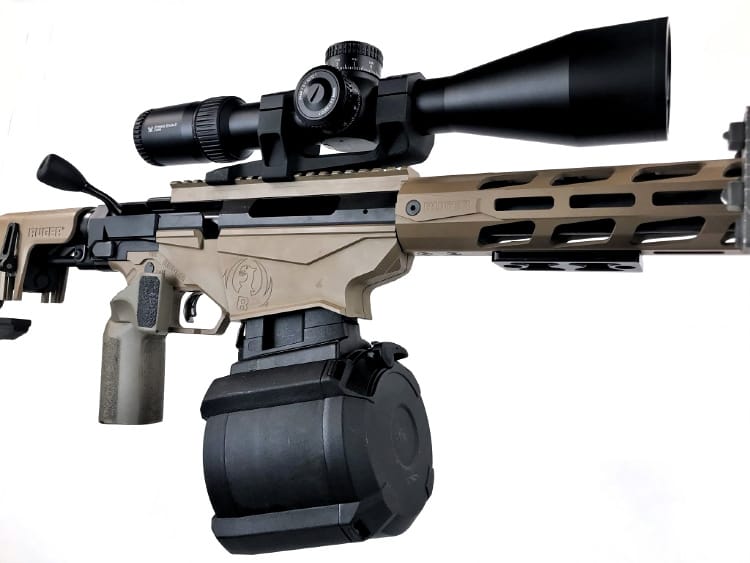 Considering how these different magazines are held in their original platforms, it is a small miracle that the Ruger Precision Rifle can accommodate them all. Just press the one mag release behind the mag well and they can all be removed. Then just shove them in, the RPR does not care nor discriminate. It takes it all.
While the wide variety of magazine tolerance is great, I prefer to use the MAGPUL AICS magazine. The PMAG SR25/AR-10 magazine and M1A magazine are both double stack magazines. This is great for holding more ammo in a similar size mag as the AICS magazine but the followers for those magazines are designed with the staggered column of ammo in mind. This means one side of the follower is taller than the other. It is so tall that the bolt will hit the back of the follower after the last round acting as a last-round bolt stop. I don't need this functionality in my precision bolt gun. When I use AICS style magazines, the bolt is not impeded from closing. In fact, this is a feature. When the mag runs dry you can take a spare round, throw it into the open ejection port, and simply close the bolt. This is much faster if you need to shoot one or two more rounds rather than dropping the empty magazine and reloading.
Of course, you can opt for the Magpul D-50 drum magazine and probably never have to reload, but the D-50 causes excessive drag on the bolt. The D-50 was designed to feed AR-10 platforms and 7.62×51 machine guns. The upward pressure from the drum magazine's spring is rather stout. It pushes the rounds upwards so much that it makes running the bolt harder than it needs to be.
Ruger Precision Rifle Specs
Stock: Folding, Adjustable Length of Pull and Comb Height
Finish: Type III Black Hard-Coat Anodized – Davidson's Dark Earth
Barrel Length:

24″

Barrel: Cold Hammer-Forged, 5R Rifling
Thread Pattern: 5/8″-24
Twist: 1:8″ RH
Grooves: 5
Weight:

10.7 lb.

Capacity: 10
Height:

7.30″

Overall Length:

43.25″

–

46.75″

Length of Pull:

12″

–

15.50″

Folded Length:

35.60″

Width:

3.30″
Here is a video clip hitting 1,000 yards on the third shot just after zeroing at 100 yards.
Last Thanksgiving weekend I used the Ruger Precision Rifle to help me with a gender reveal. It was a lot harder than I had anticipated. The gun did its duty, but the target was too small. I filled a gallon jug with 5 lbs of binary explosive. That only filled the jug up about 1/2 way. I put an empty bottle inside the larger container to take up the slack and help push the binary compound further up the 1-gallon container.
Final Thoughts
I am thoroughly pleased with the performance of my RPR in 6.5 Creedmoor. I used the Vortex Diamondback Tactical 6-24×50 FFP scope to help aim and I used the Christmas tree style reticle to hold over at distance. I found that this gun likes Hornady American Gunner bulk ammo. It seems to outperform some match grade ammo I have tried. If I do my part I can hit 1,000 yards relatively easy. I am pushing this gun and caliber further and looking forward to testing it out to a solid mile.
The back of the stock has a bottom Picatinny rail — which some people use a rear monopod. However, my friend Kythe recommended to use a rear bag instead. It is faster and easier to keep stable. Another feature that sold me on the RPR is the extended handguard. It is a free-float design and allows me to mount my PVS-27 Clip-On.
I highly recommend the Ruger Precision Rifle. If you can wait, wait for a deal and get a PVS27 or similar night vision device. That will help you shoot at night. Many barreled actions end up being more expensive than the Ruger Precision and do not even come with a free-float chassis that can become furniture.