The Bureau of Alcohol, Tobacco, Firearms, and Explosives' (ATF) Final Rule on Attached Stabilizing Braces (Pistol Brace Rule) has suffered two significant setbacks, with more expected. A three-judge panel of the 5th Circuit Court of Appeals sided with Maxim Defense and the Firearms Policy Coalition (FPC) in issuing a preliminary injunction against the rule's enforcement, which was quickly followed by another from a Texas Federal District Court. Let's take a quick look at those injunctions, what they mean, and what we can expect moving forward.
Mock v. Garland
Mock v. Garland is the case filed against Attorney General Merrick Garland and the ATF by Maxim Defense and the FPC. Preliminary Injunctions are issued before any testimony is given when the judge, in this case judges, believe the plaintiffs stand a good chance to win on the merits of their case. That's an encouraging sign.
The judges did not issue any analysis or explanation for the decision, other than they believe the case has merit. There has, however, been some uncertainty because the panel found "for the plaintiffs," which strictly interpreted, could mean that only Maxim Defense and FPC, as companies, are protected.
FPC filed a motion for clarification, to which the panel said they would respond on June 2nd, the day after enforcement is set to begin. Fortunately, the judges speeded up their response and declared that Maxim Defense, its employees and customers, FPC, and its members are all covered by the injunction. FPC has reportedly been overwhelmed by new membership requests since that development because even new members are included.
SAF v. ATF
The Second Amendment Foundation (SAF) also scored a big win in Texas Federal District Court, in which the judge issued a second preliminary injunction against the rule's enforcement. Like the initial Mock ruling, the injunction is limited to the plaintiffs, but the judge specifically wrote that, pending clarification in Mock, the protection could be expanded. Since that clarification has been given, expect to see the same here.
Two More Decisions Expected Soon
Two more federal challenges are still underway, though decisions are expected soon, and may have dropped since this article was written. Gun Owners of America has filed in federal court in North Dakota and the judge has indicated that he is expediting the process. The decision should be in place before the enforcement date of June 1.
Another suit has been filed by the Firearms Regulatory Accountability Coalition (FRAC), which is also expected to result in either a preliminary injunction or a temporary restraining order against enforcement of the pistol brace rule.
I don't have much information about these cases, other than hearing that GOA has called for a quick decision after the Mock decision dropped. As noted, the judge seems amenable to this. This is not really surprising, since Mock was decided by an appellate court whose decisions the district courts can use for guidance.
So, what does it mean?
First, courts do not issue preliminary injunctions lightly. The judge must believe the plaintiff's case has a strong likelihood of winning on its own merits. Of course, those of us paying attention knew the ATF's rulemaking process was shaky from the start. An unelected bureaucratic agency, in this case the ATF, does not have the power to make federal law, or any law. The US Constitution strictly reserves that power for Congress.
And despite what ATF and the Biden Administration claim, the ATF's rules carry criminal penalties just as laws do, even though Congress did not enact those rules. And if it looks, walks, and quacks like a duck…you get the picture. The judicial system, and Congress itself, seem to be waking up to this, given recent rulings and renewed interest to reign in federal agencies.
The preliminary injunctions have been issued but the cases themselves remain to be heard. I expect the government to appeal the injunctions so they can begin enforcement as scheduled. I cannot predict how that will go. The 5th Circuit injunction would be appealed to the full en banque panel, while the SAF case would be appealed to the 5th Circuit. If anything happens, it will likely be in the Mock case to avoid redundancy. Striking down that injunction could have a domino effect on the others. We will see what happens.
For now, though, Maxim Defense, its employees, and customers are protected by the Mock injunction. Likewise, the FPC and its members. The court also stated that new members will also be covered. Expect the SAF case to follow suit. I would not be at all surprised to see the other cases issue injunctions with a wider group of beneficiaries. Now might be a good time to join FPC, GOA, SAF, or any combination thereof.
Outlook
Right now, it would be difficult to bet against the plaintiffs in any of these cases. Preliminary injunctions are strong indicators of how things go. But we also know that the government, using our tax money, will appeal each loss and fight to keep its clearly unconstitutional rule in place. It may end up with the Supreme Court. I like our chances in that case, but the Court may decline, directing the appellate courts to settle the matter. A good indicator here is whether different appellate courts reach different decisions. If they all agree, the Supreme Court is more likely to let their decisions stand.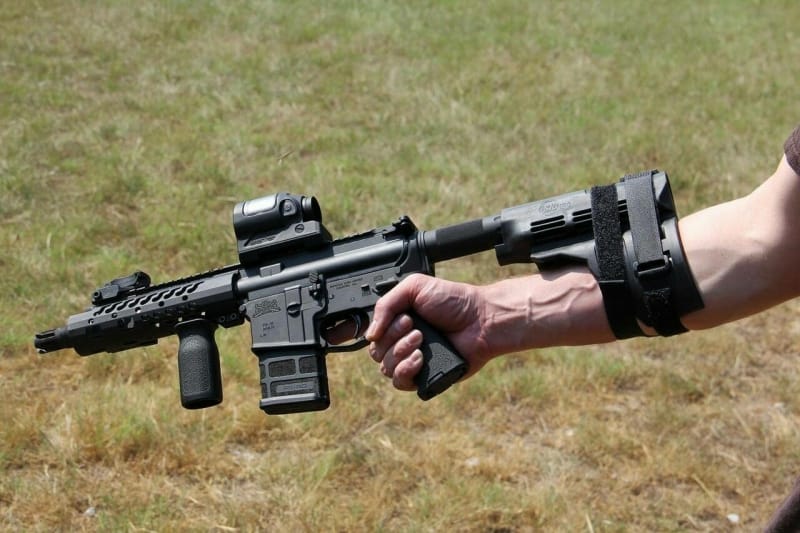 I'll take those odds right now. The plaintiff organizations carefully chose the districts in which they filed their cases. The 5th Circuit tends to be more skeptical of federal agencies than some others, as is the 8th Circuit, which presides over the North Dakota district courts. There's a good chance that those courts would reach similar decisions, meaning the Supreme Court is less likely to accept a government appeal.
But until then, we'll keep a close eye on how this goes. The pistol brace rule will likely turn millions of responsible gun owners into felons overnight. These preliminary injunctions are a good first step. But they are only a first step. We have a ways to go. We'll keep you updated.