The OWL from Cloud Defensive: Overview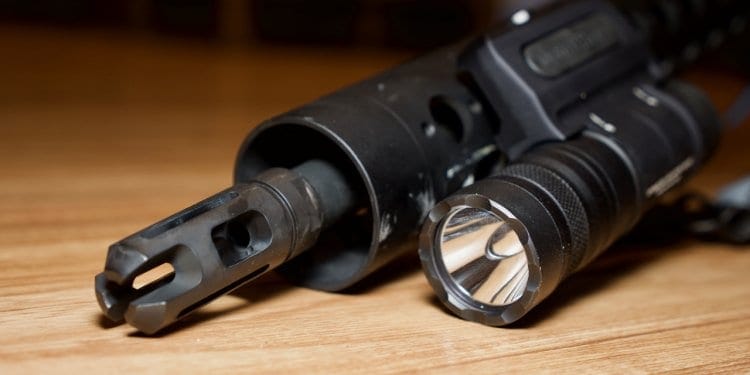 A defensive rifle needs a WML (Weapon Mounted Light). Period. Threat identification is an important part of responsible personal protection. That responsibility doesn't evaporate when both of your hands are occupied with controlling a rifle. My home defense rifle has always sported a light, but it wasn't until recently that I worked to try and optimize the light on my long gun. As soon as I was searching for optimization, the Cloud Defensive OWL was on my list — then on my gun in short order. Later came the Cloud Defensive REIN, but that's another story.
Cloud Defensive OWL Overview
The use of the word optimized in the intro was very intentional. OWL stands for Optimized Weapon Light. The name isn't why I selected the torch, however. Instead, it's because the optimization part of its moniker seems to ring true.
The OWL is designed specifically to be a rifle weapon-mounted light. The light has an impressive 1250 lumen output. Those lumens are tightly focused and the OWL rates more than 50,000 candelas. The light is bright even at distance.
OWL Integrated Pressure Switch
At first glance, the most obvious difference with Cloud Defensive's light vs. other varieties of WML is the integrated pressure switch. The light body and the pressure switch are one unit with the switch sitting directly above the Pic mount. The light is fully ambidextrous. Simply swap the light head and tail cap and spin the light 180 degrees and you can move it from the right side of the gun to the left. There are plenty of ways the light can be mounted.
More important than mounting positions is the durability that the integrated pressure switch provides. With no exposed wires, you can expect the switch on the OWL to significantly outlast the competition.
When it comes to operation, I find the pressure switch on the OWL simple to use. For a constant on, just quickly tap and release to activate the light. To turn it off, repeat a quick tap and release. If you are more interested in a momentary on, the process is just as easy. Press and hold to activate the light. Release when you want to go dark.
Bayonet Light Head and Tail Cap
Most light heads, bodies, and tail caps use threaded junctions to make the connections. The OWL is different. The body has a female receiver on each end while the head and tail cap both sport a male 3 lug formation. Because of this configuration, the head and tail cap can be swapped. This reverses the orientation of the light and increases placement options.
Tail Cap Tool
The tail cap serves as a driver that fits the bolt head that secures the light to the Picatinny rail. Just remove the tail cap, use it to snug or loosen the bolt and then replace the tail cap. I really like this feature. A lot. I do, however, find removing and replacing the tail cap to be difficult. The majority of the tail cap is inboard of the switch housing making it a bit difficult to grasp and turn. It takes a lot of pressure to work. I used a set of channel locks to work the tail cap on and off 50 times. My hope was that the movement would loosen up the joint a bit. My hopes were dashed. The fitting is still tight but now my tail cap sports some gnarly scratches.
Undeniable proof that I operate…
This and the overall mass of the light (11 oz. with a 18650) are the only two detractions from the OWL in my opinion. Ironically they both have the same solution: Stop complaining and lift more heavy things, right?
Replaceable Glass Lens
If you are like me you might forget from time to time to slather your light lens with chapstick prior to shooting. To make things worse, I'm currently running my OWL way out on my pistol. It gets covered in carbon. The chapstick helps, but more importantly, the glass lens is easily replaceable. When it gets scratched and scarred I will order up a fresh one. I'll probably keep the old lens for training and re-insert the new lens for home defense use to maximize output.
Rechargeable 18650 Power Source
The OWL includes two rechargeable 18650 batteries and a fancy Nitecore two station charging center. The charging center has a nice display that shows charging status. I have been able to use this charger with other 18650 cells, the 18350 cells I use in my Baldr, and even rechargeable AA and AAA cells.
2 is one… But not really
Cloud supplies two batteries with the OWL. One is red and one is pink. I thought that was pretty handy for being able to tell which was battery one and battery two. That way if one starts to go bad you'll know which one… Cloud Defensive and Richard over at Guns Holsters and Gear are both smarter than I am when it comes to lights. Richard mentioned offhand that the cells are actually different.
The pink 18650 has a higher output and a shorter run time. The red cell has a slightly lower output and a longer run time. I guess reading the literature that comes with your gear is a good idea.
Now that I have been enlightened, I keep the brighter, pink 18650 in my light when it's on defensive duty and when I train I run the red cell.
Note: if you are into lights and you aren't reading Richard's light reviews (gunsholstersandgear.com/flashlight-reviews/), you are missing out.
Price
The OWL carries a very fair yet serious price tag. At the time of writing the OWL has an MSRP for $432.99 (street price is right around $350.) At first blush, that seems like a lot. When the rational brain kicks in, however, the price makes complete sense as the OWL is a complete kit. Light, mount, switch, batteries, and charger. Just a Surefire M600df and a tape switch come in at an MSRP of $475. In my opinion more money for less candela and durability. With the Surefire plan on replacing that switch regularly.
The OWL is MY WML
The decision to put an owl on my rifle was easy. First off, Cloud gave me an OWL. You need to know that and understand the kind of motivation that can create. But my light wasn't free. It replaced a virtually brand new and inferior Surefire M600DF. I paid for that light. Now I carry it in my pocket. Just like I paid for the SF, I would happily pay for the OWL. In fact, now that I have a rifle and an AR pistol in regular use I probably will be sending my money to Cloud Defense for some more lumdela.
Why? Because Cloud is building quality lights that I can depend on.
I'm working on another article related to the OWL that deals with how the properties of the light help to make the OWL superior. Keep an eye out for that.
Weapon Light
s

: yes, you need one; read more about 'em
Grab a gun: but hone your skills; there's more to it than just pulling the trigger
Cloud Defensive: learn more about their weapon accessories and lighting tools.
Paul Carlson, owner of Safety Solutions Academy, is a Professional Defensive Shooting Instructor.  He has spent the past decade and a half studying how humans can perform more efficiently in violent confrontations and honing his skills as an instructor both in the classroom and on the range.
Through Safety Solutions Academy, Paul teaches a variety of Critical Defensive Skills courses in more than a dozen states annually.  Courses range from Concealed Carry Classes to Advanced Critical Defensive Handgun Courses and include instruction for the defensive use of handguns, rifles and shotguns.  Safety Solutions Academy regularly hosts other industry leading experts as guest instructors to make sure that SSA's students have the opportunity for quality instruction across a broad range of Critical Defensive disciplines.