The Ruger 10/22 has been a popular platform since it first hit the market more than 50 years ago. Since those early days, technology has advanced, and with it there have been a number of updates and aftermarket options made available for it. The latest comes from Samson Manufacturing in the form of the B-TM Heat Shield.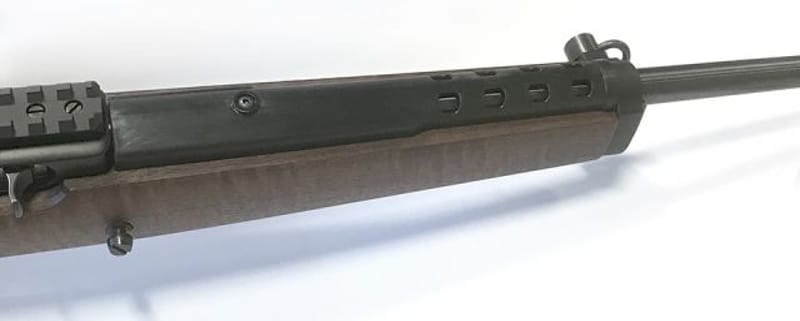 The B-TM Heat Shield is an aftermarket product designed to protect the hands of shooters from the heat of the barrel of a Ruger 10/22. Because the uppermost portion of the barrel is exposed, it is possible to accidentally burn your hands during high round count shooting exercises. Use of the new Heat Shield prevents such possible injuries. In addition, the B-TM Heat Shield provides some protection for the barrel itself, guarding it against the scratches and scrapes that are so common at the range and in the field.
It is important to note this shield is made specifically for the Ruger 10/22 factory carbine barrel, meaning it will not fit the Ruger 10/22 Takedown.

Samson Strategic Sales Manager Chris Sullivan had the following to say regarding the company's latest product: "The new Heat Shield is another exciting addition to our growing array of Samson-branded accessories for the legendary Ruger 10/22. Owners of that rifle can really trick out their firearm with items from our line. Many shooters start with our iconic B-TM Folding Stock – which is now available in black oxide as well as the original stainless steel finish – and add the B-TM Sight Package, B-TM Flash Hider and/or B-TM Barrel Band."
According to the manufacturer, the shield was created to give the Ruger 10/22 a tactical edge with a practice purpose. When the B-TM Heat Shield is mounted to your carbine in place of the factory shield, it gives the gun the appearance of a Mini-14. And thanks to it being made from black injection-molded, glass-filled polymer designed for longevity and hard use as well as ergonomics. Even better, Samson Manufacturing states it's quick and easy to install, requiring no gunsmith and no screws.
Features:
Designed for compatibility with the Ruger 10/22 Carbine
Similar appearance to the Ruger Mini-14 factory heat shield
Replaces the factory heat shield
Dual purpose: Both aesthetically appealing and functional because it protects the shooter's hands from the heat of the barrel
Installation requires the removal of the dovetailed rear sight
Manufactured from a durable black injection molded glass-filled polymer
Specifications:
Manufacturer: Samson Manufacturing
Model: B-TM Heat Shield
Material: Glass-filled, injection molded polymer
Finish: Matte black
Length: 8.375 inches
Width: 1.15 inches
Height: 0.55 inches
Weight: 1.3 ounces
MSRP $23.99