If you carry a pistol every day, you're most likely carrying a spare magazine with you…or at least I hope you are. Having an extra magazine is an absolute necessity, no matter what magazine capacity you have on board. Even with the improved capacity of today's micro-compact pistols, you'd be better off with an extra set of rounds on your person.
My EDC pistol of choice is Sig Sauer P365 and it has an impressive magazine capacity of 10 rounds in a flush magazine or 12 rounds in an extended magazine (which I use in the pistol). It's still a good idea to have more and that's where the NeoMag comes in. The NeoMag has been around for a while and I have been carrying it for a few years.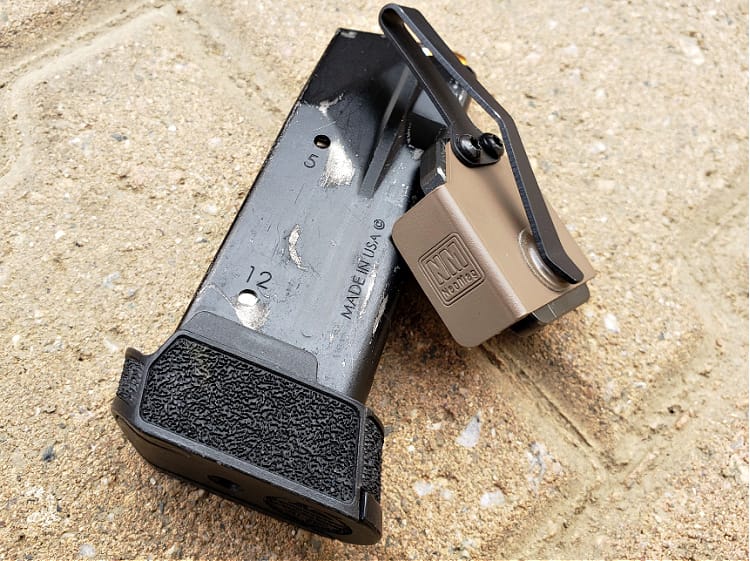 Secure and Discreet Spare Mag EDC
The NeoMag allows you to carry that spare magazine discreetly using a bracket with a strong neodymium magnet to hold it in place, attached to a very strong clip that gives an outward appearance of a pocket knife.
There several different models and sizes depending on the caliber and type of magazines you have.
The sizes are small for .380, medium for 9mm and .40 Caliber, and large for .45 ACP.
Then there is the option if you have metal magazines that use one neodymium magnet or if you use Glock magazines, which are polymer and therefore need two neodymium magnets for a better grip of the magazine.
If you are running extended magazines, that's an option as well to allow for the magazine to sit lower in the pocket to make room for the extension.
I have the extended NeoMag for my Sig P365 extended 12 round magazine and have been using it on and off for a few years. Based on my experience with them I'll go over the pros and cons with them, starting with the pros.
NeoMag Pros
• The NeoMag gives you the ability to carry your spare magazine discreetly in your pocket and keeps it in the same position you left it in when you placed it there. You don't need to dig around for a loose magazine in your pocket when you are in need of more rounds. Indexing the magazine is easily accomplished with the NeoMag.
• Strong Clip. The clip is heat treated making it very strong and stays put. The two NeoMags that I have, have never lost any tension whatsoever.
• Any Pocket will do. I prefer to have the NeoMag in my front pockets and pants or shorts with extra utility pockets like the 5.11s are even better. The strong clip keeps it in whatever pocket you choose.
• Neodymium Magnet. These magnets are strong enough for my steel sig sauer magazines. I rarely have them move out of place but it does happen on some occasions. If you are using something like the Gen 4/5 Glock 9mm 33-round magazine, definitely go with the double magnet version.
• Comfortable. In my front pockets, this magazine holder is comfortable to have on all day without many issues.
• Discreet. From the outside, it just looks like a clip attachment for a multi-tool or knife and doesn't give away to anyone that you have a magazine or carrying a gun, which is the whole point of carrying concealed.
• Easier to draw. When compared to a belt holder that's concealed under your shirt, the NeoMag is in your pocket and doesn't require you to move any garments out of the way to get to it.
NeoMag Cons
There aren't many cons but like everything, there are some.
• Pocket Clip. The clip is strong and sturdy, which is good for durability and stability. However, if you're not cognizant of it sometimes, you can easily scratch some surfaces if you bump into things like your car.
• Pocket Hog. Depending on what pants you have on and the available number of pockets at your disposal, I recommend that you run the NeoMag as the sole occupant of that said pocket. That's for a few reasons, the magazine and NeoMag are made of metal and will scratch the hell out of anything else in there. Also you don't want another object to get in the way of your reload when you need it. This is why I like to use it when I have a lot of pockets to choose from.
That's really all I can think about when it comes to cons for the NeoMag. No matter what you're using as a magazine holder, you need to put in the time to practice drawing from it. Especially since it won't be from your belt or waistline that you're probably most used to.
Overall, the NeoMag is an excellent option for carrying that extra magazine that you should always have to support your Everyday carry habits. It is made here in the United States by Americans that are shooters themselves and support the Second Amendment!