Today is May, 15th, National Peace Officers Memorial Day. It's a day set aside to honor and remember peace officers who have been disabled or lost their lives in the line of duty. Likely, many of our readers are taking pause today, remembering their loved ones. We stand with you. Let's take a look at how this day of remembrance began and how it is celebrated throughout the nation.
What is a peace officer?
Generally speaking, those accepted under such status include police officers, corrections officers, sheriffs, campus police, and state troopers. Approximately 800,000 law enforcement personnel serve in the United States today.
"Blessed are the peacemakers, for they shall be called the children of God." – Matthew 5:9
Staggering Numbers
Public peace officers were established in the 1600s, first in Boston, and then in New York and Philadelphia. Initially, they were mostly volunteers who functioned as night watchmen who signed up for a certain shift on a particular day. In 1838, Boston established the first public, organized police force, employing full-time officers. All major US cities had police forces by the 1880s, although their duties varied from state to state.
Each of them a family member—a husband, wife, mother, brother, son, a daughter. Beyond that, those who serve together often consider each other to be family.
A Proclamation
On October 1, 1962, a proclamation by President John F. Kennedy established May 15 as National Peace Officers Memorial Day.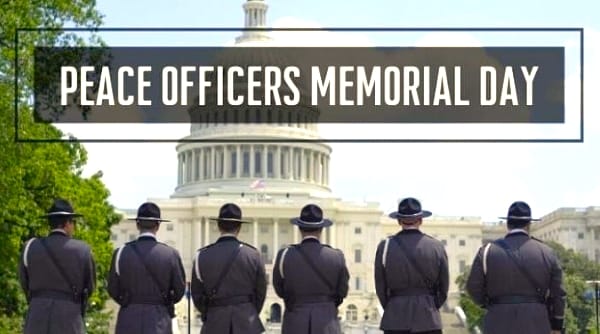 In 1982, approximately 125 people gathered at Senate Park, Washington, D.C. to listen to US Attorney General Kenneth Starr give a speech honoring the 76 law enforcement personnel who were killed in the line of duty that year.
Since then, every year, thousands of people, including friends, family, and law enforcement officers, gather at the US Capitol to honor our fallen. It is planned and carried out by the Grand Lodge Fraternal Order of Police and the Auxiliary of the same organization, who spend all year planning this service for every May 15th. This service falls during the annual Police Week.
All Federal, State, and Municipal officers who have been killed or disabled in the line of duty are honored during this ceremony. The flags on all government buildings are ordered to fly at half-staff on this day in recognition of the Ultimate Sacrifice that our men and women have given. Some businesses also lower their flags in a show of respect.
Annual Ceremonies
The Wall
"Greater love hath no man than this, that a man lay down his life for his friends." – John 15:13
The National Law Enforcement Officers Memorial Wall, located in Washington D.C., is a central focus of the day. The names of over 21,183 officers names are carved into the wall who have lost their lives in the line of duty. Each year, a wreath is laid at the memorial in memory of the fallen.
In 1982, as mentioned, only 125 people attended the first ceremony. However, since then, crowds have been numbering in excess of 20,000 people.
Interestingly, and unfortunately, National Peace Officers Memorial Day is not considered to be a national holiday.
Most law enforcement agencies across the nation will hold some sort of ceremony to recognize this event, and the degree of celebration varies. In my former agency, I can tell you that it was relatively limited; we'd usually receive an email declaring how profound the event is, and flags would be lowered to half staff. Sometimes the politicians and officials who wore suits would have a luncheon, but rarely were any uniformed line staff ever invited.
In 2021, 614 law enforcement officers lost their lives in the line of duty.
The memorial services can evoke very strong emotions, especially for families who have lost loved ones, as well as for fellow officers. These days, most people who have worked in law enforcement for any length of time are likely to know someone who has lost his or her life on duty.
Some local communities also have ceremonies, as well as the same on the state level.
Candlelight Vigil
This year marks the 34th Annual Candlelight Vigil, taking place Friday, May 13th on the National Mall. Each year, the hundreds of names of fallen law enforcement officers that are engraved on the National Law Enforcement Officers Memorial are read out loud during the Vigil in recognition of their sacrifice.
The Little Things
People are also urged to forward a kind gesture to the folks in uniform in the form of a nice note, a kind word, or other sign of friendliness. Sometimes just smiling and waving to law enforcement who are on patrol or in our communities can make their day a bit more tolerable. I can tell you that the few times that people thanked me for my service (a very rare event) really made me feel great!
Nowadays, we also see many Thin Blue Line flags that support police, not only on flag poles but also decals on vehicles and other places. Little things like that might seem small to some people, but to those risking their lives daily, the "little" things really do mean a lot.
A Reminder
"Whom shall I send? And who will go for us?" And I said, "Here am I. Send me!" – Isaiah 6:8
When we gear up each day, it is knowing full well that we might not come home at the end of the shift. When our brothers and sisters call for help, we go, despite the danger, because they're family.
In the state prison where I worked, the names and photos of the five staff who had been killed on duty were displayed on the walls near the Front Gate in the Main Corridor. Every time we entered or left the facility, we saw the photos and names. It was a somber reminder that what we did was serious work and that we needed to remain vigilant.
I'd like to dedicate this article to one of those individuals who was murdered on duty and whose killers have never been brought to justice: Corrections Officer David Weaver. My fellow officer and dear friend, whom I still miss greatly.
Rest In Peace, brother. We still have your watch.