The quest for a concealed carry handgun may appear simple at first but it quickly becomes clear just how complicated it can be.
Stating you "just need a self-defense pistol" is on par with saying you "just need a car to drive"; fulfilling each of these is a question of your specific needs and experiences and requires time, research, and test driving.
Manufacturers such as Mossberg have made it their mission to give you options for a variety of firearms platforms so it comes as no surprise they've now launched the Mossberg MC2c, the compact big-brother to 2019's subcompact Mossberg MC1sc. Read on for all the details from specs to range-time performance of the Mossberg MC2c.
Background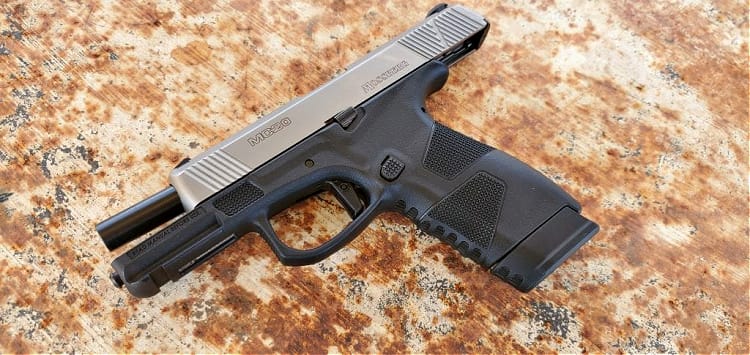 When Mossberg announced the MC1sc it was with much fanfare because the century-old company hadn't manufactured a handgun since the Brownie of 1919.
Everyone was interested to see what the first handgun in 100 years would look like and the MC1sc did not disappoint: it's a fantastic subcompact, accurate, comfortable to shoot, and wholly reliable. For shooters with bigger hands, it was a tad on the small side but for any and all shooters it was a good option for concealment thanks to its size.
It didn't take long for Mossberg to go a bit larger. The MC2c was officially launched in 2020 and has been met with high demand. There's no question why it would be popular given the quality of Mossberg's firearms in general and the known reliability of the subcompact MC1sc.
Linda Powell, the hard-core hunter who runs Mossberg's marketing division, made the following statement regarding the company's newest handgun:
"The impetus behind the MC2c was that so many shooters were asking for the same basic fit and concealability, but with a step up in ammunition capacity, and an incrementally larger frame that makes it just that much easier to grasp properly."
You asked, Mossberg answered—quickly, too.
Details
Out of the box the Stainless Two-Tone Mossberg MC2c is aesthetically appealing and an immediately good fit for my hands with the 15-round extended magazine.
It is worth mentioning this gun is available in five versions:
all-back, standard MC2c.
Stainless Two-Tone MC2c.
MC2c with cross-bolt safety.
Stainless Two-Tone with cross-bolt safety.
There is also a 10 +1 option for capacity-restricted states.
For this review I ran the Stainless Two-Tone Mossberg MC2c; the MC1sc I have here is the all-black version which still has a stainless steel slide, it simply has a black DLC finish.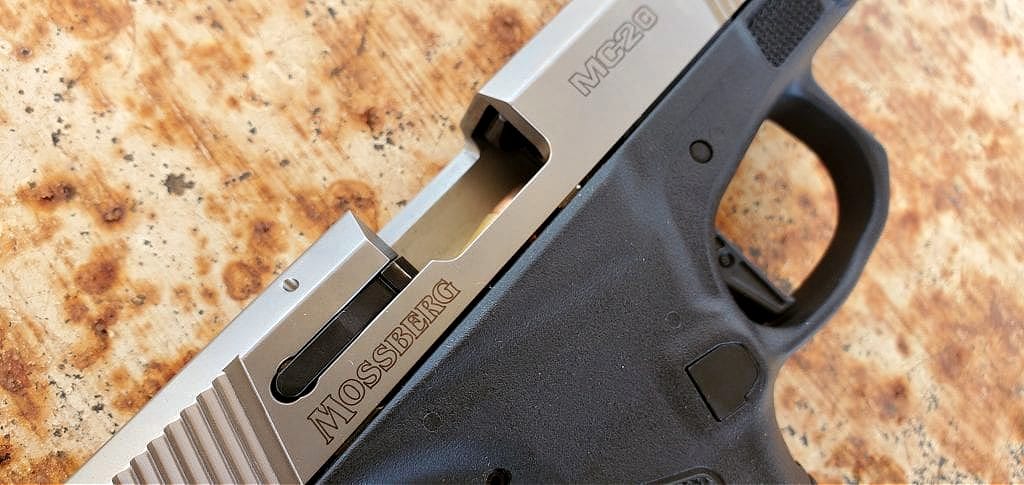 If your frame of reference for this gun involves comparing it to its subcompact predecessor, consider these side-by-side measurements.
The MC2c sports a 3.9-inch barrel and overall length of 7.1-inches while the MC1sc has a 3.4-inch barrel and overall length of 6.25-inches. Also, the larger pistol weighs 21 ounces empty and the subcompact weighs 19 ounces empty—not a big difference at all. You are not gaining considerable bulk with the MC2c by any stretch of the gun imagination but you do gain some balance and function.
The MC2c is well-balanced; I'm impressed with how level it rests in one hand even with an empty magazine.
Its frame is glass-filled polymer, an important detail because its construction lends the frame moldability with improved strength and durability. Features of the frame itself include an extended beavertail for a superior grip and protection from slide bite, Mossberg's now-recognizable grip texturing, and an ergonomically- shaped, oversized trigger guard. The former facilitates a solid grip with comfort thanks to the broad, angled shape of the trigger guard's underside.
An accessory rail for lights and lasers is located ahead of the trigger guard and textured rectangles have been placed immediately above the forward portion of the guard. The trigger itself is a flat-faced style with a safety blade. Its face is broad enough to accommodate many finger widths and also works well with gloves. Other features include factory white three-dot sights, angled slide serrations at the front and back of the slide, and stacked texturing on the front and back straps.
A word on the gun's Mossberg STS (Safe Takedown System).
This is the same system we first saw on the MC1sc. Disassembly requires the removal of the gun's backplate to take the single-piece internal striker assembly out of the gun. The backplate can be easily removed thanks to its push-button design and removal of the assembly means there's no need to pull the trigger to take the gun apart for cleaning or other maintenance.
The STS has worked well on Mossberg pistols for over two years now and there's no reason to suggest it won't continue to be a smart solution to the trigger-pulling requirements of some pistols.
Range Time
At the range, I ran a variety of ammunition through the Mossberg MC2c including Federal Champion 9mm 115 grain FMJ, Hornady Critical Defense 9mm 115 grain FTX, and Winchester USA Ready 9mm 115 grain FMJ. For weight variation, I also used Speer Gold Dot 9mm 124 grain HP.
Shooting from the bench at 10 yards it was easy to get five-shot groups with an average under two inches (some under 1.5-inches). Offhand at 10 yards produced similar results and running a playing card drill at 5 yards produced a perfect, tiny single-hole group.
With a 3.9-inch barrel, this gun is meant for closer shots but it is always worth testing handguns at longer distances, so I moved back to 25 yards. From the bench those 25-yard 5-shot groups 3.5-inches which is quite good. The best group at that distance was achieved using Speer Gold Dot and measured 2.4-inches. Changing to off-handed shooting opened groups up noticeably but they remained respectable for a compact self-defense pistol.
The MC2c's trigger has takeup, which is expected from a striker-fired gun, and a crisp break with a relatively short reset. Considering this is a factory trigger I have to say it's one of the better ones out of the box. Unlike some brands, the Mossberg handgun triggers don't instantly inspire me to run out and replace them with aftermarket models.
Recoil is negligible, a fact helped along by the weight of the stainless steel slide, and reacquiring targets is fast and easy. The factory texturing works well with sweaty or otherwise wet hands and the way the texturing on the frame above the trigger guard falls exactly under my indexed trigger finger is convenient and useful as a little boost against slipping (it's also a nice frame of reference, so to speak).
Sights shipped with this gun are the classic white three-dot style, which happens to be the type I learned on many years ago with another polymer pistol. They're not ideal but they do get the job done. I'd like to see, at the least, the rear sight changed to a solid white bar instead of dots. Then again I'm a fan of night sights so even then I'd likely swap them out.
Mossberg used a SIG No. 8 dovetail cut on the sights so you can certainly find aftermarket options if so desired. Remember, there's also a TRUGLO Tritium Pro Night Sight option which would be good to select when going through the model choices for the MC2c.
No, the slide is not milled for RDS, something Mossberg might consider remedying down the road since we're now firmly entrenched in the age of red dots.
Bottom Line
Overall this is a well-made, reliable handgun and a legit candidate for concealed carry use (or home defense, if compacts are your thing). It cycles consistently, eats a variety of types of ammunition without hesitation, and shoots accurately.
As for concealability you may find the flush 13-round magazine a better fit for using the gun as an EDC (Every Day Carry) but the extended 15-round magazine can be concealed well, too. This all depends on the holster and your clothing and body type as well as where on your body you choose to carry it.
There is no such thing as a one-size-fits-all gun or holster set up so be sure you don't get stuck in the mindset of believing it can or should only be done one way because so-and-so does it. Find what works for you and consider trying out the Mossberg MC2c for your next daily driver.
Mossberg MC2c Specifications
Manufacturer: OF Mossberg and Sons
Model: MC2c
Caliber: 9mm
Type: Semi-automatic, striker-fired
Capacity: 13 (flush magazine) or 15 (extended magazine)
Barrel length: 4.0 inches
Overall length: 7.1 inches
Height: 4.9 inches
Width: 1.1 inches
Finish: Stainless Steel slide with black frame (reviewed model)
Frame: Glass-filled polymer
Trigger: Flat-face with blade safety
Trigger pull weight: 5 pounds, 9 ounces (measured)
Sights: White 3-dot, drift adjustable (reviewed model)
MSRP: $490