American firearms manufacturer MasterPiece Arms (MPA), located in Comer, GA. announced recently they have added the DS9 Commander to their 1911 pistol line. While you can order this now, this double stack 1911 in 9mm very likely won't arrive in time for Christmas this year. They are indicating approximately 6-10 weeks for delivery.
MPA DS9 Commander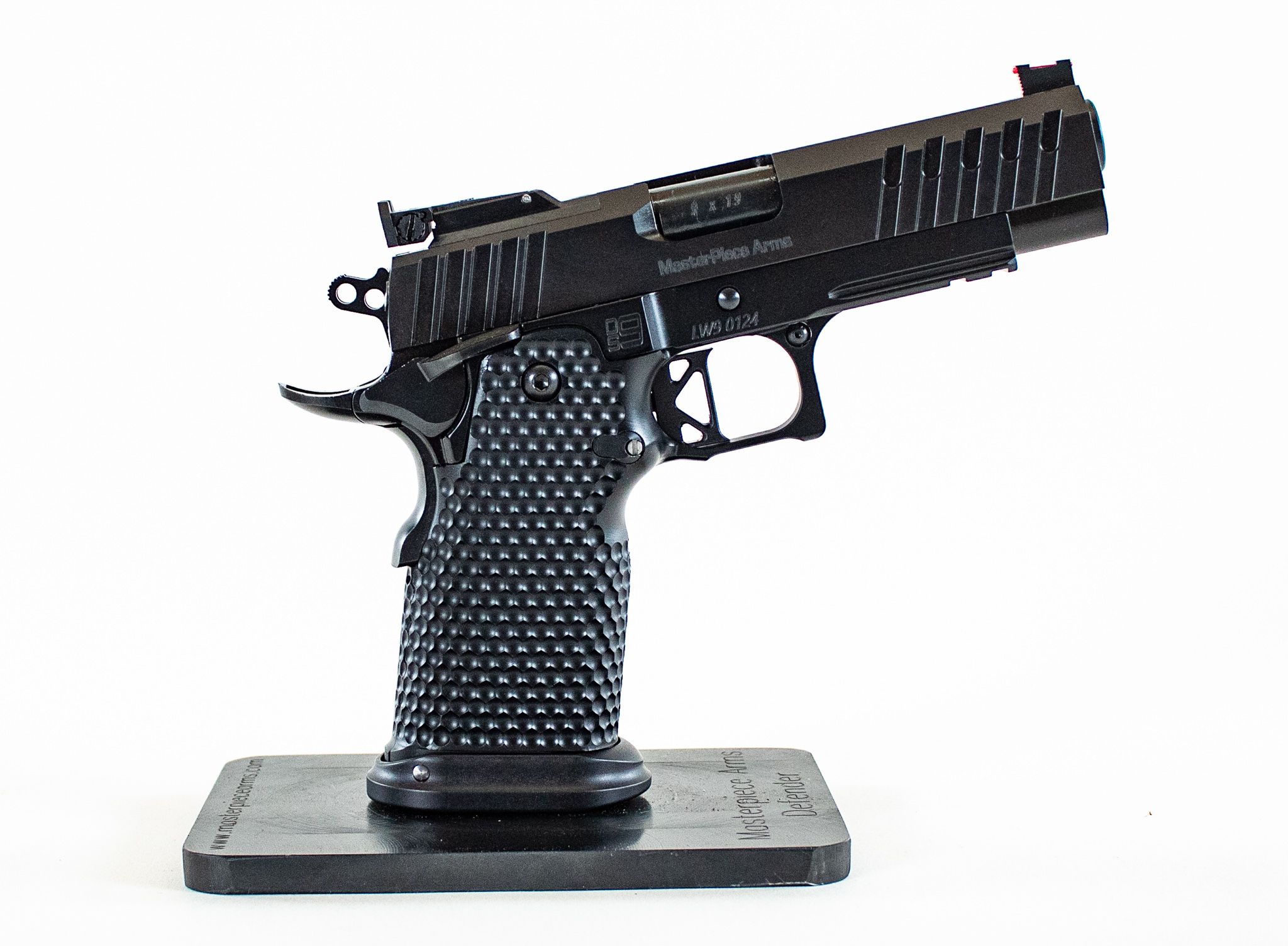 Features
Handlapped Frame to Slide Fit
Frame Machined from 7075 Alum
Classic Length Light Rail Frame and Slide Machined from Billet – no Forgings.
All parts machined from Barstock and Billet. No MIM, Castings or Forgings
All Parts machined in USA. Here are the components machined by MPA:

Frame
Slide
Barrel
BeaverTail/Grip Safety
Ambi Safety
Slide Stop
Firing Pin Stop
Ejector
Magwell
Aluminum Grip

Incredible Accuracy and Reliability
Ready for Everyday Carry
Lifetime Warranty
Pistol Specifics
9mm Wide Body, Double Stack 1911
Lightrail
MPA Machined 7075 Frame
MPA Machined 7075 Aluminum Grip Black Anodized
MPA SS Slide Stop
MPA SS Ambi Safety
MPA SS BeaverTail
Koenig Hammer, Sear and Disconnector
Custom Machined Aluminum Trigger Shoe
3.5 lb Trigger Pull (Pistol will ship with a pull weight between 3 lbs 6oz – 2 lbs 10 oz. This will relax to 3 lbs after pistol break-in) (Heavier pull weights available)
TriTop Slide Machining.
FGW style Slide Serrations with stepped inset for additional gripping texture
Wolff Springs
MPA Carry Magwell
4.25″ MPA 416R Stainless Bull Barrel
1 Piece Stainless Guide Rod
(2) MBX Magazines: (2) 126mm
DS9 Commander Black – Black Slide & Frame, Ambi Safety, Slide Stoop, Beavertail, Barrel, Black Anodized Aluminum Grip
Custom MPA Single Pistol Case
MSRP is $2,999.99 and you can purchase this now on their website. The DS9 weighs 8 lbs. Masterpiece Arms says you can reach out directly for any injuries on custom builds, colors, race guns, or for any other questions.