In continuing the celebration of Women's History Month, we bring you the story of an incredible woman who was the first African American woman to become a US postal service star route mail carrier and a general all-around rough-and-tumble woman of the West. Mary fields, also known as Stagecoach Mary, was a formidable woman to come up against. Mary's reputation preceded her in the Montana Territory as a woman who often carried weapons and could defend herself with them and had a temper to match her large stature.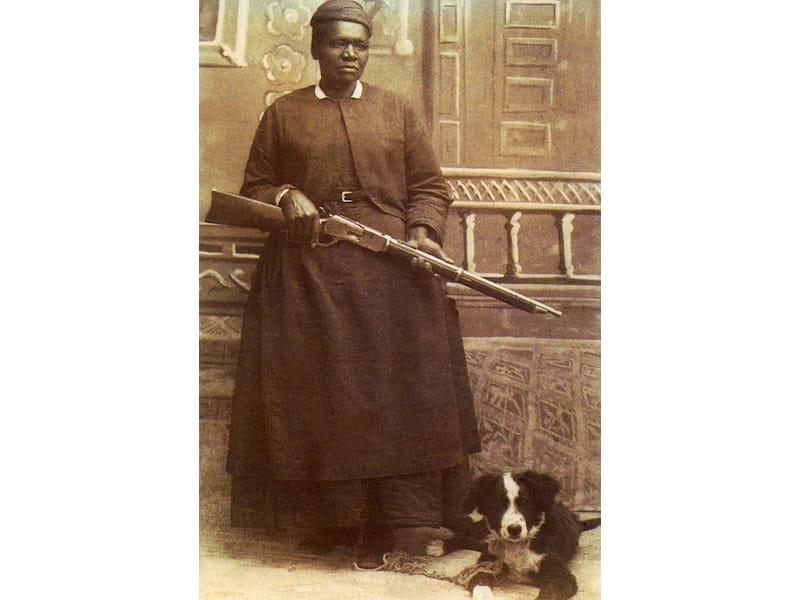 There is not a lot of information about Field's early life, including her exact birthdate or location, which is not uncommon for the time. Her life began as a slave in the Tennessee area around 1832. One report pointed out that she may have been given the last name of "Fields" since she was a field hand while in slavery. What is known is she did work for the Warner family in West Virginia in the years prior to the Civil War. With the Emancipation Proclamation in 1863, Mary was able to gain her freedom before the end of the war and moved from West Virginia toward the Mississippi River. It was said that Mary was a chambermaid on the steamboat Robert E. Lee that traveled up the mighty river, and that took her to her next home at the Ursuline Convent in Toledo, Ohio, in the 1870s.
It isn't immediately clear why she settled at the convent, but one report states that she was familiar with Mother Amadeus. The story is that Mary used to be the nanny for a family in Florida, one she befriended on the riverboat. The mother of those children passed away and Mary was tasked with delivering the children to the father's sister, who happened to be Mother Amadeus. Another report stated that Mother Amadeus was the child of the family that used to own Mary. Either way, Mary and Mother Amadeus did have a close friendship that lasted many years.
Regardless, as a woman that was larger than most at the time, she was 6' tall and over 200 pounds, she did a lot of work around the convent that was viewed as men's work. She attended to those chores along with the more traditional housekeeping tasks. While there, Mary's gruff demeanor did not always fit into the serene surroundings of the convent grounds, especially her drinking and smoking. It was noted that Mary's fast temper led her to yell at anyone who stepped on the grass after she had cut it.
Mother Amadeus relocated to the St. Peter's Mission in Cascade County, Montana, and while Mary originally remained in Ohio, she later came west to join her in 1885. Some reports say that she came to Montana to care for Mother Amadeus while she was suffering from pneumonia. She quickly got to work at the mission, doing many of the jobs she took care of in Ohio. She would acquire and deliver supplies for the mission as a main duty but had no contract with the mission so she often took outside work.
She found life in Montana suited her better than life back east. The Montana territory afforded her a liberty she hadn't experienced in her life to that point. Up to her fifties, Mary had been a slave and a housekeeper with no real freedom to do as she pleased. That changed when she came west, and she vowed to never give up that freedom again.
Mary was called White Crow by the Native Americans, saying she was a black woman who acted like a white woman. Some say they were alluding to the idea that she refused to be put in her place by people who thought they were better than her, and that would be right. Essentially, Mary took no guff from anyone and was quick to point it out if she experienced it.
Ultimately, Mary was dismissed from the mission due in part to her crass behavior, unruly temper, and her proclivity for drinking whiskey and smoking in saloons with men. These were distasteful to the mission, but the final straw seemed to be when Mary and a male janitor at the mission got into such a heated argument that guns were drawn. The Bishop of the area found out about the incident and demanded that Mary be let go.
But Mary wasn't all gruff. After the mission, she relocated to the town of Cascade where she had several failed eateries in town. The failures didn't stem from a lack of business know-how; it was because she had a habit of allowing people to eat when they couldn't pay. She also set up a laundry service for the city and did various other odd jobs to make money. To say Mary had a reputation about her for drinking, smoking, and carrying a gun would be an understatement.
In 1895, Mary was able to obtain a contract with the US Post Office to be a Star Route Carrier. A Star Route Carrier was an independent contractor who used a stagecoach to deliver the mail, even in the harsh weather in Northern Montana. Mary, in her sixties, was the first African American woman and only the second woman to get a contract. Reports state that the contract was secured with the help of the Ursuline nuns at the mission, who didn't want to see her leave the mission.
With her gruff demeanor, Mary had a reputation for being fearless in her Star Route. Using her stagecoach for her route, she earned the nickname Stagecoach Mary. She carried a revolver and a rifle on her route, delivering the mail and protecting it from all sorts of threats including bandits/thieves, wolves, and the weather.
She kept that route for eight years before retiring. She was loved by folks on her route for being equal parts fearless and generous. Her kindness for the children on the route was also known, so it was no surprise that in her retirement she spent part of her time babysitting local kids, along with running her laundry and restaurant. She was so loved by the town of Cascade she ate and drank for free in the local saloons and restaurants, and was even the mascot for the town's baseball team.
Mary died in Cascade, Montana on December 5, 1914. Her funeral, which was held thanks to the money raised by locals, was said to be one of the largest funerals the town had seen. In her life, she was a no-compromise strong woman who did things her own way.
She openly drank and wears men's clothing, something that women of that era didn't readily do, let alone an African American woman. Gary Cooper, the famous actor, met Mary as a child in Cascade. He said in an article about Mary from Esquire magazine, that, "she was one of the freest souls to ever draw breath, or 38." She is seen as a symbol of black female empowerment thanks to her incredible character and larger-than-life personality.­­­­­