Drums are tough. Designs have come and gone and the typical issue is durability, complexity, and price. Magpul was able to master the drum with the D60 for 5.56 AR-pattern rifles and have even introduced a D50 for those of you who need AK magazines. Drums are admittedly quite fun and when they work they give you a ton of ammo without compromising your ability to fall into a nice low prone position. Drums for the average shooter are just for fun devices and what common guns are more fun that pistol caliber carbines? SHOT Show 2020 presented us with two new Magpul 9mm drums for our favorite PCCs.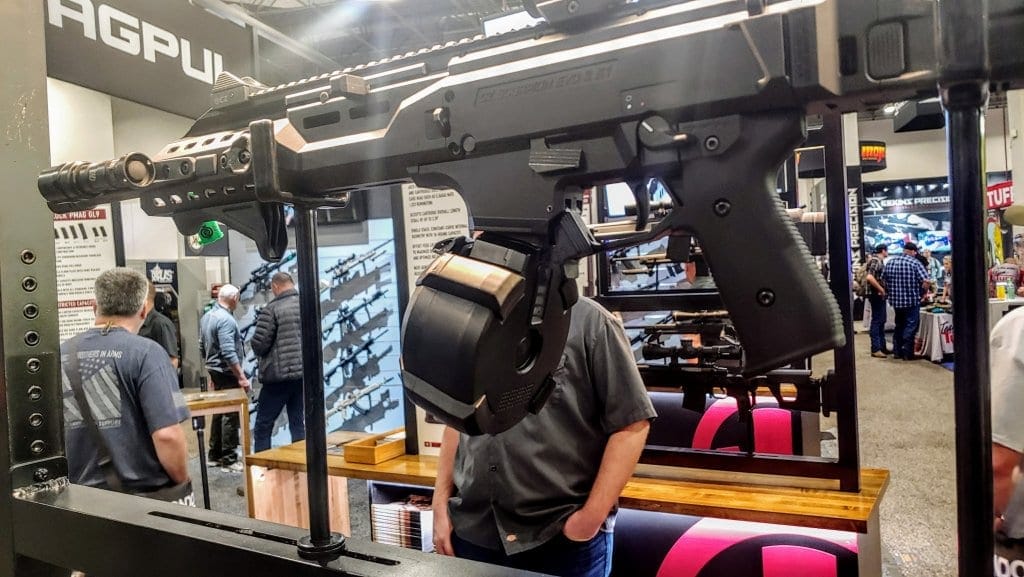 The New Magpul 9mm Drums
This includes the ever-popular and present Glock magazine and Magpul calls it the D-50 GL9. The Glock magazine has made its way into a dozen, or maybe even two dozen, different pistol caliber carbines. The next is surprisingly a drum for CZ Scorpion pattern rifles named the D-50 EV9. The CZ Scorpion is popular, and its magazines are finding their way into a multitude of guns. Still, compared to the Glock pattern magazines the CZ Scorpion is hardly on the radar. As a Scorpion owner, I am pleasantly surprised and quite psyched that one of these Magpul 9mm drums are for my favorite PCC.
The new Magpul drums make it quick and easy to shove a full box of ammo into a single magazine. Better yet you can load a box of ammo into one of the new Magpul 9mm drums and just eave it there. These magazines are designed to be left loaded like any other magazine. If you aren't familiar with drums this is rather rare. Some drums can't be left loaded. Most drums are outfitted with a button to remove the tension from the spring when left loaded. The Magpul drums need neither system to be left loaded.
Both the Magpul 9mm drums are designed to lock the bolt to the rear after the last round is fired. While I've never loaded the Magpul 9mm drums I have loaded a D-60. Those drums were quick and easy to load with little effort. The ratcheting system is the key to the drum's success and this makes it effortless to load. The MSRP is said to be around 129.99, which is small potatoes in the drum world. The release date will be in the Summer of 2020.