Yeah, yeah, yeah I know, 'nyet rifle is fine,' blah blah blah. I get it, some dudes just want wood furniture on their AKs, and they feel good about that. Neat, go slather on your cosmoline and rub rapeseed oil on your wood. For the rest of us, Magpul AK furniture is the way to go. Magpul is like a virus; it slowly envelopes firearm platforms and spits out new and improved gear, magazines, and more. They own the AR 15 world and have now enveloped the AK world as well.
Why Magpul Your AK?
Modernizing your AK can be a conundrum. Oftentimes the gear available to AKs comes from some rather crappy sources. The 'rifle is fine' meme exists for a reason. A lot of crappy companies have released a lot of crappy parts, pieces, and components for the AK series rifles. Most are cheaply made and often worse than the wood furniture these AKs came with.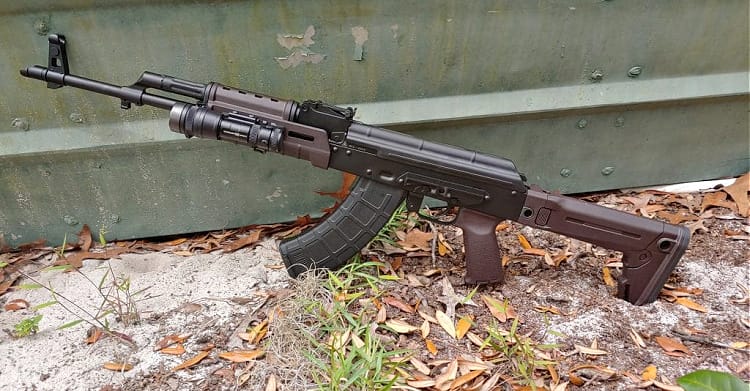 On the flip side, a lot of great companies have produced some awesome gear in the past. The downside is the often high price tag attached to that quality. Nothing wrong with paying for quality gear, but budgets exist for a reason.
Magpul AK furniture, magazines, and more have found a way to mix quality and innovation at a budget-friendly price point. Innovation is just as important as quality and price. Why you are adding something to your gun is just as important as what you are adding to your gun.
Magpul AK Modernization
I've gotten my hands on a few pieces of gear from Magpul for the AK series of guns. I've been running them nice and hard with a PSAK rifle I'm testing, and I've come to become quite fond of this Magpul AK furniture.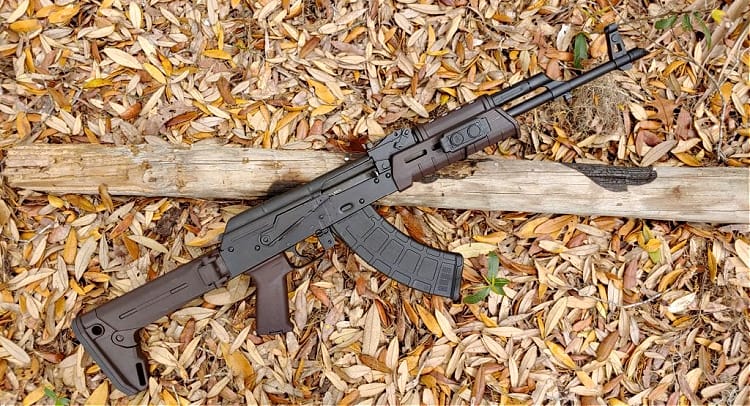 MOE AK Handguard
First, let's pop that old wood handguard off and add something that modernizes and helps accessorize your AK series rifle. The MOE AK Handguard drops in on standard 47/74 series rifles and keeps the typical AK profile.
First off, the M-LOK slots ensure you can easily toss on accessories on the sides and bottom of the handguard. You can tack on a light, laser, foregrip, or cup holder with absolute ease. The Magpul AK handguard gives users three slots at the 3, 6, and 9 o'clock positions. I tossed on a REIN Micro as my light, and since I didn't have more than that, I stayed away from the Zhukov handguard.
Magpul slightly lengthened the grip to allow for more modern shooting styles. It's just a hair longer than the old wood grips, and this gives you more control over the muzzle rise and recoil. The extra texturing Magpul added was a wise move and made it easy to grip with or without gloves.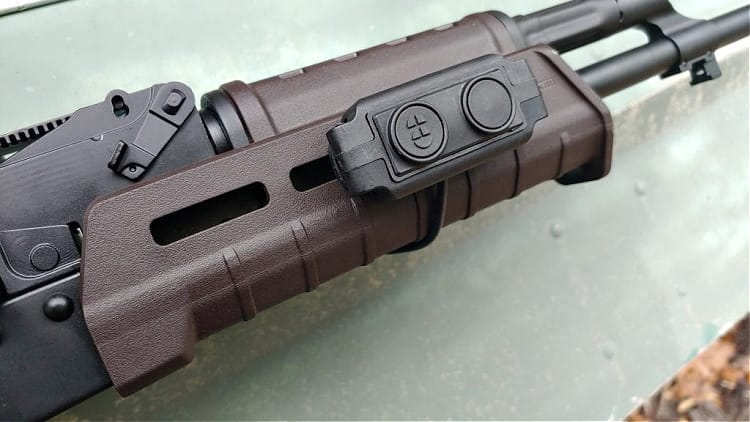 Magpul wisely slotted a stainless steel heat shield into the bottom of the handguard. Anyone who puts lead downrange with an AK in an expedient and gluttonous manner knows just how hot AK handguards get and knows you need something to keep your pretty, well-manicured hands safe. That heat shield will do it.
Zhukov-S Stock
Georgy Zhukov was a hero to the Russian people. He led Russian forces against Nazi scum in some of the most decisive victories of World War 2. Magpul choosing his name to bless their AK stock makes a ton of sense. Both the Zhukov stock and Zhukov field marshal are tough and get the job done.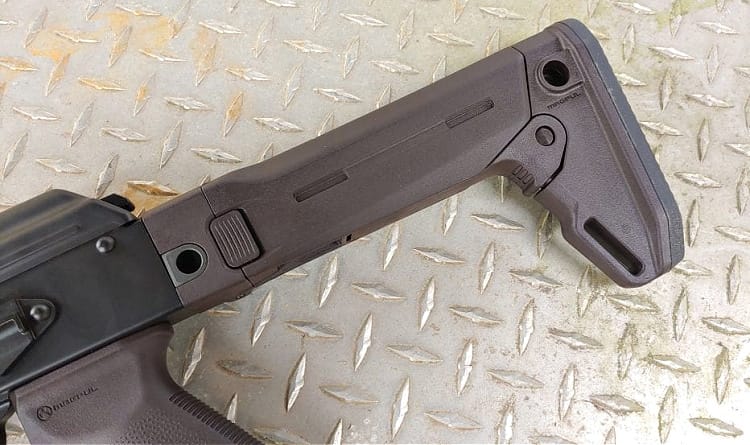 While some are satisfied with finding ways to attach an AR stock to an AK, Magpul just engineered their own AK stock. The stock is engineered from the ground up for an AK, the Zhukov stock folds while providing the same stability the old school AK stock provided.
Like a modern carbine stock, it adjusts and provides you with a length of pull from 12.2 inches to 14.8 inches. Along the way, we have five positions that allow you to fit the stock to you. You can be a real snowflake with the Magpul AK stock and fit it to your exact needs.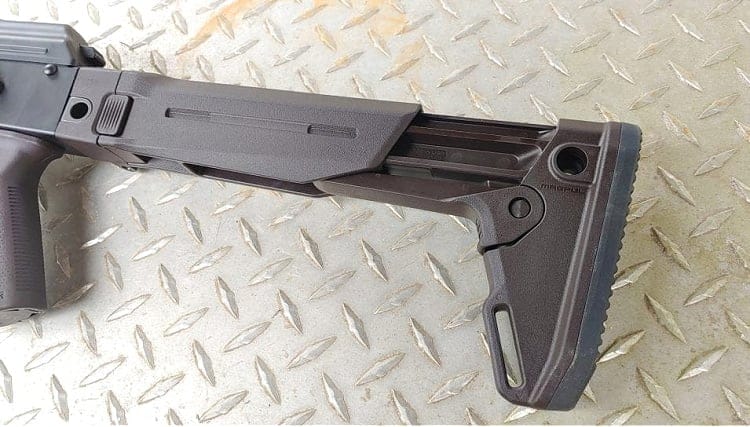 There are multiple sling points for easy carry methods, including more traditional options as well as QD ports for modern sling designs. I find the cheek weld perfect for using standard AK sights, but adjustable cheek risers can be added for optic use.
The rear of the stock has an anti-slip pad and an angled toe. The toe allows for easy shoulder transitions and fits better with armor. That awkward armored hold is a bit less awkward.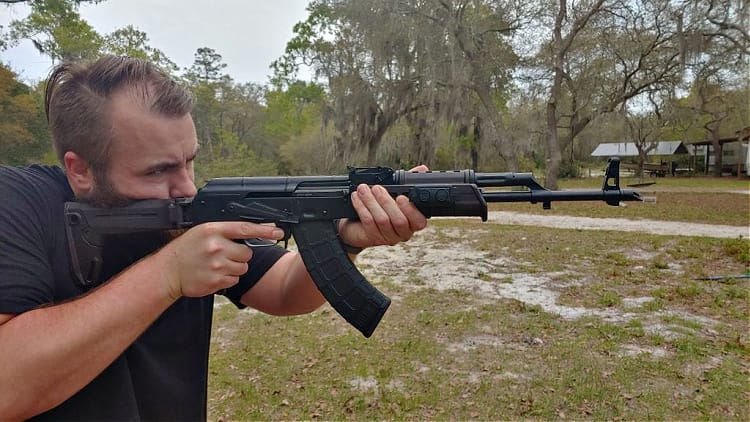 The good news is that a lot of people feel that way, and adapters are available to fit the Zhukov to SIG MCXs, Scorpions, and Bren rifles.
Magpul AK Pistol Grip
I got mitts for hands, so the AK grip has always been a bit small for me. Make fun of me if you want, but the Tapco SAW grips were my favorite AK grip. My second favorite is the Magpul MOE AK grip.
It's much larger than the nub-like AK grip. It fits my hand much better and really fills it up. The sides are scalloped for a thumb shelf, and the texture is aggressive without being uncomfortable. Lengthwise my whole hand fits the grip, and I can tuck it up nice and high.
Best of all, the grip has a hollow core that allows you to store critical components for operations. For me, that's Skittles. If my blood sugar gets low, I'm out.
Magpul PMAGs
PMAGs rule the market when it comes to AR 15 magazines, and that expansion into AK magazines has been rather successful. The Gen M3 variant is the way to go. Magpul infused these magazines with steel-reinforced locking lugs.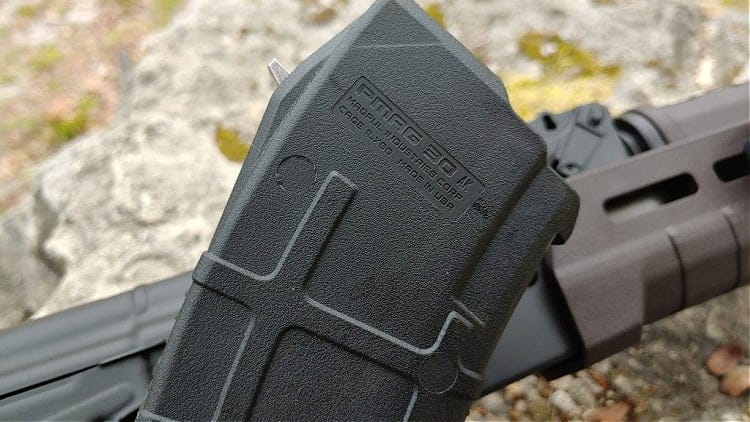 This ensures the magazine will last a lifetime, or at least as long as your AK lasts. Additionally, the Gen M3 models are fitted with Magpul's grip texture for a sure and secure grip. Unlike metal mags, they tend to be a little more quiet bouncing around in magazine pouches and less affected by corrosion.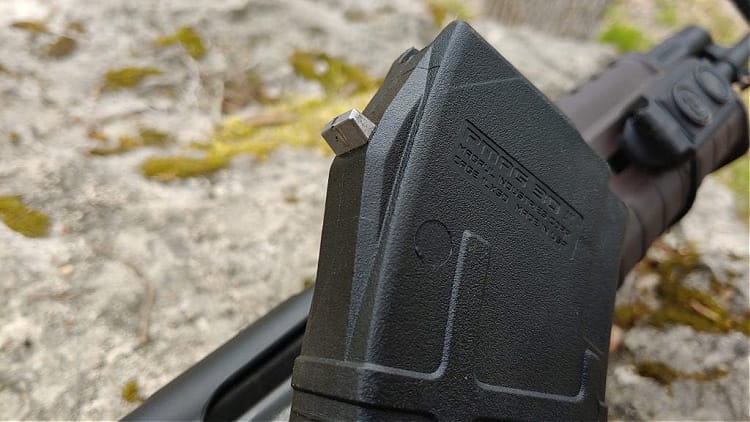 Are they better than Xtech or Bulgarian magazines? Well, that's tough to say, so let us know what you think below.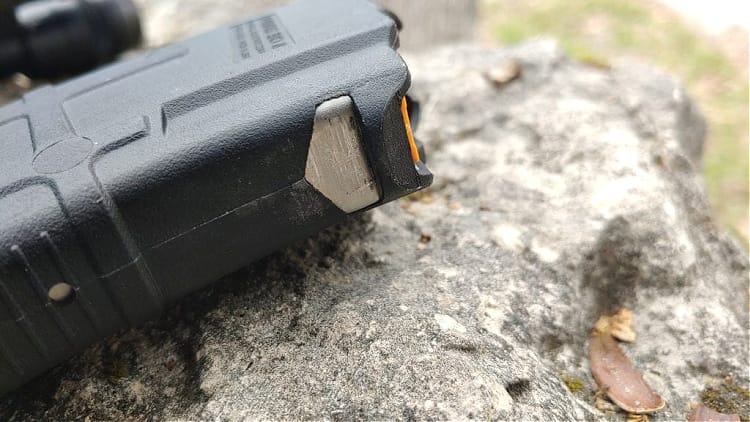 Putting It All Together
These are just my choices in Magpul AK gear. Magpul admittedly makes a wide variety of gear for the AK that's all American-made, high quality, and well priced. We got various handguards, fixed stocks, and more affordable magazine options from Magpul.
This combination works for me, especially because it comes in plum. Once my matching tracksuit arrives, I think I'll be ready to deal with any Eastern European style threats as well as flex hard on the 'gram. Now I just need an optic….anyone know where I can pick up a Kobra sight?