A couple of years ago Travis wrote his Sig Sauer P365 review after firing about 1300 rounds through it. Since then, Sig has released the P365 XL which is larger than a standard Sig 365 with a larger grip allowing for higher capacity magazines. We have added a couple of articles here about the Sig P365 XL so you can beef up your knowledge of the two models. Travis' review is first, followed by a few more articles about the P365 XL.
Enjoy!
The Sig P365 – A Long Term Review
Travis Pike (March 2019)
This time last year (2017) I was opening a press release from Sig and being blown away reading about the new gun they named the P365. Naturally, I felt compelled to write a full-blown Sig Sauer p365 review. It promised to be a hair smaller than a Glock 43 but offered ten rounds in a flushing fitting magazine and twelve with a pinky extension. The gun seemed too good to be true. It was a big draw at SHOT 2018 and as most people predicted this could be the ultimate carry gun. SIG was packing it full of features, and offering it at a very competitive price.
The Sig Sauer P365's key to its success is the gun's magazine. It's the perfect dimensions to house 10 or 12 rounds in a compact package. Somehow they made the gun as thin and as small as most polymer frame single stacks with a semi-doublestack magazine.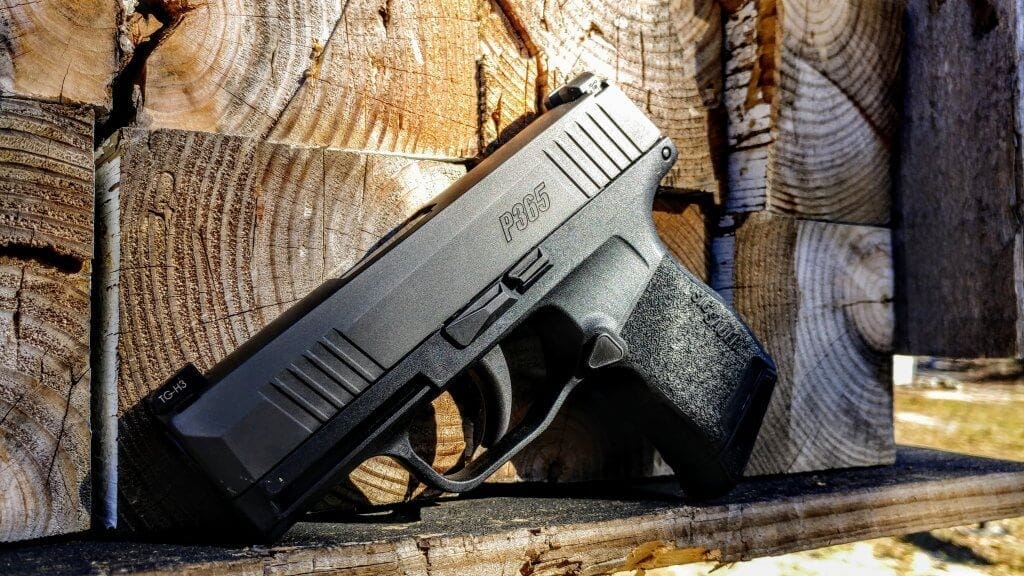 Editor's note: 15 round extended mags for the Sig P365 are now a thing. They're shipping now.
In May 2018 I was finally able to get my hands on one.
The Sig P365 was not without its controversy. Almost immediately following the release of the gun shipping was stopped. Problems were uncovered that involved the Sig Lite night sights breaking off, bad trigger springs, failure to go into battery, and light primer strikes. Issues are documented by popular Youtuber Military Arms Channel over two P365s, Harry's Holsters did a 1,000 round review and recorded a dozen or more different problems. Sig saw this and made a wise decision to do something about it. Sig issued essentially what was a generation 2 pistol pretty early on.
P365 Gen 2 Reliability
Reliability is often the last category I cover, but with the problems known with this gun, most people would be curious as to how the Gen 2 holds up.
Mine falls in that Gen 2 timeline, and now that I've had it for some time I can say the kinks are ironed out, or at least with my gun they are. I didn't do any crazy 1k tests in one day, but after the first few months of ownership, I started keeping track of the rounds I've fired through the gun. I have an approximate round count of 1,300 rounds give or take. Typically I shot Winchester White Box but mixed in some of Sig's P365 ammo, Speer Gold Dots, SIG FMJ, Zinc Fmjs, Freedom Munitions, and some Tula made its way in there.
In terms of failures, I only experienced two failures-to-fire with Freedom Munitions American Steel Ammo. I attempted a restrike and one did fire, and the second did not. As of note, the second round would not shoot in an 80% Glock I also had at the range.
I've only had one failure to eject, and it occurred when firing a Dot Torture drill on the strong hand only portion. Ammo was SIG's reduced recoil P365 load. Overall I'd say reliability is rock solid.
Striker Drag
One of the biggest complaints and potential problems with the gun is the MIM firing pin. MIM can be perfectly suitable for firearms parts, Ruger makes it work, but when it is bad it is bad. Some owners experienced broken firing pins and a small aftermarket of steel pins has even popped up.
The design of the weapon seems to cause an excessive amount of primer drag. Most small striker guns have this, but the P365 seems to have a touch more than most. Does this cause excessive wear? It would seem to. According to Sig, it does not. My firing pin hasn't had issues, but many firing pins have broken or become bent.
Ergonomics
The ergonomics of the pistol overall are excellent. The gun is comfortable to hold onto, and the 10 round magazine with slight pinky extension is absolute money. It's as short as a grip can get and still allow me to hold onto it. Under the trigger guard is an excellent high undercut that helps maximize the grip.
The grip is also thin and comfortable in hand. The magazine release is large and easy to reach which I like. The problem here is dropping the magazine. I find my pinky and palm creating pressure and holding the magazine inside the gun when I hit the release. This is a classic big hand, small gun problem.
The gun doesn't have a beavertail, so to say, but it does have a nice cliff that allows you to get your hand high on the grip without worrying about slide-bite. An issue I have with this gun and most Sigs is the placement of the slide lock.
It sits right where my thumbs go with a thumbs forward grip. This causes the slide lock to be held down, and this means the slide won't lock back after the last round is fired (at least for me). It's annoying but something I'll live with.
On the Range
Shooting the gun is very nice. The recoil is standard mini 9mm, so it's a little stout and has some flip to it. It's plenty controllable and the grip is undoubtedly helpful here. Firing double taps and controlled pairs accurately is pretty easy to do with a little practice. The trigger is light and smooth. It had a clean break with minimal take-up. The reset is tactile, audible, and best of all short.
The new X-RAY3 sights are fantastic. The sights are dual-purpose and work for both night and day shooting. The rear sight is blacked out with two hidden tritium vials. The front sight has a tritium vial but is surrounded by a big, bright green insert. In the dark, the sights glow incredibly bright and are easy to pick up and see.
In the light, the big green dot is quick and easy to pick up and align with the blacked-out rear sights. It's straightforward to get that big front sight on target and to follow that sight with some well-placed lead.
The gun is more accurate than it has any right to be, and it's not just minute of bad guy accurate. It's plenty capable of reaching out beyond 20 yards and remaining not just accurate, but combat-capable. By combat-capable I mean drawing and placing rounds on target as fast as possible. At 25 yards you can still slow down and hit small targets with excellent precision. Small guns often have small sight radius, and SIG pushed back the rear sight as far as possible to help increase sight radius.
Carry and Comfort
The Sig P365 was a big hit, and plenty of companies produce holsters for it. I carry mine in a Clinger Holsters No Print Wonder V3. It disappears in an IWB rig and is a gun you can forget about when carrying. It's small and light, I mean, look at the specs.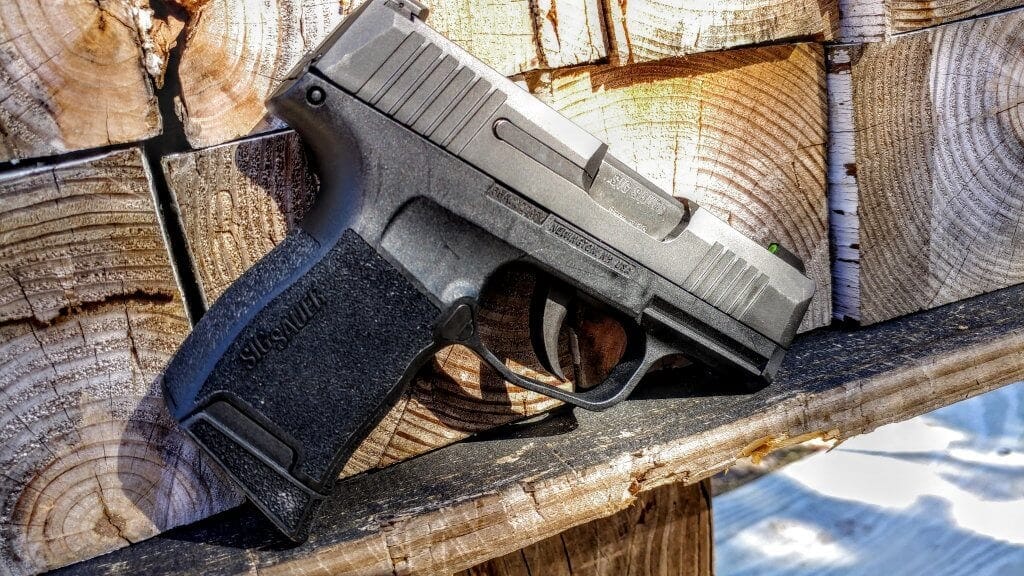 Barrel Length – 3.1 inches

Overall Length – 5.8 inches

Weight – 17.8 ounces

Height – 4.3 inches

Width – 1 inch
It's smaller and lighter than the Glock 43, at least unloaded. Four to six more rounds of 9mm pushes the loaded weight up there. Even so, it's a very comfortable and easy to carry gun. No real complaints regarding pokes and prods while carrying. It's a bit big for pocket carry, but I'm sure someone out there will make it work.
My Gripes
When it comes to complaints, I only have a few. The first is why the hell use a proprietary rail? Was a pic rail too big? I hate proprietary anything, and luckily Recover Tactical makes a rail adapter if you want to mount something to the gun. Sig does make a light and laser system for the rail and gun that is quite compact, too.
The P365
The P365 had some major teething issues admittedly, and SIG Sauer should have taken their time to fix these issues pre-launch, but at least they got it right… eventually. This is a great all-around carry gun, and the "Gen 2" models seem to be running a lot smoother than previous models. This little guy is an excellent compromise in size, capacity, features, and price. I predicted at SHOT Show 2018 that SIG would have jump-started the need for innovation in the concealed carry market and it seems they have.
Glock has responded with two new compact guns, Mossberg is tossing one out, too. The P365 continues to be a popular choice despite the initial issues, and it's easy to see why. Will it hold the crown forever? Likely not, but we'll see.
Iraqveteran8888 Reviews the Sig P365 XL
Kat Ainsworth (September 2021)
The Sig P365 XL was launched in 2019 as a solution to those who felt the original P365 was a little small for their needs.
For the sake of comparison, the P365 has an overall length of 5.8-inches and height of 4.3inches, and the P365 XL has an overall length of 6.6-inches and a height of 4.8-inches. Both are listed by Sig Sauer as micro-compacts, but the size difference is there, and it does make a difference. In this video review, Iraqveteran8888 reviews the P365 XL, including some live-fire footage.
What Are the SIG P365 XL Details?
The P365 XL has a stainless steel frame and slide with a Nitron finish, which is a hardening process involving heat treatment and a chemical bath. The process is designed to increase durability and resistance to wear. The gun is a striker-fired, semi-automatic pistol chambered in 9x19mm with a standard capacity of 12+1 rounds, with a 10-round model available for capacity-restricted states.
The gun measures out at 6.6-inch long, 4.8-inch high, and 1.1-inch wide. The P365 XL weighs 20.7 ounces when it's empty. The carbon steel barrel is 3.7-inches long and the sight radius is 5.6-inches.
If you're a fan of straight-blade triggers, you're in luck; the factory trigger in the pistol is an X-Series Straight. It ships with XRAY3 Day/Night Sights, but it's also optics-ready, which is excellent. A model is available that comes with a Sig RomeoZero red dot sight already mounted to the gun, which does increase the overall height to 5.5-inches.
Check out the video below for Iraqveteran8888's impressions of the SIG P365 XL during testing.
From Iraqveteran8888:
The P365 XL holds its own against a wide variety of competitors by offering a double-stack in an extremely tiny frame. Now, one minor detractor — and it's not a huge detractor — but one tiny detractor, is that the P365 can accept a flat-based, 10-round magazine, while the XL cannot.
Even so, the SIG P365XL is an accurate, concealable pistol.
What should you look for when choosing a gun for concealed carry?
Reliability
Accuracy
Size
Fit to Your Hands
Durability
Concealability
When you're trying to find out if the gun you're thinking of using as an EDC (EveryDay Carry) is reliable, it's a good idea to put around 500 rounds through it. Those 500 rounds should be a combination of target loads and your chosen defensive loads and there should be no failures.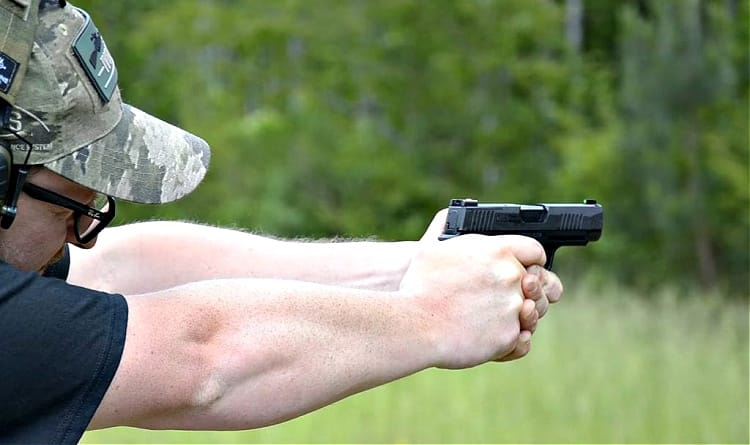 That's definitely harder to do now that ammunition has become more difficult to come by, but do your best. After all, you're planning on trusting your life to this gun. It's important to make sure it will work at the most important moment of your life.
The SIG P365 XL is, overall, a nice micro-compact pistol. It checks all the boxes for carry guns and is a good size for shooters who need a little more surface area to hold onto when shooting. To learn more about the gun and its performance, watch Iraqveteran8888's video above or visit the Sig Sauer website.
The Sig Sauer P365 XL: Again? Yep, But Worth Your Time
William Lawson (September 2021)
Over and over, we're hearing the same thing: people love the 9mm Sig Sauer P365 XL. So why watch yet another video on it? We get it, the XL is the greatest thing since the last greatest thing. That's pretty much what I thought when I sat down to do this article. But Chris Baker from Lucky Gunner Ammo took a little different tack that I thought was worth my time, and probably yours too.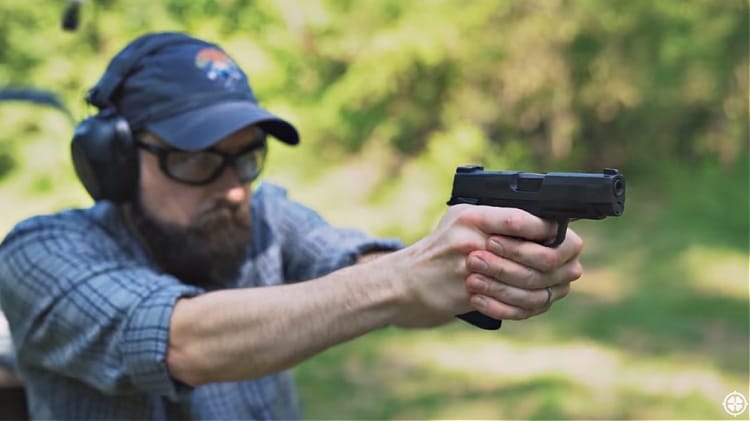 "Easily the most impressive new handgun I've tried in a long time."
Strong words, but we've heard similar stuff from other reviewers. Still, it's a good starting point, quickly followed by "Rapidly becoming one of my favorite options for concealed carry."
OK, good deal. But why?
Chris gives us a good "why" by looking at the role the XL fills. I think it's a good approach because I find myself thinking I'm set for carry options. I can go from full size to single-stack subcompact and have pretty much whatever I want for any situation, whether it's on my belt, under my arm, on my ankle, or any combination thereof.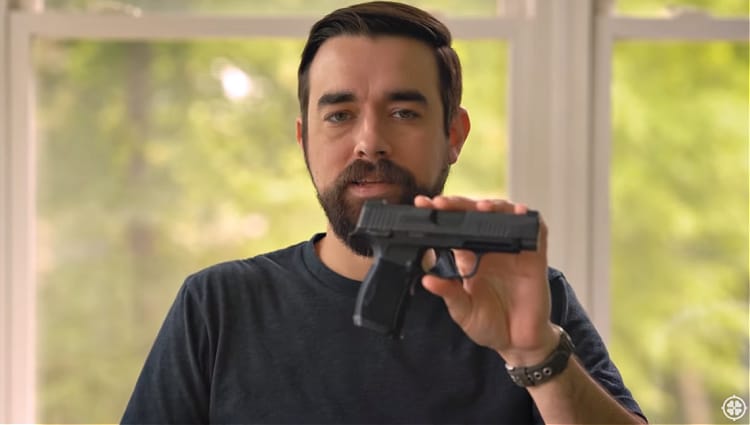 Trust me, I NEVER need an excuse to buy a new gun, but my bank balance, unfortunately, does require that I make reasoned purchases. I have little need for another safe queen. So, I'm all about finding a new niche, even if it's just a little one.
I won't go into all the details, because you've likely seen them before, so a quick list should suffice:
Weight: 20.7 Ounces (unloaded) vs. 17.8 Ounces for Original P365
Barrel Length: 3.7 Inches vs. 3.1 Inches for Original P365
Overall Length: 6.6 Inches vs. 5.8 Inches for Original P365
Height: 4.8 Inches vs. 4.3 Inches for Original P365
Width: 1.1 Inches vs. 1.06 Inches for Original P365
Sight Radius: 5.6 Inches vs. 4.9 Inches for Original P365
Capacity: 12 Round Flush or 15 Round Extended Mag
So, you get the picture, but there's more to it than just numbers. As Chris points out, the XL is "small in a different way than other pistols." He goes on to treat us to a brief history of the 9mm compact and subcompact pistol, which is good to provide some context for the central point of the whole thing.
It's one thing to look at numbers like we did above, but Chris gives us side-by-side comparisons with the Glock 19, Clock 43, and Walther PPS M2 with some excellent graphic proof of exactly what those numbers mean and what they actually look like. That's where you understand what he means when he says the Sig Sauer P365 XL is "small in a different way." The XL saves space in some surprising ways, from the trigger guard to the grip and it looks like it just works.
I was particularly surprised by the comparison with the Walther since that handgun is my subcompact EDC. Now, anyone who knows me is aware of my fondness for the Walther brand. But if I can carry 12 + 1 instead of 8 + 1 in a slightly smaller package, with equal shootability, from a quality brand… that might just open up my wallet. And yes, I know I'm unlikely to even need all the rounds in the Walther if the shiz hits the fan late one night, but "too much ammo" is analogous to "too much money" in my book. Plus, I'm looking for reasons to open the wallet.
Speaking of shootability, Chris does a good job with that too. He fires a couple drills with the XL, the PPS M2, and a Beretta PX4 Compact Carry, since the latter two are guns he likes and has a lot of time on.
After four reps of the drills, he shows us the results in raw time and with deductions for penalties. The three guns are remarkably similar, even though he points out he expected the Beretta to come out a little ahead.
Watching him shoot, it looked like the XL was right there with the others in terms of recoil and handling. I recommend watching for yourself, even though I've included a photo of the drill results. Same with the size graphics. His commentary on both those topics is very good.
To finish up, there are a few other things to note since it's possible this is the first article you've read on the XL. Not likely, but possible. The sights are surprisingly good for a factory gun. The XL comes standard with the Sig X-Ray 3 night sights, which include a bright green front sight for easy daytime use.
The slide is also cut for the Sig Romeo Zero red dot, which shares a footprint with the Shield RMSc, the Holosun HS507K, and the Swampfox Sentinel. So, you have some choices there.
The trigger is described as "really nice with some take up leading to a smooth gradual break. Not crisp like a single action but constant tactile feedback as pressure is applied so you know exactly when it's going to break. A good carry trigger." The trigger pulled about six pounds, but Chris says it doesn't feel like six pounds. The flat-faced X-series trigger (standard) allows pressure at the bottom, making it feel lighter.
The Sig Sauer P365 XL is versatile, with the serial number on the removable chassis, allowing you to switch out frames if you want. Totally up to you. The only complaint Chris had with the XL was the safety, which is optional. His features an ambidextrous slide-mounted thumb safety that, while not horrible, wasn't especially good either. He details his reasons very well, so I'll let you watch that if you are so inclined. He also said he would like to see the grip texture go higher up on the frame, which I get, but that's easily addressed in the aftermarket if you feel the same way.
Reliability was what you'd expect. He had a little over 2000 rounds through the gun with no issues. Not really a lot, but there it is. He points out that 500 of those rounds were water-damaged steel-cased Tula rounds that had some rust. He quips that he isn't sure whether that's a credit to Sig or Tula. Probably both. The bottom line is that it eats what you feed it and seems to be over the problems that revealed themselves in the original P365.
Speaking of bottom lines, Chris notes that he is a wheelgun man and that he always seems to return to a snub revolver, no matter what else he tries. "But," he says, "this gun does everything I could ask a carry gun to do." It's a "compromise gun that doesn't really feel like a compromise." He follows that with a very strong statement that I'll let you watch for yourself. Then, as always, you decide.
Sig P365 XL Review — Kit Badger
Kat Ainsworth (July 2021)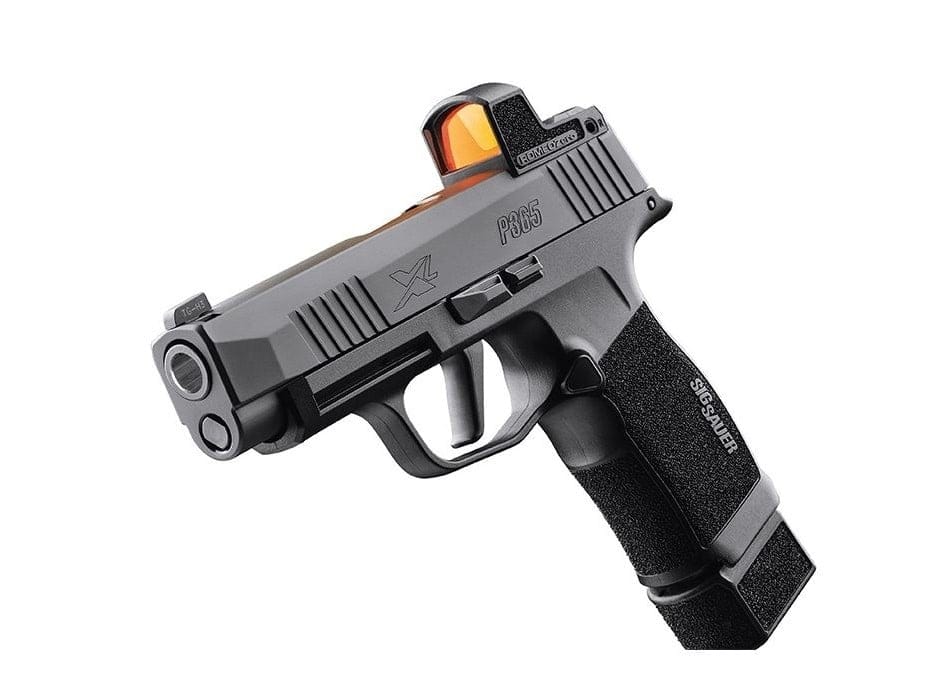 In the world of self-defense handguns some models stand out more than others, and the Sig P365 XL is among those that shine. This Sig P365 XL review by Ivan from Kit Badger is based on long-term, varied use, discussing how the gun has performed over time rather than only brand new out of the box.
In the video review shown below, Ivan first runs through the pistol's general specifications before getting into a review of its performance.
The Sig P365 XL is a striker-fired pistol chambered in 9mm Parabellum and offered with a capacity of 12 +1 or 10 +1, the latter to fit compliance requirements in certain states. There is also an extended magazine with a 15 +1 capacity available. If you're really into extra rounds you could try the 20-round magazine offered by ProMag (they make a 50-round drum for the P365XL as well). Basically, this gun offers excellent capacity for a micro-pistol and does it while remaining highly concealable.
Ivan has run his P365 XL at competitions, during classes at locations such as Thunder Ranch, and while using NODs (Night Optical Device). He even fired it from 50 yards during one event.
If you're thinking longer-range shots with a pistol aren't worth doing, you'd be mistaken. It's well worth it to become familiar with the drift and drop of your carry gun and that includes running it at distances out to 50 yards. Those distances won't make up the bulk of your training but that doesn't mean it isn't worth trying.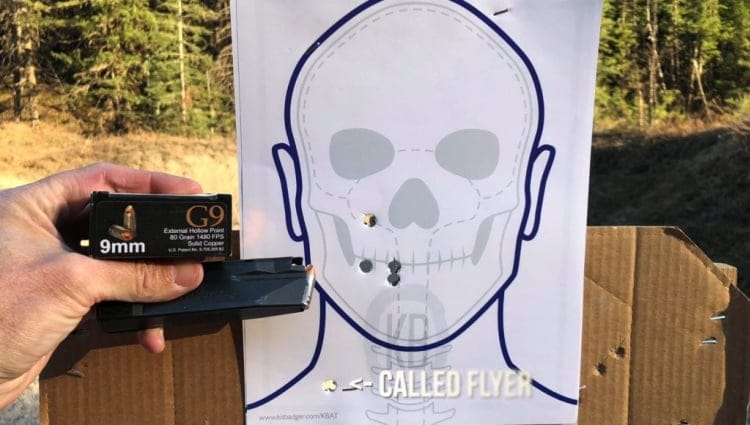 Overall, the P365 XL is a well-made gun capable of solid accuracy.
Its concealability is a big plus but if you're a fan of mounting lasers and lights keep in mind that the P365 XL has a narrow frame and only fits lasers and lights specifically made for it (but they are available from companies such as Sig, Streamlight, and Surefire).
This gun is a nice option for shooters who would like the original P365 more if it was just a little bigger. The fact that it ships optics-ready is a nice feature from SIG Sauer because it saves you from milling slides or searching for optics plates that fit your gun.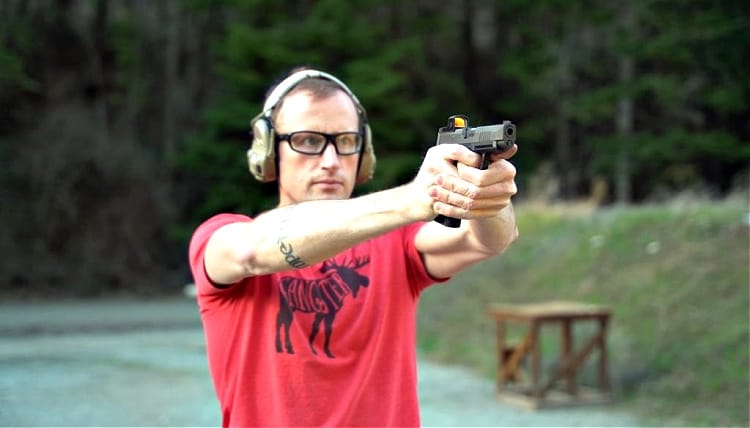 Check out the video for the full rundown on the Sig P365 XL from Ivan and to find out how the gun runs in a variety of situations.
P365 XL Specifications
Manufacturer: Sig Sauer
Model: P365XL
Caliber: 9x19mm
Capacity: 12 +1 (also available in 10 +1)
Size: Micro-Compact
Overall Length: 6.6 inches
Overall Width: 1.1 inches
Height: 4.8 inches (without optic)
Barrel Length: 3.7 inches
Barrel Material: Carbon Steel
Weight: 20.7 ounces (empty)
Sight Radius: 5.6 inches
Trigger Action: Striker-Fired
Trigger: X-Series Straight Blade
Grip: Polymer
Frame: Stainless Steel
Frame Finish: Stainless Steel
Sights: Optic Ready with XRAY3 Day/Night Sights
MSRP: $685
Best of Both Worlds? The Sig Sauer P365 XL Pistol
William Lawson (June 2021)
Competition in the concealed carry market has gotten hot over the last couple of years. Smaller, more ergonomic frames are combining with higher capacity magazines at such a rate that I don't know how they expect a poor freelance writer to keep up. Toss in the millions of new gun owners over the last eighteen months and we have an explosion of interest in these new offerings. Now if we can just get some supply… (yeah, I know they're busting their humps on it.) So, it's worth going back and looking at one of the better-concealed carry options out there
right now, the Sig Sauer P365 XL.
For that, we head to the wilds of South Carolina (sort of) where firearms reviewer and noted prepper Sootch00 gives us the lowdown on what he calls "One of the best-concealed carry options on the market." Sootch is a direct descendent (probably) of the famed Swamp Fox of South Carolina (Francis Marion, not Benjamin Martin), so his opinion counts. No word yet on how many redcoats he's taken with the Sig. Hopefully more on that soon.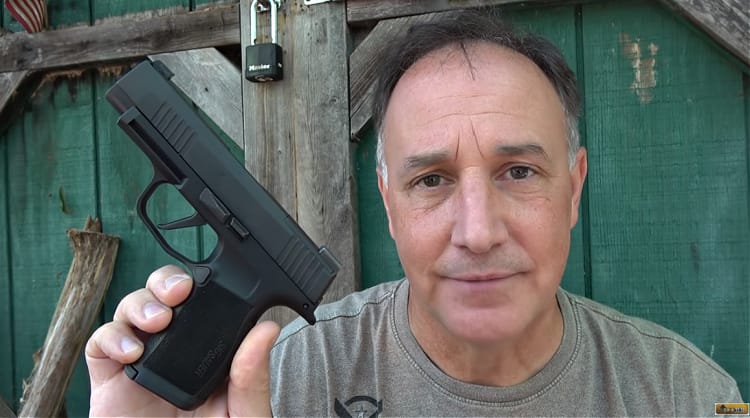 Just the Facts
Sootch starts us out with a kick-the-tires breakdown and comparison with the original P365, which is quite helpful for anyone who may not know the difference between the two. I won't spoil it, since you'll want to watch it for yourself, but he covers mag capacity, length (barrel and
overall), width, and height differences.
One thing he talks about is the new mag design that both firearms are built around, which is good because capacity is a major selling point. He mentions that XL mags will work in the original model. Ergonomics are discussed in detail as well as some of the control features, including the new flat-faced trigger, on which it seems the jury is still out.
Another good feature in the review is a comparison with the Glock 43 X and the Glock 48. I'm told that a lot of people love Glocks, so I was glad to see Sootch go into that. It just provides a better look at the Sig and how it fits in the marketplace.
Unlike the regular P365, the XL is already cut for an optic, and it seems the Sig Romeo Zero will fit on it right out of the box, which makes total sense. One thing held over on the XL is a proprietary accessory rail that only fits Sig attachments. Sootch isn't a big fan and, frankly, neither am I. I see that as a potential downside, but hey, maybe you love Sig accessories, so you do you Boo.
I should also mention that Sig has changed some of the internal components for the XL to avoid the early problems they had with the original P365. One of those is a beefed-up steel guide rod. So, it sounds like Sig has done the work to put out a quality product. There is a price difference, naturally, with the XL coming in about ninety bucks higher than the original. Both cost significantly more than the Glocks in the video.
Sootch and his band of partisans seem to have put a bunch of lead downrange with both models of the P365, so he has helpful comments on performance, though we don't see any targets. That doesn't really bother me, though, because I have trusted Sootch for a long time and I'm confident that he would report any issues, which he did not.
It looks to me like the P365 XL is a serious contender on the concealed carry market. But check out the video see what you think.
The Sig P365 XL: A Really Good Pistol
Patti Miller (June 2021)
There is no shortage of options when it comes to concealed carry pistols. Do you go with a single stack, double stack, or something a little in between? Chris Baker over at LuckyGunner seems to have some solid advice and a review for yet another option, the Sig P365 XL. Arriving last summer, it's larger than a standard Sig 365 with a larger grip allowing for higher capacity magazines.
According to Chris, this is the most impressive new handgun he's tried in a long time. Normally he's a snub-nosed revolver kind of guy, but since near the start of the pandemic, he's been carrying the new Sig. To him, it's a concealable compact carry pistol that looks like a single stack but actually holds twelve rounds or fifteen in the extended mag.
The newer Sig P365 XL has a slim profile with a longer barrel at 3.7" and a slightly longer grip. It has the standard XSeries trigger and XRay3 day/night sights. If the night sights aren't your deal, you can swap them out for a red dot pretty easily.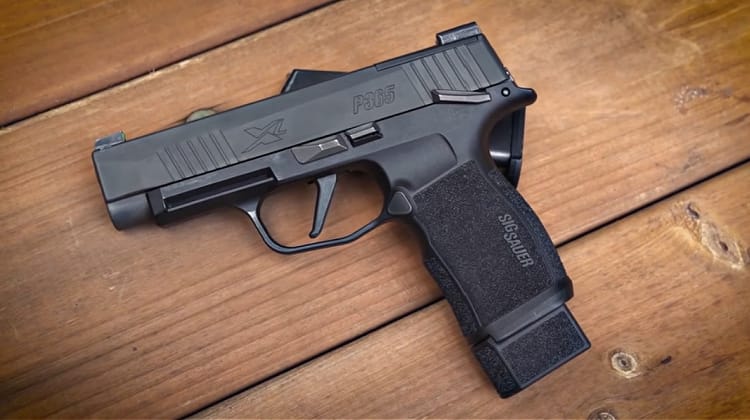 For Chris, the ideal concealed carry has to:
1. Be easy to shoot.
2. Be easy to carry.
3. Meet his standards for the safety (The order of appeal for him are: 1. Hammer fired guns (single or double action safety); 2. Striker fire (like Glock); and then 3. Manual safety (Sig).
He explains that the manual safety isn't good or bad, but on this particular model, it's not very wide and seems too far back on the frame. But on the plus side, it is ambidextrous. Chris says it's barely big enough to be useable, is sharp, and gets missed a lot in his speed drills. The safety eventually cut his thumb with the sharp edge during those same drills.
Overall, the appeal of the Sig P365 XL is that it is small and very shootable. It's only slightly larger than the Glock 43 but smaller than the Glock 19. It is less bulky than either of those or a Walther PPSm2. The overall size and lack of bulk are a big deal for concealed carry.
Testing the Sig P365 XL
In his testing, Chris shot over 2,000 rounds without any issues. To drive home his point of it being a good everyday carry, he set out to do failure drills and bill drills comparing the SIG 365 XL with a Beretta PX4 carry and the Walther PPSm2. In his drills, he found that the Sig is right up with the Beretta (a pistol he has more trigger time with) and Walther (he says shoots better than other polymer single-stacks) with his timings.
One item of note he mentioned was that the Sig P365 XL has a serialized firing component meaning the slide isn't the part that is serialized but instead serialized the firing mechanism inside. Meaning you can swap your firing components to a standard SIG 365 frame that is smaller, but then you'll need the smaller 10-round mag to go with it.
The trigger is a nice slow uptake and a gradual break, as with other XSeries triggers. Also, the slide is cut to be compatible with the following optics: RomeoZero, RMSc, Holosun HS507K, and Swampfox Sentinel.
To round up, he says the Sig P365 XL is reliable, easy to conceal, comfortable to carry all the day, has loads of holster options, and doesn't wear him out after long days shooting.