As we all know, March is Women's History Month. Throughout this month, our writers are going to bring you some great articles about the women who've made their mark in firearms, military, defensive, and otherwise tactical history.
But we're not stopping there. History doesn't end with yesterday. It also includes today, and even the future if you think about it. Our stories today will become the future's history. So we're also going to mix in some current events in our coverage of the history of women and firearms because there are some truly inspiring women out there that are doing phenomenal things. It's history in the making.
Today we're taking a look at what Sig Sauer and Lena Miculek are doing for women with the Rose by Sig Sauer program. The announcement of the new program in January caused a big splash because the entire thing was directed at the fastest-growing demographic of new gun owners—women. And this wasn't the same old announcement of a new gun made for women, with a smaller frame or painted pink. This is an entirely new kind of endeavor. It's a whole package designed to help women grow from their first steps into the world of guns, to greater knowledge and proficiency with their own guns.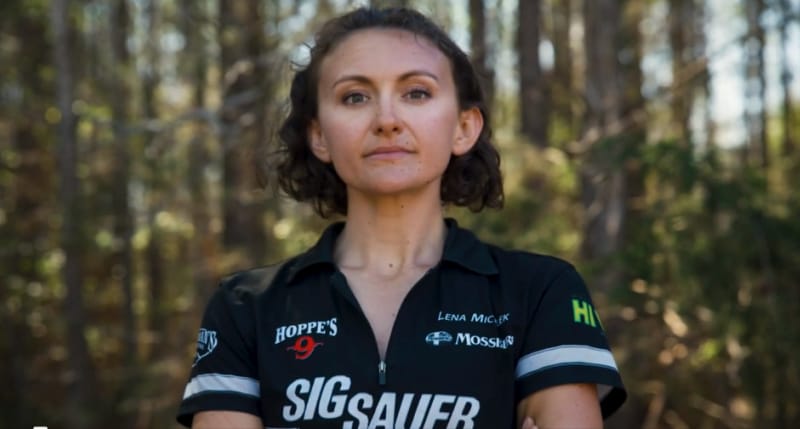 Of course, the Rose by Sig Sauer program does include a gun designed specifically for women. Two models, actually: the P365-380 Rose and the P365-XL Comp Rose. We'll get into the specifics of the two models in a bit.
First, though, let's answer some of the basic questions about this new program.
What is Rose by Sig Sauer?
Sig answers that question in an interesting way. They call it a holistic program. Exactly what does that mean, 'holistic program'?
According to the Oxford Dictionary, if something is holistic, it is "characterized by the belief that the parts of something are interconnected and can be explained only by reference to the whole."
So this new program is a holistic program for women, designed to help them take their first step toward responsible firearms ownership. If you think about it, that's a hefty endeavor. Especially for a male-dominated industry. But no worries, the woman who is the face and voice of the program is basically a rock star when it comes to the gun world.
Lena Miculek has a long history in the firearms world. Her parents, Jerry and Kay Miculek have been leaders in the competition shooting community for more than 40 years, so for Lena, firearms have been an integral part of her entire life. Ultimately, she has become a leader in the same community in her own right, as an instructor and competitive shooter, claiming national and world champion titles. And now, in collaboration with Sig Sauer, she is directing her energy and expertise toward growing and training new leagues of women gun owners.
Lena explains, "I understand that firearms ownership is intimidating, especially to get into, and so is just general firearms. But don't worry. I have used my past 10 years of personal professional shooting experience and World titles and national titles and all that, and luckily, three generations of prior firearms expertise to help answer all those questions. And before I was a competitive shooter, I was also an instructor for women across the nation. So this is me, times the power of Sig in a box to try and support women getting into firearms."
Lena is a big, big part of this program, and I don't think it could be called 'holistic' without her. The program provides essential components for the new gun owner who happens to be a woman: the tools, the training, the community, and a credible expert who also happens to be a woman to lead them through the experience.
How does it work?
In its entirety, the Rose by Sig Sauer program begins with the purchase of a kit. The kit has all of the hardware, (except ammunition, of course), that you need to get started on your firearms journey. But, after the purchase is made, you're not left to just figure it out on your own. You have access to free online courses and a community that is focused and excited about learning and growing.
Kit
The Rose by Sig Sauer kit is available in two options, the P365-380 Rose and the P365-XL Comp Rose. The kit is designed to answer as many questions as possible for the new firearms owner. It comes with a Rose-branded gun safe, two magazines, a magazine loader, and five dummy rounds (I personally think it's awesome that they even put dummy rounds in this kit). A card included in the kit features a QR code that takes you to a free educational program that Lena built to get new shooters comfortable handling their new pistols and ready to go to the range.
Online Training Series
Lena's online training series begins with an overview of the kit and the rules of firearm safety, and goes on to cover everything from basic handling, maintenance, and storage to dryfire practice, clearing malfunctions, and preparing to train on a range. The series can be found at https://vimeo.com/showcase/rosebysigsauer
Here's the video lineup:
Welcome to ROSE by Sig Sauer
Kit Overview
Rules of Firearms Safety
Basic Firearms Handling
Safely Storing Your Pistol
Pistol Cleaning and Maintenance
Basics of Shooting
Dry Fire Pistol Training at Home Part 1
Dry Fire Pistol Training at Home Part 2
Clearing Malfunctions and Common Accuracy Issues
Get Ready for Your First Time at the Range
Safety Briefing
Shooting for the First Time (Live Fire)
Shooting Practice (Live Fire)
Community
Rose by Sig Sauer offers an online community where women support each other and share their journeys as they grow. As of this writing, the community has over 5,000 members with several posts daily. The fact that this community is less than two months old, but already has that kind of activity, proves that the program is off to a great start toward helping women in their firearms journeys.
Many people grow up in families where firearms are a part of normal life, whether that be through hunting, shooting sports, or adult occupations such as law enforcement or military. But that's not true for everyone, and in a cultural and historical sense, that has not been the experience for a large percentage of women. And that is exactly why a firearms community of, by, and for women is a really big deal.
The online community can be found on Facebook and does not require the purchase of a Rose kit. Upon approval, membership allows access to featured posts, discussions, files, reels, and events. Currently, there are no files or events, but remember, this is a very new community. All good things take time.
The fact that Rose by Sig Sauer offers this kind of dynamic community speaks to the 'holistic' character of the program. And, the fact that no purchase is required to access the online training and community gives evidence of how the program is dedicated to seeing new women gun owners through their first steps, regardless of which gun they use.
History in the Making
By the looks of things, this program is not going to be a single breeze in the winds of time. Women are embracing concealed carry, self-defense, competitive shooting, and hunting at an unprecedented rate. This is a powerful demographic with unique needs, and the firearms industry does well to recognize it. Sig made a very smart move in this, and Lena is sure to make a significant impact on untold numbers of new women gun owners.