Last year KelTec celebrated its 30th anniversary. This year they released their first striker-fired pistol: the KelTec P15 9mm micro-compact pistol. They describe it as the "…lightest and thinnest of its kind." It also features a patent-pending 15-round extended magazine, though we're not entirely sure what parts of that mag's design they're calling unique. Read on for more about the newest Kel Tec 9mm — but don't ask us how it shoots, because it was not at the KelTec bay during Media Day at the Range. We couldn't put eyes on it until we came into the SHOT Show proper.
KelTec P15
Some quick notes on the P15:
extended magazine capacity is 15 rounds of 9mm
flush-fit magazine holds 12 rounds
utilizes a grip safety
fiber-optic tritium front sight
adjustable tritium two-dot rear sight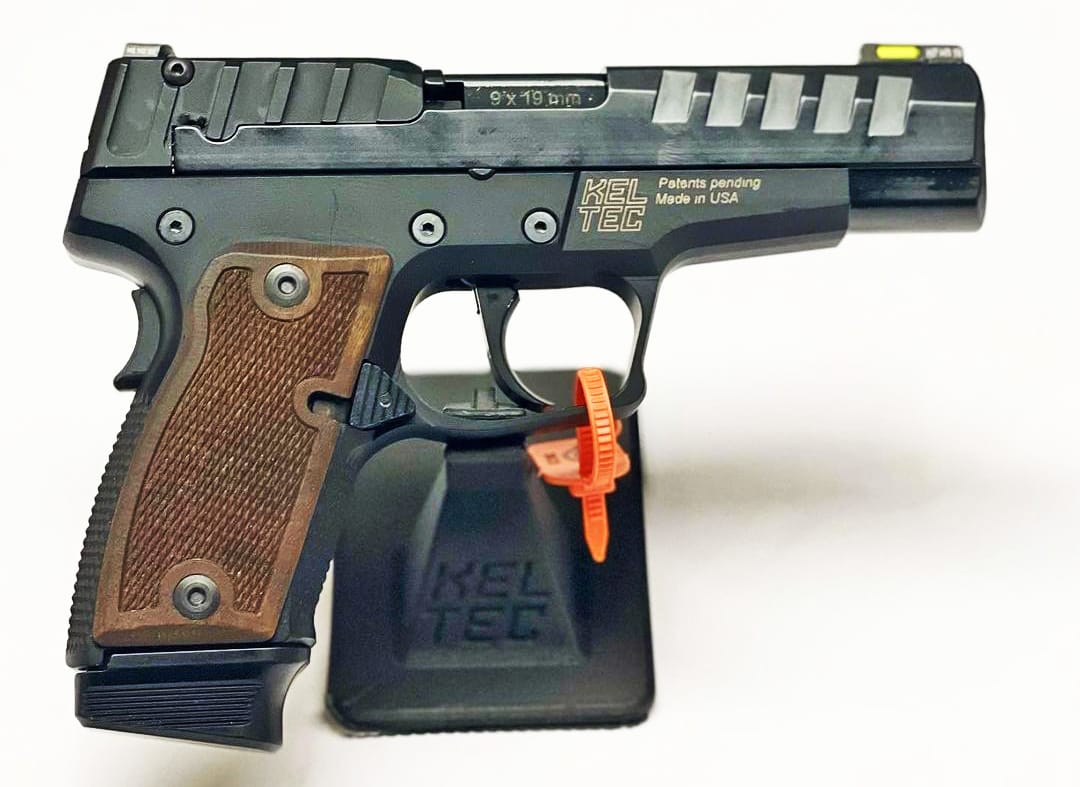 "gator" grip texture
bilateral thumb safety
trigger pull is 5 lbs.
6.6 in. long x 5 in. high x .875 in. wide
barrel length is 4 in.
weighs 14 oz. unloaded
KelTec advises,
The new P15 also offers other quality and performance features carry pistol enthusiasts have come to expect from KelTec, like a fiber optic front sight, adjustable rear sight, ambidextrous safety and magazine release plus a gator grip texture that increases stability and makes for easy, accurate handling.

The new Kel-Tec P15, as its name suggests, carries a magazine capacity of 15 rounds in 9 mm, despite its ultra-thin dimensions. This is accomplished through an innovative, patent-pending, extended magazine design. The new guns are also equipped with fiber-optic front sights, an adjustable rear sight and "gator" grip texturing for a solid hold. Additionally, each gun is equipped with a bilateral thumb safety and push-button magazine release. At the rear of the grip frame, there's also a grip safety. The gun features a single-slot Picatinny accessory rail on the front of the frame, as well as serrations on the front and rear of the slide.
When the latest Kel Tec 9mm was released, the company's Director of Marketing explained.
"KelTec invented subcompact, polymer handguns," Derek Kellgren said. "So we wanted our first 9mm striker-fired pistol to be worthy of the company George Kellgren founded 31 years ago."
Adrian Kellgren, KelTec Director of Industrial Production, added,
"While we pride ourselves on creating firearms that are unlike any others, we also pride ourselves on innovation in production. That allows us to consistently produce innovative firearms that are also reliable, high quality, affordable firearms."