Sometimes all you need is a classic. Victorinox is now the standard-bearer for the old Swiss Army line, and they're keeping the iconic design alive. The Cadet is one of those ideal EDC designs—light and thin versatile, a knife that's perfect for EDC (even if it does work best as part of a two-knife set).
This is my Cadet. Though some of the knives we review on Keen Insights are sent to us to review, this one wasn't. A few years back, I decided I wanted a pocketknife that could do more than just cut, and this was where I ended up.
The Victorinox Cadet
I play guitar. For this reason alone, I pay more attention to my nails than most men. The nails on my left hand are ground down, and the ones on my right I keep long for finger-picking.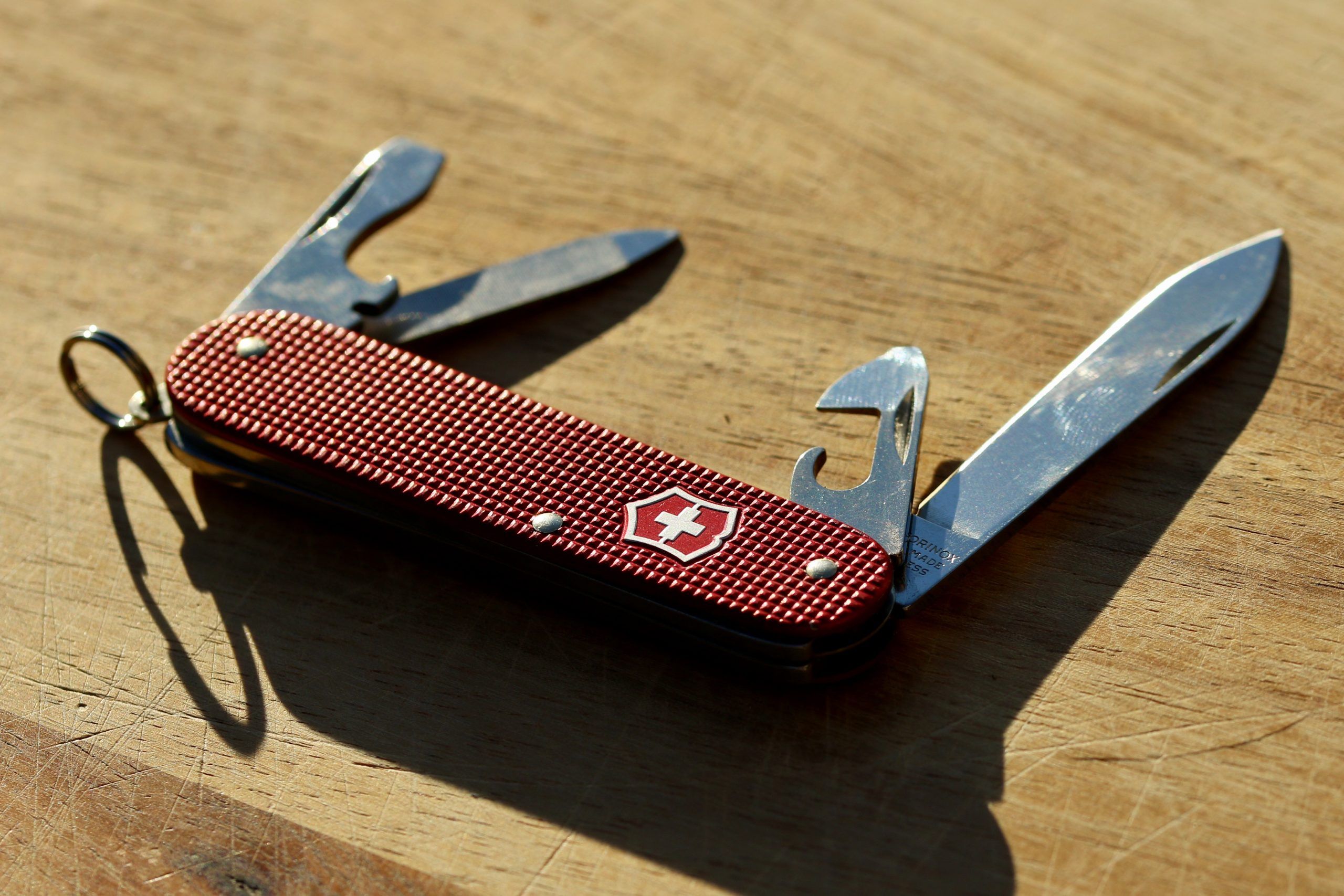 So I wanted a nail file on this knife, and not all of the Swiss Army designs have one. Victorinox makes two types—one that's rough-textured like sandpaper (which is what I prefer), and one that is clean-cut lines, like a bastard file. When I ordered this knife, the image showed the former, but I got the bastard file.
It still cuts—but it has to be pushed in one direction. And the cutting is seriously aggressive, so the pressure you put on the steel needs to be consistent and calculated so you don't shave off more than you want to.
There's also a can opener with a flat-head screwdriver attached. This is a push-forward opener design that works like a charm. The stainless on these tools is thick enough to pry with, solid enough to twist a screw, and the walk-and-talk is firm, but not so stiff that you'll break a thumbnail trying to open them.
On the other side is a wider flat-head and a wire stripper. Both of these are built into the bottle opener. These three smaller tools pair with the single blade to create a really thin knife that is easy to carry—even in thin slacks. There's absolutely nothing to it.
Scaring the Sheep
That's important, sometimes. You can be one of those people who simply say "to hell with the sheep," or you can back up and carry a knife, or a gun for that matter, that the sheep never see—at least until they have to.
Guns, though. You can't pull a gun without someone losing their composure. This knife, though, is as safe as knives come—as far as sheep are concerned.
The actual design has an inherent risk to the user. This is a slip-joint. There is a half-stop on the return that lets you clear your fingers before it snaps closed, but this isn't a knife designed for the types of tasks that would require a lock-blade.
A Stainless Blade
The blade itself is stainless (and comes in under three inches). This is a mixed bag for me. I'm old-school and I like to sharpen my own steel, and stainless blades are notoriously hard to sharpen. Most have a low ranking on the Rockwell scale, which means they dull rather quickly, and then they are hard to resharpen.
Victorinox calls its blade steel "high-carbon stainless" and argues that it has the best attributes of both types. The blade is incredibly thin, with a minute secondary bevel, so it isn't as hard to keep sharp as some big hunting blades.
And the stainless means it is ideal for tasks like peeling apples, or whatever you might do that would leave the blade sticky. You can hose it down in the sink, shake it dry, snap it closed and forget about it. I've even run this through the dishwasher a time or two without worry.
The Alox Cadet and Victorinox's Use of Aluminum
While I wouldn't do that with a standard Swiss Army knife, this one has aluminum scales. Alox is a fancy term for aluminum. These scales are punched out of a sheet, stamped with the texture, and then treated with anodic oxidation. Aluminum and oxidation: ALOX.
I'm a fan of the Alox series scales. If I have the choice between two materials, and one is metal and the other plastic, I'm going to gravitate to the weight and feel of the plastic. I've been this way ever since I can remember—even way back when I was playing with Matchbox cars.
And I'm not alone. Many of us like well-made things. We prefer them over mass-produced things. How else can we explain the proliferation of the custom G19s? A Glock G19 tends to work perfectly, yet many of us are obsessed with the custom.
In one sense, the Alox series is a nod to this. Each year, Victorinox puts out new limited editions. Some of these are in distinct colors. Others are unique tool collections.
They're not fully custom, in that sense that each is unique to the end user who made the design decisions, but they are a step above in ornamentation. As far as I can tell, there's no real change in the way any of the tools would work. The whole knife has a better grip surface, but that's about the only argument I could make.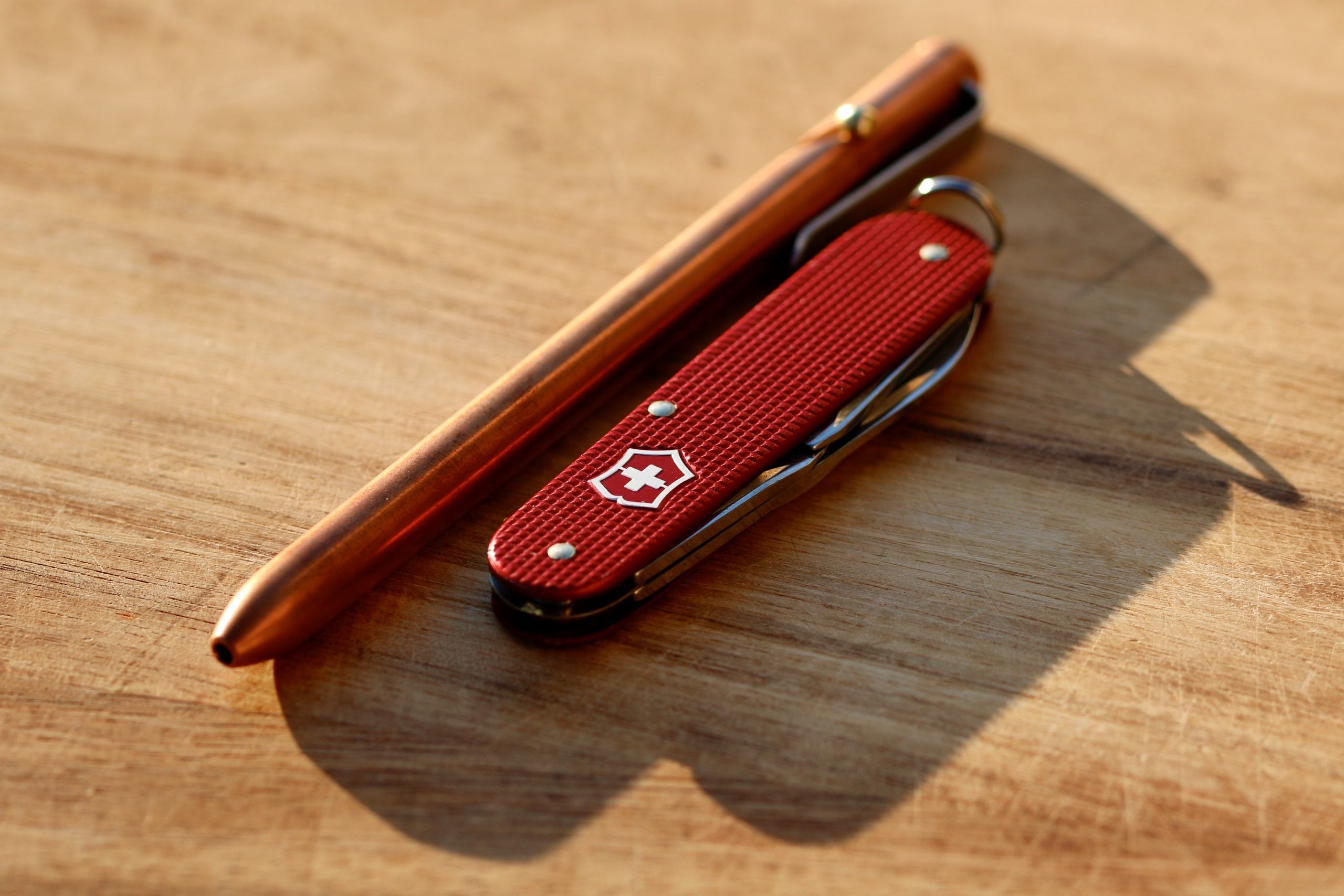 For those who want to take the custom idea even further, there are options for scales from Flytanium and others that can replace the aluminum with brass or titanium.
For my purposes, though, the Alox is it. This is so much a part of my daily carry that I've made it a lanyard that allows me to loop it though my belt when I'm out in the woods.
It may take two hands to open and not lock, but it works damn well. And with an MSRP of $42.99, it is a steal. I think I may have paid about 2/3 of that price and had no regrets.