When I joined the Boy Scouts back in the latter part of the last century, there was no such thing as "Leave No Trace." When we went camping, we left traces. You could tell we'd been there.
One of the ways we kept out the rain was by trenching our tents—digging small moats around the footprint of the tent to run water away. And we built fires that could be seen from space. And we carried honest-to-God knives, like the Buck 110 Folding Hunter.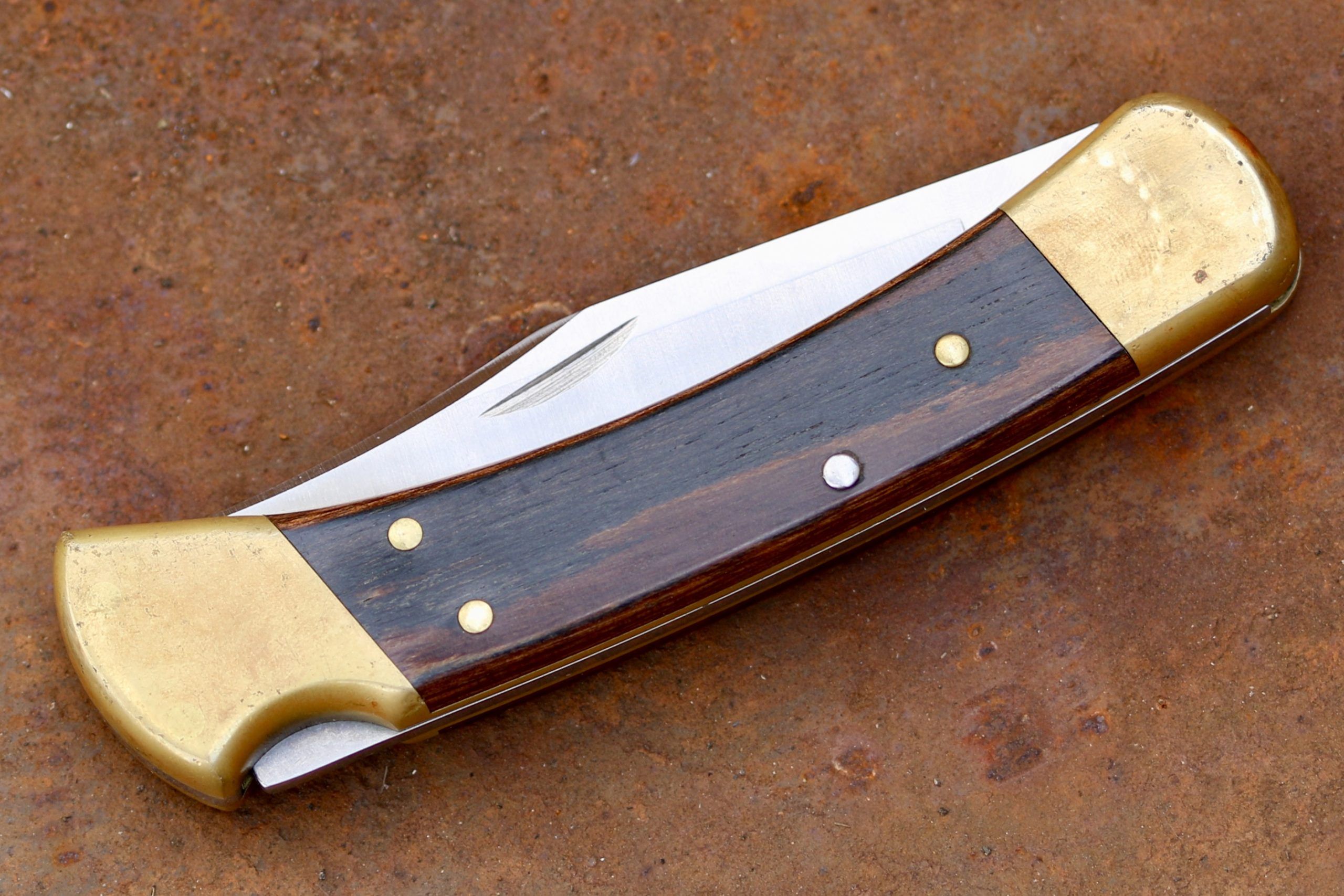 A few of us had some weedy Swiss Army knives, but the Buck 110 was the knife we all wanted. And we didn't call it a 110—it was just a Buck. Or a Buck Knife if you were feeling loquacious. "Hey man, throw me that Buck Knife—I've got to remove a splinter."
The Buck 110 Folding Hunter
The covers on the 110 have been made of lots of materials, but most are wooden. Most of that wood is dark. In the old days, the wood was ebony, but regulations on importing endangered woods made them switch to more sustainable woods and plywood (more on that below).
The covers are almost always pinned in place (with a bit of glue for good measure).
The bolsters are brass. This is what gives the 110 its weight—and it isn't a light knife. There's a lot of brass in this one and a lot of steel.
The lock is about as traditional as they come for a lock blade knife. The lock bar hinges in the middle, and a piece of spring steel pushes the back end up, which holds the blade in the locked position.
This is hardly a one-handed opening knife. There are some add-on thumb-stud designs that allow for one-handed opens, but closing it is easier with two hands than just one. There are even automatic versions, but the classic is a bit old-school.
Is it an EDC blade?
And that's evident from top to bottom. The blade is longer than most current EDC blades. The whole knife is much heavier and thicker—even the materials have been slow to evolve (at least in the classic versions—Buck has updated offshoots numerous times over the years).
But this remains a knife you know you have in your pocket. If I had to make a gun comparison, I'd say this is very similar to a 1911.
From 1963 on, in some similar iteration, the 110 has stood as an icon. I'd love to know how many of these Buck has sold in those six decades.
The 110 is a classic
Do I sound like a fanboy? Probably. I never had a 110 as a kid.
I had a bunch of knock-offs. I grew up in the era of flea market crap. I had lots of Pakastani copies—knives that were made out of something like steel. They never held an edge.
And they couldn't hold a candle to the basic made-in-America workmanship of a 110. The wood was all wrong. The blade grinds were never quite right. Even the width and the radius at the edges of the bolsters—the details that I knew were marks of quality, even when I was 11—they weren't there.
As an adult, one who has no problem dropping real money on knives, I wasn't really attracted to the old Buck design anymore. I carried more Kershaws and Spydercos. The Buck seemed antiquated.
Every time I went to a gun show, though, I'd pick one up off the table and remember that feeling of power. Eventually, that got the better of me and I bought one just so I wouldn't have to go to a gun show to have that memory.
Then I started carrying it. This was a beast. I liked wrapping my fingers around it like I would a roll of quarters and feeling the weight inside my closed fist.
And I liked the smell of the brass. As I carried it, the brass tarnished and took on new character. Every scratch and dent made it more mine than it was before.
The blade didn't live up to the demands I put on it. I broke off the tip prying with it. The stainless dulled easily—or more easily than I was accustomed to, and wasn't the easiest material to get back into shape.
Still, this was my daily carry knife for a good five years or more—right up until some yahoo stole it. My best guess is that I left it in the center console of my Jeep. We have a thief in the neighborhood, someone who (if the neighborhood Facebook page's theories are correct) wanders around adding unattended knives to their collection.
It isn't me. But I have a couple of blades that have gone on walkabout and that's my best guess.
The knife in these images belongs to my son. I don't think he's the thief, either, though he regularly steals my knives. After he'd walked off with my Buck one-too-many-times, I made him buy his own.
He's had this one for three years now. The scars on it are signs of honest use. He tends to keep it in a leather sheath and not in his pocket, which I think gives him a feeling of security. He can close the snap and trust that he won't lose it out in the woods.
And if he doesn't leave it in his car, he may have it for a very long time. He may, as I did, instill a love of the Buck 110 in his own son, entirely by accident.
If his kid wants one, I trust there will be new Buck 110s for sale, still. Buck has taken great strides to ensure that the company keeps its values in place and its production numbers up and its products priced competitively.
Even the materials evolve. The 110 now has ebony scales again. The company has partnered with Taylor Guitars, who helps run Crelicam—a company that has invested in sustainably-grown timber in Cameroon. Taylor makes fretboards out of ebony, and the cut-off end sections and trimmed pieces are ideal for making covers.
Ebony is exceptionally hard. The wood is also high in oils, which means it doesn't need a top-coat finish or varnish to protect it. These oils make it stable and resistant to expanding and shrinking as humidity changes—all things that make for stable fretboards on guitars and excellent covers on knife handles.
What more could you ask for? 20th Century nostalgia and 21st Century sustainability. All for an MSRP of $59.99.