Rifle slings should be a part of any long gun set-up, which of course means you need sling mounts or QD attachments. Below you'll find news of new rifle sling and sling mount options, Quick Detach/QD attachment points, and the like as we hear about them. These are neither reviews nor evaluations, we are just passing along the news.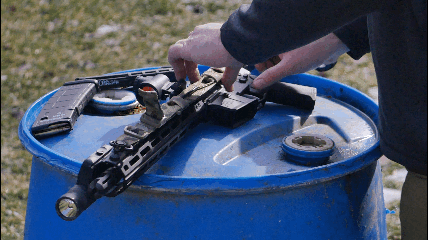 (New) Rifle Slings and Sling Mounts
High-Speed Gear APEX SLING
Oct. 27, 2021
High-Speed Gear announced the release of their newest product today: Apex Sling. The Apex is made in the USA and is covered by HSGI's lifetime warranty.
Here's how they describe it.
About the Apex Sling
The Apex Sling is unlike any of its kind, offering a two-point, quick-adjust for rifles, carbines, and comparable sized weapons. The low-profile waterproof pad provides added comfort and durability, which is a highly sought-after feature that keeps the user focused on what matters most. The Apex Sling was designed with a patent-pending Double-Tap Slider, which allows for quick adjustments while also providing two levels of friction to meet user preference.
The mil-spec tubular webbing features Schoeller Nanosphere coating, which provides water resistance and rapid drying time. The steel hardware with military-grade coating ensures durability that exceeds the well-past the lifetime of other slings on the market. The Apex Sling is compatible with a wide variety of mounting options, is Berry Amendment compliant and hand-made in the USA.

"In a space where most slings share a similar design, details can make all the difference," explained Daniel Chaney, HSGI Senior Designer. "Our expert users helped us zero in on features that really matter to demanding users. As a result, the Apex is adaptable, comfortable, and reliable, which allows you to focus on the mission."

The Apex Sling is now available for purchase from HSGI Authorized Dealers or on the High Speed Gear website.
The Apex is $45.00 and is available in either black or coyote brown.
Specifications
Dimensions: 62" x 1.88" x 0.5" .3 lbs
Metric: 157.48cm x 4.78cm x 1.27cm 136 g

The HSGI Clips are included.
About High Speed Gear in their own words:
"High Speed Gear is dedicated to building the best 100% American-made, Battle-Proven Tactical Gear. Our products are designed for the highest level of comfort, functionality and versatility. Satisfaction is guaranteed for all our customers, whether military, law enforcement or responsibly-armed citizens. Our products are user driven and are designed based on the operational experiences of a wide variety of end users."
Tri-Base Buffer Tube hardpoints
New QD Sling Mount option from GrovTec
2-7-2020
Oregon-based GrovTec has released a new ambi (ambidextrous) QD sling mount option for folks who don't want to disassemble their rifle or are unable to easily take a brace or stock off. it's called the Tri-Base Buffer Tube Sling Mount and it's designed to install on "…any mil-spec buffer tube" using hex keys.
GrovTac says their three full-rotation mounting point design does away with any need to replace receiver end plates or "…fight with staked castle nuts".
From the release:
Type III hard black anodizing protects the 6061 aluminum and matches your buffer tube/receiver extension. With the rise in popularity of braces and pistol stabilizing devices GrovTec's solution also adds excellent utility to compact firearms such as AK pistols, rifle-caliber pistols, and submachine-gun builds by adding a critical point of attachment for slings.
Manufacturer provides specs:
Tri-Base Buffer Tube Sling Mount – GTSW312
No Disassembly of firearm Required for Installation
Fits Mil-Spec Buffer Tubes
3 SLING Mounting Positions
6061 Aluminum Construction
Type III Black Hard Anodized Finished
Mounts on a mil-spec buffer tube to allow for three sling mounting positions. Installs with no disassembly required. All three bases are full rotation. Allen key tool and mounting screws included.
Learn more about GrovTec and their Tri-Base Buffer Tube Sling Mount online.