While many see 9x19mm Parabellum as king, there are other cartridges out there that have gained popularity. 10mm Auto is a fantastic example. Lately, there's been an ever-increasing number of new 10mm handguns released by a variety of manufacturers. The Hi-Point JXP10 is a budget-friendly contender designed to be what the gun maker calls "the working man's gun." This pistol offers a variety of features geared toward those who practice concealed carry.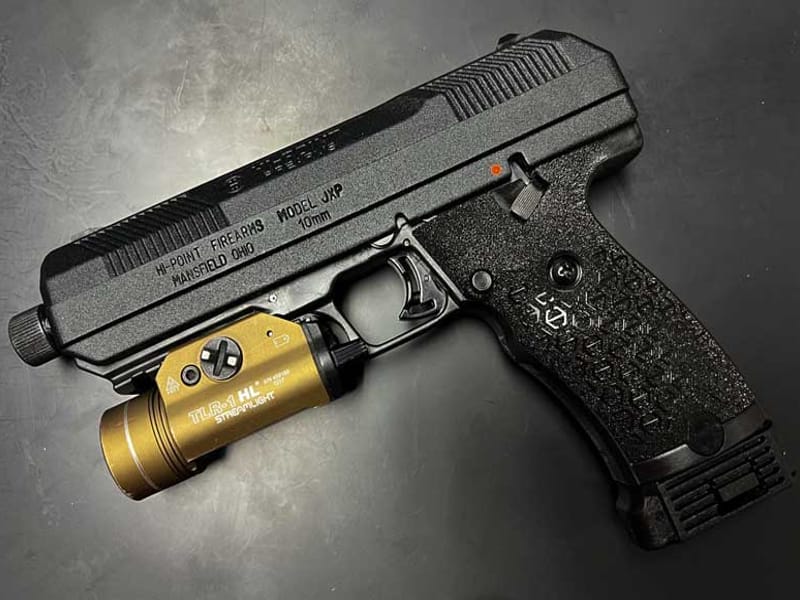 The Hi-Point JXP10 has a polymer frame and purpose-built slide. Angled, narrow serrations are located at the front and rear of the slide to facilitate slide manipulation and the edges of the slide itself are also blunted to reduce the risk of snags. The serrations are cut aggressively enough to help the shooter rack the slide under a variety of circumstances, but not so sharp as to be overly uncomfortable. In addition, this pistol has a patterned, textured grip for a firm hold even with wet or sweaty hands. It doesn't have molded finger grooves, which is a big plus for most shooters.
Two things that significantly differentiate this model from previous Hi-Point pistols are the threaded barrel and the accessory rail ahead of the trigger guard. With the threaded barrel, shooters can choose to add a compensator or suppressor to their gun while the rail makes it easy to add weapon-mounted lights or lasers. After all, target identification and proper aim are vital to defensive shooting, and that means using a light or a light and laser combo.
The gun has a capacity of 10 +1. According to the manufacturer, it's +P rated, which implies it's capable of withstanding full-pressure 10mm loads. It has a 5.2-inch barrel length and an overall empty weight of 49 ounces, both features which help mitigate muzzle rise and felt recoil. That, in turn, leads to improved accuracy. The JXP10 has an oversized external thumb safety. Other features include compatibility with aftermarket Glock front sights and the magazine being compatible with the 1095 carbine.
Features of the Hi-Point JXP10 include:
10mm chambering.
10 +1 capacity.
5.2-inch barrel for greater accuracy and to somewhat reduce muzzle rise.
49-ounce empty weight, which helps mitigate felt recoil and improve accuracy and rapid target acquisition.
Black finish.
Threaded barrel for easy addition of aftermarket barrel-mounted accessories.
Front and rear slide serrations for easier slide manipulation.
External thumb safety.
Standard 1913 compatible accessory rail for weapon-mounted lights and lasers.
Fully adjustable rear sight for proper sight alignment and accuracy.
The rear sight is listed as red dot compatible.
Front sight compatible with aftermarket Glock sights, giving shooters myriad options.
Last round hold open feature, meaning the slide locks back after the last shot is fired.
8.5-inch overall length, so this is a full-size pistol.
YC9 style slide.
Designed to be functional and to meet many of the features desired by those focused on self-defense.
Is this the gun that convinces you to join the Hi-Point family? Let us know what you think in the comments section.
MSRP for the Hi-Point JXP10 is set at $225.00.