It's been almost half a century since John Wayne died, but his countless Westerns live on. John Wayne is an icon in the world of Westerns, and in the movie world in general. It's really no surprise his talent lives on. His movies were filmed in a time when firearm use was simply a given, and he ran a lot of different guns over the years. This is our list of some of our favorite guns John Wayne used.
Great Western Single Action Army
It might seem odd to start at the end, but here we are. The Shootist was John Wayne's last movie in which he played an aging gunfighter who was dying of cancer. That movie was released in 1976, and by 1979, John Wayne himself had died of cancer.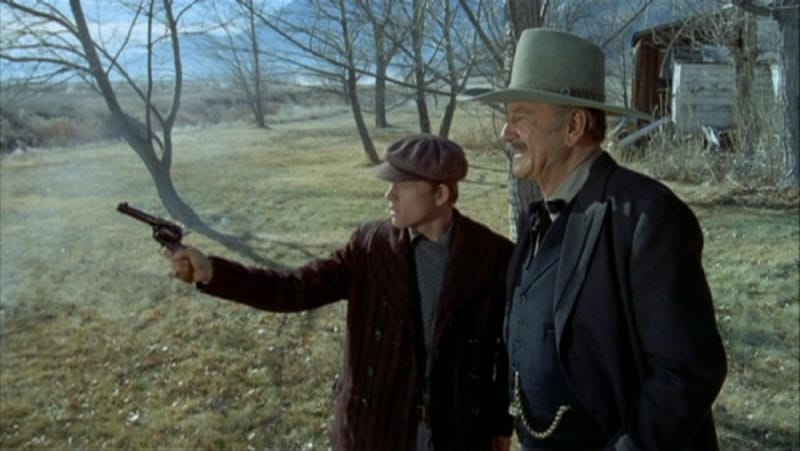 During the movie, Wayne teaches a young man, Gilliam Rogers (played by Ron Howard), how to shoot. He also tries to teach him the grim realities of being a gunfighter, making it clear what kind of life it is. In one scene, he shows Gilliam how to shoot his Great Western Single Action Army.
Although the gun used by Ron Howard in the movie is a replica, and a prop, John Wayne did have a set of engraved Great Western Single Action Army revolvers. Although the revolver was made in a few different calibers, it's a safe bet this particular gun was a 45 Colt.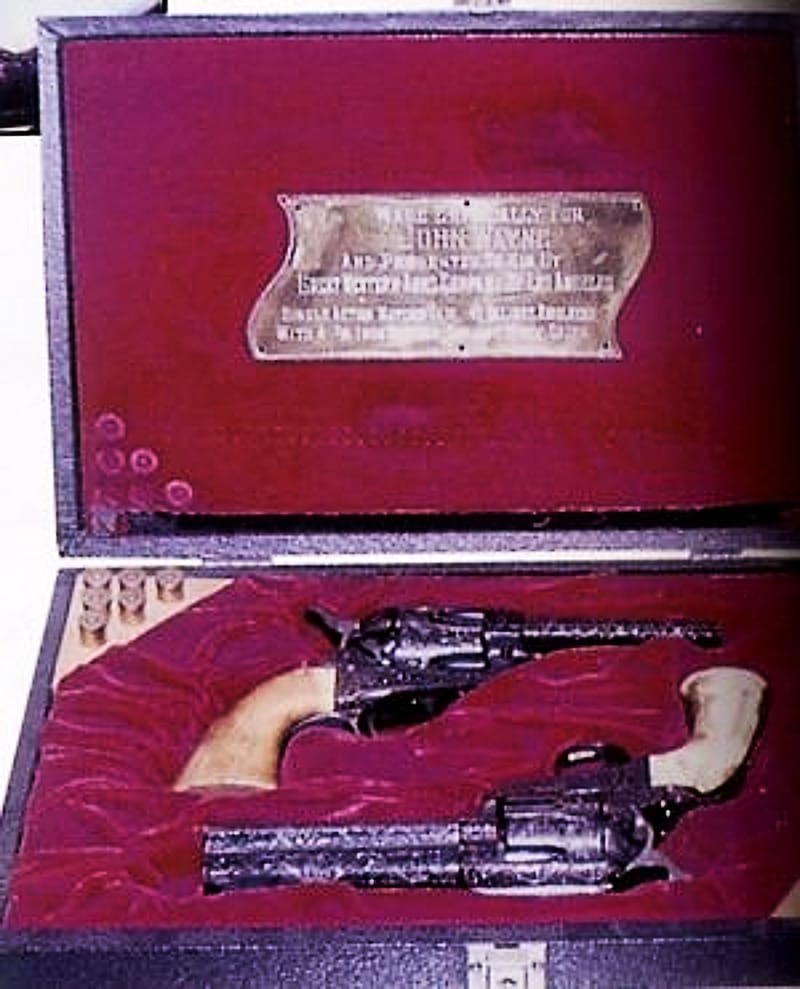 Winchester 1892
The Winchester 1892 is a lever-action rifle John Wayne uses in more than one of his movies. You can spot the gun in movies like Big Jake, True Grit, and Stagecoach.
It was apparently a favorite model of the actor, but his hands were big enough to make maneuvering the loop awkward. As a result, Winchester 1892s were modified with extra-large, oversized loops to accommodate his hand size.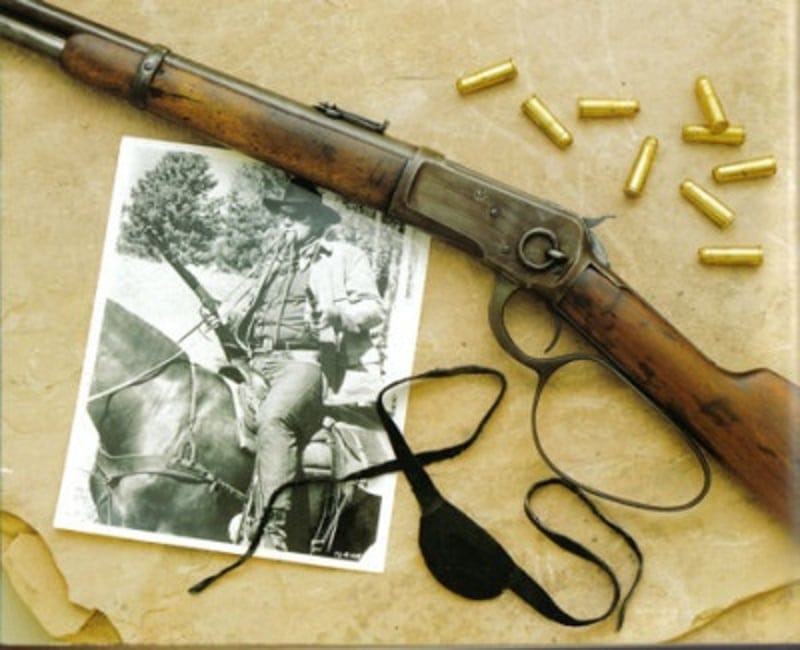 In Big Jake, John Wayne uses his Winchester 1892 to "butt in" to people's business. It's visible throughout the show, both being fired by the actor and being carried on horseback. It might be best remembered for its use in the final, dramatic gunfight in True Grit, though. Either way, it's a classic.
The Winchester 1892 was produced from 1892 to 1945 and chambered in a variety of calibers. Possible chambering include .32-20 Winchester, .38-40 Winchester, .44-40 Winchester, .25-20 Winchester, and .218 Bee. The gun used by John Wayne was chambered in .44-40 Winchester.
M1 Garand
The M1 Garand isn't exactly a gun known for use in Westerns, and for good reason. Instead, it made the list for its use in The Longest Day, one of John Wayne's military movies (and, in my opinion, the best). In the movie, there are a lot of M1 Garands all over the place, carried by both Airborne and Allied soldiers.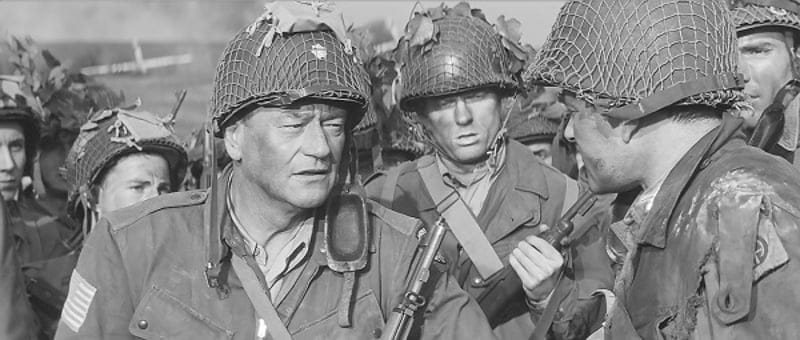 Our military did, indeed, have M1 Garands on D-Day when they stormed Normandy Beach. Although John Wayne's presence in the movie isn't as lengthy as some of the other actors, his inclusion is noteworthy.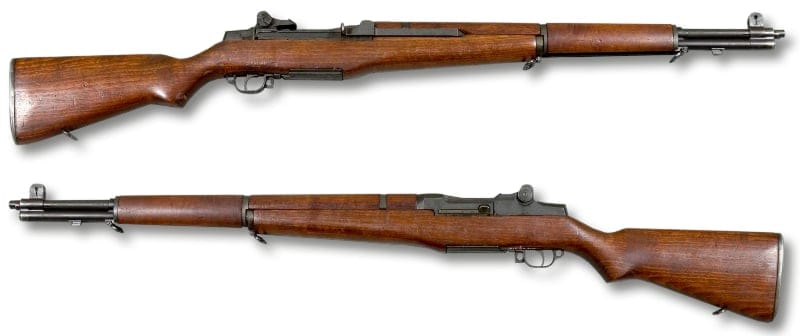 For those unfamiliar, the M1 Garand is a semi-automatic rifle chambered in 30-06 Springfield. It saw heavy use in both World War II and the Korean War. In fact, it wasn't replaced as a duty weapon until the M14 came along. It was and is a reliable rifle, although its iron sights, capacity, and overall setup do make it less tactically desirable than today's firearms.
John Wayne also used an M1 Garand in Sands of Iwo Jima.
Colt 1874 Gatling Gun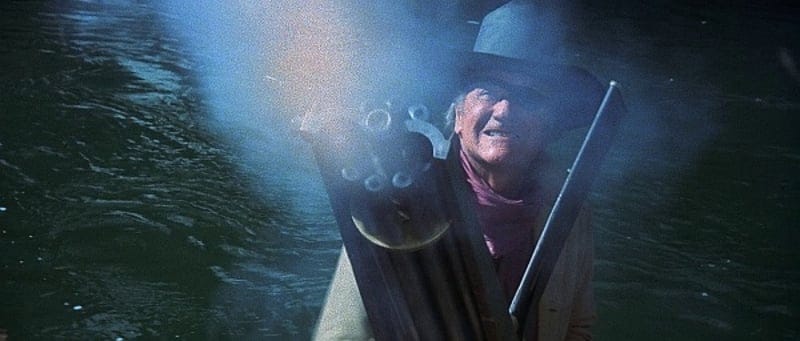 In what is inarguably the coolest moment in John Wayne movies, he runs a Gatling Gun. That takes place in Rooster Cogburn, and all we're going to say about that is, if you like True Grit and you haven't seen Rooster Cogburn, you're missing out. It's a sequel of sorts, giving viewers another look at Rooster Cogburn, only this time he's teamed up with Katharine Hepburn (she also fires the Gatling Gun).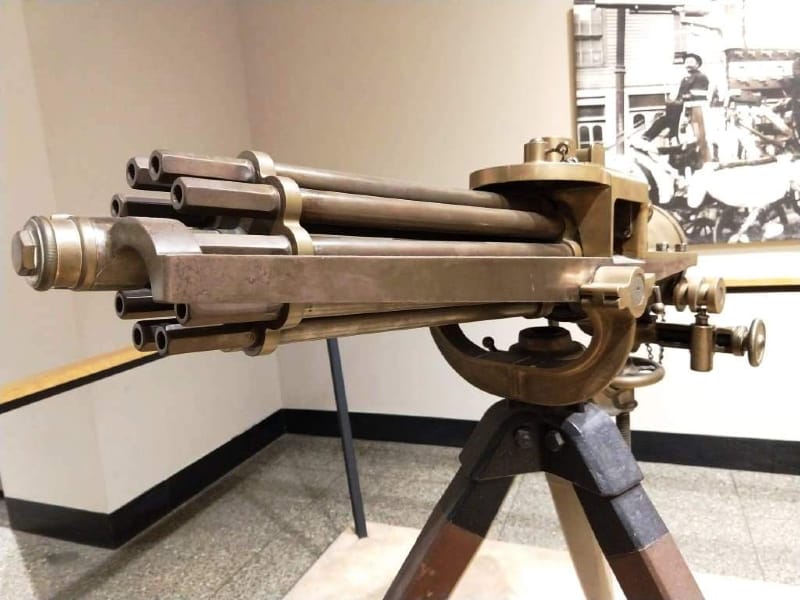 The Colt 1874 Gatling Gun has 10 barrels and no barrel shrouds. Each barrel is 32 inches in length on the original model, but they're only 18 inches long on the Camel Gatling Gun model. If you could actually keep it loaded fast enough, it's capable of firing around 1,000 rounds per minute. The gun used in the movie was a 45-70. Sure, we might have bigger, badder cartridges today, but stop and think about how effective it would be to sling 45-70 down-range at an enemy. It got the job done just fine.
Kentucky Flintlock Rifle
The Alamo is another stellar movie John Wayne starred in (as Davy Crockett, of course). A lot of era-specific guns are seen in this one, including a Kentucky Flintlock Rifle used by John Wayne himself.
We don't know exactly what caliber it was, but we do know the rifle was made in 36-caliber, 45-caliber, and 50-caliber.
This is an interesting rifle, partly because it illustrates how enormously firearms technology has changed. The general effective range of one of these was around 100 yards, although it was possible to reach out further with enough practice and skill. Of course, you really had to make that shot count, because every ball had to be loaded one at a time. Then there was the smoke created by firing, which could make it difficult to see.
The Kentucky Flintlock Rifle was a legit, historically accurate choice for John Wayne and a lot of the other actors to use in The Alamo. If you haven't seen it, we suggest you rectify that situation.
What's your favorite John Wayne movie, and which gun is best? Tell us what you think in the comments section below.