Based loosely on the story of an ex-Alcatraz inmate who pulled a number of heists in the 1960s, "Heat" remains one of the greatest crime dramas ever to hit the big screen. It was notable in that the bad guys didn't come off as sociopaths — even though it could be argued they were, given their ability to murder three security guards and show no remorse. Likewise, the police weren't perfect, yet none were the typical "plays by his own rules" type that is so often seen in Hollywood.
Rather, "Heat" focused on a highly professional crew of thieves as well as the Los Angeles police unit charged with bringing them to justice. As it was filmed almost entirely on location, rather than a sound stage, it retained a level of authenticity rarely seen. Remembered as much for its dialog as action, "Heat" also surpassed even the works of Quentin Tarantino (and the imitators) in terms of visual style. Whereas other crime dramas had actors playing colorful characters, "Heat" comes as a film about seemingly real people.
What is also notable is that director Michael Mann had sought to make the film for more than a decade, and at one point turned his script into a 90-minute TV pilot for NBC. After it failed to receive a pick-up, the pilot was aired as a made-for-TV movie called "L.A. Takedown."
After coming off the success of 1992's "The Last of the Mohicans," Mann was able to return to "Heat." Wanting it not to be compared to other films, nearly all of the principal locations had never appeared on screen previously. In addition, the production hired British ex-Special Air Service (SAS) sergeant Andy McNab to serve as the film's technical weapons trainer and advisor.
All this certainly helped make it a classic that can be enjoyed even for the 100th time!
The Guns Aren't the Stars
Whereas firearms can often be as iconic in some films as the stars – "Heat" has no Model 29 Smith & Wesson, no Walther PPK, no M60 machine gun, or other small arms that immediately stand out. That is actually for the best, as it further implies that guns are just the tools needed for the job.
In fact, the closest to a "signature" gun in the film is the ivory-gripped Colt M1991A1 Series 80 Officer's ACP carried by Lieutenant Vincent Hanna (Al Pacino). It has been suggested that it would be a fitting choice for the character, as Hanna is mentioned to have served in the United States Marine Corps and would have likely carried a Colt M1911 .45 ACP during his time in the service. The M199A1 certainly would be the choice of sidearm for someone familiar with the M1911 — even as in the 1990s, polymer-framed pistols from Glock and Sig Sauer were being adopted by law enforcement across the country.
By contrast, professional thief Neil McCauley (Robert De Niro) shows almost no attachment to his handgun of choice — likely in keeping with his advice, "Don't let yourself get attached to anything you are not willing to walk out on in 30 seconds flat if you feel the heat around the corner."
At the start of the film, McCauley carries a Heckler & Koch USP, likely chambered in 9mm; while later he has a Sig Sauer P220 in .45 ACP. De Niro was actually just the second Hollywood star after Steven Seagal to be seen with a P220, as Seagal carried it in 1988's "Above the Law." However, Jackie Chan was briefly seen with it in 1991's "Operation Condor," but he still had yet to truly break out with American audiences at that point.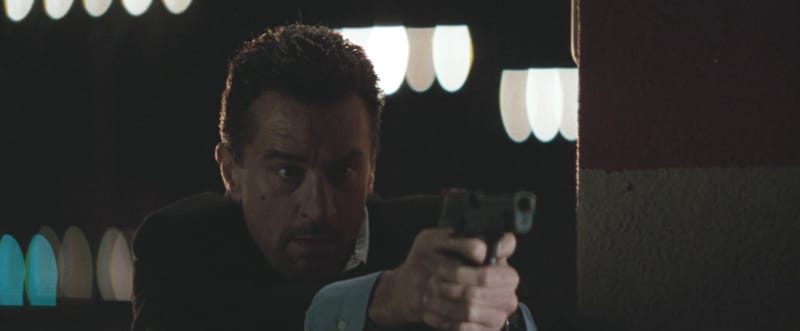 The only other handgun of note is actually that of the heist crew's unstable newbie Waingro (Kevin Gage), who carried two different Star Megastars. Early in the film, his pistol is gun metal black, while later it is nickel plated. According to the Internet Movie Firearms Database (IMFDb), this is the Megastar's only screen credit.
Also seen in "Heat" is a Beretta 85FS, several Beretta 92FS pistols (the choice of the LAPD), a Beretta 92SB-C, a Glock 19, and a Ruger KP90.
Shotguns and SMGs
Perhaps an unintentional "shout out" to Hollywood Westerns is the appearance of numerous shotguns; as such weapons were often employed by lawman and outlaw alike. Thief Michael Cheritto (Tom Sizemore) wields a Benelli M3 Super 90, while Detective Casals (Wes Studi) and Sergeant Drucker (Mykelti Williamson) carried the same Mossberg 590 — it is seen in the shootout following the bank heist, and later is used to breach a door. Other officers of the LAPD are seen with Mossberg 500s or Remington 870s.
By contrast, just two submachine gun models are noted for being in "Heat," and these include a number of Heckler & Koch HK94A2 (mocked up as an MP4A3) that are carried by SWAT teams, and which are never fired; and a Steyr TMP, which is used by a would-be assassin. Though the TMP has become a favorite of gamers for its appearance in such titles as "Counter-Strike," this was actually only the second film it appeared in after 1994's "True Lies."
The Colts of "Heat"
Most of the gunplay in "Heat" involves a variety of long guns — notably the Colt Model 654, which McCauley uses during the armored car heist, while his partner Chris Shiherlis (Val Kilmer) uses a Colt Model 733. The latter gun is carried by both men during the bank robbery.
By contrast, the LAPD, including Detective Casals, Detective Mike Bosko (Ted Levine), and Detective Schwartz (Jerry Trimble) — as well as some SWAT officers — are seen armed with M16A1 assault rifles. The presence of the M16A1 is actually notable as the rifle may not have been as widely available to the LAPD as the film presents.
It wasn't until the February 1997 North Hollywood shootout, in which real-life bandits Emil Matasareanu and Larry Eugene Phillips Jr. had essentially outgunned the LAPD that the department acquired some 600 surplus M16s from the U.S. Army. It is worth noting that Matasaeanu and Phillips were reportedly fans of "Heat" and used the film to plan their robbery.
Diverse Number of Long Guns
A number of notable firearms to make an appearance include a Norinco Type 56-1 carried by Trejo (Danny Trejo) in the opening armored car heist and a Heckler & Koch HK91A2 rifle fitted with a bipod that is used by Shiherlis. During the bank heist Cheritto carried an Israel IMI Galil ARM Model 372 — however, the folding stock is missing during the robbery, but present when he is later in the car (an obvious continuity error). Apparently, even Mann was confused about the firearms as experts agree that the weapon in the film is chambered for 5.56x45mm NATO, the director in his DVD commentary called it a 7.62 (perhaps mistaking it for the Norinco).
Two different Belgian-made FN rifles make an appearance in "Heat," but no explanation is provided. The first is the FN FAL 50.61, the paratrooper model fitted with a side-folding stock. It is carried by Cheritto in the armored car robbery, and due to the fact that it was used to shoot one of the guards, was likely dumped by the heist crew along with the other firearms.
In the downtown shootout, Hanna is armed with an FN FNC, an interesting choice for the LAPD detective. Perhaps this was a choice made to allow Pacino to stand out, or maybe Director Michael Mann had a backstory in mind that didn't make it to the screen. However, Mann had instructed Al Pacino (and all the actors who played members of the LAPD) to fire only on semi-automatic, as the police would be concerned about the possibility of shooting an innocent bystander.
The gang led by McCauley clearly had no such fears!
A Sequel or Prequel
Though a classic that has a generally satisfying ending, it was reported in April that Warner Bros. was in negotiations with Mann to develop "Heat 2," which could actually be a prequel and serve as an origin story. Just as De Niro once famously played a young version of Marlon Brando's character in "The Godfather Part 2," Adam Driver could play a young McCauley.