The year was 1934, which means different things to different people. It was the end of the era of bootleggers, the year the National Firearms Act became law, and the timeframe in which Bonnie and Clyde cut a bloody swath across the South. Before we go any further, let's make one thing abundantly clear: We are in no way glorifying the killers, we're talking about their guns. After all, their guns were interesting choices, and they died the same year the NFA was enacted. This is about the firepower, not the felons.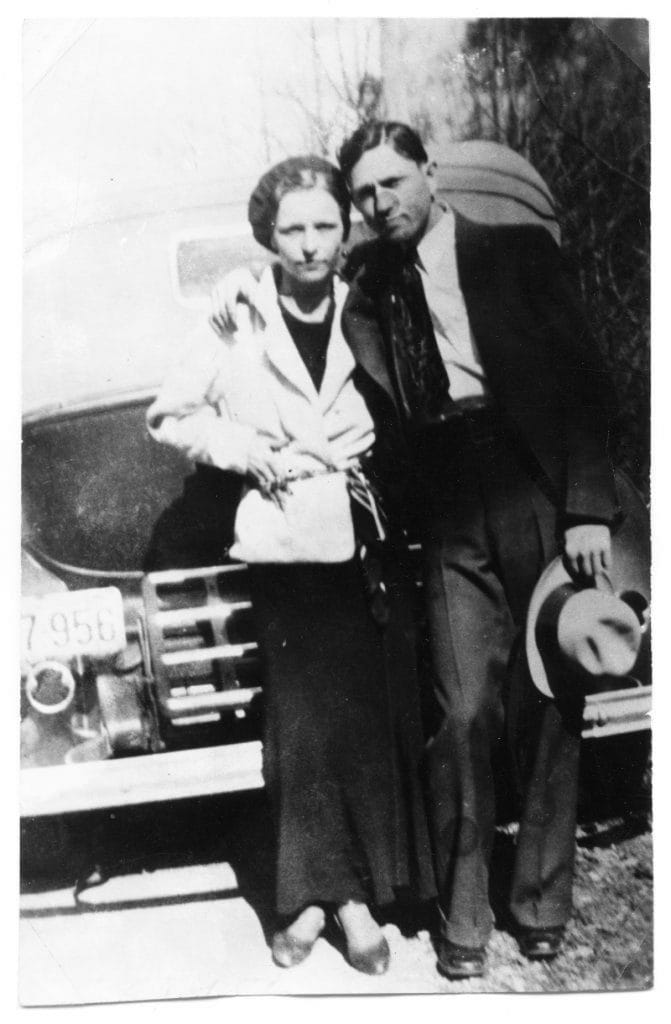 Who were Bonnie and Clyde?
Before they became murderous thieves, Bonnie and Clyde were small-town Texas kids. In 1910, Bonnie was born Bonnie Parker in the town of Rowena, Texas. However, after her father died when she was four years old, her mother moved the family into her own parents' home in a suburb of Dallas. As a teenager, Bonnie worked as a waitress, and one of her regular customers was a man by the name of Ted Hinton. When the criminal pair was gunned down by law enforcement in 1934, Hinton was a member of the posse that tracked them down.
Clyde Barrow was born in 1909 to a farming family in Ellis County, which is near Dallas, Texas. By the time Clyde met Bonnie in 1930, he'd already embarked on a criminal career that included safe cracking, robbery, and car theft. Clyde had been seeing Bonnie for only a short time when he was sent to prison for one of the cars he stole.
Of course, this isn't the story of Bonnie and Clyde, the couple that robbed banks, funeral homes, and small stores, and also murdered a lot of people. This is about their guns because guns are inanimate objects and are not responsible for the crazy of the person behind the trigger.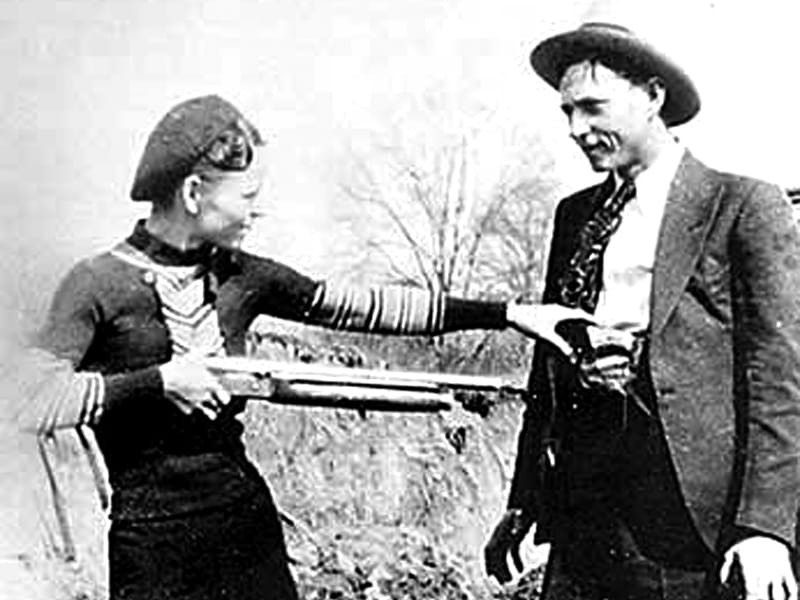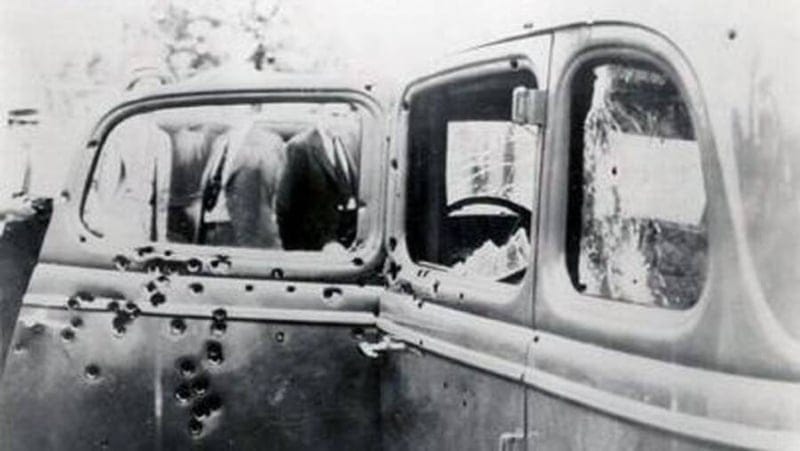 What guns did Bonnie and Clyde have?
At the time of their deaths, Bonnie and Clyde were reported by law enforcement to have had the following firearms in their possession:
Browning Automatic Rifles (BAR) in .30-06 (3, full-auto)
Remington Model 11 semi-auto 20-gauge sawed-off shotgun (1)
Winchester Model 1901 lever-action, 10 gauge sawed-off shotgun (1)
M1903 Colt automatic pistol in .32 caliber (1)
Colt Detective Special revolver in 38 Special (1)
Colt automatic pistol in 25 ACP (1)
Colt M1909 revolver in 45 Colt (1)
Colt M1911 automatic pistols in 45 ACP (7)
What gun belonged to Bonnie Parker?
Although more than one firearm was in Bonnie's possession, there was one, in particular, that was found taped to her thigh after her death. That was her prized Colt Detective Special in 38 Special, a snub-nosed revolver she was seen with quite a few times during the couple's criminal rampage.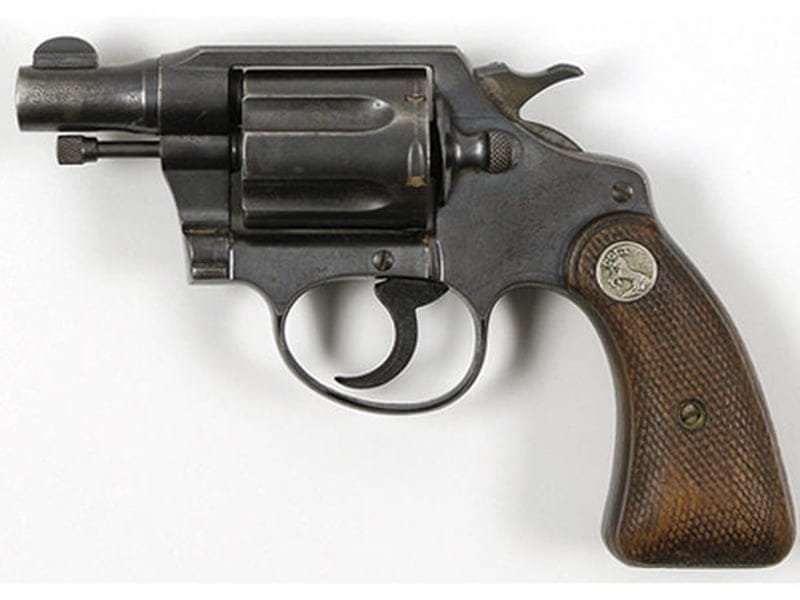 The Colt Detective Special was designed as a simpler, more basic version of the Colt Police Positive Special. It was manufactured in multiple series with the First Series edition being the one Bonnie Parker had on her when she died. That edition was produced between 1927 and 1946 and had a narrower frame than later versions of the gun. Other features of the First Series Colt Detective Special included a short ejector rod with an ungrooved tip, a half-moon front sight, and a checkered, textured hammer. A snubby chambered in 38 Special might not have been the most technically powerful handgun around, but it was certainly effective.
What gun belonged to Clyde Barrow?
Yes, Clyde owned more than one gun, but it was his M1911 in 45 ACP that was sold at auction with Bonnie's Colt Detective Special. Why? Because the M1911 was tucked into the waistband of Clyde Barrow's pants when he was killed. Due to the two guns being the firearms that were actually on the bodies of the criminals, they were auctioned as a pair. The guns went for $504,000.
We're all familiar with the Colt M1911. The model Clyde had back in the early 1930s was similar, but not totally identical, to modern 1911s. It was chambered in 45 ACP, semi-automatic, and had the usual safeties. Features included slide serrations at the rearward portion of the slide, checkered grips, and a lanyard loop. According to the FBI, there were seven 1911s in Bonnie and Clyde's Death Car on the day they were killed.
What machine guns did Bonnie and Clyde have?
The select-fire gun in question that was present in the vehicle when Bonnie and Clyde died was the M1918 Browning Automatic Rifle (BAR). Although Bonnie and Clyde seem to be frequently depicted with Tommy guns, it was a trio of BARs that was found in their vehicle after their deaths. BARs are considered light machine guns and are select-fire weapons, meaning they are now restricted under the NFA.

This particular rifle was, and is, chambered in 30-06 Springfield. It was designed in 1917 by John Moses Browning—the same person who invented the M1911 Clyde Barrow carried in his waistband—and was used in World War I. The BAR was in service in the United States military from 1918 to 1973, although it didn't see heavy use until after 1938.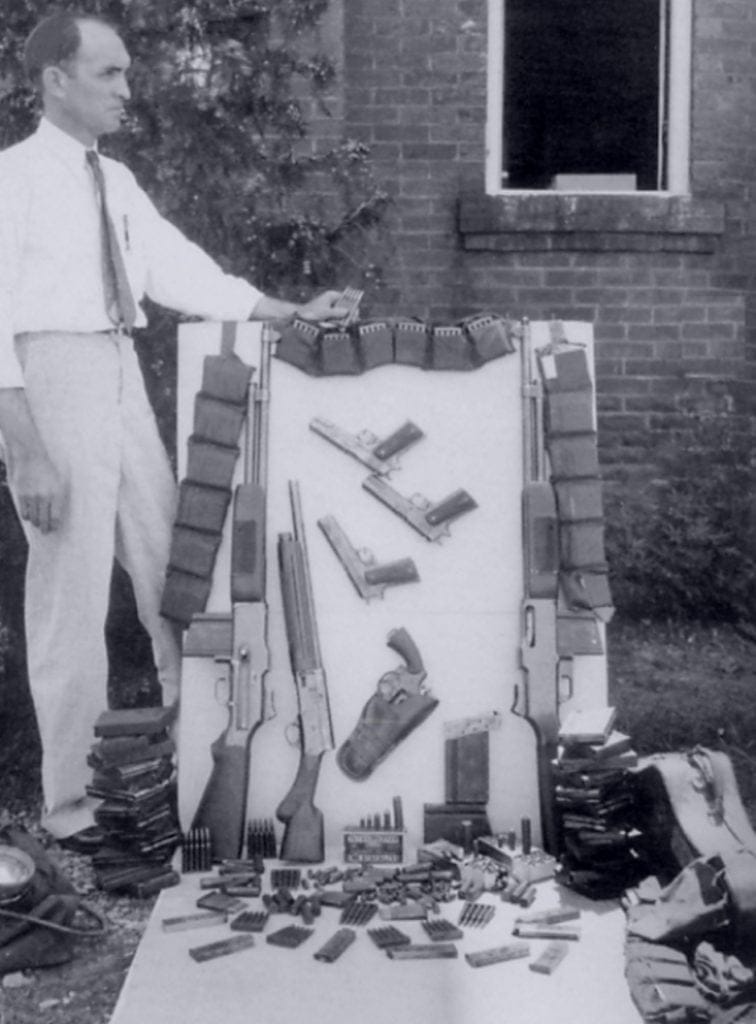 So, where did Bonnie and Clyde get their BARs? The first two were acquired from another criminal, Herbert Farmer, who stole the rifles from the Missouri National Guard armory. Not long after, Clyde himself robbed other National Guard armories located in Enid, Oklahoma and Plattville, Illinois. Those robberies gained the gang more BARs along with M1917 revolvers, M1911s, and other firearms. Guns were also collected by robbing law enforcement officers, bank guards, and hardware stores.
What was Bonnie's missing gun?
Texas legend—or at least the lore of one family—claims a gun belonging to Bonnie Parker was removed from the scene and gifted to a motorist. The gun in question was a 1908 Colt 25 ACP.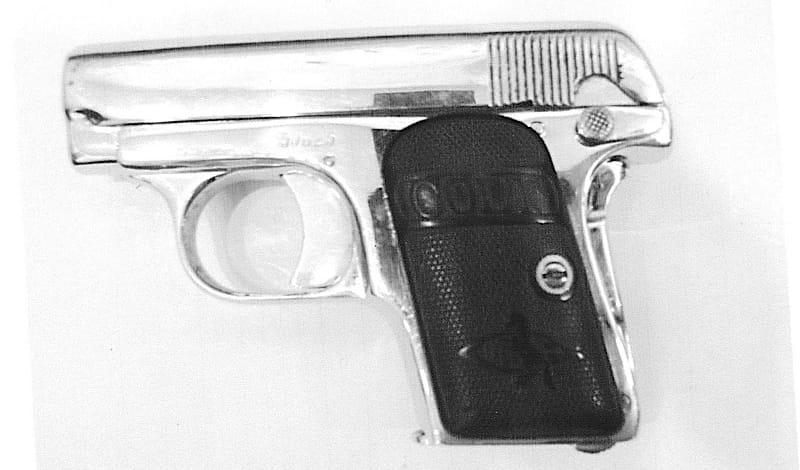 According to Kathy Vellard, great grand-niece of Prentiss Oakley, her great-Uncle Prentiss handed the pistol off to the great-grandfather of a guy named Ed Pinkston. Vellard told her story to The Austin Chronicle not long ago:
"Well, when Ed heard [Vellard talking about Bonnie and Clyde], he goes, 'Listen to this.' And he tells me that his great-grandfather worked in agriculture and would drive around a lot to do his work. And he was driving in a car, that day, on that same road, and the car was identical to the car that Bonnie and Clyde were in: same model, same color. So Ed's grandfather drives up and sees all this smoke. And he just rolls into it, and, because he couldn't really see, he stops—and he was the first outside person [other than law enforcement] to come upon the scene. And my great-uncle Prentiss went over to the car and told him, 'If you had arrived five minutes earlier, you'd be a dead man.' Or something to that effect. And Prentiss said, 'Here's a souvenir for you.' And he handed him a pistol out of Bonnie's purse.
"Ed's great-grandfather kept the gun. But he didn't tell anybody, because he didn't wanna get anybody in trouble. And then his son kept it, and—eventually, Ed got the gun. And we'd heard this story for so long, from my grandfather, but had no idea who the man was, the one that Prentiss had given the gun to."
Who was Prentiss Oakley? He was a member of the posse that took down Bonnie and Clyde, the man credited with firing the shot that killed Clyde Barrow. Is this story true? We'll never know for sure, but given the era and the consistency in the tale passed down through both Oakley's and Pinkston's families, it's certainly possible.
In some ways, it's fascinating that Bonnie and Clyde's guns were, by and large, firearms many people would consider small and unassuming by modern standards. Well, except for those BARs.