With Mother's Day fast approaching, you already be planning the standard of handing over some flowers and a sappy card. But instead of that, why not show your mom you really did put some thought into things with a gun-themed gift? No, we're not talking about the mushroomed-bullet bouquets or using gun oil as perfume, we're talking about functional, useful gun and gear gifts. To make things easier for you we've compiled this list of possibilities for your mom. Show your mom you really care. Get her a gun…or ammo, or a speedloader…
Sig Sauer P365XL Rose Kit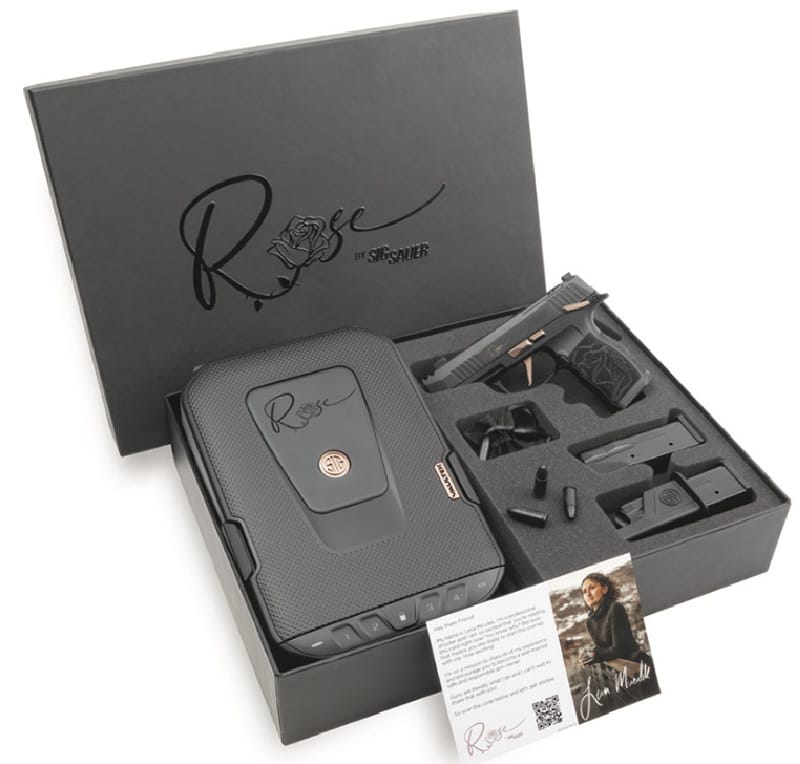 Maybe you're looking for a gift for someone who's just getting into shooting or maybe you know they're a fan of Sig handguns. Either way, Sig's P365XL Rose kit is a nice package for new or seasoned shooters. For newcomers, it's fantastic because it includes access to tutorials and an entire community of shooters, and for experienced shooters, it's simply a great addition to an existing collection. Sih created the Rose line specifically for women. However, the P365XL and P365 are proven pistols with dedicated followings to begin with. The P365XL is chambered in 9x19mm Parabellum and the P365 Rose is chambered in 380 ACP.
The kit comes with the gun, a Vaultek Lifepod Pistol Safe, dummy rounds for training, and a quick start guide. And, as mentioned before, it gives the owner entry into the step-by-step Rose training series and access to the online community. This is a black pistol with what are best described as champagne pink highlights. It also has a stylized rose integrated as part of the grip texturing, making it the kind of rose you should be considering over the type with thorns that eventually wilt.
Please note that it's up to you to know and follow the laws regarding the purchase and/or gifting of firearms in your area.
Hornady Critical Defense
Defensive ammunition gets pricey, and that's why it's the perfect gift. Even a single box in the correct caliber will be appreciated, especially when it's something like Hornady Critical Defense. This ammunition is offered in a wide range of calibers including 380 ACP, 38 Special, 30 Super Carry, 9mm, 40 Smith & Wesson, and 45 ACP. It's been around for a long time and has proven itself both for private citizens and law enforcement.
Hornady's Critical Defense line is made for self-defense and features an FTX bullet, which is a hollow point with a polymer insert. That insert facilitates reliable expansion while also helping prevent clogging from whatever the nose of the bullet impacts. Cases are traditionally nickel plated for corrosion resistance and better visibility in low light, but supply issues have resulted in some runs of brass-cased Critical Defense as well. Hornady also manufactures Critical Defense Lite, a reduced recoil line of defensive loads.
Not sure it's a good Mother's Day gift? It really is, because not only is high-quality defensive ammo a must, but practicing with it is also important. Get more than one box for your mom so she can get some trigger time in with her defensive load of choice.
Maglula Uplula Pistol Magazine Loader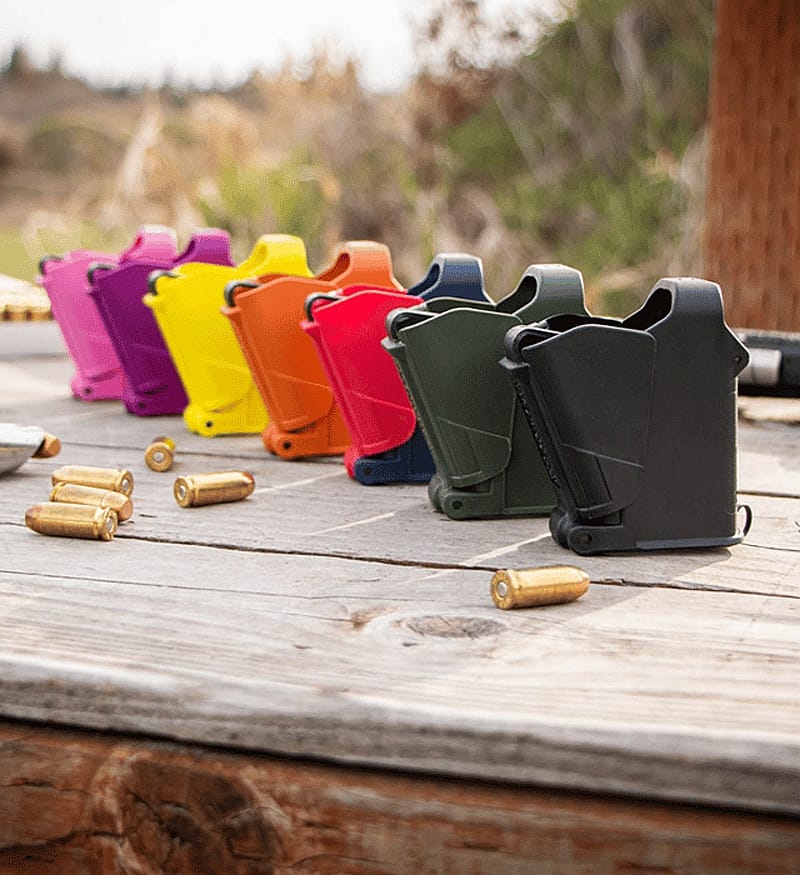 The Maglula Uplula Pistol Magazine Loader comes in handy for a lot of reasons, and makes a great Mother's Day gift. It can be a real lifesaver in classes that involve a lot of magazine loading, it's useful for loading new magazines with stiff springs, and it's great for situations where a little help is needed for the mag loading process. This magazine loader comes in a variety of designs for various calibers, so odds are there's one that'll work for you. The standard model pictured above is compatible with single and double-stack guns chambered in calibers between 9mm and 45 ACP.
The Uplula is durable, long-lasting, and resistant to use-related wear. Here are a few of the things it can do:
Compatible with 9mm, 357 SIG, 40 Smith & Wesson, 10mm Auto, and 45 ACP.
Also works with most 380 ACP single and double-stack mags.
Works well with traditional 1911 magazines.
Designed to make loading the entire magazine easier, from the first round to the last.
Pocket-size, one size fits all design for ease of use and portability.
No inserts, spacers, or adjustments are needed.
Gets rid of the need for thumb pushing or pressing rounds in (made so rounds drop in easily).
Protects fingers and also helps reduce wear on the lips of the mags.
Can help load up to one round per second which is about 1/3 time of loading multiple mags without it.
Weighs only 2.53 Ounces
This mag loader is available in a bunch of colors, too, including black, dark green, US flag, lemon, purple, brown and orange, and pink.
Gunsite Academy 250 Pistol Class
Training just might be the best gift ever, and getting that training at the renowned Gunsite Academy in Paulden Arizona is a serious win. Gunsite offers a wide range of classes suited to all skill levels, but their 250 Pistol Class is a fantastic starting point. They also offer Ladies 150 Basic Pistol for truly new shooters and Ladies Pistol 2 Day as the step to follow basic. Whatever the skill level of the shooter you're gifting for Mother's Day, Gunsite has a class for them. (And if they prefer revolvers, there's even a 250 Revolver option.)
250 Pistol involves five solid days of training and includes low light/night shooting, training simulators, and all manner of range time. It's the kind of class shooters like to take repeatedly, too, so don't hesitate to gift it to a mom who's been to Gunsite before. For the truly new shooter who wants to take 250, there's is a Day Zero option available for certain 250 weeks that gives newbies a day of basics and foundational skills before diving into 250 itself. Check availability on Gunsite's website.
Walker's Razor XV 3.0 Headset
Maybe mom already has a favorite handgun or an enormous ammo stash. What now? Well, high-quality, electronic hearing protection is always a welcome gift. Walker's Razor XV 3.0 Headset is a well-made option that pairs Bluetooth capability with hearing protection on a neckpiece that ensures the buds won't get lost (yes, it happens). This ear pro is designed to be low-profile and worn on the neck. It has flat wires so they're tangle-free and are compatible with the Walkers LINK app for easy operation.
Walker's has a full line of ear pro available, so if a neck-worn set of electronic buds isn't your mom's style, don't worry. They have options. Earbuds, ear muffs, connected earbuds, they have it all. Why not give your mom the gift of peace and quiet along with preserving her hearing for Mother's Day? She can even listen to music on this headset thanks to the Bluetooth feature.
Do you have a go-to gun-related gift for Mother's Day? Share your tips in the comments section.