Gun News from the firearm, tactical, outdoor, training, and hunting world. But mostly firearms!
---
Friday, January 31, 2020
Welcome back to GunMag Gun News 5×5 Friday!
Wow, it's been a busy month! SHOT Show 2020 is behind us, but it's likely that we will continue to see coverage of all the new products that were announced over the next several weeks, if not months.
This week, we learned about a new wheel-gun from Taurus and a new custom line of pistols from Walther. There are also some new forend lights for pump-action shotguns and a new rifle-stock chassis (say what?) that looks interesting.
EOTECH's new program for shooting ranges will be of interest to those of you who want to try out a holographic sight before making a purchase. Be sure to check it out.
Read on for this week's GunMag Gun News 5×5 Friday!
⊕Taurus
942 22 LR
Gun News. This week, Taurus announced a new lightweight, rim-fired revolver that is set to begin shipping in the second quarter of 2020. Advertised as a low-recoil revolver, the DA/SA will be available in matte black and matte stainless. It will have the same grip as their 856 line of .38-caliber revolvers and according to reports, and will eventually be available with a 3-inch barrel.
Specifications:
Frame size: Small
Capacity: 8 rounds
Height: 4.64″
Width: 1.34″
Weight: 23.6 oz.
Barrel Length: 2″
Overall Length: 6.6″
Front Sight: Serrated Ramp
Rear Sight: Drift Adjustable
Safety: Transfer Bar
⊕Walther
Meister Manufaktur Custom Pistols
Gun News. This week, Walther announced the launch of a new custom line of hand-engraved, hand-finished pistols. The Meister Manufaktur program is being launched with four models: Black Diamond, Black Tie, Patriot, and Arabesque.
From Walther:
The Walther passion for pursuing excellence has been enhanced and baked into the DNA of the Meister Manufaktur program. Its ambition is to produce beautiful, soulful, performance leading products without parallel in the pistol market.
"Walther's vision was to fuse form and function to create the ultimate experience for its customers. More beauty, more soul – yet totally usable. Why should something truly beautiful only be collected, and why should something built for performance not lead its class in good looks and artistry? Using our in-house engineering and technical skill fused with some of the world's most celebrated craftsmen meant our imagination was the only limiting factor with the Meister Manufaktur program," said Bernhard Knöbel, CEO, Carl Walther GmbH.
Meister Manufaktur models MSRP range from $2,790.00 – $4,449.00.
⊕Streamlight
New TL-Racker Shotgun Forend Models
Gun News. This week Streamlight had some news about a new upgrade to the TL-Racker. It's their all-in-one shotgun forend light for the Mossberg 500/590 and Remington Model 870 pump-action shotguns. With the new upgrade, the lumens have been increased to 1,000. They also announced a new model for the Mossberg 590 Shockwave and Less Lethal Orange model for the Remington 870 and 870 TAC-14.
The TL-Racker runs off two CR123A lithium batteries, providing 1,000 lumens and 20,000 candelas over a 283-meter beam distance, with a 1.5 hour run time. They say the customized optic produces a concentrated beam with optimum peripheral illumination. These forends are made of impact-resistant polymer for impact resistance, measure 8 inches, and weigh 12.1 ounces. Also, these forends are rated at IPX7 for waterproof operation.
From Streamlight:
With its increased brightness and sleek design, the TL-Racker is ideal for door breaching, close quarter maneuvers and other tactical operations, as well as for home defense needs. Its large, ambidextrous switch pad provides easy access for both momentary and constant on functions, and accommodates virtually any hand size. The elongated switch pad allows for thumb or finger activation with no changes in grip; both left- and right-handed shooters can use it without having to make modifications to the light or gun.
"We've increased the brightness, reach, and run time of this lightweight, integrated shotgun forend light, while also offering a new model to fit popular Shockwave shotguns, as well as a Less Lethal Orange model for easy identification," said Streamlight President and Chief Executive Officer Ray Sharrah. "Each features our innovative, ergonomic design that maximizes grip and switch access, while providing extremely bright 1,000 lumen light, all at an affordable price point. It's the ideal choice for use with Mossberg and Remington shotguns."
⊕Modular Driven Technologies
Crossover Rifle Stock Chassis (XRS)
Gun News. Here's something new from MDT.
The new XRS Chassis from MDT combines the fit and feel of a traditionally shaped rifle stock with the benefits of a modern precision rifle chassis system. With a replaceable over-molded and textured grip system, it comes with two grips: angled and vertical. The chassis is constructed from a full-length CNC-machined core of aircraft-grade aluminum with textured high-strength polymer panels to insulate it from the elements. The MDT precision aluminum v-block bedding system ensures fit and function for maximized rifle accuracy without requiring traditional bedding.
From MDT:
The MDT XRS Chassis is the most advanced and configurable crossover stock on the market and is the ideal performance upgrade for any factory rifle or foundation for a custom rifle build. Weighing in at 3.9lbs (depending on inlet), the XRS Chassis is ideal for both hunting or target rifles. The XRS Chassis features adjustable length of pull via spacers from 13" to 15+" and a quick-adjust cheek piece to adjust for scope height over bore. The XRS Chassis accepts standard AICS pattern magazines and has an easy to manipulate ambidextrous magazine latch. The generous 12.12" long Forend features M-LOK slots built in for accessory mounting and attachment of ARCA or Picatinny rails.
The XRS Chassis is currently available for the Remington 700 short action with Rem783 SA, Tikka SA, Savage SA, and Howa 1500 SA following in the coming weeks.
⊕EOTECH
Range Program
Gun News. If you've been curious to try out a holographic weapon sight (HWS), you'll be interested in this news from EOTECH. In an effort to increase awareness of features and benefits of HWS, EOTECH just announced a nationwide invitation to shooting range facilities to join its Product Range Program.
From EOTECH:
"The Product Range Program is a great way for shooting ranges to improve the rental experience at their facilities by offering customers the opportunity to use the finest weapon sights on the market," said Jeff Stawiarski, Vice President Sales and Marketing at EOTECH. "Customers are then able to experience all the benefits of HWS and see firsthand why it is the choice of USSOCOM."
Holographic Weapon Sights possess many advantages over standard red dot sights, including faster target acquisition due to the inherent properties of a laser-produced reticle; increased peripheral vision and situational awareness thanks to an enlarged field of view that encourages both-eyes-open operation; and unrivaled, battle-proven durability.
Friday, January 24, 2020
Welcome back to GunMag Gun News 5×5 Friday!
The Industry's biggest convention is at its end and its been jam-packed full of awesome new guns and gear. There's no way we could cover all of the new releases and announcements. Still, here are some of the cool things we saw this week, and just for fun, there's a bit of gun porn for your pleasure at the end. Just yesterday, Walther posted a hint about it's new Meister Manufaktur line of pistols, saying they'll release more information about it soon.
Read on for this week's GunMag Gun News.
⊕ Agency Arms
Sage Dynamics Signature Series pistols
Agency Arms has announced a collaboration with Aaron Cowan of Sage Dynamics to produce two versions of Sage Dynamics Signature Series of pistols. Based on the Glock 45, both boast features evolved from the patented Agency Arms NOC system.
According to the release, the V1 has enhanced G45 cocking serrations to add an improved grip and surface area, though it has been minimized to provide a more inexpensive model. The V2 features much more aggressive slide work. Both come with standard "Agency Armor" stipple for the best friction possible in a frame. Iron sights are available forward and/or rear, though some folks might suggest sticking with front sights only.
AOS (Agency Optic System) modular optic system standard.
User selects desired plate.
Optimized for 124gr and 124gr +P ammunition but will run 115gr as well.
Utilizes a unique comp available only on Sage edition guns.
Mid line barrel and comp coated in Diamond Like Carbon (DLC)
Proprietary guide rod coated in Rose Gold PVD
Aggressive stipple pattern
Gunsmith fitted trigger group
Initial offerings are in black DL (Diamond Like Coating), OD Green, and MC-Black.
Red/Black (Sage Dynamics) patch version also available.
Laser Engraved Sage Dynamics logo on top of the slide
The V2 Pistol also features…
Enhanced "DNA Collectors" in the rear and aggressive front compound serrations.
Top serrations for improved front-of-slide manipulation.
Premier Mid line barrel and comp coated in Diamond Like Carbon (DLC)
2-Tone Cerakote (on Cerakote models)
2-Tone stipple on OD Green and MultiCam black versions.
Laser engraved Sage Dynamics logo on left and right side.
⊕B&T
APC10 PRO
Gun News. Announced this week at the SHOT Show, Brugger & Thomet's newest is chambered for 10mm and takes Glock model 20 magazines. Similar to the APC9/40 PRO, the APC10 PRO uses a hydraulic buffer system to reduce felt recoil and muzzle rise.
Modern features include:
Charging handle that is non-reciprocating, ambidextrous, dual auto-folding.
Lower receiver ergonomically improved.
Side-positioned bolt hold-open/release.
Removable M4 compatible grip.
Magpul M-Lok accessory slots on the forend.
Compatible with B&T APC Accessories.
The APC10 PRO is compatible with several B&T APC accessories, including folding/collapsible stocks, interfaces, handguards, and suppressors.
"Our customers have been asking for a big-bore variant of our proven APC family of weapon systems," said Tim Nickler, CEO of B&T USA. "The 10mm round introduces new capabilities to the APC platform; increased terminal performance, intermediate barrier penetration and sheer energy on target, all in a size optimized for discrete deployment."
⊕Escort
BTS Bullpup Shotgun
Gun News. Here's a new addition to the Escort Versatile Tactical Shotgun lineup. The BTS Bullpup shotgun is a more compact and portable package, with the same benefits that the VTS series offers.
To minimize bulk and facilitate the bullpup layout, the new inline gas piston design is mounted around the barrel. The synthetic barrel cover features Hatsan's patented ThermoDefend technology, which is designed to absorb and dissipate heat while containing the gas piston operating system.
Made with a tough polymer, the lower receiver doubles as the forend grip and has rubber inlays to improve handling. Also, the magazine well is lined with alloy for long-lasting performance. A soft rubber buttpad and long recoil spring behind the gas piston share distribution of recoil.
To meet shooter needs and preferences, the charging handle is reversible and the rubber pistol grip can be removed and replaced with other aftermarket options. The BTS Bullpup's one-piece carry-handle sight cand be replaced with included flip-up sights for a lower profile or when using mounting optics. Also, it has Picatinny rails on each side of the forend to accommodate accessories.
From Escort:
The 12-gauge models feature an 18″ barrel with removable chokes, including an extended cylinder bore choke brake that helps tame recoil with heavy shot or slugs. Also included are Full and Improved Cylinder flush-mount chokes, with additional options available from HatsanUSA. Each gun ships with two 5-round magazines, but an optional 2-round magazine is also available. The gun is chambered to accept both 2 ¾" and 3″ shells and will cycle them interchangeably with no external adjustments required by the shooter.
The .410 models feature a 20″ barrel with integrated choke suitable for both shot and slugs. Offering the same recoil-absorbing characteristics as the larger caliber models, this shotgun is one smooth operator. Also shipping with two 5-round magazines, the optional low-capacity mag holds 3 shells. The gas piston operates in the same manner, cycling both standard and magnum loads smoothly and reliably.
BTS12 Specifications
12ga gas-operated, semi-automatic shotgun
18″ hard chrome plated barrel with removable chokes
28.7″ overall length
8.1 lbs.
2x 5-rd magazines included
F, IC, and CYL (brake) chokes included
BTS410 Specifications
410cal gas-operated, semi-automatic shotgun
20″ hard chrome plated fixed cylinder barrel
30.7″ overall length
6.7 lbs.
2x 5-rd magazines included
⊕Israeli Weapon Industries US
ZION US 15 Rifle
Gun News. IWI US, a subsidiary of Israel Weapon Industries (IWI) Ltd, just released the first IWI US rifle manufactured and assembled entirely in the United States. It's the ZION US 15 rifle,
From IWI US:
The IWI US ZION 15 was developed as the flagship model to ensure that production of IWI products will continue in the USA, even if the shipment of foreign-produced firearms becomes restricted. The creation and production of the ZION 15 is in no way an attempt to divert business from Israel, but an attempt to stay true to the IWI roots and continue to support Israel despite the impending threat of restrictions.
"This is a great step forward for IWI US and our supporters. IWI/SK Group has invested a significant amount of time and money into this process in order to have a long-standing business venture in the United States and to continue to serve the American public with high-quality firearms well into the future. The ZION 15 and the manufacturing equipment it brings, fully establishes IWI US roots here in the United States." Jeremy Gresham, Director of Sales and Marketing of IWI US stated.
Specifications
Caliber: 5.56 NATO
Action: Semi-auto
Operating System: Direct Impingement
Magazine Type: Polymer NATO STANAG
Magazine Capacity: 30 round
Barrel Length: 16″
Barrel Material: 4150 Chrome Moly Vanadium HB
Overall Length: 33″ with collapsed stock, 36.25″ with extended stock
Weight: 6.5 lbs without magazine
Gas Length: Mid-length
Rifling: 6 RH grooves, 1:8 twist
Stock Type: Adjustable B5
MSRP: $899.99
⊕CZ USA
Bren 2 Ms Carbine
Gun News. This week at the SHOT Show, CZ-USA debuted the Bren 2 Ms Carbin, rounding out the popular Bren 2 platform of semi-automatic firearms.
From CZ-USA:
Based on the select-fire Bren 2, this handy rifle operates via a short-stroke gas piston system with a return spring contained within the action itself. Without the need for a buffer tube, it features a folding, adjustable stock. At 35.6 inches long, folding that stock brings its length down to just 28 inches — making it much easier to transport or store.
A true lightweight, the Bren 2 has an aluminum upper and a lower made of carbon fiber composite. The 'Ms' designation means that it employs a modular forend that can be swapped to different lengths or styles based on user preference/need.
Its non-reciprocating charging handle stays stowed in the forward position until it is needed and is swappable from side to side. If needed, it can also be used as a forward assist. An AR-style bolt catch/release system is mirrored on both sides of the firearm, as well as a catch/release nestled into the front of the trigger guard. The magazine release and safety are also ambidextrous.
Specifications
SKU: 08610, 08611
Model: Bren 2 Ms Carbine
Fire Mode: Semi-automatic
Chambering: 5.56mm/.223 Rem
Receiver: Aluminum
Lower: Carbon Fiber-Reinforced Polymer
Stock: Polymer
Weight: 7 lbs. 3 ounces
Overall Height: 7.41 in.
Overall Width: 3.25 in.
Overall Length: 35.6 in.
Length Folded: 28.25 in.
Barrel Length: 16.5 in.
Barrel Type: Cold Hammer Forged
Magazine Capacity: 30rd, 10rd
Magazine Type: Detachable
Safety: Ambidextrous Manual Safety
MSRP: $1,999
⊕FN America
FN 15 SRP G2 carbine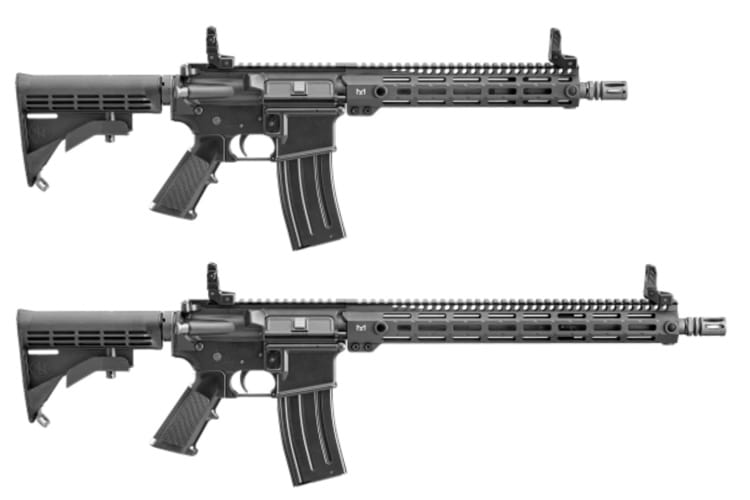 From FN:
The FN 15® SRP G2 carbine, available in both 11.5 and 16 inches, is an advanced MIL-SPEC carbine configured to offer the latest in industry technology and accuracy in every mission.
The carbine's lightweight design, extended handguards and sight-ready configuration provide maximum top-rail space and multiple M-LOK and quick-detach (QD) points delivering the utmost in configurability. Each configuration is equipped with low-profile, folding metal sights, chrome-lined barrel with pinned low-profile gas block as well as MPI-inspected and marked M16-style bolt carrier.
Specifications
Caliber: 5.56x45mm
Barrel Length: 11.5 or 16″
Operation: Semi-automatic only
Twist Rate: 1:7″ RH
Barrel Material: Alloy steel, button-broached, chrome-plated
Muzzle Device: A2-style flash hider
Sights: Low-profile, folding metal front and rear sights
Stock: 6-position, collapsible buttstock
Forearm: Free-floatin handguard with full-length 12 o'clock Picatinny rail with (5) built-in QD points

Handguard Length – 10.5" (11.5" barrel); 15" (16" barrel)

Weight with empty magazines and no optics: 5.6 lbs (11.5″) and 6.25 lbs (16″)
Length: 27.5-30.57 (11″) and 31.9″-35.2″ (16″)
Magazine: One 30-round magazine
Trigger Pull: 4.75-7.75 lbs.
Gratuitous Gun Porn from SHOT Show 2020
Sourced from Social Media posts during the week.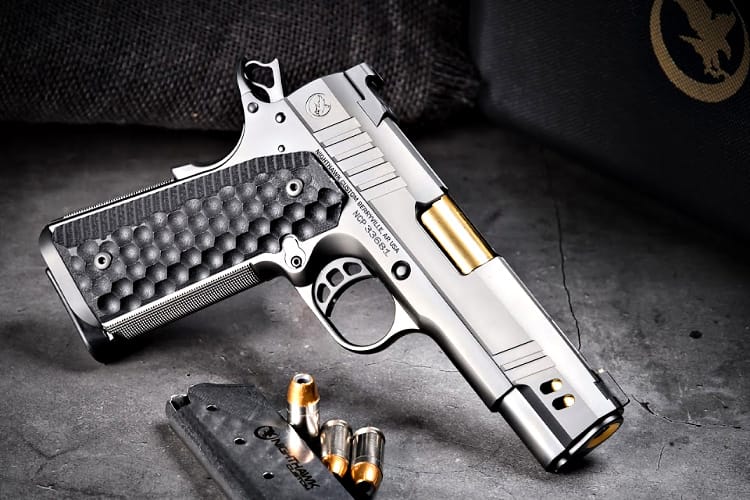 Friday, January 17, 2020
Welcome back to GunMag Gun News 5X5 Friday!
We've got some cool new firearms to look at from big-name companies. There some new compact pistols, a new line from Sig Sauer with factory-installed red dots, and a new chambering for the FN SCAR 20S. Springfield Armory announced a new line of handguns with a 22-round capacity and some new SAINT variants. Winchester announced a youth pump-action BB rifle, and GAMO has a new break-action air rifle to look at.
SHOT Show 2020 is just a few days away, and we've been furiously updating our SHOT Show 2020: Bigger Than Ever (New Guns and Gear) article. If you haven't yet looked, head on over and see for yourself some of the cool new things we are excited to see next week!
⊕Mossberg
MC2c Compact 9mm Pistol
Gun News. Mossberg is expanding its presence in the concealed carry market with some new compact pistols. Though small, these new semi-autos have increased capacity at 15 rounds with double-stack magazines.
According to Mossberg, there will be five initial offerings of the MC2c Compact 9mm Pistol. All of them will include two frame variants (standard and cross-bolt safety), choice of slide finishes (black DLC-finished or bead-blasted stainless steel), and optional TRUGLO Tritium Pro Night sights. All MC2c models come with 13-round flush and 15-round extended coated-steel magazines.
From Mossberg:
Carryability begins with the compact size of the MC2c which features a 3.9-inch barrel and has an overall length of 7.1 inches; surprisingly-slim width of 1.10 inches; and height of 4.90 inches. Weighing in at 21 ounces (unloaded), this semiauto is designed to be incredibly narrow for its capacity.
The MC2c frames are constructed of glass-reinforced polymer, which provides for high tensile strength and stiffness as well as high impact and chemical resistance. Slides are stainless steel with the option of Black DLC (Diamond-Like Coating) or Matte Stainless finish. And integrated into the slide is the Mossberg STS™ (Safe Takedown System), which unlike competitive products, does not require the user to pull the trigger to dissemble for routine cleaning or maintenance.
⊕Sig Sauer
SIG P320 RXP Series
Gun News. The folks at Sig Sauer have endeavored to make red dot applications easier by introducing this new line of P320's. This week, they announced that their newest P320 series come with factory-installed red dot optics.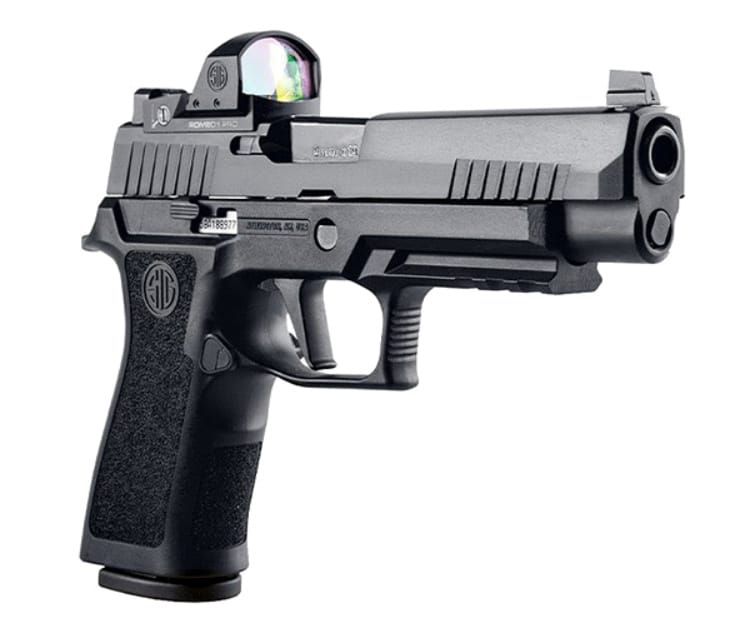 From Sig Sauer:
"Red Dot Reflex Optics have long been the standard amongst the military and law enforcement, and are rapidly growing in popularity amongst commercial consumers. The number one barrier to universal adoption of the red dot in the commercial market is the installation and zeroing of the optic on the pistol," said Tom Taylor, Chief Marketing Officer and Executive Vice President, Commercial Sales, SIG SAUER, Inc. "SIG SAUER is the only manufacturer in the firearms industry that can truly integrate a firearm and an optic into a single system right from the factory to completely eliminate the installation hesitation of the red dot. With the introduction of the SIG SAUER P320 RXP series of pistols we are leading the Red Dot Revolution so end users can easily achieve greater performance and increased accuracy with one simple purchase."
*Note: GunMag Warehouse has several P320 magazines, extended magazines, and magazine grip adapters.
⊕FN America
SCAR 20S Now Available in 6.5 Creedmoor
Gun News. FN SCAR has expanded the 20S long-range, precision rifle line, first introduced in 2018, to include a new chambering. It is available in a matte black finish or Flat Dark Earth (shown below).
From FN:
Like the 7.62 FN SCAR 20S, the rifle features an extended monolithic receiver with ample space to mount optics, Geissele Super SCAR trigger with an average of 4lb. trigger pull, FN MK 20 SSR precision stock that is adjustable for length of pull and comb height, as well as the Hogue grip. Both the FN SCAR 20S in 7.62 and 6.5 Creedmoor accept the 10- or 20-round FN SCAR 17S magazines.
The 6.5mm Creedmoor has taken the long-range shooting market by storm with its increased efficiency, reduced recoil, availability and price of high-quality match-grade ammunition coupled with a cartridge design that is inherently accurate. FN first prototyped the 6.5 Creedmoor cartridge in the FN MK 20 SSR or sniper support rifle when USSOCOM announced plans last year to explore the cartridge for future adoption.
*To assist in faster FN 17S magazine reloading, check out the Maglula FN Scar 17S .308/7.62×51 Lula Magazine Loader and Unloader available at GunMag Warehouse.
Read more at FN America: https://fnamerica.com/
⊕Springfield Armory
XD-M Elite
Springfield rolled out a new line of handguns this week that features the Match Enhanced Trigger Assembly, fully-cocked striker, and increased-capacity magazines that hold up to 22 rounds of 9mm. Nice!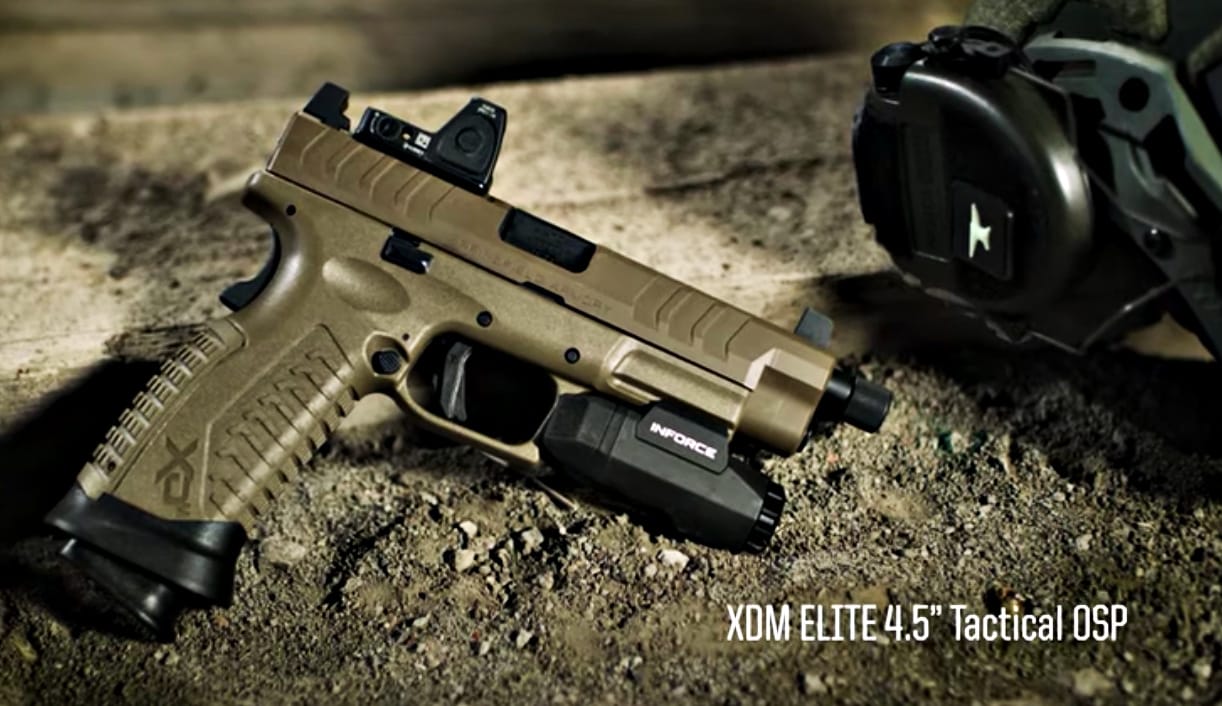 From Springfield Armory:
At the heart of the new XD-M® Elite is the Match Enhanced Trigger Assembly (META™) system, a superbly refined trigger designed to wring out the most from the pistol's most important interface with the shooter. Featuring a flat face and integral overtravel stop, the META™ system delivers the finest trigger pull available on a production polymer-framed pistol.
In addition to the exceptionally crisp and clean trigger pull tuned to the pistol's fully cocked striker, the XD-M® Elite also features increased-capacity magazines holding up to 22 rounds of 9mm. These magazines mate up with another impressive upgrade on the XD-M® Elite — removable extended and flared magwells, designed to make ultra-fast reloads a breeze.
Other upgrades to the XD-M® Elite include an ambidextrous slide stop and improved slide serrations, with enlarged grasping grooves for slip-free purchase. The result is a pistol that handles as well as it shoots and shows you what today's top polymer-framed pistol can truly do.
SAINT Pistol Variants
From Springfield Armory:
The SAINT Edge PDW Pistol, a 5.5″-barreled 5.56mm that proves when it comes to your defense, we take it personally. Measuring a mere 18.75″ overall with its Maxim Defense™ SCW™ brace collapsed, the PDW is designed to deliver micro-sized performance. From the included Magpul® 20-round PMAG to the short Reptilla® CQG™ pistol grip, the PDW provides unrivaled portability in a 5.56mm package.
The new SAINT® Victor .308 Pistol packs .30-caliber power into a 10.3″-barreled package that measures just over 28″ with the included SB Tactical® SBA3™ five-position brace fully collapsed. Round that out with excellent appointments such as a BCMGUNFIGHTER™ Mod 3 pistol grip, free-float M-Lok® handguard and a Springfield Armory Blast Diverter, and you have an amazing addition to the SAINT® Victor line.
Joining the SAINT® Edge line is the all-new EVAC™ Pistol, a 5.56mm that is designed for takedown and discreet storage in the included storage bag. The patent-pending ratchet barrel takedown system combines with a Gear Head Works™ Tailhook MOD 1 sidefolding brace with Law Tactical Gen 3-M folder adapter for extremely compact storage. When disaster strikes, turn to the SAINT® Edge EVAC™ pistol.
⊕Taurus
Defender 856
Gun News. Folks who prefer wheelguns will be interested in this new compact version from Taurus. Four standard models with two upgrade versions featuring special grips and finish treatments.
From Taurus:
The Defender 856 debuts in four standard models—all featuring an ergonomic Hogue rubber grip for maximum recoil absorption and a no-slip grip. These include a stainless-steel frame with matte finish, ultralight aluminum alloy frame with matte finish, stainless steel frame with black Tenifer finish, and an aluminum alloy frame with hard coat black anodized finish.
Taurus also offers the Defender 856 in two upgrade versions featuring special grips and finish treatments. The Two-Tone model has a stainless-steel matte finish frame and barrel with a black cylinder. This color combination pairs well with an aggressively textured VZ grip in matching gray and black. Shooters who appreciate solid hardwood grips can opt for the Tungsten Cerakote model Defender 856 (frame, barrel, and cylinder) with a stylish Altamont walnut grip.
Specifications:
Caliber: .38 Special +P
Frame Size: Small
Capacity: 6 rounds
Action Type: DA/SA
Barrel Length: 3.0 in.
Overall Length: 7.5 in.
Overall Height: 4.80 in.
Overall Width: 1.41 in.
Finish: stainless steel matte, aluminum alloy matte, stainless steel black Tenifer, aluminum alloy hard coat black anodized, stainless steel matte/black, Tungsten Cerakote
Grip: Hogue rubber, VZ black/gray, walnut
Front Sight: tritium night sight w/bright orange outline
Rear Sight: fixed
Safety: transfer bar
MSRP: $429-$477 (depending on configuration)
⊕GAMO
Swarm Magnum Gen2
Gun News. This new air rifle is designed for small game hunting, backyard target shooting, and pest control. In addition to the scope, a fiber-optic sight option is available. It's affordably priced at under $300.
features:
.177 caliber shoots 1650 FPS/.22 caliber shoots 1300 FPS
Open, Fiber-Optic Sights
33mm IGT Mach 1 gas piston power plant
10X Quick-Shot Horizontal Alignment System
Whisper Fusion sound-dampening technology
Patented polymer jacketed steel barrel
3-9 X 40 scope
Recoil Reducing Scope Rail
Custom Action Trigger
Advanced SWA Recoil Pad
Automotive-grade glass-filled nylon all-weather stock
⊕Winchester Air Rifles
Model 12 Pump BB Gun
Gun News. Here's something for young shooters. Winchester just made a new little brother for the Model 12 shotgun that's a pump-action BB gun. It looks just like a great first gun for youth to learn firearm safety and marksmanship skills.
Features
12-round spring-loaded magazine
250+ BB reservoir
Easy-load door on barrel
350fps velocity
Single pump per shot
14-inch length of pull
34.25 total length
Cross-bolt safety
Friday, January 10, 2020
Welcome back to GunMag Gun News 5×5 Friday!
This week we've got some cool new pistols to check out, a new Mossberg competition shotgun platform, and a new magazine release for the Glock 43X and 48. Also, the ammunition manufacturers are getting ready to release lots of new ammunition at SHOT Show 2020, so be sure to head on over to the Ammunition Depot and check 'em out.
Here's what's new in the gun world this week.
⊕Smith & Wesson Performance Center
M&P® M2.0 Pistols
Gun News. This week the S&W Performance Center announced a full new line of competition-ready pistols with a variety of enhancements. These new pistols are available with a 4.25″ or 5″ barrel and include features such as ported barrels and slides, fiber optic sights, and slides designed for use with reflex pistol optics. They'll ship with two full-size magazines, and C.O.R.E models will include mounting plates for reflex sights and all models will come with a Performace Center branded Tipton® Compact Pistol Cleaning Kit.
Tony Miele, Sr. Director, New Products and Performance Center, said, "Performance Center M&P M2.0 pistols were designed with the competitive shooter in mind and are packed with features for the competitive shooter. For those looking to mount an optic on their pistol without custom work, the new C.O.R.E. pistols have slides cut for optics straight from the factory and will support the majority of popular pistol reflex sights on the market."
Available in three configurations:
M&P M2.0 C.O.R.E. Pro Series® Pistols
Ported M&P M2.0 Pistols
Ported M&P M2.0 C.O.R.E. Pistols
⊕Walther
Walther CCP M2 in .380 ACP
Gun News. This week Walther Arms announced that the CCP M2 is now available in .380. The pistol features external safety, front, and rear slide serrations and a reversible magazine release.
From Walther:
The CCP – or Concealed Carry Pistol – is the first polymer pistol with Softcoil gas technology. This technology improves the user's experience by reducing overall felt recoil and allowing the slide to be easily manipulated regardless of hand strength. The CCP is also the most ergonomic and comfortable handgun in Walther's dynamic concealed carry lineup. Tool-less takedown and a fixed barrel allow for easy cleaning and maintenance, making this one of the most accessible pistols available today.
Softcoil Gas Technology utilizes the gasses fired from the round to delay recoil with a piston attached to the slide. This gas-delayed blow-back system works hand-in-hand with Walther's fixed barrel semi-automatic system, making it the softest shooting .380 ACP on the market.
⊕SCCY
DVG-1 & DVG-1RD
Gun News. This new sub-compact pistol series is striker-fired, chambered for 9mm Luger, and is available with fixed iron sights or a factory-installed CTS-1500 RDS. The Quadlock barrel system links the barrel and the slide for greater sub-compact accuracy. The pistol has forward slide serrations for ease-of-manipulation, the flat 5.5 lb trigger has minimal pre/post travel, and the grip is engineered with an enhanced texture.
Pricing on the DVG Series is competitive with an MSRP of $289 for DVG-1 and $389 for DVG-1RD. Shipping begins in the first quarter of 2020.
Specs
CALIBER
9MM
HEIGHT
5.06IN
LENGTH
6.01IN
WIDTH
1.0IN
WEIGHT
15.5OZ
BARREL
QUADLOCK
BARREL LENGTH
3.1IN
BARREL TWIST
1:16 RIGHT-HAND
TRIGGER PULL
5.5LBS
MAGAZINE CAPACITY
10+1
COATING
H&M BLACK NITRIDE
MSRP
DVG-1: $289.00
DVG-1RD: $389.00
⊕Auto-Ordnance
Custom Liberty 1911
The latest patriotic commemorative pistol from Auto-Ordnance is artfully engraved with symbols that represent the fierce sentiments of freedom-loving American patriots. It's a 1911 chambered in .45 ACP that features the legendary snake and "Don't Tread on Me" motto of the Gadsden flag. The custom Gonaclo wood grips further display American pride with 13 stars surrounding the Liberty Bell on the right panel and DTOM on the left.
The pistol is an Auto-Ordnance GI Model 1911 with a 5-inch barrel, has GI sights, and comes with a seven-round magazine. It is finished with a custom brown and black Cerakote mix. The Liberty 1911 (1911BKOC6) has an MSRP of $1215 and is now available for shipping. Contact your local firearms dealer to order.
Specs:
| | |
| --- | --- |
| UPC: | 602686422246 |
| Description: | KAR AO 1911 LIBERTY 45AP 7R BR |
| Brand: | Kahr Arms|Auto-Ordnance |
| Model: | 1911 Liberty Special Edition |
| Type: | Pistol: Semi-Auto |
| Caliber: | 45AP |
| Finish: | Custom Brown & Black Cerakote |
| Action: | Single Action |
| Stock: | Custom Gonaclo Wood Grips |
| Sight: | Blade Front, Rear Drift Adjustable for Windage |
| Barrel Length: | 5 |
| Overall Length: | 8.6 |
| Weight: | 39 oz |
| Capacity: | 7+1 |
| # of Mags: | 1 |
| Safety: | Thumb Safety, Grip Safety |
| Features: | Engraved Gadsen Flag & Dont Tread On Me Motto |
⊕Mossberg
940 JM Pro
Gun News. This week, Mossberg introduced this new 12-gauge autoloading shotgun. According to Mossberg, world-champion shooters, Jerry and Lena Miculek worked with Mossberg engineers for two years to identify and re-design the 930 JM Pro-Series Competition Shotgun. The 940 JM Pro includes a redesigned gas system, loading port, and point-of-aim/point-of-impact. Other improvements include the sight system, choke system, and overall product fit and functionality. Initially, two models are offered, both with 24-inch matte-blue finished barrels and 10-round total capacity.
Mossberg says the 940 JM Pro is feature-rich and competition-ready straight out of the box.
From Mossberg:
Major attributes of the 940 autoloading shotgun include:
Gas System: The new gas system on the 940 will run up to 1,500 rounds before cleaning and will reliably cycle any type of quality factory-made 2 ¾ or 3-inch ammunition. A stepped and vented-spacer component has also been incorporated that keeps the gas system running fast by shedding any moisture or carbon build-up every time it cycles.
Loading Port: The 940's loading port has been designed to allow the user to efficiently quad-load the magazine tube straight out of the box without any need of modification to the receiver. The elevator and shell catch have also been designed to eliminate common pinch-points.
Point-of-Aim / Point-of-Impact: Mossberg engineers worked to design a new barrel-making process for the 940 that ensures the consistent production of a platform that will allow a user to maintain an accurate point-of-aim/point-of-impact when utilizing quality factory-made ammunition.
Fit and Functionality: The 940 sports a slim profile and ergonomic forend and stock, both feature Mossberg's signature texturing that offers a positive, yet comfortable grip. The stock is completely user-configurable, offering out-of-the-box adjustability for length-of-pull (13 – 14.25 inches), drop, and cast. The receiver is anodized for durability and the controls (charging handle and bolt release button) are oversized. Internal components are nickel boron-coated for smooth, reliable functionality.
Sight System: The 940 JM Pro utilizes a fiber optic HIVIZ® TriComp sight system that offers nine user-interchangeable LitePipes, in three colors and three shapes of varied height, for superior sighting in any competitive environment.
Choke System: Equipped with Mossberg's Accu-Choke™ system, the 940 JM Pro ships with a set of Briley® extended chokes (Cylinder, Improved Cylinder and Modified) that come engraved with constriction for easy selection.
⊕Tango Down
Vickers Tactical Magazine Release for Glock 43X and 48
Gun News. Glock 43X and 48 owners may be interested in this new magazine release, the GMR-007.
Here's how Tango Down describes it:
The GMR-007 bears all of the features that has made the GMR-series one of the most sought-after GLOCK® improvements. No more shifting your grip to access the factory undersized control, and still offers positive operation regardless of finger size or length. Made of the same bullet proof material as used in all previous GMR models, the unique shape prevents unwanted magazine release if placed on a hard surface. Ambidextrous.
MSRP: $17.42
Friday, January 3, 2020
Welcome back to GunMag Gun News 5×5 Friday.
Happy New Year to all of our readers! Hopefully, you made time to get out to the range for a great day plinking or training. If not, all of 2020 lies before you like an open book.
Last weekend with the Texas church shooting, Jack Wilson perfectly demonstrated why training is so important. They say if you're faced with a situation like that, you don't rise to the occasion, you fall to your level of training. If you're reading this blog, you're probably already engaged to some degree in self-defense, EDC, or the tactical life. However, whether you fall somewhere between beginner or if you're a seasoned shooter, it's never a bad idea to get more training in. More firearms training is definitely in my 2020 plan, how about you?
As for this week's Gun News, several companies announced some cool new guns. Colt announced the re-release of their legendary Python in a redesigned 2020 model. Ruger announced two new low-recoil pistols, Savage Arms announced their first semiautomatic shotgun, and KRISS announced a new chambering for their Vector.
Read on for this week's GunMag Gun News 5×5 Friday!
⊕Colt
2020 Python
Gun News. This week Colt announced its new 2020 Python, which is chambered in .357 Magnum and also accommodates 38 Special cartridges. The re-release of the legendary firearm showcases several new design improvements. The revolver has been reinforced and improved with modern stainless-steel alloys. Also, the trigger action has been simplified for easier maintenance as well as lighter trigger pull, less friction, and more consistency.
Here's how the company describes it:
Building on Colt's Snake Gun legacy, the legendary double-action revolver returns in stainless steel in 4.25" and 6" barrel lengths. The 2020 Python features modern stainless steel alloys and a re-designed rear sight. Thirty percent more steel beneath the rear adjustable target sight gives you a stronger revolver and more robust shooting experience. A recessed target crown, user-interchangeable front sight, and Walnut grip with the iconic Colt medallion make this a gun you'll want to shoot AND show off. The Python is chambered in .357 Magnum and also accommodates .38 Special cartridges.
Specifications
Barrel Description: 1:14 LH, 6 Groove
Barrel Length: 6 in.
Capacity: 6 rds.
Finish: Semi-Bright
Frame Material: Stainless Steel
Grips: Walnut Target Stocks
Height: 5.5 in.
Width: 1.55 in.
Overall Length: 11.5 in.
Weight: 46 oz.
Colt's overview video covers all of the "Remembered and Reborn" details. Check it out!
⊕Ruger
Ruger-57 chambered for 5.7x28mm
Gun News. This week Ruger announced a completely new handgun platform that is high-capacity, low recoil, and chambered for the lightweight 5.7x28mm cartridge.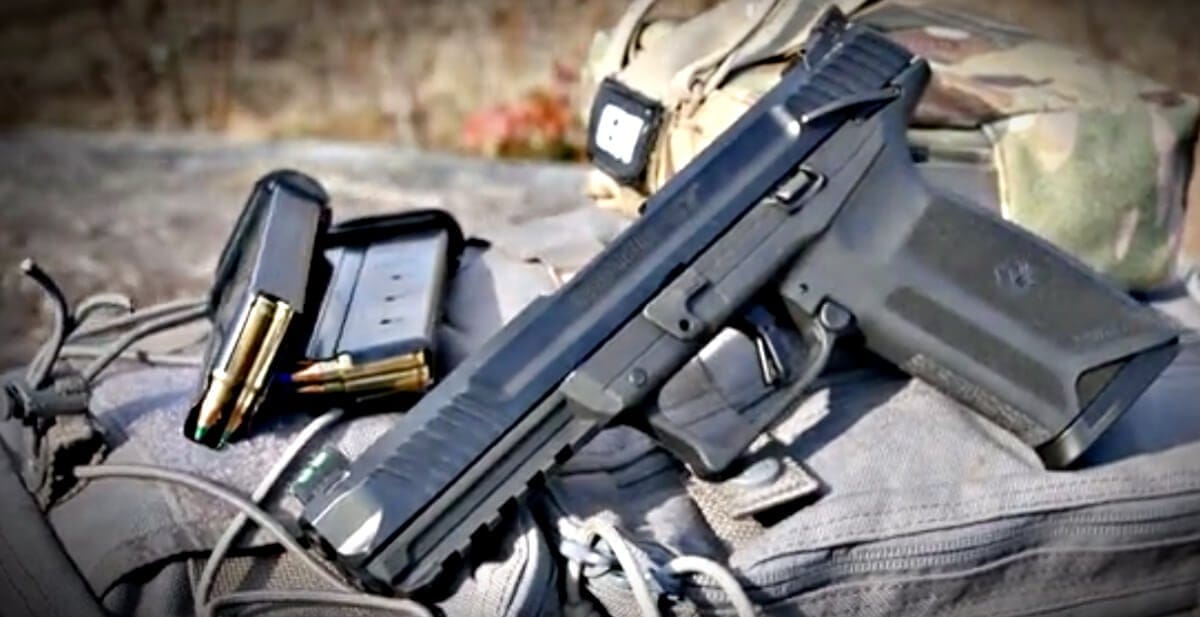 From Ruger:
The most touted feature of this new pistol is its impressive ergonomics. The slender steel magazine is surrounded by a glass-filled nylon frame featuring an optimized texture, making for a natural and ergonomic grip. Despite the longer cartridges, the trigger reach is no longer than many common 9mm Luger handguns. All of the controls are easily accessible, like the 1911-style ambidextrous manual safety, robust slide release and the reversible magazine latch.
The through-hardened, billet steel slide with lightening cuts features enhanced front and rear cocking serrations. The steel barrel features a black nitride treatment for wear resistance, and the fire control housing is precision CNC-machined from anodized aluminum. The pistol is 8.65″ long and weighs 24.5 ounces. It ships in a lockable hard case and includes two, 20-round steel magazines (10-round, state-compliant model also available).
Rounding out the package is a windage and elevation adjustable, serrated rear sight and rapid acquisition fiber optic front sight for fast, accurate shooting; Picatinny-style accessory rail; and Secure Action™ fire control which combines Ruger's reliable and proven internal hammer with a short, crisp trigger pull and a positive reset. To top it off, the slide is drilled and tapped for easy mounting of optics with a separately available optic adapter plate.
Learn more at Ruger: https://ruger.com/
Lite Rack LCP II in .22 LR
Gun News. The 57 wasn't the only thing Ruger announced this week. They also announced a new pistol to their Lightweight Compact Pistol (LCP) line—this time, chambered in .22LR. It features the low-recoil Lite Rack slide that Ruger says is easy-to-manipulate regardless of hand size or strength. This pistol looks like a great option for new shooters or for use as a training tool for a couple of different reasons. Besides the low recoil and easy-to-rack slide, it has a manual safety and a magazine disconnect to prevent the gun from firing with the magazine removed.
From Ruger:
Optimized to function with high-velocity ammunition, this new pistol features a tilt-barrel, blowback semi-automatic action, which aids in feeding for reliable function. With a patent-pending floorplate assembly, the magazine offers a very compact 10+1 capacity, extends the grip for improved control and retains the LCP II's popular last-round hold open function.
Like the rest of the LCP II family, this American-made pistol features a short, crisp, Secure Action™ trigger with inner trigger safety; improved sights for superior accuracy; and highly-textured grip surfaces. In addition to one, 10-round magazine, this pistol also ships with a magazine loader.
⊕Savage Arms
Renegauge
Gun News. This week Savage Arms introduced its first semiautomatic shotgun. They call it the Renegauge, and they say it's designed for field use, hunting, and competition. The Renegauge features the patented Dual Regulating Inline Valve (D.R.I.V.) gas system. According to Savage, the D.R.I.V. provides the Renegauge with unparalleled ability to regulate the gas that cycles the shotgun's action, by venting excess gas before it drives the bolt. This results in consistent ejection, less felt recoil, and a lightning-fast cyclic rate for dependably fast split times. Both low-brass target shells and Magnum hunting shells will cycle the action with the same reliability and without any adjustment from the shooter.
An additional benefit to the Renegauge is that it is easy to fit to the shooter, as every ergonomic aspect, from comb height to length of pull, are adjustable to user needs.
From Savage Arms:
"RENEGAUGE is unlike any other semi-automatic shotgun, and demonstrates our commitment to innovate as an independent company," said Al Kasper, President and CEO. "This project has been in the works for years because we wanted to enter a new category in a big way. The team in place now did an amazing job getting this to the finish line. Hunters and shooters are going to be amazed with the fit, feel, function and versatility of this shotgun. And it's a platform we can and will build on—so look for more in the very near future."
Features
D.R.I.V. gas system
Adjustable stock for length of pull, comb height, drop and cast
One-piece, chrome plated action bar assembly
Chrome plated reciprocating components
Stock rod buffer to reduce felt recoil
Fluted barrel with melonite finish
Carbon steel ventilated rib with 
red fiberoptic sight
Competition-ready easy loading magazine port
Oversized controls
3 interchangeable flush mount choke tubes (Beretta/Benelli) – IC, M, F
Hard-sided carrying case
⊕KRISS USA
Vector Chambered in .22 Long Rifle
Gun News. KRISS announced this new member to the Vector family, which will make its debut at SHOT Show 2020 later this month. There are two models, the Vector CRB .22LR and Vector SDP-SB .22LR. Both models feature a low bore axis and a linear blowback action. Shipped with a proprietary 10-round magazine, but 30 -round proprietary magazines will also be available.
From KRISS:
"We are very excited to add .22 Long Rifle to the list of calibers that the Vector is now chambered." States KRISS USA Marketing Manager, Tim Seargeant. "The release of the Vector .22LR is an important milestone in the development of the Vector platform by making it more accessible to shooters of all skill levels and budget-minded consumers.
The Vector CRB .22LR model features a 16" threaded barrel, surrounded by an M-lok modular hand guard. Standard features include a picatinny top rail affixed with low profile front and rear flip sights, ambidextrous safety, and a 6 position M4 stock.
The Vector SDP-SB .22LR model features a 6.5" threaded barrel. Standard features include a picatinny top rail affixed with low profile front and rear flip sights, ambidextrous safety, and a SB Tactical® Stabilizing Brace.
The new .22LR models will become the most affordable versions of the KRISS® Vector, with a starting suggested retail price of $649.00.For more information about the KRISS® Vector .22LR visit the KRISS USA website.
That's it for now, five by five. Check back every Friday for more gun news.
Subscribe to GunMag TV.
---
The industry is gearing up for SHOT Show 2020, and so are we! We've been updating our SHOT Show 2020: Bigger Than Ever (New Guns and Gear) article each week as we learn about the new releases that will debut next month. Keep an eye on it to stay up to date on all the cool new guns we can't wait to see.
How big is SHOT Show 2020 going to be?
This year is the 42nd instance of the annual convention, which began in St. Louis, MO. in 1979, and the 10th year it'll have been held in Las Vegas. The NSSF is estimating it'll host 2,400 exhibitors and approximately 60,000 attendees from all across the industry and many countries. Current estimates project it to be at nearly one million square feet of show space, with nearly 3,000 exhibitors, by its 43rd birthday.
Seriously, go look at all the cool SHOT Show 2020 guns. Try not to drool, but if you do we won't tell.