Gun News from the firearm, tactical, outdoor, training, and hunting world. But mostly firearms!
The industry is gearing up for SHOT Show 2020, and so are we! We've been updating our SHOT Show 2020: Bigger Than Ever (New Guns and Gear) article each week as we learn about the new releases that will debut next month. Keep an eye on it to stay up to date on all the cool new guns we can't wait to see.
How big is SHOT Show 2020 going to be?
This year is the 42nd instance of the annual convention, which began in St. Louis, MO. in 1979, and the 10th year it'll have been held in Las Vegas. The NSSF is estimating it'll host 2,400 exhibitors and approximately 60,000 attendees from all across the industry and many countries. Current estimates project it to be at nearly one million square feet of show space, with nearly 3,000 exhibitors, by its 43rd birthday.
Seriously, go look at all the cool SHOT Show 2020 guns. Try not to drool, but if you do we won't tell.
---
Friday, November 29, 2019
Welcome back to GunMag Gun News 5X5 Friday!
Hopefully, your Thanksgiving feast was awesome. Now it's Black Friday and its time to get down to business picking up cool gear for the people on our Christmas lists. What are you getting for the gear geeks in your life?
This week in Gun News, Sig Sauer made an announcement about their M17 / M18 handguns for the MHS program. Honor Defense has some Mossy Oak pistols available to dealers, and Franklin Armory has some new muzzle devices. MacGregor Tactical has a new bullet-resistant hoodie you'll want to look at, and if you're needing some hearing protection for the range, check out Champion's Vanquish Pro Elite muffs below.
Read on for this week's GunMag Gun News 5X5 Friday.
⊕Sig Sauer
100,000 M17 / M18 Handguns Delivered to U.S. Military
Gun News. This week Sig Sauer announced the delivery of 100,000 M17 and M18's to the U.S. Military for the Modular Handgun System (MHS) program. This contract was awarded to Sig Sauer in January of 2017, and Sig says they have surpassed performance standards and requirements since they received the award. To date, Sig Sauer has delivered M17 and M18 handguns to all branches of the U.S. Military and the U.S. Coast Guard.
M17 and M18 specs:
9mm
Striker-fired
P320-based handgun platform
Utilize 17-round and 21-round magazines
Coyote-tan PVD coated stainless steel slides with black controls
Equipped with SIGLITE front night sights, removable night sight rear plates, and manual safeties.
From Sig Sauer:
"In the month of October SIG SAUER exceeded our manufacturing requirements by thirty percent and delivered a record-setting 12,100 handguns to the U.S. Military to achieve this historic milestone for SIG SAUER and the MHS program," began Ron Cohen, President & CEO, SIG SAUER, Inc. "With the strict accuracy and acceptance specifications that the M17 and M18 are continuously exceeding, it's clear that the success of this program can be directly attributed to the reliability, durability, and accuracy of the handgun, which has resulted in the high demand for both the M17 and M18 from every branch of the U.S. Military.
From the very beginning the MHS program has been a true partnership between SIG SAUER and the U.S. Army which has resulted in the overwhelming success of the program, and ensuring that the M17 and M18 handguns are entering service, and in the field with our military," concluded Cohen.
⊕Honor Defense
Mossy Oak Overwatch Pistols Shipping Soon, Just in Time for Christmas
The Mossy Oak Overwatch pattern is the official camouflage pattern of the NRA, and this week, Honor Defense announced that they are now accepting purchase orders for pistols with the pattern. They will begin shipping by December 10 and these pistols are only available to dealers directly from Honor Defense. So, if you'd like to get your hands on one of these, contact your dealer and request that they make an order.
From Honor Defense:
Chambered in 9mm and featuring a 3.8" barrel, the pistols are perfect for self-defense. In addition, they were designed with input from law enforcement and are snag-free. The Slide Catch is tucked in, the rear sight is curved on the rearward side, serrations go over the top and are forward/aft. In addition, no tools are required for dis-assembly and no trigger pull is needed.
Other concealed carry friendly details include being +P rated and designed for the ultimate in modularity. Three different grip sizes, two-barrel lengths and two back straps ensure your customers can customize the pistol for a perfect fit.
Gary Ramey, President of Honor Defense, said "Honor Defense is thrilled to feature Mossy Oak Overwatch pistols. Both Honor Defense and Mossy Oak were built and grown in America and we both believe in Second Amendment rights. The Overwatch pattern is well-suited to our 100-percent American-made handguns and our Lifetime Warranty. The best patterns should always be on the best American handguns."
To place an order of these pistols, Dealers should contact Honor Defense at 678-943-8035 or info@honordefense.com
⊕Franklin Armory
Aura Muzzle Devices
From Franklin Armory:
The Aura is perfect for minimalist and/or competition builds. Being short and light while providing excellent recoil reduction, the Aura brakes are the perfect addition to any firearm. The Aura XTD is the extended version with a 6 o'clock pre-drilled hole for pin and weld applications for 14.5-inch barrels. The Aura series is currently available in 5.56 NATO 1/2-28 thread with many more calibers and thread patterns coming very soon.
Greatly reduces felt recoil
Machined from 416 stainless steel
Aura XTD Series comes pre-drilled for pin and weld applications
Perfect for competition builds
100% American made
⊕MacGregor Tactical
Lion Shield Bullet-Resistant Hoodie
This week in Gun News, MacGregor Tactical, LLC and Lion Shield, LLC introduced the Lion Shield Bullet Resistant Hoodie. It's a new NIJ Level IIIA rated, Integrated, Concealable – Soft Armor Carrier System, (Concealed Integrated Soft Armor Concealable Carrier System).
From MacGregor Tactical:
Features and benefits include:
Both armor panels are Truly Concealable and the carrier itself is seamlessly integrated into the hoodie making the armor and carrier virtually undetectable unlike traditional "Concealed" carriers
Available in sizes Adult XXXL through Child Medium
The carriers are able to accommodate 2(Two) 11 "x 15 " NIJ Level IIIA Panels and Trauma Pads or in the case of the Child Medium through Adult Small sizes, 2 (Two) 10 " x 12 " NIJ Level IIIA Panels and Trauma Pads; one each for the front and one each for the back.
It is lightweight and breathable – The carrier is made of 70 Denier, Nylon Rip-Stop material and the side panels of the carrier itself are composed if a light weight, breathable Spandex material.
It is T.S.A, approved for domestic Travel in carry-on or checked luggage
The Lion Shield Hoodie will be available starting immediately at the introductory price of $150.00 w/o Armor or including a set of two (2) Panels – (2) Rimelig NIJ Level IIIA Soft Armor Panels (Front and Back, for $ 408.00. (These are base-model Ballistic Soft Armor Panels and we highly recommend that you purchase a set (2) of Ballistic Trauma Pads as well ) This price is nearly ½ off similar products on the market. We also currently offer a 20% discount with the Code MAC20 on every other product which we offer on our site.
⊕Champion
Vanquish Pro Elite Hearing Protection Now Shipping
According to Champion, Vanquish Pro Elite hearing protection delivers unrivaled audio processing.
From Champion:
The new Vanquish Pro Elite muffs have been designed from the ground up to offer the optimal balance of all-day comfort and superior noise reduction. Featuring ultra-fast, sub one-millisecond reaction times, Bluetooth® capability, active noise cancellation, and rechargeable lithium batteries, the new Vanquish Pro Elite muffs have set a new standard in hearing protection.
Each pair of Vanquish Pro Elite are acoustically modeled on gunshot reports providing a noise reduction rating of 22 dB while delivering unrivaled audio processing. Two full dynamic range HD speakers ensure sounds are crystal clear, and five omnidirectional microphones make sure no sound goes unnoticed while simultaneously minimizing wind noises.
"I've been extremely impressed with the new Champion Vanquish," said Robert Brantley, Precision Rifle Series Professional Shooter. "They are amazingly comfortable, offer the best noise cancellation and the volume adjustment settings allow me to easily hear range commands. After thousands of rounds down range wearing the Vanquish muffs, I can't imagine going into a match without them."
Read more at Champion: http://www.championtarget.com/
⊕GunMag Warehouse Black Friday Sale!
Check it out!
Friday, November 22, 2019
This week's gun news is pretty cool for a couple of reasons. Daisy is celebrating 80 years of making the Red Ryder BB gun, which is most likely the first BB Gun that many youngsters got to call their own. As such, it has become an American Icon, or as some call it: "The Holy Grail of Christmas gifts." Be sure to check out their commemorative edition below.
Another reason this week's gun news is pretty cool is that Kimber (maker of firearms for the sporting, law enforcement, and military markets) just announced a whole new slew of handguns for 2020. They've got some slick-looking 1911's, Micros, and revolvers—each with unique features. Be sure to check them out.
Also, Apex announced two new gun magazine products this week: an extended magazine release for the CZ P10 and some new Plus 3 base pads for SDVE. Streamlight has a new rail-mount weapon light, and Meprolight announced their new Single Dot pistol sight.
Read on for this week's GunMag Gun News.
⊕DAISY
Special 80-Year Commemorative Edition of Red Ryder
The Daisy Red Ryder BB Gun is a piece of Americana that brings nostalgic memories to many. It's been a classic Christmas present for decades. Heck, I might get one for my son this Christmas.
Remember this?
Well, this week, Daisy announced that it is celebrating 80 years of the Red Ryder by offering this commemorative edition. They say that the Model 1938 Red Ryder has remained mostly unchanged over the years, with only… "- a few cosmetic changes, a couple internal improvements and a tiny bit of tinkering for performance – but most would be hard put to see the changes."
Here's how Daisy tells the Red Ryder story:
In the 1940s, American youth were all about cowboys. From the Saturday Matinee
Westerns at the downtown movie house to kids gathered around the family radio to hear about cattle
rustlers and cowpokes, and to comic books read by flashlight under the covers way past bedtime,
everyone wanted to be a cowboy. And what's the most important tool a cowboy uses? It's his rifle, of
course – a sturdy lever-action carbine built to tame the wilds of the West.
It was 1940, and Daisy introduced what would become a legendary air rifle – the Red Ryder. It had
everything youth were looking for – wood stock and forearm, sturdy lever action, a saddle ring and a
real leather thong. It's only natural that young boys (and many young girls) depended on their Red Ryder
to take on bank robbers, cattle rustlers and ducks on the wing.
And, down deep, America's youth haven't changed all that much, either. More youth take their first shots with a Daisy than with any other BB gun. Riding the range with your trusty carbine at your side may not fill their dreams anymore, but no one can deny the thrill of toppling a pop can the first time with your very own Daisy Red Ryder.
Kimber
2020 Product Lineup
Kimber just announced eleven new firearms in their 2020 lineup. SHOT Show is coming up, and I'm thinking the Kimber booth will be hopping with all of these goodies on display.
From Kimber:
As the market leader in 1911 pistols, it is appropriate that the first product announcement is a high-performance 1911. Introducing the 1911 RAPIDE Black Ice.
The RAPIDE Black Ice boasts performance-enhancing features including stepped cocking serrations, slide lightening cuts for faster lock time, striking two-tone KimPro finish, DLC coated barrel for extreme durability, flush-fitting magwell, match-grade trigger breaking crisply at 4-5lbs, and Tru-Glo TFX Pro Day/Night Sights.
The Raptor Collector Edition family consists of the Stainless Raptor II (1911), EVO SP Raptor, and Micro 9 Raptor.
These beautiful pistols will be offered for one year only and are sure to become collectibles. Each Raptor will wear a unique two-tone finish, accented with a special patterned G10 grip with the trademark grip scale pattern. Night sights are standard on all, as is the special Collector Series marking on the left side of the slide and special serial number prefixes to mark these unique items.
For the Micro 9 lineup, Kimber has added 2 new models, the Amethyst and Triari.
The Micro 9 Amethyst addition includes all the features consumers have become accustomed to across Kimber's Gem Tone Line. The Micro 9 Amethyst features a Purple PVD slide with laser engraved border, purple PVD small parts, KimPro II Silver Frame, Purple and Black G-10 Grips with 3 vertical serrations, and standard night sights. The Micro 9 Triari features aesthetically pleasing, fully functional, deep relief laser engraved, stacked cube, front and rear cocking patterns on the slide. It also features a Stiplex front strap pattern and grips with a stacked cube pattern for positive grip.
Kimber's K6s Revolver line adds three additional models for 2020,
The 4″ Target model features extended three-finger grips for superior comfort and a target adjustable rear sight for pinpoint accuracy with any loading. The 4" Combat model features an extended combat grip with finger grooves for better control and white dot sights. Rounding out the K6s 2020 lineup, the K6s Texas Edition is an excellent example of a collector edition piece. This revolver features a 2-inch barrel, special G10 ivory grips with the TX state motto, name and flag, our timeless smooth satin finish and fine vintage American Western scrollwork engraved on the frame.
⊕Apex Tactical Specialties
Extended Mag Release for CZ P10
From Apex:
The Apex Extended Mag Release is a direct drop-in replacement for the P10 factory magazine release and improves performance by making it easier to reach. It is a tactical length mag release that is also suitable for competition use, and is reversible to accommodate both the right-handed or left-handed shooter.
Designed and manufactured by Apex, the mag releases are machined from barstock steel and feature a 30 lines per inch checkered face. Each part is fully heat treated and finished in black Melonite for enhanced durability and reliability.
Features and Specifications:
Direct replacement for the factory magazine release.
Reversible.
Features 30 lines per inch checked face.
Easy to install.
Apex Part #: 116-132 Tactical Length.
MSRP: $49.95.
Plus 3 Base Pads For SDVE
From Apex:
Caliber specific, there is an option for the 9mm SD and SDVE, and one for the .40S&W SD and SDVE. These extensions can also be used with magazines for the Sigma series pistols, SW9VE, SW40VE, or Sigma "C", "F", and "VE".
Features and Specifications:
Fits SD, SDVE and Sigma model standard capacity magazines.
Increases standard capacity magazines by three (3) rounds.
Machined from aluminum and Black Type III Hardcoat Anodized for durability.
Single Set screw keeps mag extension snuggly in place and allows for ease of disassembly.
Base Pad bottom surface dimpled for ease of identification.
Easy to install.
MSRP: $34.95.
⊕Streamlight Inc.
TLR-7 A Rail-Mount Weapon Light
According to Streamlight, this new rail-mount weapon light comes with a key kit to securely fit it a broad range of weapons. It features a one-handed, snap-on-and-tighten interface that keeps hands away from gun muzzles while the user attaches or detaches it. The Safe Off feature prevents the light from accidentally being turned on, and the ergonomic rear switches feature a low or high position to match users' shooting styles. This new model features an IPX7 rated design, making it waterproof to 1 meter for 30 minutes.
From Streamlight:
The TLR-7 A features a power LED that delivers 5,000 candela and 500 lumens over a beam distance of 140 meters. It offers two lighting modes, LED only or LED strobe, each with a run time of 1.5 hours. The light is energized by a single 3 Volt CR2 lithium battery.
Constructed with 6000 Series machined aircraft aluminum with a black anodized finish, the TLR-7 A weighs 2.40 ounces and measures 2.58 inches in length.
"Our newest weapon light features ambidextrous on/off rear switches with low and high positions to suit user preference and a rail clamp that attaches and detaches easily from the side of compact and full-frame weapons," said Streamlight President and Chief Executive Officer Ray Sharrah.
⊕Meprolight
MEPRO FT Single Dot Pistol Sight
According to Meprolight, their new FT Single Dot is a super-small, low-profile, optical pistol sight that is easy to install on existing pistol dovetails and is compatible with most holsters. This system provides the shooter with a front and back aiming points in the form of illuminated dots for horizontal and vertical centering. The sight works in light and dark environments because it combines Fiber-optic and Tritium on the aiming points. The Fiber-optic is for bright light, and the Tritium is for low-light.
From Meprolight:
Incredibly small and lightweight, the FT Single Dot system is based on Meprolight's optical illumination patent and features a front and back aiming post in Fiber-optic Tritium dots for horizontal and vertical centering in daylight, nighttime, and low light circumstances. The low-profile accents fast target acquisition and increases the user's level of accuracy. Simple to install by placing the FT Single Dot sight on any pistols rear dovetail. There are no batteries or switches, just install and go! The FT Single Dot is made from extremely durable materials to withstand heavy use and provide the user with years of bright light shooting. MSRP is $130.00.
Read more at Meprolight: https://www.meprolight.com/

Friday, November 15, 2019
Welcome back to GunMag Gun News 5×5 Friday.
Hopefully, all of you had a fantastic Veteran's Day Weekend! In this week's 5×5 gun news we'll tell ya about some cool firearms from four different companies. Also, you'll want to check out the Stabilizing Brace Kits for the Remington V3-TAC-13 from SB Tactical.
Read on for this week's GunMag Gun News 5X5 Friday.
⊕Ed Brown Products
Fueled Series of Custom Pistols and Accessories
Gun News. This week, Ed Brown Products announced the addition of the new Fueled Series to their line of custom pistols. These custom builds are based on popular handgun platforms, beginning with the Smith & Wesson M&P 2.0 9mm.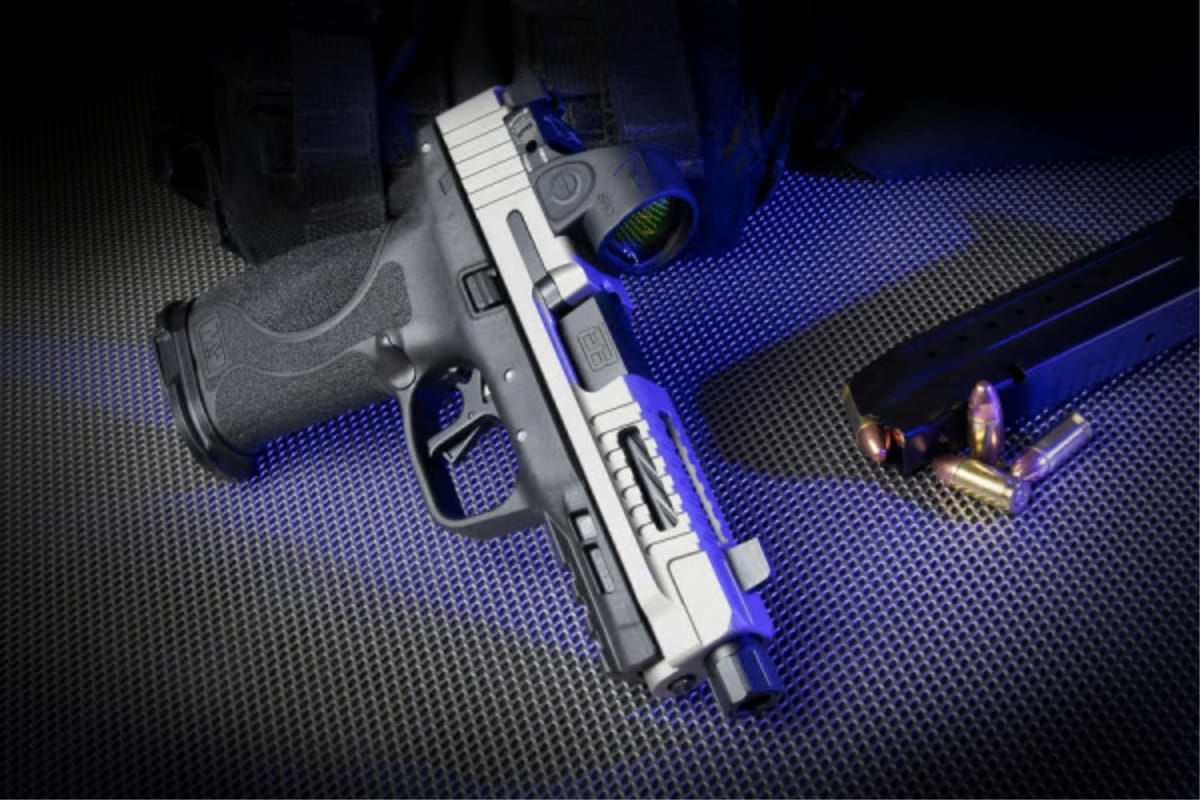 From Ed Brown Products:
The first platform of choice to be "Fueled by Ed Brown" is the Smith & Wesson® M&P® 2.0™. Far beyond gunsmithing, to be "Fueled by Ed Brown" the pistol is broken down to its foundation, and receives a complete overhaul. Beginning with a custom accuracy rail to improve barrel lockup and accuracy to achieve accuracy rail gives the slide and barrel perfectly mated surfaces to achieve an exceptional fit. Next is a fully machined custom slide, with custom cuts for a striking appearance, with material in all the right areas for hard use and to maintain functionality. Adding a 416 stainless, button rifled match barrel customized with Ed Brown tread flutes, that includes ½ x 28 threads and a custom thread protector, allows the pistol to be fully suppressor ready. A re-designed and re-engineered custom extractor mates perfectly to the custom slide, ensuring the best reliability possible. Finishing off with custom sights, trigger, 360-degree magwell paired with machined base pads, machined frame pins, and aluminum backplate with custom serrations. Like all other Ed Brown custom handguns, the Fueled Series is fitted by hand one at a time with the same focus and care as they've been doing for more than 50 years.
Sales and Marketing Director John May said, "Now you can look to Ed Brown for more than just 1911s. With the addition of the Fueled Series we are offering other popular handgun platforms, fully customized for the best possible accuracy and reliability."
⊕Ruger
AR-556 with Free-Float Handguard in 300 BLK
Gun News. Ruger announces their AR-556 with free-floating handguard is now available chambered in .300 Blackout.
From Ruger:
This addition to the Ruger AR-556 rifle line features a 16.10" cold hammer-forged barrel with a 1:7" twist and pistol-length gas system to reliably function with both the lightest supersonic hunting rounds and heavy, subsonic rounds.
The rifle also boasts an 11" aluminum free-float handguard with Magpul M-LOK accessory attachment slots and a standard pistol grip for easy user customization.
The dust cover and metal magazine are marked with the caliber for easy identification of both the rifle and ammunition. The pistol-length gas system is tuned to run with a wide variety of ammunition, with or without a silencer. The 5/8"-24 muzzle threads are capped with a thread protector.
⊕Bond Arms
Patriot
Gun News. In celebration of servicemen and women on Veterans Day and every day, Bond Arms offers its Patriot break-action handgun. They say that it functions as a self-defense gun and is also a favorite collector's item among Bond Arms fans. The Patriot is chambered to accommodate .45 Colt and 2.5-inch .410 shot-shells. It boasts a stainless-steel double-barrel and frame. The 3-inch barrels are interchangeable and compatible with all standard Bond Arms barrels.
From Bond Arms:
Additional features of the Patriot include an automatic spent casing extractor for quicker reloads, patented rebounding hammer for fast firing, retracting firing pins, a cross-bolt safety and a spring-loaded, cammed locking lever. The visual appeal of the Patriot™ emerges with the laser-carved American flag and a bald eagle on the extended rosewood grips.
"All of us at Bond Arms are grateful for the service of our military men and women and celebrate them not only on Veterans Day but every day of the year. We created the Patriot™ to do just that," says Gordon Bond, founder of Bond Arms.
Patriot Features
Chambered for .45 Colt/2.5-in. .410
Stainless-steel frame
3-in. stainless-steel slide barrels
Extended, engraved rosewood grips
Front-blade and fixed-rear sights
Automatic spent casing extractor
Patented rebounding hammer
Retracting firing pins
Cross-bolt safety
Spring-loaded, cammed locking lever
Compatible with all standard Bond Arms barrels
Trigger guard
5 inches long
20 ounces
MSRP: $648
⊕Franklin Armory
CA11 and CA12
Franklin Armory made the first AR pistol to be approved by the CALDOJ for sale in California, and now they've added two new California Handgun Roster Approved models—the CA11TM and the CA12TM.
From FA:
CA11
The Franklin Armory CA11TM, chambered in .300 Blackout, brings a new caliber option to the California AR pistol market.
CA 11 Features:
11.5" barrel
TriumvirTM muzzle device
FSRTM 11.5" handguard
LibertasTM billet receiver set
Pistol Buffer tube with foam cheek pad
Detachable 10 round magazine
CA 12
The Franklin Armory CA12TM comes chambered in .350 Legend and is the first California pistol ever approved with a forward vertical grip! The CA12TM offers an excellent new option for hunters across the Golden State!
CA 12 Features:
12" barrel
FSTTM 11.5" handguard
State-approved forward vertical grip
Mil-spec pistol marked receiver set
Pistol Buffer tube with foam cheek pad
Detachable 10 round magazine
⊕Crimson Trace
LaserSaddle for the Remington 870 Series
Crimson Trace has released a new weapon sight you can pair up with one of their red dot sights. It's a new version of their salutary Lasersaddle shotgun laser; this one for the Remington Arms 870 series scatterguns — including the TAC-14. There will be two new models: the LS-870 red shotgun laser sight and the LS-870G green shotgun laser sight.
⊕SB Tactical
Stabilizing Brace Kits for the Remington TAC-13 Platform
These length-adjustable TAC13-SBA3 and TAC13-SBA4 Stabilizing Brace Kits for the Remington V3-TAC-13 platform are designed to enhance stability and accuracy. They are complete, ready to assemble kits.
Kits include:
SBA3 or SBA4 brace
ERGO Flat Top Suregrip
ERGO 6061 aluminum V3 adapter
Castle nut
MIL-SPEC carbine receiver extension
Like all SB Tactical Stabilizing Braces, the TAC13 Kits are U.S. veteran designed and proudly manufactured in the U.S.A.
⊕Ammunition Depot
Check out the new Blazer 22 LR Bulk Packs over at the ammo dump.
Friday, November 8, 2019
Welcome back to GunMag Gun News 5×5 Friday.
This coming Monday is Veteran's Day. Although it's always time to honor our veterans, on Monday, communities all over the nation will hold services and parades to say "Thank You For Your Service." Some companies in the industry are honoring veterans with special offers, so be sure to scroll down and read about them. You may find something special for the veteran in your life!
It's especially appropriate that the film Midway is being released tonight. I've been looking forward to this one for a while now. Some say that Hollywood is ruining the classic 1976 film, but I kinda think that remakes are good because they integrate current technology into the storytelling. In my opinion, remakes make it possible for younger generations to get a fresh view of important historical moments.
Also, there were some new firearm magazines released this week for 9mm, 10mm, and .45 pistols. Be sure to check them out.
Read on for this week's Gun News, and Happy Veterans Day to all of you who have served in the U.S. Armed Forces. We are ever thankful for you.
Midway
Opens Tonight
⊕Honor Defense
15% Military discount program for"National Veterans and Military Families Month"
During the month of November, Active-Duty, Retired Military, and Veterans can design their own pistol and get a 15% discount on it at https://honordefense.com/product/custom-pistol/.
Every Honor Defense pistol is assembled by a Veteran. Each model is fully ambidextrous, features only USA parts, and +P proofed. They feature a modular stainless-steel chassis, two different barrel lengths, and three grip configurations. Independent tests confirm that Honor Defense pistols are more accurate than other major brands. Each firearm comes with a Lifetime Warranty.
From Honor Defense:
The website offers hundreds of variations including cerakoted Slides. Once designed, a Veteran will build the firearm to your specifications and proof test with a +P proof load. Like all Honor Defense pistols, your pistol will be 100% USA, Ambidextrous, and Modular with a Stainless-steel chassis.
"We appreciate military service, our freedoms are the direct result of the sacrifices by our military and their families. It is a privilege to offer a 100% USA pistol at special pricing." quoted Gary Ramey – President of Honor Defense.
⊕TETRA
Veterans Day Promotion
In celebration of Veteran's Day, TETRA is running a Veteran's Day special from 12:00 a.m. November 9, 2019, CST through 11:59 p.m. November 11, 2019, CST. For everyone who purchases a pair of TETRA 90-level AlphaShield or 90-level AmpPod hearing devices, TETRA will give a pair of 60-level AlphaShields ($699 value) to a U.S. military veteran of their choice.
From TETRA:
"Celebrating Veterans Day has always been very personal for me," said TETRA CEO and co-founder Bill Dickinson. "My grandfather was in the Army, and my father is a Marine. They both served proudly for our country. This year we want to honor the brave men and women who have selflessly given so much, so that we all may enjoy so much."
The AlphaShields are specifically designed for waterfowl hunters and clay target enthusiasts to reduce loud, harmful sounds, while enhancing the sound environment for calling, communication, game detection, and localization.
The AmpPods are perfect for maximizing your hearing when trying to locate wild turkey, elk, and deer. This product is designed to enhance the detection and localization of the specific animal you're hunting.
⊕Hoppe's
Dual-Side Lockable Gun Vise
This week's Gun News includes a new firearm cleaning station from Hoppe's. This Gun Vise is constructed on a polymer frame and offers dual lockable sides to secure a firearm in place. It will accommodate all styles of long guns, shotguns, and other popular modern sporting rifles. MSRP: $59.99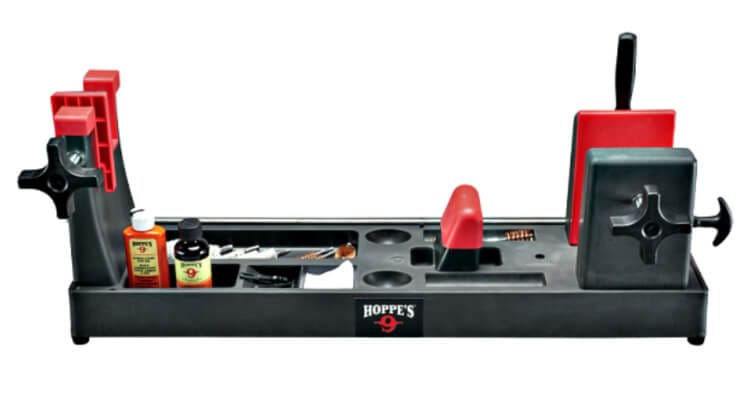 Featuring the iconic Hoppe's red and black colors, the new vise has been engineered to provide maximum convenience whether needing extra space for small parts or for adjusting the fit of your firearm through its multi-positional grip holder.
On the base of the new Gun Vise, multiple compartments provide ample storage and integral slots at the rear are conveniently placed for commonly used items like tools and cleaning rods. The new Hoppe's Gun Vise also includes rubber over molded feet for extra security when placing on surfaces of all types.
"The new Gun Vise was a natural fit to the Hoppe's line as it provides a perfect extension to our well-known line of gun care products and cleaning solutions," said Laurie Kokoruda, Sr. Product Line Manager for Hoppe's. "Not only does it provide a secure, yet simple solution for holding your firearm in place with its unique dual locking sides, but it also aligns perfectly with the Hoppe's promise of making gun care easy and convenient."
⊕Kopfjäger
Reaper Rail Systems
Kopfjäger Reaper Rail Systems are designed for law enforcement officers, hunters, and precision shooters. They are available in four configurations: Reaper Rail (Picatinny), Reaper Rail (Arca Swiss), Reaper Grip Upper Assembly (Picatinny) and Reaper Grip Upper Assembly (Arca Swiss).
From Kopfjäger:
Reaper Rail System
Created to deliver rock-solid reliability in extreme conditions, the Reaper Rail provides fluid-motion while hunting or long-range precision shooting. Easily anchor your rifle with a Picatinny or Arca Swiss rail piece to stabilize your firearm onto the tripod. Reaper Rail Systems are crafted for tripods with a 3/8-inch x 16, as well as ¼-20 (with included insert) threaded studs. The Reaper Rail System boasts 360° pan rotation and tilt range of 109° (21° up and 87° down).
Reaper Rail Upper Assembly
Guaranteed to deliver sturdy stability, the Reaper Rail Upper Assembly (Picatinny or Arca Swiss) is an easy-to-add accessory designed to mount directly to the top of a ball-joint style tripod system with 3/8-16 threads—simply screw the upper assembly onto your tripod's ball-head. The Reaper Rail Upper Assembly can be mounted onto a ¼-20 threaded stud.
⊕Mec-Gar USA
19rd CZ75B 9mm Magazine
These magazines are built with technological designs from the building industry so that shock is reduced and redistributed when the magazine is dropped on a hard surface during competition or self-defense use.
From Mec-Gar:
This new technology greatly reduces the chance of damage to the floorplate, or it coming off as it hits the hard surface. Each magazine has Mec-Gar's proprietary anti-friction coating which makes loading and unloading the magazine easier when shooting which leads to less malfunctions.
According to Mec-Gar USA Vice-President David Kochol, "We are always working towards improving our products. We do this by incorporating the latest in engineering and technological advances so our customers get the best magazines possible."
This magazine replaces Mec-Gar's previous 19rd CZ75B 9mm Magazine with the standard +2 floorplate in their product line.
The magazines have a retail price of $47.45.
⊕XTech Tactical
H&K VP9/P30 Magazines
Gun News: This week, XTech announced the release of their expanded capacity complete magazine line for the H&K VP9 & P30 9mm pistols.
From XTech:
The company completely re-engineered and re-tooled each of the plastic components to the flush-fit magazine. In addition, the company added a 17rd indicator hole, and re-engineered the mag catch feature on the magazine body to offer seamless release on the newer VP9-B pistol.
The magazine bodies are upgraded in steel over factory and come with a lifetime warranty. They are also available in 5 and 10 packs for both options. The 17rd magazines are only 1/10" longer than the company's former 15rd magazines and H&K factory 15rd magazines.
The 21rd magazines feature the patent-pending MTX design that offers industry-leading reliability, ease of installation, and durability. The MTX line is also shipping for the Smith & Wesson M&P9 as a plus 5 9mm, and the Smith & Wesson M&P Shield 9mm as a plus 2 to both the factory 7rd and 8rd magazines.
⊕Elite Tactical Systems Group
30, 18, 13, and 9 Round Magazines for Glock 21, 30 and 41
Gun News. ETS announced their new line of clear pistol magazines in .45 Cal for Glock® 21, 30, & 41. These mags are made from advanced polymers to provide extreme impact resistance, so they won't crack or break if you drop them. ETS says they have superior temperature tolerance, so they won't become brittle over time, even if they are exposed to harsh environments, chemicals, or extreme cold. Also, they are constructed to eliminate creep, so the feed lips and body won't spread while in long-term storage—even fully loaded.
Available in the following models:
GLK-21
Fits the Glock® 21, 30, 41
13-round standard mag
Compatible with all generations
GLK-21-18
Fits the Glock® 21, 30, 41
18-round extended mag
Compatible with all generations
GLK-21-30
Fits the Glock® 21, 30, 41
30-round extended mag
Compatible with all generations
GLK-30
Fits the Glock® 30
9-round standard mag
Compatible with all generations
30, 20, 15, and 10 Round Magazines for Glock 10mm Pistols
Available in the following models:
GLK-20
Fits the Glock® 20, 29, 40
15-round standard mag
Compatible with all generations
GLK-20-20
Fits the Glock® 20, 29, 40
20-round extended mag
Compatible with all generations
GLK-20-30
Fits the Glock® 20, 29, 40
30-round extended mag
Compatible with all generations
GLK-29
Fits the Glock® 29
10-round standard mag
Compatible with all generations
Read more at ETS: https://www.etsgroup.us/
⊕Ammunition Depot
New Ammunition From Sig Sauer and Federal Ammunition.
Check out the new goods at the Ammunition Depot.
Friday, November 1, 2019
Gun Mags Make Great Stocking Stuffers – Just Sayin'
Halloween is over and now the holiday season is upon us. That means its time to start looking for the perfect gifts for friends and loved ones. If you've got a hard-to-buy-for shooting enthusiast in your life, take a look at our sales page. Because, really, can you have too many mags? Buy a few for stocking stuffers. Better yet, get a whole box-full and take your buddy to the range. Oh, yeah—that's a badass Christmas gift idea. You're welcome!
This Week's Gun News
We've got several new items to look at in this week's gun news. Taurus released a new higher-capacity pistol in their 1911 Commander series. CZ-USA and Henry both released some new firearms, and there are a few new kits and accessories to look at, whether you're looking to improve your self-defense weapon or gearing up for the fall hunting season.
Oh, and the new Terminator movie is in theaters tonight. Who's going?
Read on for this week's GunMag Gun News.
⊕Taurus
1911 9mm Commander
This week, Taurus introduced the 1911 Commander 9mm Luger model to the 1911 commander series. It's built with the same key specs and dimensions as the original 1911 Commander, with a 9-round capacity.
From Taurus:
The Single Action Only 1911 Commander provides the familiar hammer-fired design in conjunction with a grip safety, manual safety, and firing pin block. With a barrel length of 4.2 inches, an overall length of eight inches, and an extended beavertail, the 1911 Commander 9mm Luger is both comfortable to shoot and to carry. Drift-adjustable Novak front and rear sights ensure an optimal sight picture and fine-tune zero for any shooting style.
The new 1911 Commander 9mm Luger is now shipping to authorized dealers and distributors nationwide.
Specs:
Item No.: 1-191101COM-9MM
Caliber:

9mm Luger

Capacity:

9 rounds

Finish:

matte black

Grip:

checkered black

Firing System:

hammer

Action Type:

SAO

Safety:

firing pin block, grip safety, manual safety

Sights Front:

Novak drift-adjustable

Sights Rear:

Novak drift-adjustable

Slide Material:

alloy steel

Slide Finish:

matte black

Overall Length:

8.0"

Overall Width:

1.3"

Overall Height:

5.8"

Barrel Length:

4.2"

Weight:

38.08 oz. (unloaded)

Magazines Included:

1

MSRP:

$639.45
Read more at Taurus: https://www.taurususa.com/
⊕CZ-USA
All-Terrain Shotgun Series
Bird hunters take note, the All-Terrain series shotguns have walnut tocks and are finished with an OD Green Cerakote for all-season durability. Four of these shotguns have a patent-pending earth magnet design so your shells stay in place when you're active in the field.
From CZ-USA:
The stand-out feature on break-open models is the utilization of an earth magnet included in the design of the extractor/ejectors. Ideal for duck blinds or when dog handling, the magnets allow modern shells to be retained even when the gun is turned upside down. Likewise, the magnets make it easy to load the shotgun in a blind and prevent dropping shells when bending down to work with a dog.
Available in 12- or 20-gauge variants, as well as 28- or 30-inch barrel lengths depending on model, the All-Terrain Series shotguns come with extended chokes and sling swivel studs. Form meets function with these thoughtfully designed and highly durable shotguns from CZ-USA.
All-Terrain Series Features:
OD Green Cerakote finish for ruggedness in the worst elements
Premium walnut stock and forend
Extractor/ejector earth magnets on break-open variants to retain shells even when the gun is turned upside down
Sling-swivel studs
Extended chokes
⊕Henry
Two New Side Gate Lever Actions
This week Henry announced the addition of two new models in their Side Gate Lever Action rifle line.
From Henry:
Cosmetically and functionally the new Side Gate Lever Actions share much with the earlier models. The firearm's namesake, the loading gate on the right side of the receiver below the ejection port, is coupled with Henry's historically inspired removable tube magazine. Having these two methods of loading and unloading allows the shooter to safely unload the firearm without working live rounds through the action and keep the magazine topped off through the side gate.
Andy Wickstrom, Vice President and General Manager of Henry Repeating Arms explains, "As soon as we came out with the first round of Side Gate Lever Actions we started getting requests for additional calibers. Both .410 and .45-70 were way up there, so it's great that we can satisfy those that requested it now."
.45-70 Specs:
Barrel Length – 19.8″
Barrel Type – Round Blued Steel
Rate of Twist – 1:20
Overall Length – 38.1″
Weight – 7.09 lbs.
Receiver Finish – Polished Brass
Rear Sight – Fully Adj. Semi-Buckhorn w/ Diamond Insert
Front Sight – Ramp w/ .062″ Ivory Bead
Scopeability – Drilled and Tapped
Scope Mount Type – Weaver 63B
Stock Material – American Walnut
Buttplate/Pad – Brass
Length of Pull – 14″
Safety – Transfer Bar
Best Uses – Target/Hunting/Large Game/Collector, Deer, Elk best at up to 125 yards
Embellishments/Extras – Regular Lever. Swivel Studs
.410 Specs:
Barrel Length -19.8″
Barrel Type – Round Blued Steel
Rate of Twist – Smooth/No Choke
Overall Length – 38.1″
Weight – 7.09 lbs.
Receiver Finish – Polished Brass
Rear Sight -Fully Adj. Semi-Buckhorn w/ Diamond Insert
Front Sight – Ramp w/ .062″ Ivory Bead
Scopeability – Drilled and Tapped
Scope Mount Type – Weaver 63B
Stock Material – American Walnut
Buttplate/Pad – Brass
Length of Pull – 14″
Safety – Transfer Bar
Best Uses – Target/Hunting/Bird Shot
Embellishments/Extras – Regular Lever. Swivel Studs. 2 1/2″ Shells Only. Cylinder Bore
Read more at Henry: https://www.henryusa.com/
⊕Viridian Weapon Technologies
New Optics Line and Ruger 10/22 Riflescope Package
This week, Viridian Weapon Technologies announced the launch of Viridian Optics—their all-new riflescope line. These scopes are available online as add-on accessories or as an inline SKU with a pre-installed scope on the Ruger 10/22 (model number 31143).
From Viridian:
"Viridian has been creating the leading edge of weapon technology since 2006, and we're thrilled to expand our product offerings into this exciting new segment," said Viridian President and CEO Brian Hedeen. "We've been the premier laser sight provider to the world's largest gun manufacturers, and when these companies needed a high-quality scope to pair with their rifles, they called us. And Viridian Optics were born."
⊕Kopjäger
Tripod Kits with Included Reaper Grip
Kopjäger announced this week that it is set to release four tripod kits, which include a Reaper Grip with an aluminum or carbon fiber tripod and a Reaper Rail with an aluminum or carbon fiber tripod.
From Kopjäger:
The K700 Heavy Duty Tripod is crafted of sturdy aluminum material and features 3-leg extensions with locking levers and can withstand a maximum weight capacity of 25 pounds. The rock-solid K800 Carbon Fiber Tripod boast 4-leg level extension, 3-position angle locks, twist leg locks, can withstand a max weight of 20 pounds allowing you to adjust the tripod to your comfort.
Included with the tripods is the dependable class Reaper Grip. The heavy-duty aluminum grip system features smooth 360° pan rotation with 21° up and 87° down tilt, user-friendly locking, adjustable, offset grip and protective padding to prevent scratches on your firearm. Reaper Rails boast a Picatinny rail instead of a locking grip with effortless 360° pan rotation with 21° up and 87° down tilt.
Read more at Kopjäger: https://www.kopfjagerindustries.com/
⊕Apex
Curved Forward Set Trigger Kit for Smith & Wesson M&P M2.0
Apex says this kit will reduce overall trigger travel by 40 percent, and has a crisp trigger break that'll remind you of a single-action 1911 pistol. The new set will begin shipping on Tuesday, November 5 and has an MSRP of $164.95.
From Apex:
The new Forward Set Trigger Kit is specifically designed for and will only work in current M&P M2.0 models in 9mm, .40S&W and .45ACP calibers. This includes the M2.0 Compact variants and Performance Center models.
The kit includes an aluminum hard-coat anodized Apex Forward Set Trigger with a center-mounted pivoting safety, an Apex Ultimate Striker Block Kit, Apex's patented Forward Set Sear Actuator, Apex Fully Machined 2-Dot Sear and the Apex Forward Set Spring Kit which includes Duty/Carry Sear and Trigger Return Springs and Heavy Weight Sear and Trigger Return Springs.
Using a combination of the Apex springs and factory sear and trigger return springs allows the user to set the trigger pull weight within a range suitable for duty/carry or to a weight desired for competition.
⊕TRUGLO
Tritium Front Sight Posts
This week, TRUGLO announced two new Tritium Front Sight Posts for AR-15 and AK front sights. These posts are direct-fit replacements found in standard tactical rifle setups. The AK sight post includes a new windage drum for maximum compatibility and both models include a combination tool for installation and adjustment for zeroing the sight.
From TRUGLO:
"Many know and trust TRUGLO tritium night sights on their duty or carry guns," said Pliny Gale, TRUGLO Product marketing Manager. "We started with our brightest tritium technology to bring that illumination to popular rifle platforms."
Built on a CNC-machined steel housing that is protected by a nitride Fortress Finish, these front sights are machined and assembled in the USA with Swiss tritium. The tritium capsule is a consistent light source that does not require light exposure to activate and is protected by a 12-year warranty.
PRODUCT FEATURES
Glows in the dark – no light exposure required!
Adjustment / Installation tool included
AK–47 post (TG231AK1) includes windage drum
Replaces standard front sight post
TG231AR1 compatible with AR–15 sights with A2 front sight posts
TG231AK1 compatible with AK–47, AKM and AK-74 standard front sights
MSRP: $58.99 AR-15 model (TG231AR21); $70.99 AK model (TG231AK1)