Gun News from the firearm, tactical, outdoor, training, and hunting world. But mostly firearms!
---
Friday, March 27, 2020
Wow, March has been a full month. The last post I made to the February 2020 5 x 5 included the news that the IWA had been postponed…in Europe. Since then, COVID-19 has dominated World news. State and local gun control measures and the Federal Stimulus are issues that many of us in the US are following. I'd encourage you to take some time to read COVID-19: Your Guns and Your Money, by David Reeder.
Although our concerns increase as the Pandemic unfolds, I'd like to point out a few positives. From my vantage point, American ingenuity and resourcefulness are expanding as the number of confirmed Coronavirus cases and mortalities rises. People from all walks of life are finding a way to help, as the catch-phrase "We're in this together" takes root. For this week's 5 x 5, let's take a look at a couple of companies in the industry that recently donated supplies to help in the fight against the virus. I'm certain there are more companies out there that are lending a helping hand. If you know of some, let me know in the comment section.
⊕Radians and Otis Technology Donate Medical Supplies
Radians — N95 Masks
The urgent shortage of PPE, specifically N95 masks was lessened a bit in Memphis, Tennessee this week. Radians is a personal safety equipment manufacturing company, based in Memphis, that makes eyewear and hearing protection for shooters and hunters. In an effort to assist first responders and the local medical community in the fight against COVID-19, the company donated over 14,000 N95 masks to its hometown.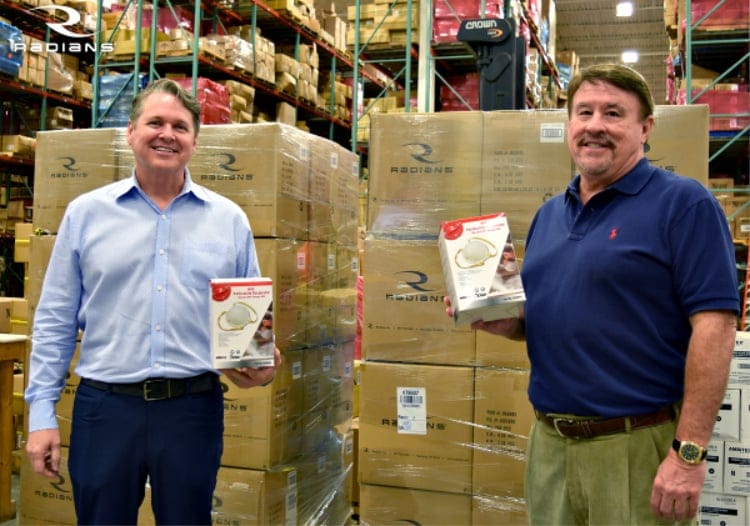 "We're thankful for our first responders and glad that Radians can lend a helping hand during the crisis," said Wes Miller, Director of Sales for Radians' Sporting Goods channel.
The N95 respirator was added to the Radians PPE portfolio in 2018. "We knew that adding N95 respirators to our portfolio was important," said Radians President, Bill England, "but with the COVID-19 pandemic, they have become a critical PPE item to help protect those with the highest risk of exposure. We're happy that Radians is able to make this donation in our hometown, which has a very large medical community including St. Jude, Le Bonheur, and UT Medical."
Otis Technology — PPE and Hand Sanitizer
This week Otis Technology started using its facilities for a new purpose. Normally the company manufactures firearms maintenance equipment for military, law enforcement and civilians. Now, they are also manufacturing personal protective equipment (PPE).

"We'd been following the news closely in order to stay up-to-date on the virus and ensure the safety of our employees. We made the decision to temporarily cut our staff, in order to keep them at home, safe and to help flatten the curve. This decision was made just hours before Governor Cuomo announced a mandated workforce reduction," states Larry Williams, CEO for Otis Technology.

"We also began immediately asking ourselves 'how can we help?' Otis is a state-of-the art facility built on innovation. We have a dedicated research and development facility that can investigate and tackle new projects and they took the task of PPE by storm. I applaud my entire team's efforts – working around the clock to get up and running," continues Williams.
Hats off to these companies for their efforts.
Here are the new releases for this week.
⊕Sig Sauer
716i TREAD AR-10 Rifle
Gun News. According to Sig Sauer, this new addition to the TREAD brand is a lightweight, forged aluminum receiver, direct impingement rifle that comes optics-ready. Its features include a precision nitride coated, carbon steel barrel, an ambidextrous lower receiver, a free-floating M-LOK handguard, a 2-stage Matchlite Duo Trigger, and a six-position adjustable stock. The 716i TREAD AR-10 is chambered in 308 WIN.
"The TREAD brand has gained recognition for offering premium products, at a competitive price point, that are designed, engineered and built with the same quality and innovation consumers expect from any SIG SAUER product," said Tom Taylor, Chief Marketing Officer and Executive Vice President, Commercial Sales. "The 716i TREAD brings the power of the AR-10 platform to the TREAD series and is an exciting expansion to the line. The rifle is lightweight with premium features right out of the box, and consumers can anticipate an affordable price point below $1,400 in stores. For those consumers that want to customize their rifle, they have the freedom to grow with TREAD branded accessories already available in stores that fit the 716i TREAD."
716i TREAD Specs:
Overall Length: 37in.
Overall Height: 8in.
Overall Width: 2.5in.
Barrel Length: 16in.
Barrel Twist: 1:10in.
Weight (incl. magazine): 8.5lbs.
Sig says the 716i TREAD is now shipping and available at retailers nationwide.
⊕Kalashnikov USA
Special Edition Russian Tiger KOMRAD 12
Gun News. If you're interested in one of these, you'd better hurry. Kalashnikov says they're only going to make this special edition in small numbers and then it'll be retired.
From Kalashnikov USA:
No tax stamp needed! That's right, the Kalashnikov USA™ Komrad™ is a non-NFA item – you can purchase this model DIRECT without the extra paperwork and usual wait time for an NFA item. This 12 gauge semi-automatic, short-barreled firearm is based on the Russian Saiga series and manufactured here in the United States. The Komrad's barrel length is only 12.5" long. It accepts 2.75" and 3" shells from low brass to slugs thanks to the adjustable gas system. The Komrad™ comes with an SB Tactical pistol brace, adjustable pistol grip, tri-rail forend, vertical forward grip, standard side-mounted optics rail and threaded muzzle nut. The Komrad™ is shipped with two 5 round magazines. It also accepts our 10 round magazines as well as most Saiga accessories.
…..
Due to the shortened barrel and decreased dwell time, we recommend ammo no less than 1340 fps.
⊕Ruger
PC Charger 9mm Pistol
Gun News. Ruger's new PC Charger has many of the same features as their PC Carbine, including an interchangeable magazine well for Ruger SR-or Security-9 series magazines, or Glock 9mm double-stacks.
As Ruger describes it:
PC Charger Features and Specs
Glass-filled polymer chassis system allows for the mounting of standard AR grips.

Integrated rear 7075-T6 aluminum Picatinny rail allows for the mounting of Picatinny-style rail brace mounts.

Chassis system features a flared magwell for improved magazine reloading capabilities as well as integrated rear-mounted QD cups for the quick connection of QD cup capable slings.

CNC-milled handguard, that is Type III hard-coat anodized aluminum for maximum durability, incorporates the traditional takedown block and features Magpul® M-LOK-compatible slots at the 3, 6, and 9 o'clock positions for easy mounting of M-LOK-compatible rails and accessories

6 o'clock position of the CNC-milled handguard features a factory-installed handstop for secure support hand placement.

Interchangeable magazine wells for use of common Ruger® and Glock® magazines. Ships with SR-Series™ and Security-9® pistol magazine well installed and an additional magazine well accepting Glock® magazines is included*. Ruger American® Pistol magazine wells are available at ShopRuger.com.

Easy takedown enables quick separation of the barrel/forend assembly from the action for ease of transportation and storage. Takedown is as simple as locking the bolt back and verifying that the pistol is unloaded, pushing a recessed lever, twisting the subassemblies and pulling them apart.

Dead blow action features a custom tungsten dead blow weight that shortens bolt travel and reduces felt recoil and muzzle rise. Bolt is machined from heat treated, chrome-moly steel to ensure strength, structural integrity and durability.

Reversible magazine release and reversible charging handle to support left- or right-handed use or one-handed control manipulation while maintaining a proper firing grip*.

Cold hammer-forged, chrome-moly steel barrel with ultra-precise rifling provides exceptional accuracy and longevity. The heavy-contour barrel provides consistent accuracy.

Threaded barrel with included thread protector allows for use of standard muzzle accessories.

Light, crisp trigger pull with minimal overtravel and positive reset utilizing proven 10/22® trigger components.

CNC-machined from an aerospace grade 7075-T6 aluminum billet, the receiver includes an integrated Picatinny-style† rail and is Type III hard-coat anodized for maximum durability.

Ergonomic pistol grip features an extended trigger reach for more precise trigger control.

Also includes: one, SR-Series™ pistol magazine; hex wrenches for disassembly of the chassis system and pistol, and charging handle removal.
⊕Rock River Arms
Left-Handed 10.5-inch Pistol — LH2142
Gun News. Here's a new CQB-worthy AR pistol that's configured for the lefties!
As the company describes it:
The new Rock River Arms LH2142 is a 5.56 NATO-chambered pistol developed with close-quarter handling and compact, discreet transport in mind for left-handed firearm owners. RRA's A4 LEF-T upper includes a left-sided ejection port and top Picatinny rail aligns to the 9.25-inch mid-length lightweight aluminum M-LOK compatible, free-float RRA handguard. A 10.5-inch chrome-moly 1:9 left-hand twist barrel with A2 flash hider provides maximum accuracy potential and reliable performance. The forged LAR-15LH lower receiver includes an ambidextrous magazine release, a single-stage trigger, Hogue rubber grip, and right-side bolt catch and safety selector.
This AR pistol, like all RRA firearms, comes with one magazine, an RRA hard case, owners manual, and includes a lifetime warranty.
LAR-15LH RRA 10.5" LEF-T Pistol with SBA3 Arm Brace Specifications:
Caliber: 5.56mm NATO Chamber for 5.56mm and .223 Caliber
Upper: Forged A4 LEF-T
Lower: Forged RRA LAR-15LH
Barrel: 10.5″ Chrome Moly, 1:9 Twist
Gas Block: Low-profile
Muzzle Device: A2 flash hider, 1/2-28 thread
Trigger: Single-stage
Handguard: 9.25″ mid-length RRA lightweight aluminum free-float, M-LOK compatible
Pistol Grip: Hogue rubber grip
Arm Brace: SB Tactical SBA3 Adjustable Stabilizing Arm Brace
Length: 29.25-inches
Weight: 6.3 lbs
Includes: One magazine, manual, warranty information
MSRP: $1020.00
⊕SAR USA
New B6C Compact Pistol Colors
Gun News. Just a couple of weeks ago, SAR gave notice that they would be sending out individual releases about their 2020 lineup. Here's the first one.
From SAR USA:
"Due to an overwhelming demand from loyal B6C enthusiasts for new color variations, we are excited to
be able to provide two new popular colors," said Todd Pearson, COO of SAR USA. "To us, here at SAR
USA, the feedback from our loyal dealers, distributors and customers speaks volumes. We value them
as partners and will always strive to fulfill their requests."
A longtime favorite of NATO, security and law enforcement agencies around the world, the hammer-fired
B6C compact is a lightweight, single action/double action semi-automatic pistol designed and engineered
to provide reliable service for many years. Offered in 9×19 mm, the SAR B6C features a 3.8" hammer-
forged barrel, polymer frame, high-quality steel slide, stainless matte finish, fixed style 3-dot combat
sight, manual thumb safety and integrated spur hammer. The B6C comes standard with two 13+1
magazines or 10+1 for capacity restricted states.
With its compact look and feel, the SAR B6C is extremely well balanced in your hand. A low-profile slide
of an incredible .7 inches makes the B6C quick-pointing and easy to shoot, making follow-up shots
easier with speed and accuracy. The SAR B6C is an excellent choice for anyone who's looking for a
dependable semi-automatic handgun for self-defense or everyday carry. The SAR B6C is also offered in
black and stainless matte finishes.
SAR B6C Specifications
Caliber: 9x19mm
Barrel Length: 3.8″
Overall length: 7.4″
Height: 5.2″
Width: 1.1″
Weight: 25.2 oz
Capacity: 13+1 / 10+1
MSRP: $333.30
Friday, March 20, 2020
Welcome back to GunMag Gun News 5 x 5 Friday. I hope everyone is well. How are you all doing with this new ride that we all get to share? So far in my locale, schools are out for a month, restaurants are offering pick-up only meals, and the grocery stores are slowly recovering from the madness we saw last week.
For this week's article, we will look at some data that I think reflects some of the concerns that we are facing as a nation. Also, another big firearms event was postponed because of the pandemic.
⊕COVID-19 Reflected in Search Trends
If you're like me, this week you've vacillated between staring at press conferences and data versus ignoring it completely for several hours just so you can get your work done. I've gotten accustomed to looking at the new charts and data every morning to find out what the numbers are here, in Italy, in China, and elsewhere. That's just my mental starting point, though. After that, I look for news about how regional and national authorities are addressing the new developments.
The Coronavirus has been in the news for a few weeks now, and it looks like it's here to stay for at least several months. Before the pandemic became a reality, Shit Hitting the Fan was a far-off concept for many Americans. Well, this week we've seen more than a little panic as people are beginning to come to grips with what a pandemic actually means, and now the tides have turned as the gun-guys and preppers don't quite seem so crazy anymore. Right now, California, Connecticut, Illinois, and New York are either currently under, or have been advised of upcoming, "Stay-at-Home" orders. Who knows, there might be more by morning?
It's beyond the scope of this article to cover the widely significant economic and social implications that COVID-19 is hammering down on all aspects of our infrastructure. It's plainly obvious to most of us. But after noticing the trending uptick in ammunition sales last week, I decided to follow other trending search terms related to the firearm industry as well. The search terms indicate what people are currently researching. Rather than make conjectures about the trends, I'd rather show the charts and let you, the reader, contemplate the implications. As in anything, there are positives and negatives to be drawn from the data, but it's obvious how the virus has caused a collective shift in focus.
Search Term: Ammunition
Search Term: Guns
Search Term: Shotguns
Search Term: Home Defense
⊕USCCA Expo Postponed
Today was supposed to be the kickoff for the annual USCCA Concealed Carry Expo in Kansas City. Now, over 150 vendors and exhibitors and approximately 15,000 attendees will have to wait for another weekend because, not surprisingly, it has been postponed. The website advises,
In cooperation with Kansas City authorities and following the city's declaration of a State of Emergency for an initial period of 21 days, we are postponing the USCCA's 2020 Expo until a later date. All ticket sales and vendor booths are still valid for this later event, and we will be reaching out to all our ticket holders and partners with additional details shortly.
For responsibly armed citizens, the Expo will offer seminars and courses, a free live-fire range, and a Women's Concealed Carry Showroom — as well as many firearms, knives, and holsters, to see on display.
---
And now here are the latest releases to be found in the firearms industry. "Compact" sure does seem to be the buzzword for now, as it seems like more and more firearm manufacturers are releasing their own versions of slim, compact, concealable handguns.
⊕Legacy Sports International
HOWA Gen 2 Flag Chassis Short Barrel
Gun News. LSI says these short, sweet, patriotic chassis are in stock and now shipping. These models come with:
16.25" heavy barrel
Nikko Stirling Diamond Long Range 4-16×50 optics
20 MOA base, 30mm rings
Buffalo River 6×9 bi-pod.
Gen 2 Flag Chassis Specifications
.308 or 6.5 Creedmoor offerings
APC with LUTH-AR Adj Stock
16.25" Short Barrel
Threaded W/ Muzzle Brake
11.5 lbs
HOGUE Grip
10 rd Detachable Mag Kit
Bipod
3 Position Safety
Lifetime Warranty
SUB MOA
MSRP $1,549
⊕FN America
FN 503
Gun News. FN just released this new sub-compact 9mm, which is now FN's smallest concealable handgun. The company says the 503 is designed specifically for concealed carry.
From FN:
Using the design, performance and reliability standards of the FN 509 family as inspiration, the FN 503 has been purpose-built to conceal quickly and discreetly without compromising on the features and performance FN customers require – like it's 3.1-inch barrel with recessed target crown to ensure dependable accuracy; enlarged controls and soft recoil that make the FN 503 comfortable and controllable to shoot; and, FN 509-style low-profile iron sights.
The all-new skateboard tape-style grip texture provides all-day carry comfort and the all-metal trigger, arguably the best in its class, breaks crisply and consistently with an average of 5-pound trigger pull, resulting in a carry pistol with trustworthy dependability and reliability.
The FN 503 ships with one 6-round magazine with pinky extender and one 8-round magazine with grip sleeve in FN's standard soft-sided zippered case.
FN 503 Specifications
Caliber: 9mm
Operation: Striker fired
Capacity: (1) 6-round with pinky extension; (1) 8-round with grip sleeve
Length: 5.9 inches
Height: 4.6 inches
Weight: 21 ounces
Width: 1.1 inches; slide width 0.9 inches
Barrel Length: 3.1 inches
Twist Rate: 1:10 RH
Sights: Low-profile, snag-free, three-dot iron sights with FN 509 dovetail
Trigger Pull: 5-7 pounds
MSRP: $549.00
⊕Stoeger
STR-9 Compact
Gun News. The Stoeger STR-9 is a compact, striker-fired 9mm semi-automatic pistol available with a 13-round magazine or 10-round magazine for capacity-restrictive states. The barrel is 3.8 inches with an overall length of 6.9 inches, and it weighs 24 ounces. Interchangeable backstraps will be available for custom fitting. The STR-9 will be available in May.
The STR-9 features an integrated rail system, ready to accept an assortment of attachments.
From Stoeger:
Rugged and reliable, the STR-9 Compact's grip angle is engineered to match the drift-adjustable, three-dot sights for true target alignment and combines with a low-bore axis for reduced muzzle rise to quickly reacquire targets for follow-up shots. Aggressive front and back slide serrations provide a firm grasp with or without gloves. A smooth-pulling, crisp trigger houses an internal safety for extra security.
For an added benefit, an accessory rail accepts a wide variety of pistol and laser lights for low-light conditions. The reversible magazine release allows for right- and left-handed shooting. Durable and reliable, the STR-9 Compact delivers the perfect personal defense pistol at an economic price. The new STR-9 Compact is available in a variety of configurations including addition backstraps of different sizes and Tritium night sights.
⊕CZ-USA
CZ P-10 M
Gun News. This new micro-compact is the smallest in CZ's P-10 lineup. This single-stack 9mm has a 7+1 capacity, 3.35″ barrel, an overall length of 6.34″, and weighs 20 oz. Currently, this new little pistol is only listed on the European CZ website, indicating that it was probably slated for launch at the IWA show that was ultimately canceled. Reportedly, the small size of this gun prevents it from qualifying in the US as a sporting gun. It may be a while before we see the P-10 Micro on US soil.
⊕Heckler & Koch
New VP9 Upgrades
Gun News. The Volkspistole 9mm (in English, that's "people's pistol") has been around since 2014, and now it's getting some new upgrades for 2020.
From HK:
The VP9 is Heckler & Koch's latest, and most successful pistol design. We are pleased to announce that all 2020 H&K VP 9 pistols will be shipped with the following upgrades: – 17-round magazines will replace previous 15-round versions – New sight configuration, which includes a high-visibility front sight and a "clean" black serrated rear – Optics-ready cut with cap. Adapter plates are sold separately and are available from the HK web store
Friday, March 13, 2020
⊕NRAAM Cancelled
Probably the biggest gun news this week is the cancellation of the annual NRA Convention or NRAAM. But that's not the only NRA news for the week. The NRA-ILA Auction had a quick venue change due to an impasse over the Country Music Hall of Fame firearms prohibition policy. If you want to know more, I covered it in more detail in our NRA 2020 Convention article.
⊕Ammunition Sales Increase in Response to Virus
The virus is having an impact on ammunition sales, predictably. Ammo.com, an online ammunition retailer, has seen a significant increase in sales and conversions since February 23, a little over a month after the US confirmed the first case on US soil. Alex Horsman, the marketing manager at Ammo.com said, "We know certain things impact ammo sales, mostly political events or economic instability when people feel their rights may end up infringed, but this is our first experience with a virus leading to such a boost in sales." Horsman continued, "But it makes sense. A lot of our customers like to be prepared. And for many of them, it's not just facemasks and TheraFlu. It's knowing that no matter what happens, they can keep themselves and their families safe."
Here are the details that Ammo.com released earlier this week.
When it comes to actual sales, Ammo.com's increase in sales varied among calibers and brands. Calibers that saw the largest jumps include:
40 cal (S&W) ammo: 410%
223 ammo: 194%
7.62×39 ammo: 114%
9mm ammo: 101%
12 gauge shotgun shells: 95%
5.56×45 ammo: 69%
380 ACP (Auto) ammo: 43%
45 Auto (ACP) ammo: 35%
308 Winchester ammo: 32%
22 Long Rifle (LR) ammo: 29%
Ammo Brands with Higher Sales
The brands to see the most increase in sales since the Coronavirus panic began include MBI ammo at 179% increase and Federal ammo at 176%.
Other Brands who have seen significant growth include:
Fiocchi ammo: 122%
Remington ammo: 116%
Winchester ammo: 107%
PMC ammo: 101%
Tula ammo: 90%
Hornady ammo: 79%
Wolf ammo: 79%
Sellier & Bellot ammo: 20%
States Experiencing Increased Ammunition Sales
North Carolina and Georgia show the largest increase in ammunition sales, at 179% and 169% respectively. Pennsylvania also shows an increase of at140% and Texas at 128%. Other states seeing increased ammo sales include:
Florida: 76%
Illinois: 67%
New York: 48%
Ohio: 40%
⊕Quarantine Preparedness
So, beyond stockpiling ammunition, what are you doing in the event of quarantine in your hometown? Obviously the general recommendations include stocking up on food and water, toiletries, first-aid products, and batteries, but what else do The Mag Life readers keep on hand for events like this? I'll just bet it's more than toilet paper. All gravity aside, it's been entertaining to see all of the memes the Coronavirus has prompted. I think this one is my favorite so far. For the sake of entertainment (remember, we need something besides sports to watch now) share your favorites in the comment section below.
And now, here are some new releases that we found in the firearms industry this week.
⊕SAR-USA
2020 Product Line Unveiled
Gun News. SAR-USA just announced a whole slew of new firearms, and with the timing, I can't help wonder if they planned to debut them at the NRA convention that was just canceled. Still, it's going to be interesting to see the new product details as they become available. Todd Pearson, COO of SAR USA says, "The last year has been a whirlwind. We have restructured the company as well as moved it to Alabama. We have all the pieces in place to have a GREAT year. As you know, new products are the lifeblood of any company and boy do we have a lot of exciting new products coming! We have a lot of new products scheduled to arrive in late March."
Here's What We Know So Far
SAR-USA plans to release four new 9×19 / 9mm pistol lines:
P8 family of hammer-fired pistols.
Model 2000 hammer-fired pistol.
K12 Sport and Sport X hammer-fired pistols.
SAR9 X Platinum striker-fired pistol.
The B6 line of pistols will have new color options including Flat Dark Earth and OD Green frames and SAR USA will offer a compact version of the K 245 hammer-fired pistol. Also slated for 2020 is a complete line of high-quality shotguns, loaded with features, that are sure to be on every shotgunner's wish list. The line-up includes:
Vertu 12ga inertial operated semi-automatic.
Magic 12ga field and slug models.
SA-W family of 12/20ga models.
SA-X 700 R 12ga slug gun.
SP family and Platinum over/under 12ga shotgun models.
The company says they'll release details about each new firearm in the coming days.
⊕Hatsan
FlashPup Synthetic QE PCP Rifles
Gun News. Hatsan's newest release features an all-weather synthetic polymer stock, rubber buttpad that's adjustable for elevation and fit angle, and an adjustable cheek rest for fit and sight-alignment.
From Hatsan: Modeled after the original FlashPup, the FlashPup SYN features a durable, light-weight, all-weather synthetic polymer stock. This compact bullpup rifle weighs in at just over 6 pounds, and it is only 32 inches long but packs up to 40 ft-lb of energy-generating wallop. The enhanced side cocking lever makes cycling the rifle easier than traditional bolt-action style guns. Two self-indexing S/Roto-Index magazines are included, along with a clip-in single-shot tray that caters to more precision shooting tactics. The FlashPup SYN features a comfortable rubber buttpad that is adjustable for both elevation and fit angle. Coupled with the elevation adjustable cheek rest, it is easy to achieve jut the right fit and sight alignment. The Quattro adjustable trigger assembly is a match-grade 2-stage adjustable design that allows it to be set to each user's preference. The stock's forend features an integrated Picatinny accessory rail for added customization. A combination scope rail runs atop the barrel and is machined to accept both Picatinny and 11mm dovetail optics mounts. Hatsan's patented QuietEnergy fully shrouded barrel reduces sound output by up to 50%, making this an ideal woods-stalking or backyard plinking airgun.
FlashPup SYN QE Features
Bullpup design, manual loading, pre-charged pneumatic (PCP) air rifle
Available in .177, .22, and .25 caliber
QuietEnergy fully shrouded barrel with an integrated sound moderator – approximately 50% quieter
Precision rifled and choked steel barrel
Detachable, caliber-specific, multi-shot, spring rotary magazine
Corrosion-resistant black anodized aluminum receiver
Combination Picatinny and 11mm dovetail rail accepts a wide range of optics mounts
All-weather, ergonomic, advanced polymer synthetic bullpup stock
Textured grip surfaces for better control and feel
Elevation and fit angle adjustable rubber butt pad
Fixed 165cc air cylinder
Built-in pressure gauge to monitor the cylinder pressure
The patented anti-knock system prevents gas wastage when the gun is knocked or bounced
Quattro Trigger: 2-stage fully adjustable match trigger for trigger travel and load
Manual safety switch
MSRP: $419.99
FlashPup SYN QE Specifications
.177 Caliber:

Max Velocity: 1250 FPS
Max Energy: 29 Ft-lb
Number of Shots: 28-35
Magazine Capacity: 14

.22 Caliber:

Max Velocity: 1120 FPS

Max Energy: 38 Ft-lb

Number of Shots: 24-30
Magazine Capacity: 12

.25 Caliber:

Max Velocity: 900 FPS
Max Energy: 40 Ft-lb
Number of Shots: 20-25
Magazine Capacity: 10

Air Cylinder Volume: 165cc
Fill Pressure: 200 BAR (2900 PSI)
Overall Length: 32″
Barrel Length: 17.7″
Weight: 6.2 lbs
⊕Rock River Arms
LAR-15M .450 Bushmaster
Gun News. This new hunting rifle is chambered for straight-walled .450 Bushmaster cartridges, which are known to be effective for hunting numerous game animals, including deer, elk, hog, and even some bears. These straight wall cartridges are legal in states that do not permit traditional bottleneck cartridges because they have less propellant behind the projectile, so the velocity and potential for over-shooting, is lower. Even so, field tests show a velocity of 2200 fps and 2685 ft/lbs of energy out of the muzzle using the Hornady 450 Bushmaster Custom, so there is no question as to its terminal capabilities of the cartridge. Also, the heavy 250-grain projectile has a trajectory difference of 6.1″ with a 200-yard zero (-2 at the muzzle, +4.1 at 100 yards), so it's well within the kill zone for most big-game hunting ranges.
From Rock River Arms: The RRA LAR-15M .450 Bushmaster produces new advantages for modern hunters using straight wall cartridges. Delivering the same 1 MOA @ 100 yards accuracy expected from RRA's precision rifles, the .450 Bushmaster features a 16-inch stainless-steel cryo-treated barrel with smooth rifling (1:24 twist) and equipped with an RRA Operator Brake. The RRA two-stage trigger provides a crisp break and is housed in the RRA winter trigger guard, allowing full dexterity while wearing gloves. The RRA LAR-15M .450 Bushmaster comes standard with a six-position Operator CAR stock, overmolded A2 pistol grip, and 13-inch extended lightweight free-float handguard covering a low-profile gas block and mid-length gas system. The full-length top rail configuration fits all quality optic systems while the M-LOK compatibility provides for accessory attachments, such as a bipod and light source. A sturdy hard-plastic, five round polymer magazine, owner's manual and warranty are included with the rifle.
LAR-15M .450 Bushmaster Specifications
Caliber: .450 Bushmaster
Lower Receiver:

Forged RRA LAR-15M Multi-Caliber Marked

Upper Receiver:

Forged A4

Barrel:

16-Inch Cryo-Treated Stainless, 1:24 Twist, 5/8-32 Thread

Muzzle:

RRA Operator Brake

Gas Block:

Low-Profile Gas Block, Mid-Length Gas System

Trigger:

RRA Two-Stage / RRA Winter Trigger Guard

Safety:

RRA Standard

Handguard:

RRA 13-Inch Lightweight Free-Float, M-LOK Compatible

Buttstock:

RRA Operator CAR Stock

Pistol Grip:

RRA Overmolded A2 Grip

Weight (w/empty magazine):

6.8 lbs.

Length:

37.5-Inches Extended

Accuracy:

1 MOA at 100 Yards

Includes:

One Magazine, RRA Case, Manual, and RRA Limited Lifetime Warranty

MSRP:

$1100
⊕Umarex
Fusion 2
Gun News. This new bolt-action, CO2-powered air rifle takes the original Umarex Fusion pellet rifle a step further with the addition of a re-designed SilencAir muzzle device, of which Umarex says "Shooters will notice the impact of the pellet on the target as louder than the muzzle report." The Fusion 2 also features a flexible CO2 power system and a nine-shot rotary magazine. The company says the magazine is extremely easy to load and holds nine .177 caliber pellets. Loading the magazine involves inserting a pellet into the first open space in the cylinder and rotating the magazine cylinder counter-clockwise. The magazine will hold on the last pellet seated so there isn't a worry about getting the magazine out of sync. These magazines also prevent dry-fire with a last-shot indicator. The Umarex Fusion 2 ships with a 4X32 scope which mounts to an integral Picatinny style rail. Other features include an ergonomic stock with grip serrations on the forend and raised cheek-piece for solid cheek weld. The manual safety just above the trigger on the right side is recessed into the stock to avoid accidental disengagement. The oversized lever has a 90-degree throw for positive engagement and disengagement of the safety.
From Umarex; The original Umarex Fusion was powered by two 12-gram CO2 cartridges and that is still true of the Fusion 2, but with a twist: the Umarex Fusion 2 uses a removable 12-gram CO2 adapter that can be set aside if the shooter wants to use a single 88-gram CO2 cartridge. The Fusion 2 offers shooters the best of both worlds in powering convenience. Shorter shooting sessions can be done with economical 12-gram cartridges or a longer shooting session can be powered with a single 88-gram cartridge. Shooters can expect around 70 shots from a pair of 12-gram CO2 cartridges and around 250 with a single 88-gram cartridge. Read more at Umarex: https://www.umarex.com/
⊕Patriot Ordnance Factory
Rogue Gets Last-Minute Trigger Upgrade
Gun News. The Rogue was announced just a couple of months ago, and according to the company, "it quickly gained traction for being the lightest .308 AR in the world." Well, it looks like POF (no, that's not Plenty of Fish) made a last-minute decision about the trigger.
From Patriot Ordinance: "We knew the Rogue was going to be popular with hunters that use an MSR in the field," says Frank DeSomma, head patriot at POF-USA, "so we wanted to give them a trigger that enhances the rifle's performance, while giving the hunter the edge they need to make an ethical shot." This free upgrade will be installed in all Rogue models, including the 12.5" barrel pistol and 16.5" barrel carbine. The carbine weighs just 5.9 pounds, while the pistol weighs a mere 5.7 pounds. These weights are almost a full pound lighter than the class-leading Revolution DI.
Friday, March 6, 2020
⊕Constitutional Carry Bills Proposed in Alabama, Tennessee, and Utah
Gun News. It's looking like a few more states are gearing up to allow permitless firearms carry. Currently, sixteen states have Constitutional Carry laws: Alaska, Arizona, Idaho, Wyoming, North Dakota, South Dakota, Kansas, Oklahoma, Missouri, Arkansas, Mississippi, Kentucky, West Virginia, Vermont, New Hampshire, and Maine. Now, Alabama, Tennessee, and Utah are following suit. The idea behind Constitutional Carry is that the Second Amendment guarantees the right for lawful adult gun owners to legally carry a concealed handgun in public within the state.
Alabama
The Alabama Senate Judiciary Committee approved a permitless carry bill on Thursday, with a vote of 6-4, moving it to the full Senate for further consideration. State Sen. Gerald Allen, R-Tuscaloosa sponsored the bill. He also backed similar measures in the past. County sheriffs are among the bill's opponents, who fear a drop in permit fees that are a current source of revenue. Notably, the Yellowhammer State's neighbor to the West, Mississippi, has recognized permitless carry of holstered or bagged handguns for the past several years. Likewise, Alabama already has open carry without a license.
Tennessee
Last week, Republican Gov. Bill Lee, flanked by legislative leaders, voiced his support of a constitutional carry measure. This Tuesday, the state Senate Judiciary Committee passed Senate Bill 2671 on a party-line, 7-2 vote. The bill is set for further hearings this month and has the support of national pro-gun groups. The NRA supports the bill, saying it "…ensures that no honest, hard-working Tennessean is left defenseless while waiting for government permission to carry a firearm. This legislation fully recognizes the right of law-abiding gun owners to carry a firearm for self-defense, giving Tennesseans the freedom to choose the best method of carrying for themselves." Opponents include some firearm instructors, as well as urban Democrats and anti-gun groups, who argue that it waives state-approved training requirements before carrying, which is sometimes expensive. Thus, if the bill passes, it will inflict a loss of revenue for those involved.
Utah
This week, Utah state Rep. Walt Brooks, R-St. George introduced H.B. 472. which provides that an individual who is 21 years or older and may lawfully possess a firearm, may carry concealed in a public area without a permit. However, it may not get far. "Being this late in the session, the bill is not going to make it through. My purpose is to get the bill language together for next year's session," Brooks told the Deseret News. Although the state legislature approved a permitless carry bill in 2013, Republican Gov. Gary Hebert scuttled the proposal when it reached his desk and has been reluctant to embrace one since. Critically, Herbert announced last year that he will not seek re-election in 2020, which means a rebooted constitutional carry measure has more luck with his successor, something Brooks seems to be banking on.
⊕Legacy Sports International
CITADEL BOSS 25
Gun News. Legacy Sports International's new 25 Semi-auto shotgun is in stock and now shipping.
From LSI: The CITADEL BOSS25 Semi Auto Shotgun (based on the popular AR platform) is truly a versatile shotgun that is capable of home defense, recreational and 3 gun competition use. The CITADEL BOSS25 is built from the ground up to be a user-friendly, workhorse shotgun that will perform under the harshest of conditions sporting great looks and features
Specs
Model Number CBOSS2512
12 ga.
Semi-Auto
3" Chamber
Tough Black Synthetic Stock
18.75" Chrome lined Barrel
Muzzle Break
37.75" Overall Length
LOP 14"
8 lbs
Textured Grip Forend
5 Chokes
2 – 5 rd Detachable Mag
Fully Adjustable Folding Sights
Picatinny Rail
MSRP $579
⊕CZ USA
Shadow 2 SA Pistol
Gun News. CZ-USA just expanded its popular Shadow 2 line of competition-ready pistols by adding the new CZ Shadow 2 Single Action pistol. From the outside, it looks identical to a standard Shadow 2, but this one is chambered in 9mm and the hammer must be cocked for it to fire. Another way that this new one is different is that It's not legal for USPSA Production Division like the Standard Shadow 2 is. However, CZ says the 2 SA is lighter, crisper, and with the SA trigger, a target-shooting enthusiast can punch paper with precision.
Finished in black and with a set of blue aluminum grips and a blue trigger, it's a striking pistol that is a fun and easy to shoot-for hours at a time. From CZ: The Shadow 2 SA features the same shooter-friendly ergonomics of the Shadow 2, and can be used for plinking, or 3 Gun competitions. Like the original Shadow 2, the CZ Shadow 2 SA sports aggressive checking on the aluminum grips for a solid hold, even when the shooter's hands are dirty and sweaty from running stages. The front and backstrap are nicely checkered, too. Other features include a 17+1 magazine capacity, an easy to pick up fiber optic front sight, a black HAJO rear (click adjustable for elevation, drift adjustable for windage), three-position adjustable mag release and an ambidextrous manual safety. All of this at an affordable price!
Z-USA Shadow 2 SA Specs
SKU: 91245
Model: Shadow 2 SA
Chambering: 9mm
Magazine Capacity: 17+1
Frame: Steel
Trigger Mech: Single Action Only
Sights: Fiber Optic front, HAJO rear
Barrel Length: 4.89 in
Weight: 46.5 oz
Overall Length: 8.53 in
Safety: Ambidextrous Manual Safety
MSRP: $1,349
⊕Savage Arms
12 Gauge RENEGAUGE Field
Gun News. Back in January, we told you about the new Renegague shotgun from Savage Arms. Well, now they've added another model to the Renegauge line. This one's a 12-gauge that is available with either a 26″ or 28″ barrel, and features a Dual Regulating Inline Valve gas system and adjustable stock.
"Renegauge can do it all," Jessica Treglia, Senior Brand Manager at Savage Arms said. "With the D.R.I.V. gas system, shooters can go from the range to the hunt without making any adjustments to the gas system. From target practice to dove hunts—or even high-flying geese—Renegauge Field can do it all." From Savage Arms: The fit of a Renegauge can be adjusted in 20 different ways. From the length of pull and the comb height to the drop at heel, the stock can expand or contract as needed. This perfect fit is crucial for accuracy and performance. And Renegauge has even more adaptability built into its action. The D.R.I.V. gas system takes only the pressure it needs from each shot to cycle the action. Any excess pressure is vented through the front of the gun. The result is a fine-tuned action that can cycle low-recoil target shells as easily as it cycles magnum hunting loads, and with no need for adjustment from users.
Features
D.R.I.V. gas system
Adjustable stock for length of pull, comb height, and drop & cast
One-piece, chrome-plated action bar assembly
Chrome-plated reciprocating components
Stock rod buffer to reduce felt recoil
Fluted barrel with melonite finish
Carbon steel ventilated rib with red fiberoptic sight
Competition-ready easy loading magazine port
Oversized controls
3 interchangeable flush mount choke tubes (Beretta/Benelli) – IC, M, F
Hard-sided carrying case
Part No. / Description / MSRP
57602 / RENEGAUGE, 12 Gauge Black Synthetic 28-inch barrel / $1,449 57603 / RENEGAUGE, 12 Gauge Black Synthetic 26-inch barrel / $1,449 Read more at Savage Arms: https://www.savagearms.com/
⊕Timney Triggers
Model 783 Remington Bolt Action Trigger
Gun News. Here's Timney's new drop-in, replacement trigger for the Remington Model 783 https://youtu.be/pcvFZXiqwvI
From Timney:
"Timney is the industry-leader for replacement Remington triggers," said Calvin Motley, Director of Product Development for Timney. "When our customers asked us to design and build a Timney for the Model 783, we listened. This new 783 trigger is an excellent addition to our Customer's Choice line of triggers." Timney engineered every component of the new 783 trigger to elevate your accuracy featuring our new Sear Engagement Adjustment Lock design (SEAL'd) that ensures a user-friendly experience and is adjustable for pull weight and overtravel. The Timney 783 trigger is adjustable from 1 ½ – 4 pounds and features a trigger blocking side safety to ensure reliability. The trigger's sear and trigger shoe are precision-machined, heat-treated to 56 Rockwell with a black oxide trigger coating and an NP-3 plated sear for maximum lubricity and a lifetime of reliable performance. The Timney 783 is backed by the legendary Timney No Hassle, Lifetime Warranty and is being originally offered in a right-hand, curved trigger shoe model. Retail is $164.95.
⊕Tango Down
Vickers Tactical Floor Plates for GLOCK 43X and 48