Gun News from the firearm, tactical, outdoor, training, and hunting world. But mostly firearms!
Friday, September 27th, 2019
Welcome back to this week's GunMag Gun News 5×5 Friday.
Springfield Armory has been all over Gun News this week. We've been waiting in anticipation for the big release they had planned for this week, and they did a bang-up job teasing out every ounce of anticipation before the release was made public.
On Monday, they released a behind the scenes video, Springfield Armory's Legacy of Discipline. The video discusses the responsibility and discipline the company assumes to maintain stringent standards in engineering and manufacturing. CEO Dennis Reese draws a parallel between the American fight for freedom nearly two-and-a-half centuries ago and the Croatian fight for freedom in the '90s. He uses this narrative to explain Springfield Armory's motivation to produce high-quality firearms that are capable of defending a nation. Superb marketing, I must say.
And then Wednesday came, and we all found out that the new release is the Hellcat High Capacity Micro 9mm. Once again they made the release with a video. This one opens with the voice of a law enforcement officer explaining that he has never been present to intervene at the time of rape, home invasion, or robbery. His job, rather, is to serve in a reactive capacity after the fact. The point of starting the video in this manner is to communicate that the Hellcat is specifically designed to make it possible for people to defend themselves at the moment of crises.
By the end of Wednesday, CrossBreed announced that it has several holster configurations that are suited to the Hellcat. Then, on Thursday morning, Viridian announced it's laser sight for the Hellcat. Whew! I'm wondering what other accessories the industry will come up with for Springfield Armory's newest child?
Springfield Armory wasn't the only company to make releases this week, though. Rhino Metals announced a tough new finish for their Warthog safes. But, you know, even without the new finish, I'm thinking those safes look pretty sweet.
Also this week in Gun News, Thyrm announced their newest Critical Gear Cases: DarkVault and DarkVault Comms. Apex Tactical announced a new Action Upgrade Kit for the CZ 75 B pistol. Tac Shield released their TQ Med Molle Pouch, and Stealth Cam announced their new Flex with wifi and BlueTooth capacities.
So, let's get on with it. We'll start at the beginning with Springfield Armory's behind the scenes video. Enjoy!
Springfield Armory
Behind the Scenes Video
From Springfield Armory:
Thanks to this new video, you'll be given an exclusive inside look at how Springfield Armory has delivered exceptional products to its customers over the years, and what we have in store for the future.
Behold the Hellcat
About the Hellcat, according to Springfield Armory:
"This is the first step in a new direction for Springfield Armory polymer handguns and embodies our disciplined approach to modern firearms design. Every detail of the Hellcat has been shaped by a singular mission — to deliver the definitive concealed carry handgun," says Dennis Reese, CEO of Springfield Armory.
The 3″ barreled micro-compact pistol features a class-leading capacity of 11+1 with its patented magazine — 13+1 with the included extended mag — and is the result of years of painstaking development and engineering in addition to intensive collaboration with top engineers, shooters, and self-defense experts.
CrossBreed Holsters
Holsters Available for New Springfield Armory Hellcat 9mm
From Crossbreed:
To coincide with the Hellcat launch, CrossBreed holsters has available several holster configurations ideally suited for multiple carry styles. For IWB carry, CrossBreeH has developed the SuperTuck, The Reckoning, MiniTuck, Freedom Carry, and Appendix Carry holsters. Those who prefer OWB carry for their Hellcat can choose the SnapSlide, SuperSlide, or DropSlide holsters.
Other concealed carry options for Hellcat owners include the Modular Belly Band package and the Cargo Pocket Rocket holster systems.
Since the micro-compact Hellcat pistol lends itself to numerous carry options, CrossBreed is also offering holster solutions for purse and pack carry, such as the Purse Defender and Small Purse Defender, plus accompanying mag carriers. For daypacks or fanny packs, CrossBreed Pac Mat and Mini Pac Mat holsters and mag carriers are available.
Finally, stationary holsters like the Bedside Backup and Ohai Modular—both of which allow you to mount the holsters to a variety of surfaces via hook-and-loop backing—provide easy access to your pistol at home, the office, or in your car.
Viridian Weapon Technologies
Laser Sight for Springfield Hellcat
From Viridian:
The Viridian E Series laser sight is essential gear for home defense and everyday carry. Designed specifically for the conceal and carry owner who demands the most powerful red laser sight allowed in the United States, it delivers rapid target acquisition when it's needed most—at an affordable price point. The trigger-guard-mounted E Series red laser for the Springfield Hellcat attaches to the pistol seamlessly, allowing users to optimize fast target acquisition for personal defense.
Additional features include:
Easy installation onto pistol trigger guard
Ambidextrous on/off button with 5-minute auto shutoff
25-yard range in daylight and 1 mile at night
Constant laser with 6+ hours battery life
Easy windage and elevation adjustment
Rhino Metals
New Ultra-Tough Finish on Warthog Series Gun Safes
Attributes and Specifications
Fire Protection:
A full 80 minutes of protection at 1400°F
Advanced protection with 3 layers of 5/8″ fireboard in the ceiling, 2 layers on the walls, floor, and door
Heat-activated door seal expands up to 7 times its size which seals the door edge to help keep out heat and smoke
Security Features:
Heavy Duty 12-gauge formed steel body
Recessed 12-gauge composite door
Ball-bearing anti-drill plate
Patented F-4 Internal Anti-Tamper clutch
Anti-Punch and Anti-Drill Boltworks
Spring-loaded re-locker keeps safe secure if lock is tampered with or removed
Large door bolts (1.25" diameter), 2-sided protection (12 door bolts total)
Certified with UL® as a Residential Security Container and meets or exceeds California DOJ acceptable gun safe standards
Sargent and Greenleaf UL Listed Electronic Lock
Style and Function:
RW6042XP: 820 lbs. with external dimensions of 60″H x 42″W x 27″D (not including handle)
RW7242XP: 950 lbs. with external dimensions of 72″H x 42″W x 27″D (not including handle)
Holds up to 54 long guns
Deluxe door organizer standard for more storage options – holds 8 to 10 handguns depending on model
Ultra-tough textured black bedliner finish
Fully upholstered interior and adjustable shelving
5-spoke vault style handle
Factory installed USB equipped electrical outlet
Predrilled and compatible for our Swing Out Gun Rack
Thyrm
DarkVault and DarkVault-Comms
Critical Gear Cases with Optional Signal Blocking, developed with input from military and law enforcement customers.
From Thyrm:
Featuring the same protection but without the signal-blocking, the DarkVault-Comms cases keep gear safe while allowing it to remain on-line.
"Developing the proprietary material and case design was no small task, but our design team and industry partners did a great job and we're absolutely thrilled with the final product" said Andrew Frazier, CEO of Thyrm. "We can't wait to get it in the hands of our customers."
Features:
Solid, battlefield-grade construction.
Gasket seal to keep out water, dust, & dirt.
Quick MOLLE attachment system for external and internal mounting options.
Tunable hinge friction for on-body navigation and communication tasks.
Accepts locks & tamper-evident devices to prevent access to internals & secures case to MOLLE.
Internal and external adhesive-backed loop Velcro panels for ID and organization (included).
DarkVault signal-blocking cases also feature:
GPS and Cellular signal blocking polymer construction.
90+ dB (decibels) of signal reduction between 300 and 1500 MHz to block standard cell tower signals.
GPS signals.
And more.
Apex
New Upgrade for CZ 75 B Decocking Models
Apex Tactical announced a new Action Upgrade Kit for the CZ 75 B pistol.
From Apex:
The new Action Enhancement Kit reduces the large difference in trigger pull weight that exists between the double-action first shot and the subsequent single-action shots, to approximately 2 pounds.
The hammer and sear feature matching Apex engineered single-action engagement surfaces that yield a clean, consistent single-action style trigger break while providing a smooth stack-free double-action. These matched engagement surfaces are precisely machined so as to eliminate the need for any polishing or stoning, providing the shooter with the kind of drop-in trigger performance expected from Apex.
Features and Specifications:
Fits CZ 75 B Decocking Models (steel and aluminum frame versions only)
Reduces trigger pull to approx. 7 lbs. DA with 5 lbs. SA, using Carry Mainspring
Reduces trigger pull to approx. 6 lb. DA with 4.5 SA using Competition Mainspring
Delivers crisp trigger break
Maintains factory safety values
Direct replacement of the factory hammer and sear
Easy to install
Apex Part #: 116-143
MSRP: $144.95
Tac Shield
TQ Med Molle Pouch
From Tac Shield:
Made from rugged 1000D Cordura, this low profile, life-saving equipment pouch is carefully designed to carry critical trauma supplies for emergency situations in the field or on the range. The TQ Med Molle Pouch allows quick access to all emergency tools through both an outside pocket for trauma shears and a quick access pull handle to the inside where a tourniquet, gloves, pharyngeal tubes or other medical supplies can be securely held using a heavy-duty elastic strap and pocket. The TQ Med Molle Pouch is designed to keep supplies organized and accessible without the bulkiness of some traditional medical pouches. The front of the pouch is clearly marked with a red cross and TQ, ensuring fellow warfighters can clearly identify the contents of this emergency pouch without opening it for fast life-saving response. Available in black or coyote. Recommended Retail $29.99.
Stealth Cam
Stealth Cam Flex With Wi-Fi and Bluetooth
From Stealth Cam:
The FLX Bluetooth option lets the user access the camera from a mobile device for field application use. The available Stealth Cam Remote app can automatically activate the camera's on-board Wi-Fi and allows photo and video download from 30-50 feet distance, as well as complete programming of the camera's numerous customizable settings! This is a noteworthy advantage as it allows the user to access imagery or change camera settings without disturbing the camera set or contaminating the immediate area with scent.
In addition to the Bluetooth compatibility, the Stealth Cam FLX also allows Wi-Fi communication to a home-based server when the camera is within 30-50 feet. This makes the FLX ideal for capturing images and videos around home or camp. New photos can be programmed to download directly to the server at specified intervals, with notification alerts whenever new photos are uploaded.
Features:
30 MP
42 IR Emitters
Smart Illumination Technology
1080P Video
Range Control – Adjustable PIR
Security Mode (re-write SD memory)
Reflex™ Trigger < .4seconds
Intuitive backlit menu programming
Matrix ™ Advanced Blur Reduction & Retina™ Low Light sensitivity
16:9 Wide Image Ratio
Quick Set pre-programmed option.
Burst Mode 1-9 images per triggering; Adjustable intervals 1 – 5 seconds
3-59 sec / 1- 59 min recovery time out
Time / Date / Moon Phase / Temperature / Name Stamp
GEO-TAG GPS Tagging
Secure Lock password protection
SD Card slot up to 512GB
Video & USB output
Operates on 8 AA batteries
External power jack for 12V battery box
Multi-Lingual (English / French / German / Spanish)
Preset Time & Date (CST)
MSRP: $249.99
Friday, September 20th, 2019
Welcome back to this week's GunMag Gun News 5×5 Friday.
TGIF! Got any viewing plans this weekend? You have a few nice viewing choices for tonight. Rambo: Last Blood opens in theaters, and the Season 4 premiere episode of Live PD shows tonight on A&E. OR – you could watch the documentary that Sig Sauer just released in observance of POW-MIA Recognition Day. It's called, "Once a Marine, Always a Marine: The Story of Major Jose Anzaldua."
What are you watching?
We also have several great items to look at from the industry this week. Walther announced that they are shipping two new pistols. Primary Arms launched a new riflescope series that you'll want to look at. Rock River Arms and Savage Arms each announced new rifles, and Sig Sauer announced their partnership with MIssion Crossbows for a new Ballistic Data Exchange system for crossbows.
Read on!
Rambo: Last Blood
The storyline in this movie goes like this: Rambo crosses the US-Mexico border and fights one of Mexico's most ruthless cartels to bring back his friend's kidnapped daughter. Gotta see it.
Live PD
Tulsa Police Featured in Tonight's Show
From Fox23 News:
[Tulsa] Police officials announced the production early Thursday evening. Filming will take place with select officers from Tulsa's three uniform divisions. The department called it a "unique opportunity to showcase the great men and women of the Tulsa Police Department to the rest of the world."
Tulsa Mayor G.T. Bynum said, "Tulsans will benefit from seeing the work their police officers do every day."
Sig Sauer
Once a Marine, Always a Marine: The Story of Major Jose Anzaldua
From Sig Sauer:
Major Jose Anzaldua, USMC (Ret.) volunteered for the U.S. Marine Corps in 1968 at the height of the Vietnam War, and served until his retirement in 1992 after 24-years of service. On January 23, 1970, Corporal Anzaldua was taken prisoner of war and imprisoned for 1,160 days in a jungle POW camp, as well as prisons in North Vietnam including the infamous "Hanoi Hilton." He was eventually released on March 7, 1974 during Operation Homecoming.
Sig Sauer also announced the production and presentation of a commemorative 1911 pistol to Major Jose Anzaldua.
Here is their description of the pistol:
1911 Pistol: the 1911 pistol was carried by U.S. forces throughout the Vietnam War, and by Major Anzaldua throughout his service. The commemorative 1911 POW pistol features a high-polish DLC finish on both the frame and slide, and is chambered in.45 AUTO with an SAO trigger. All pistol engravings are done in 24k gold;
Right Slide Engraving: the Prisoner of War ribbon inset, with USMC Eagle Globe and Anchor and "Major Jose Anzaldua" engravings;
Top Slide Engraving: engraved oak leaf insignia representing the Major's rank at the time of retirement and a pair of dog tags inscribed with the date, latitude and longitude of the location where Major Anzaldua was taken as a prisoner, and the phrase "You Are Not Forgotten" taken from the POW-MIA flag;
Left Side Engraving: the Vietnam War service ribbon inset, with USMC Eagle Globe and Anchor engraving;
Pistol Grips: anodized aluminum grips with POW-MIA flag.
A holster was provided by DeSantis Holsters as part of the presentation that is a replica of the holsters used by U.S. Forces during the Vietnam War inscribed for Major Anzaldua.
Walther
PPK Stainless Pistols Now Shipping
The PPK was invented over 80 years ago and according to Walther, it created a new category in the industry. Over time it became known as the Concealed Carry pistol. Now, they're shipping their new stainless PPK to retailers.
From Walther:
To fill the need for performance in a concealable package, Walther broke the mold of pocket pistols and full-size military pistols to bring undercover officers a more-practical and practical option, the PPK. It is chambered in .380 ACP, the PPK provides all the power needed in a self-defense pistol without sacrificing on critical functionalities.
Few guns have withstood the test of time like the brilliantly designed PPK. To this day, the PPK is still one of the most sought after concealed carry pistols on the market. This demand serves as a testament to Walther's long-enduring legacy of excellence and unparalleled performance. The timeless design and superior engineering make the PPK a true legend amongst firearms.
"We are very excited about the release of the PPK. This series is truly an icon in the history of concealed carry pistols. Every employee at Walther is proud to be a part of the reintroduction of this legendary series, and we take pride in maintaining the attention-to-detail from the original manufacturing over 80 years ago." Said Bret Vorhees, Vice President of Sales and Marketing at Walther Arms, Inc.
PPQ M2 in Coyote Tan
According to Walther, the PPQ is one of the most versatile pistols on the market, and now they are offering it in Coyote Tan.
From Walther:
The interchangeable backstraps allow you to tune your grip, giving you a perfect, straight-back trigger pull. This adjustability also provides access to the magazine and slide releases without shifting your hand. Designed for right and left-handed shooters, the PPQ M2 features an ambidextrous slide stop and reversible button-style magazine release.
Out of the box, the PPQ is one of the most versatile pistols on the market! The size and capacity make it an excellent option for concealed carry, home defense, duty use, recreational, or competition shooting. Feel the excellence of Walther suited to your needs with the PPQ, a handgun that defines both efficiency and performance.
Primary Arms
Gold Series Riflescopes
This week, Primary Arms released their first Gold Series precision rifle scopes. They are starting with six models, available in three magnification ranges.
AutoLive technology enables users to leave their optic always-on, as illumination will enable automatically with use.
Each of these first focal plane scopes is equipped with low-dispersion glass and new turret technologies.
From Primary Arms:
"The Gold Series of scopes are a breakthrough in technology, bringing a new level of sophistication to our optics lineup," says Marshall Lerner, CEO of Primary Arms. "All the new scopes in the Gold Series feature our exclusive, patent-pending turret design, bringing a quality and innovation unheard of at the price point."
At their core, Gold Series scopes are built for heavy-duty use, engineered from 6061 and 7075 aluminum, stainless steel, and hardened steel components.
Internally, the patent-pending turret adjustment system replaces brass and adhesive parts with superior steel and aluminum, leveraging mechanical component retention for improved toughness, durability, and unparalleled tracking precision.
Adjustments are crisp, tactile, and guaranteed for a lifetime, while a 100-click rotation ensures swift transitions between targets. These turrets are further enhanced with the new ZLock resettable turret knobs, which lock automatically when spun to the user's zero. This allows users to quickly return to zero with a ZStop, effectively eliminating the risk of accidental over-travel.
Rock River Arms
LAR-22 Rifles
Rock River Arms is not shipping three variants of the LAR-22 series rifles: the Tactical Carbine, Mid A4, and the NM A4 CMP Trainer. They are chambered in .22LR for high volume and reduced recoil at a lower price, compared to 5.56/.223 for practice and recreational shooting.
Here's what Rock River Arms has to say about each of the three rifles:
Tactical Carbine – For those who favor an MSR with a free-float barrel and handguard configuration, the LAR-22 Tactical Carbine is an optimal choice for tactical training or target plinking. Select between a forged aluminum upper and lower receiver set or RRA's own polymer lower receiver set for a lower-cost option. Both rifles feature the RRA NSP-2 CAR, six-position stock, A2 pistol grip, two-stage trigger, and 15-inch 3G free float rail handguard that is M-LOK® compatible shrouding a 16-inch chrome moly barrel.
Mid A4 – Designed for those who prefer a more traditional A4-style firearm, the Mid A4 LAR-22 is also offered with either forged aluminum upper and lower receivers or the RRA polymer upper and lower receivers. Standard A2 grips, mid-length handguard with heat shields, six-position tactical CAR stock, single-stage trigger, and a 16-inch chrome moly barrel round out the key features.
NM A4 CMP Trainer – Built to be a stand-in practice rifle for CMP National Match competition, this rifle combines a precision 20-inch stainless steel heavy barrel with RRA's NM CMP TRO free-float rifle-length handguard (with three TRO modular rails and a National Match sling swivel). Another precision upgrade is the RRA Two-Stage Match chrome trigger group. Available with forged aluminum upper and lower receivers, the NM A4 CMP Trainer includes the familiar A2 pistol grip and RRA Operator CAR six-position stock.
Savage
AXIS II in 300 Blackout
Savage Arms has expanded the AXIS II line to include a chambering for 300 Blackout. Shipments of these firearms have been delivered to dealers.
From Savage:
The light, compact rifle gets the most performance from 300 Blackout thanks to its 16 1/8-inch heavy barrel with threaded muzzle for use with a suppressor or muzzle brake. It also carries the AccuTrigger, which allows the shooter to adjust trigger pull from 2.5 to 6 pounds.
Features
User-adjustable AccuTrigger
Rugged black synthetic stock
16 1/8-inch carbon steel heavy barrel
Threaded for suppressor (5/8-24)
Detachable box magazine
Two sling swivels
Drilled and tapped with one-piece Picatinny rail
MSRP – $419
Sig Sauer Electro-Optics and Mission Crossbows Partnership
Revolutionary Ballistic Data Xchange (BDX) System for Crossbows
With the new BDX System, all SIERRA3BDX series riflescopes now have crossbow capabilities. The SIERRA3BDX 2.5-8x32mm ultralight riflescope makes it possible to reach out well beyond 100 yards, and engage targets with extreme precision.
From Sig Sauer:
BDX is a fully integrated rangefinder and riflescope system that utilizes Applied Ballistics Ultralight and Bluetooth™. The free SIG BDX app for Android and iOS systems allows for Crossbow ballistic profiles to be established. These profiles are then communicated via Bluetooth™ to any SIG SAUER KILO BDX rangefinder. When targets are ranged, the Crossbow ballistics are combined with distance to target, slope, temperature, and pressure to precisely calculate the shooting solution. This solution is displayed in the rangefinder and is also shared instantly with any SIERRA3BDX riflescope, instantly illuminating the exact holdover dot on the reticle in the riflescope. BDX™ is simple, fast, and intuitive – just connect the dot.
Specs:
Weight: 19.4oz.
Adjustment Increments: 0.25MOA
Tube Diameter: 30mm
Focal Plane: Second
Reticle: BDX-R1
Illumination: Yes
Magnification Increments: 2.5-8x
Objective Lens Diameter: 30mm
Battery: CR2032
MSRP: $479.97
Friday, September 13th, 2019
Welcome back to Gun News 5×5. We've got lots of great new releases to look at this week. Here's a quick list, with more detail below:
Firearms:
SCCY Firearms announced a new pistol in its 2019 lineup, which is set for shipping to distributors this fall.
Riton Optics, the only Law Enforcement and Military Veteran-Owned optics company in the world, just released their first pistol red dot optic.
FN America just released a limited-time factory optics-ready pistol, available in two colors.
Apex released two new parts for pistol upgrades: one for Large Frame Glocks and one for the FN 509.
Ammunition:
Federal announced that their Shorty Shotshells were approved as an officially recognized cartridge.
Winchester sent out a warning and recall notice for two lots of jacketed hollow point ammunition.
Training:
Sig Sauer Academy and FLIR Systems just partnered to upgrade the Night Vision Operator Course.
Gear:
Hogue released a new double pistol gear bag.
RE Factor announced some new IR Hybrid field patches, two of which can be customized.
SCCY Firearms
CPX-4 Pistol
From SCCY:
SCCY Announces the NEW CPX-4, .380 AUTO PISTOL to its lineup for 2019. The CPX-4 is a line extension to the CPX-3 that integrates an ambidextrous thumb safety into the platform. As such, the CPX-4 is packed with features such as the ROEBUCK QUADLOCK Barrel, 10+1 capacity, and fixed 3-dot sights. The slide is effortless to manipulate making it ideal for consumers who have difficulty with traditional pistols. The CPX-4 will be shipping this FALL to distribution. Please contact your trusted distribution partner or visit www.SCCY.com for more details.
Riton Optics
X3 Tactix PRD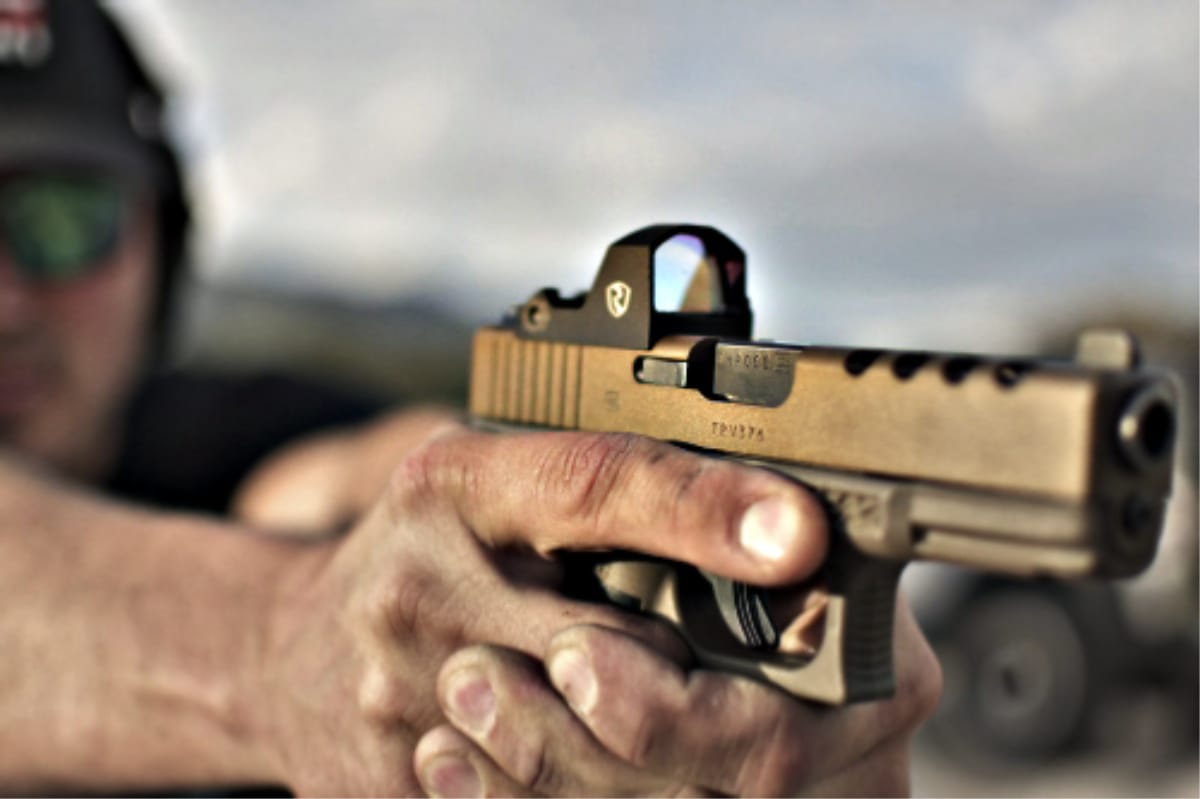 The X3 Tactix PRD features an ultra-precise 3 MOA dot making it ideal for both pistol and modern sporting rifle use. Made from 6061 T6 aircraft-grade aluminum and fully multi-coated, HD lenses, this optic is also waterproof and shockproof up to 800Gs of impact.
In contrast to other pistol red dots on the market, the X3 Tactix PRD incorporates a top-loaded battery feature. This simple but effective design allows the user to replace the battery without having to remove the optic from the firearm, saving the end-user from re-zeroing with each battery change. The pistol red dot utilizes one CR2032 allowing for an incredible battery life of over 40,000 hours with 6 levels of brightness and an auto shut off after four hours.
FN America
FNX-45 Tactical with Vortex Venom Red Dot
From FN:
The FNX-45 Tactical, one of the first factory optics-ready pistols on the market, is a DA/SA hammer-fired pistol chambered in .45 ACP that features optics mounting capability, 10- or 15-round magazine capacity, threaded barrel and suppressor-height night sights. The low-profile and rugged Vortex Venom red dot features a 6-MOA (minute of angle) reticle, large viewing window and up 150 hours of battery life.
The limited-time FNX-45 Tactical with Vortex Venom package is available in both flat dark earth (FDE) and black with standard and state-compliant capacities. For a limited time, this package can be purchased for the suggested retail price of $1,329.00. Please use the FN Stocking Dealer locator to find a dealer near you with the limited-time FNX-45 Tactical with Vortex Venom red dot package in stock:
Winchester
Warning and Recall Notice: Super-X 17 HMR 20 Grain Jacketed Hollow Point
According to Winchester, the lots of 17HMR ammunition in lot numbers ending in NB51 or NB61 may not contain powder charges. Without a charge, the bullet can remain in the barrel, causing a bullet-in-bore obstruction. Firing subsequent bullets into the obstruction can cause firearm damage and serious personal injury.
From Winchester:
To determine if your ammunition is subject to this notice, review the Symbol and Lot Number. If it is Symbol X17HMR1 and the last four characters of the Lot Number are NB51 or NB61, immediately discontinue use and contact Winchester toll-free at 844-653-8358 for free UPS pick-up of the recalled ammunition.
This notice applies only to Symbol X17HMR1 with Lot Numbers ending in NB51 and NB61. Other Symbols or Lot Numbers are not subject to this recall.
If you have any questions concerning this 17 HMR rimfire rifle ammunition recall, please call toll-free 844-653-8358, write to Winchester (600 Powder Mill Road, East Alton, IL 62024 | Attn: X17HMR1 Recall), or visit our website at www.winchester.com.
We apologize for this inconvenience.
SIG SAUER Academy Partners with FLIR Systems
Night Vision Operator Course
From Sig Sauer:
"The addition of FLIR products to our Night Vision Operator course will allow SIG SAUER Academy students to experience the latest and some of the most innovative night vision devices, and expand their operational capabilities. This partnership adds significant depth to the course curriculum and allows our students to train with the same equipment in use with Special Forces across the globe," began Steve "Mato" Matulewicz, Vice President, SIG SAUER, Inc.
The SIG SAUER Academy Night Vision Operator Course is designed for law enforcement and military units to enhance their capabilities and safety with night vision and thermal imagining equipment for critical situations. Taught by experienced Special Forces Operators, students will be introduced to equipment in use with law enforcement and the military while learning tactics to supplement existing methods and procedures.
The next offering of Night Vision Operator course is November 12, 2019, at SIG SAUER Academy in Epping, New Hampshire.
Federal Ammunition
Shorty Shotshells Accepted by Sporting Arms and Ammunition Manufacturers' Institute
Federal's 12-gauge 1¾-inch Smooth Bore Barrel cartridge and chamber designs have been approved and accepted as an officially recognized cartridge by the Sporting Arms and Ammunition Manufacturers' Institute (SAAMI). Drawings and technical data of the newly accepted cartridge are now published and available to the industry and the public.
From Federal:
"This is big news for our new Shorty Shotshell ammunition," said Federal's Shotshell Product Director Rick Stoeckel. "The 12-gauge 1 ¾-inch cartridge has been around for more than a decade, but it was never brought to SAAMI to be considered by its Technical Committee. Once we decided to start manufacturing this load, we immediately submitted it to SAAMI for industry standardization. We're excited about this approval and we deeply appreciate SAAMI's support."
Federal's new Shorty Shotshells deliver similar full-sized performance without the length of standard shells. Although just 1 ¾-inch long, new Shorty shotshells offer similar patterns, energy and accuracy as full-size counterparts. Now available in 8 shot, 4 buck and rifled slug loads perfect for fun at the range.
"SAAMI's approval of the cartridge was a crucial step in legitimizing it within the industry," continued Stoeckel. "Their work creates industry standards for the cartridge, and will hopefully inspire shotgun manufacturers to purposely build pump-action and semi-auto shotguns to specifically run 1 ¾-inch loads."
Hogue
Gear Bags for Pistols, Ruger 10/22 TD
From Hogue:
The 10/22 Takedown / AR Tactical Bag was designed as a multipurpose gear bag with both firearms in mind. Other aftermarket bags simply do not offer sufficient storage for extra Takedown rifle components and furniture. The Hogue 10/22 Takedown bag was designed to house a rifle dressed with a Hogue tactical stock and scope, which the factory bag will not fit. Add to that the option of fitting an extra barrel and forend allowing on-the-fly change overs between a standard barrel with iron sights to a bull barrel with a scope and you'll find this bag is an all-purpose solution. The same bag also provides a discreet transport option for AR tactical ri?e owners by ?tting a tactical ri?e as well as affording additional storage compartments for eight loaded magazines and other tactical gear.
Apex Tactical Specialties
Ultimate Safety Plunger for Large Frame Glock Pistols
From Apex:
The Apex Ultimate Safety Plunger is designed to smooth out the trigger take-up when compared to the original factory component and maintains proper safety function, even when timing has been adjusted through the installation of aftermarket trigger systems.
Curved Trigger Action Enhancement Kit for FN 509 pistols
From Apex:
The patent-pending design of the Apex Action Enhancement Kit for FN's striker-fired FN 509 model pistols includes Apex's Curved Action Enhancement Trigger mounted on an Apex designed proprietary Trigger Bar which is paired with an Apex Sear. When installed the kit reduces trigger pull weight to give you an approximate pull weight in the 5.5 lbs range. Overall trigger travel is optimized to provide a smooth uptake while delivering a crisp trigger break.
Features and Specifications:
– Reduces trigger pull weight to approx. the 5.5 lbs range
– Delivers crisp trigger break
– Overall trigger travel optimized for better performance
– Center mounted pivoting safety maintains factory safety values
– Fits all current models of the FN 509, as well as FNS Compact model pistols
– Part #119-126 (Black)
– MSRP: $149.95
Installation follows the same process as that for the other Apex kits for the FN 509. Step-by-step installation videos include:
RE Factor
IR Hybrid Field Patches
RE Factor announced the release of these new field patches, available on their website.
From RE Factor:
RE Factor Tactical is proud to announce the release of our new IR Hybrid Field Patch line! All of these Hybrid IR Field Patches are made by IR.tools and are designed to withstand prolonged use and wear in any austere environment our nation's warfighter find themselves in. There are a number of patches that will be available for purchase as well as a custom option that can be used for individual callsigns, unit designators, names, or other important information. Each patch is embedded with sandstorm technology, a durable design that won't peel and offers a much brighter reflection. The list of available Patches includes:
American Flag IR Hybrid Field Patch
Gadsden Flag IR Hybrid Field Patch
EOD IR Hybrid Field Patch
CCT IR Hybrid Field Patch
Custom IR Hybrid Field Patch (Pair)
All of these products are IR Patches with select patches available in multiple sizes and colors. The Custom IR Hybrid Field Patches are available in four different sizes. The sizes available are 3.5 x 2" , 4 x 2" , 5 x 3" , 6 x 3" . The Custom IR Hybrid Field Patch can have up to 15 characters to be used for last names, call signs, or unit designators.
Friday, September 6th, 2019
This week Walmart announced its decision to quit selling handgun ammunition. Its been all over the news this week, and I'm sure you're sick of hearing about it.
But take heart. Not all retail department stores are taking the same path. A Rural King store in Terra Haute, Illinois took a stand this week for the Second Amendment with this statement:
Many rural Americans are defenders and supporters of our rights and the 2nd Amendment. We at Rural King are proud to stand with these Americans to protect and defend our freedoms.
While some retailers are bowing to pressures involving the selling of firearms, Rural King will continue to sell firearms lawfully in all our stores and online at RKGuns.com.
Hunting, camping, fishing, and other outdoor activities are some of our most treasured traditions and are woven into the fabric of rural America. At Rural King we are dedicated to living, loving, and embracing the rural lifestyle and carrying the products our customers expect.
We would like to thank you for shopping at Rural King and God Bless America!
Sincerely,
Rural King
America's Farm and Home Store
And here's what happened in the firearm industry this week:
Archon Firearms
Archon Type B now shipping
Archon Firearms has released released the much-anticipated Archon B pistol They describe the long-awaited striker-fired semi-auto as their "flagship pistol', saying it features the "…ground-breaking AF-Speedlock technology. This new unique style of barrel lockup allows the firearm to sit lower in the hand providing the lowest bore axis of any current production pistol. The resulting effect is a completely different shooting experience."
The weapon sports a number of features, including what is called the "AF-Speedlock." It is this feature that gives the handgun its much-touted low bore axis. Other features include:
Match-grade traditionally rifled barrel coated in black nitride.
Three-stage recoil rod with uncaptured mainspring (for ease of service and tuning)
Inner-frame milled from billet steel featuring full-length rails.
Full metal, flat-faced, short reset trigger.
Integrated beavertail with featured contour to activate tendon in hand for better grip.
Oversized trigger guard for use with gloved fingers.
Fiber optic front sight with blacked-out rear cut from billet steel. The slide uses a standard Glock dovetail and front sight for ease of change if preferred.
Front and rear cocking serrations.
Integrated Picatinny rail for weapon attachments up front.
Metal magazine release that is easily reversible for left-handed shooters.
Innovative Grip Mapping texture designed to actively fight the direction the gun wants to rotate during recoil.
Integrated magwell.
Full metal magazine with baseplate designed for ergonomic loading with grid pattern for ease of marking.
You can learn more on the Archon Firearms website: http://bit.ly/ArchonFirearms.
SIG SAUER
Selected by U.S. Army for Next Generation Squad Weapons (NSGW)
This week, Sig Sauer announced that they were officially awarded a U.S. Army contract for the Next Generation Squad Weapons (NGSW). The entire Sig Sauer system is encompassed with this award, which consists of 6.8mm hybrid ammunition, a lightweight machine gun, rifle, and included suppressors.
From Sig Sauer:
The primary objectives set forth by the U.S. Army for the NGSW-AR was a weapon with the firepower and range of a machine gun, coupled with the precision and ergonomics of a rifle. The Sig Sauer NGSW-AR submission is an ultra-light, medium caliber machine gun with AR ergonomics, and chambered in 6.8mm hybrid ammunition. Features include quick detach magazines, side opening feed tray, increased available 1913 rail space for night vision and enablers, folding buttstock, and suppressor.
Additionally, the Prototype Project Opportunity Notice (PPON) requirements were inclusive of an NGSW-Rifle. The Sig Sauer NGSW-Rifle submission, also chambered in 6.8mm hybrid, is lightweight and features a free-floating reinforced M-LOK handguard, side-charging handle, full ambidextrous controls, folding buttstock, and suppressor.
"The U.S. Army challenged the industry to bring forward significant improvements to the legacy weapons. The Sig Sauer NGSW-AR is lighter in weight, with dramatically less recoil than that currently in service, while our carbine for the NGSW-Rifle submission is built on the foundation of Sig Sauer weapons in service with the premier fighting forces across the globe. Both weapons are designed with features that will increase the capabilities of the soldier," commented Cohen. "The final component of the SIG SAUER Next Generation Weapons System is our suppressor, which through exhaustively researched design enhancements, reduces harmful backflow and signature."
M400 TREAD Pistol
Sig's new pistol is an entry-level rifle-caliber pistol that's fully compatible with existing TREAD branded accessories.
Special features include:
Optics-ready
Nitride-coated, cold-hammer-forged barrel
Free-floating M-Lok handguard
Single-stage polished trigger
Ambidextrous controls
KAK Industry Shockwave Blade 2.0 brace
Carbine-length gas system
Available in 5.56 NATO
From Sig Sauer:
"The hallmark of the TREAD brand is to deliver premium products at a moderate price point, that are designed, engineered, and built with the same quality and innovation consumers demand from SIG SAUER," said Tom Taylor, Chief Marketing Officer, Executive Vice President, Commercial Sales, SIG SAUER, Inc. "Right out of the box the M400 TREAD pistol delivers on features and performance. Both the factory-installed, aluminum, free-floating M-LOK™ handguard, and the KAK Industry Shockwave 2.0 Brace are features of our base M400 TREAD Pistol that are included to improve accuracy and reduce the weight of the pistol. For the consumer that wants to expand the pistol's capabilities, SIG already offers the freedom to grow with a full line of TREAD branded accessories to choose from."
Specs:
Total Length: 27"
Height: 7.5"
Barrel Length: 11.5"
Width: 2.5"
Weight (incl. magazine): 6lbs
Barrel Twist: 1:7"
And of course, you're going to want some AR mags for that, right? Maybe try some Lancer magazines?
Savage Arms
AXIS II Flat Dark Earth
Savage just introduced a new AXIS II in Flat Dark Earth, mounted with Bushnell Banner 3-9×40 and bore-sighted.
From Savage:
Precision, performance, and value have never come together like they do in these proven package rifles. Their ergonomic synthetic stocks let any hunter shoot their best. The AXIS II's user-adjustable AccuTrigger™, thread-in headspacing and floating bolt head maximize the potential of the 22-inch button-rifled sporter barrel. AXIS II provides the accuracy and performance of high-end hunting rifles at a fraction of the price.
Features:
Improved ergonomics and Flat Dark Earth synthetic stock
User-adjustable AccuTrigger
Carbon steel button-rifled sporter barrel
Detachable box magazine
Thread-in barrel headspacing
Bushnell Banner 3-9×40 scope mounted & bore-sighted
Read more at Savage Arms: www.savagearms.com
Walther
"First Edition" PPK/S Pistols
This week Walther announced these pistols as a commemoration of the return of the PPK family and the beginning of Walther's US-based manufacturing.
From Walther:
An evolution of the classic PPK, the PPK/S maintains the timeless features, essence and the elegance of the original with an additional extended grip allowing for added capacity and improved ergonomics. Few guns have withstood the test of time like the brilliantly designed PPK. To this day, the PPK is still one of the most sought after concealed carry pistols on the market. This demand serves as a testament to Walther's long-enduring legacy of excellence and unparalleled performance. The timeless design and superior engineering make the PPK a true legend amongst firearms.
"We are very excited about the release of the First Edition PPK/S. To build upon the history of this timeless pistol and offer a collector's item was a fun project. The Fort Smith, Arkansas production is another mark on the storied history of this pistol, and we look forward to the future of the PPK series." Said Bret Vorhees, Vice President of Sales and Marketing at Walther Arms, Inc.
Features:
Stainless-steel finish
Cocobolo wood grips
Chambered in .380 ACP
Slide marked "First Edition" on the right side under the ejection port.
Need to feed it? Check out the GunMag Warehouse selection of Walther magazines.
Weatherby
New 6.5 WBY RPM Cartridge and 2 New Mark V Backcountry Rifles
Weatherby announced their new 6.5 RPM cartridge and two new Mark V rifles: the Backcountry and Backcountry Ti.
From Weatherby:
"We have created the ultimate backcountry hunting system with these new Mark V Rifles and the 6.5 WBY RPM. The amazing thing is that this system has an amazingly low amount of recoil. Even when pushing a 140 gr bullet over 3000 fps in this lightweight sub 5 lb rifle, the firearm is a pleasure to shoot. This is going to revolutionize the expectations of weight-conscious hunters around the globe!" says Luke Thorkildsen, VP of Marketing, Sales, and Product Development.
The new Weatherby Mark V Backcountry and Backcountry Ti rifles are packed with new innovations that help achieve the lightest and fastest rifle available. Both models share the following features
An all-new TriggerTech Mark V trigger
An all-new Slim-line Accubrake ST muzzle brake with industry-standard 1/2x28tpi threads
A new carbon fiber stock from AG composites paired with Weatherby's patent-pending 3D HEX recoil pad absorbs recoil better than any other recoil pad available at half the weight.
A Weatherby first spiral fluted bolt with scalloped bolt sleeve and hollowed out bolt handle
The Backcountry Ti features enormous additional weight savings with a titanium action for those that are seeking to save every possible ounce.
Backcountry – MSRP $2,499.00 – Weight Standard Action: 5.3 LBS / Magnum Action: 6.3 LBS
Backcountry Ti – MSRP $3,349.00 – Weight Standard Action: 4.9 LBS / Magnum Action: 5.9 LBS
Available in the following cartridges: 6mm Creedmoor, 240 WBY, 257 WBY, 6.5 Creedmoor, 6.5 WBY RPM, 6.5-300 WBY, 270 WBY, 280 Ackley Improved, 7mm WBY, 300 WBY.
CZ-USA
New CZ 557 American
The CZ 557 American is part of CZ's newest centerfire platform, the 557. This line of rifles represents a departure from the Mauser-style bolt found on CZ 550 models. Instead, the 557 bolt actions feature a short extractor and plunger-style ejector for a smooth operation of the bolt and enhanced ejection of spent brass.
The CZ 557 American features a 24-inch, cold-hammer-forged and lapped barrel. The longer barrel helps squeeze out more feet per second than shorter 16- and 20-inch barrels, especially for the hotter rounds like the 6.5 Creedmoor and the 7mm-08 Rem (both available in the short action 557 American line).
With a high comb and no sights, the CZ 557 is intended for use with a scope, and a built-in 19 mm dovetails mean there are no bases required to attach that scope. A good set of rings will mount the optic directly to the receiver for a simpler, more robust attachment. And save the hunter the cost of bases!
Specs:
CZ 557 AMERICAN Specs
Caliber: 6.5×55, 270 Win, 30-06
Stock: Walnut
Stock Type: American
Mag. Type: Fixed
Mag. Cap.: 5
Trigger: Adj.
Sights: None
Barrel Length: 24 In.
Weight: 7.0 Lbs.
Barrel Profile: Sporter
MSRP: $871.00
CZ 557 AMERICAN Short Action Specs
Caliber: 243 Win, 6.5 Creedmoor, 7mm-08, 308 Win
Stock: Walnut
Stock Type: American
Mag. Type: Detachable
Mag. Cap.: 4
Trigger: Adj.
Sights: None
Barrel Length: 24 In.
Weight: 7.0 Lbs.
Barrel Profile: Sporter
MSRP: $871.00
Read more at CZ-USA: www.cz-usa.com
[Obviously you don't need mags for that…but if you did, you could look at our whole line of stuff from CZ USA.
Meopta
Optika6 Riflescopes
From Meopta:
"The new Optika6 series marks a significant expansion in Meopta's riflescope offerings, delivering new features, premium performance and exceptional value in a 30mm riflescope," said Randy Garrison, Director of Meopta USA Sport Optics.
The Optika6 Shooting series is available with numerous illuminated and non-illuminated first focal plane reticle options, including new DichroTech reticles, which feature battery-free illumination in varying light conditions. The 30mm Shooting series is available in the following models: 1-6×24, 3-18×50, 3-18×56 and 4.5-27×50. There is also a 34mm 5-30×56 model with ED glass to eliminate chromatic aberration at high magnification. All Optika6 Shooting series riflescopes feature rubber-armored target turrets for a non-slip grip.
The 30mm Optika6 Hunting series is available with numerous illuminated and non-illuminated reticle options in the second focal plane, including DichroTech, in the following models: 1-6×24, 2.5-15×44, 3-18×50, 3-18×56 and 4.5-27×50. The turrets on most Optika6 Hunting models come with rubber-armored metal caps for the perfect combination of durability and functionality.
All Meopta Optika6 riflescopes are made of aircraft-grade aluminum alloy.
Features:
One-piece tube design
Zero-Reset setting for a quick return to zero
Zoom ring with a multi-position throw lever
Rear-facing zoom display for easy viewing of power setting from behind the scope
Locking turrets for exposed adjustments