Gun News from the firearm, tactical, outdoor, training, and hunting world. But mostly firearms!
It's been an interesting week in gun news. The annual Triggercon event is currently underway in Washington, several firearms companies announced military or law enforcement contracts, and a few new gun accessories have been released. Oh, and some guy accidentally went fishing for guns. Keep reading for this week's GunMag News, 5X5 Friday.
Massachusetts Man Pulls Fully-Loaded Uzi from Pond
Magnet Fishing Lands Five Loaded Guns
This week's gun news includes a surprising magnet-fishing story. Last Saturday, a man attached a high-powered magnet to a rope and cast it into Pillings Pond in Lynnfield, Massachusetts. Imagine his surprise when he pulled up an Uzi submachine gun. He alerted the police, who determined that the gun was fully loaded. He decided to see what else he might find, so he threw the magnet back in. All said and done, they pulled five firearms out of the pond. Besides the Uzi, they found a .40 caliber Glock handgun; a Colt Cobra revolver; a revolver that had significant corrosion; and a semi-automatic handgun with significant corrosion. The police said that all five of the firearms were loaded.
That's quite a fishing story. "In my more than 35 years on the force, I've never seen anything like it," said Capt. Karl Johnson. "It's a little strange."
Triggrcon 2019
Range Day and Industry Convention
Leaders in the tactical firearms industry convened this week in Bellevue, Washington for the annual Triggrcon convention. Activities for the week included Range Day, a two-day showcase of the latest tactical firearms innovations, and training opportunities. Also, attendees had the opportunity to attend Chris Costa's seminar on Leadership and Use of Deadly Force.
Watch Triggrcon's video of the 2019 Range Day.
Sig Sauer
Milwaukee PD Transitioning to P320
Sig Sauer's latest gun news includes their announcement that the Milwaukee Police Department is transitioning to make the P320 their official duty firearm. The municipal force has about 1,800 sworn officers covering seven districts. According to MPD Chief Alfonso Morales, the officers appreciate the modularity of the P320, which makes it possible to choose a comfortable grip size. He also noted an overall improvement in qualifying scores during the transition.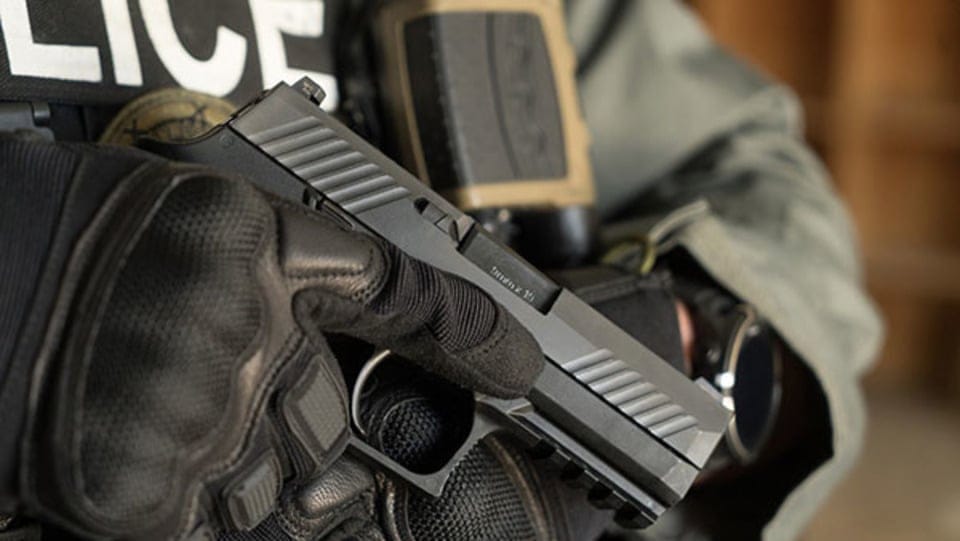 From Sig Sauer:
The P320 is a modular, striker-fired pistol available in full-size, carry, compact, and subcompact sizing. The serialized trigger group makes the P320 adaptable to multiple caliber, size, and grip options. The P320 is available in 9mm, .357SIG, 40S&W, and .45ACP, with a choice of contrast, or SIGLITE Night Sights. The intuitive 3-point takedown requires no trigger pull for disassembly, and safety features include a striker safety, disconnect safety, and optional manual safety.
"SIG SAUER is honored to earn the trust of the men and women of the Milwaukee Police Department through their selection of the SIG SAUER P320 Pistol as their official duty pistol," added Tom Jankiewicz, Executive Vice President, Law Enforcement Sales, SIG SAUER Inc. "The unprecedented modularity of the P320 will serve this large department, with a diverse group of officers, well into the future, and we look forward to developing a long partnership with the Milwaukee Police Department."
Otis Technology
Cleaning Kit Selected for Advanced Sniper Rifle System
This week, Otis Technology announced that Barrett had selected their I-MOD cleaning kit to include with the MRAD rifle system. The system is part of the recently awarded Advanced Sniper Rifle (ASR) System.
From Otis Technology
Earlier this year, the U.S. Department of Defense awarded Barrett the contract for ASR with its MRAD (Multi-Role Adaptive Design) Rifle. Each MRAD delivered under this contract will include an Otis I-MOD Cleaning Kit designed specifically for this weapon platform. The included cleaning kit will clean and maintain 7.62x51mm, .300 Norma Magnum and .338 Norma Magnum.
High Speed Gear
Awarded Contract with Marine Corps
Marine Corps Systems Command just awarded High Speed Gear with a contract to provide 150,000 double-rifle magazine pouches. The HSGI XSR TACO MOLLE pouch can hold two of any type of rifle magazines, with up to three inches of horizontal space on the platform.
More from High Speed Gear:
The HSGI X2R TACO will handle any type of rifle magazines. The Double Decker design allows the user to carry 2 magazines in a single pouch that takes up only 3" of horizontal space on the platform. The X2R uses injection-molded polymer brackets, Cordura front and back, shock cord lacing, and a thin HDPE separator to ensure adjustability and user perfect fit to maximize deployment capabilities.
"Over the years, all branches of the military have used High Speed Gear. We are honored to have been selected by the United States Marine Corps to provide 150,000 X2R TACO pouches as the solution for the requested modular double rifle magazine pouch," said Bill Babboni, vice president of sales and operations. "It was exciting to learn that HSGI was selected especially since Marine preference played a sizable part in the selection process."
SB Tactical
HKPDW Adjustable Pistol Stabilizing Brace for MP5 and MP5 Clones
This week, SB Tactical announced the release of their new HKPDW Pistol Stabilizing Brace. It is compatible with MP5 and MP5K Reverse Stretch clones and can be adjusted to three different positions.
More from SB Tactical:
Comprised of a 6061 hard-coat anodized aluminum housing, steel rods, adjustable nylon strap, and an integral QD sling socket, the HKPDW provides the end-user with all the advantages of a pistol with improved control by adding a third point of contact for stabilization.
Like all SB Tactical Pistol Stabilizing Braces, the HKPDW is U.S. veteran designed and proudly manufactured in the U.S.A.
TangoDown
ACRO Mount for Glock MOS Models
Here's a new mount for the Glock MOS that won't break the checkbook.
From TangoDown:
TangoDown Inc. is excited to announce the latest addition to the lineup – the TangoDown ACRO Mount for GLOCK MOS Models (AAM-01). Due to Aimpoint® having a reputation of developing top-notch products, we decided to introduce an ACRO mount plate that wouldn't dent your wallet while maintaining a solid mounting platform. The AAM-01 is made from ordnance grade steel with a Melonite finish to remain rust free.
MSRP: $28.95
You can find TangoDown on Instagram and Facebook:
https://www.instagram.com/tangodowninc/
https://www.facebook.com/tangodowninc/
That's all for now. Check back next week for the latest in Gun News.
Happening Now – Magpul PMAGs Inventory Reduction
Lowest Prices of the Year!
You'll want to take a look at our inventory reduction sale because we have twenty-seven different items on the sale page.
Here are a couple of the mags on sale:
But seriously, we can't post all twenty-seven of them in this news piece. Go take a look at the sales page. Really.
New from Springfield Armory
M-LOK SAINT
Gun news this week started out with a new release from Springfield Armory: the new M-LOK SAINT rifles. There are two sight options with these rifles. One has a SA low-profile flip-up front sight, and the other has an A2-style front sight.
More from Springfield Armory:
At the heart of these SAINT rifles is an M16 bolt carrier group, with a Carpenter 158 steel bolt that has been shot-peened and magnetic particle tested to meet the most demanding durability requirements. The 16-inch barrel is made of Chrome Moly Vanadium and Melonite® coated inside and out for longevity and corrosion resistance. A 1:8-inch twist rate barrel is capable of stabilizing a broad range of ammunition types and projectile lengths. The rifles are a lightweight 6 lbs. 11 oz. , capable of quick and easy handling under strenuous conditions.
Unlike many AR-15s on the market, the SAINT family of rifles feature an upgraded trigger right out of the box. The nickel boron-coated GI single-stage trigger operates smoothly and provides a clean, grit-free pull. These M-LOK compatible SAINTs also use a mid-length gas system with an "H" heavy tungsten buffer, designed to mitigate snappy recoil and ensure a smooth, accurate, and comfortable shooting experience. The Accu-Tite™ tension system provides a tight, wobble-free fit between the upper and lower receivers, which are constructed from Type III hard anodized aircraft-grade 7075 T6 aluminum.
Bravo Company outfits the M-LOK compatible SAINT rifles with quality furniture, including the upgraded BCM Gunfighter stock, the Mod 3 pistol grip, and the BCM trigger guard. One 30-round Magpul PMAG is included.
These new M-LOK compatible SAINT rifles are also available in a California legal configuration with a Strike industries featureless grip, Magpul MOE fixed carbine stock and SA muzzle brake. These models ship with one 10-round Magpul PMAG. For information about the M-LOK Compatible SAINT.
Apex Tactical Specialties
Mounting Plate for FN 509
Apex Tactical announced their new mounting plate that is designed specifically to mount the Aimpoint Acro P-1 to the slide of FN 509 Tactical model pistols. It is available now on the Apex Tactical Website.
More from Apex Tactical:
…the new Apex Optic Mount is machined from a billet of heat-treated steel and black Melonite finished for enhanced durability. The low profile design of the mounting plate ensures co-witnessing between the suppressor height sights and the Aimpoint Acro P-1.
Features and Specifications:
– Specifically for use with the FN Low Profile Optics Mounting System™
– Securely mount the Aimpoint® Acro P-1 to FN 509 Tactical slide
– Apex Part #: 119-109
– MSRP: $24.95
RMJ Tactical
Weezerker
Since summer is in full swing, it makes sense that campers might be looking for tools to help out with clearing the campsite. RMJ Tactical just announced their newest camp-ready axe, the Weezerker.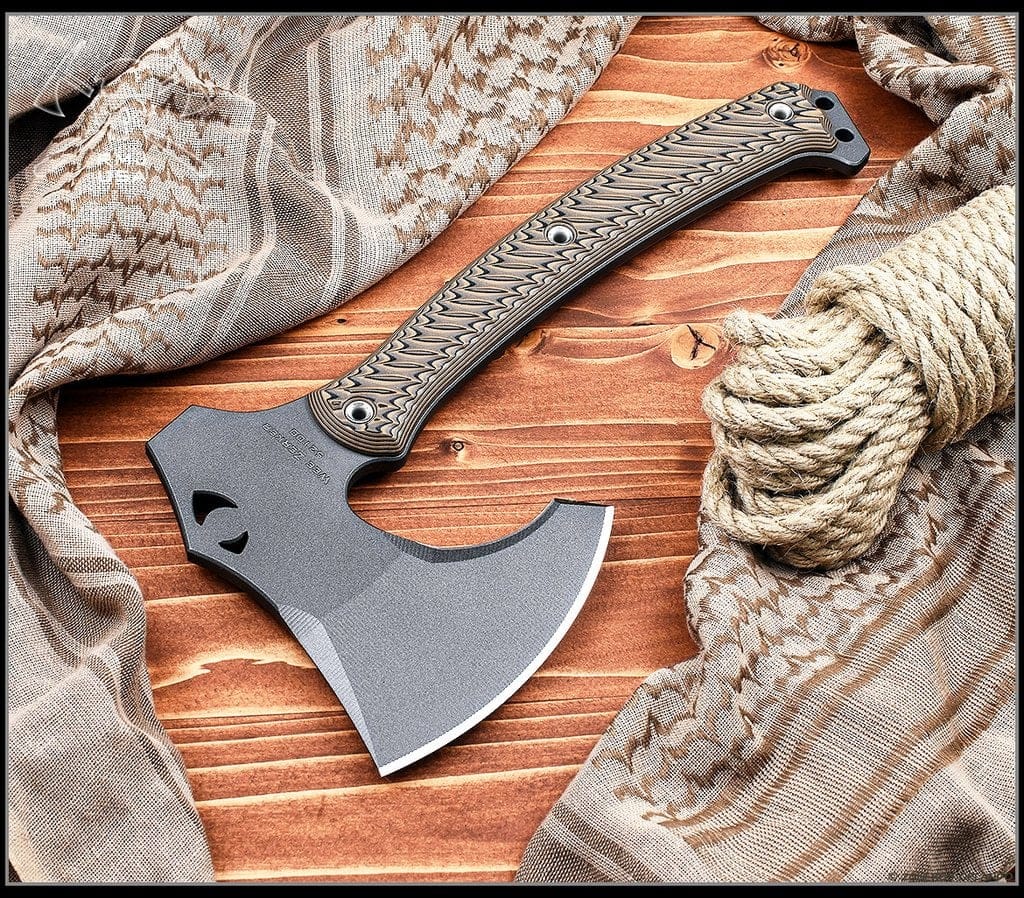 RMJ says:
The Weezerker is inspired by our full-size Berserker, customers and staff alike have provided input over the years that lead us to a small, pack ready camp ax in the same 9th century Viking style.