Gun News from the firearm, tactical, outdoor, training, and hunting world. But mostly firearms!
Friday, August 30, 2019
Welcome back to Gun News 5×5!
We've got quite a rundown in this week's industry news. Texans will have more self-defense freedom because of new legislation that takes effect this Sunday. Taurus just released a new semi-auto pistol, and Henry Repeating Arms released a .22 for farm and garden pest control. If you're in the market (or your department is in the market) for some new body armor, Spartan released two new vests. High Speed Gear has a new pouch that looks like it should be valuable for all kinds of tactical applications. XS Sights announced that their night sights are going to get a whole lot better since they can now install tritium. Also, 1791 has a new holster that can fit a variety of firearms.
And, since Labor Day Weekend is upon us, we are having a sale!
Read on for this weeks Gun News:
Brass Knuckles in Texas
Legalized After 101 Year Ban
Texas House Bill 446 lifted the ban on brass knuckles and other similar self-defense items, making them legal in the state for the first time since 1918. The new law goes into effect this Sunday. Then, people in Texas cannot be penalized for possessing "any instrument that consists of finger rings or guards made of a hard substance and that is designed, made, or adapted for the purpose of inflicting serious bodily injury or death by striking a person with a fist enclosed in the knuckles."
Taurus
G3 Polymer 9mm Pistol
Taurus just released their new G3 9mm semi-auto pistol.
From Taurus:
The G3 continues the proven polymer-frame profile of the G2c but in a full-frame configuration. Highlights include generous stippling patches across the grip for maximum control and retention in any shooting condition, an ergonomic palm swell and side-frame Memory Pads that provide quick, positive and repeatable hand positioning. The frame also incorporates an integrated Picatinny rail. A manual safety and slide release lever are optimally positioned above the thumb for easy manipulation.
Another refined element of the G3 is the 6-pound trigger. It is designed with a smooth take-up and a surprisingly crisp, clean break exceeding that of typical striker-fired pistol trigger performance. A short reset promotes quick, controlled follow-up shots. Unlike most single-action firing systems, the G3 offers second-strike capability.
Caliber: 9mm Luger
Capacity:

10, 15, or 17 (with extended magazine)

Finish:

Matte Black / Matte Stainless

Grip/Frame:

Polymer

Firing System:

Single Action with Restrike Capability

Action Type:

Striker

Safety:

Manual and Trigger Safety, Striker Block

Sights Front:

Fixed (White Dot)

Sights Rear:

Drift Adjustable (White Dots

Slide Material:

Carbon Steel, Stainless Steel

Slide Finish:

Matte Black / Matte Stainless

Overall Length:

7.30-inches

Overall Width:

1.25-inches

Overall Height:

5.20-inches

Barrel Length:

4.00-inches

Weight:

25 ounces (unloaded)

Magazines Included:

2×10, 2×15, or 1×15 and 1×17

Packaging Size:

12.5x6x1.75

Packaging Weight:

2.75 pounds

Additional Feature:

Picatinny Rail (Mil-STD 1913)
Henry Repeating Arms
Garden Gun Smoothbore .22 LR Shotshell
Anyone with a garden, field, or small livestock understands the need for one of these.
From Henry:
"This may be a niche product, but it fills that niche particularly well," says Henry Repeating Arms president and owner, Anthony Imperato. He continues, "For the farmer or the gardener, it's something convenient to keep closet close-at-hand to dispatch pests without using a level of firepower that could cause even more property damage than the pests themselves."
The use of .22 LR shotshells are favored for tight quarters or enclosed spaces due to their quieter report, negligible potential for harmful ricochet, and an impact that is unlikely to penetrate walls and roofs.
Spartan Armor Systems
Two New Wraparound Body Armor Vests
From Spartan:
The Spartan Armor Systems Concealable Level IIIA certified wraparound vest is part of Spartan Armor System's expanding soft armor line. Designed on a Level IIIA Certified Concealable Vest platform for discrete operation, it protects the wearer from standard handgun rounds. It is extremely comfortable and by using its four-point adjustable strapping system, the wearer can custom fit the carrier instantly and comfortably. Users of this system find the vest is almost like wearing nothing at all. The construction features a moisture-wicking, anti-microbial inner liner for all-day comfort. Featuring a side opening design, the fully-adjustable shoulder straps allow the wearer to make adjustments while the carrier is being worn. A low-profile loop provides less bulk and reduces any friction against the wearer's clothing.
The Spartan Armor Systems Concealable IIIA wraparound vest has a 5"x 8" Trauma Plate for back face deformation reduction and dual 6" x 8" and 7" x 9" front plate inserts. Available in sizes small to XXL for individual professionals or departments.
For first responders requiring greater protection and versatility, the new Spartan Armor Systems Tactical Level IIIA wraparound vest features a streamlined design without compromise. Made from a 1000 denier material for maximum durability, the Tactical wraparound vest offers four-point adjustability with a slide closure cummerbund and shoulder straps that allow for adjusting fit while wearing the carrier. The MOLLE front pocket allows the wearer to fully customize his carrier with additional pouches or accessories. The front and back pockets will hold a Spartan Armor Systems 10" x 12" steel core plate or the composite/ceramic plates. The drag handle is heavy-duty and load-bearing. ID attachment platforms measuring 10.5" x 3" are located where they will be highly visible on the front and back of the vest.
High Speed Gear
AMP Pouch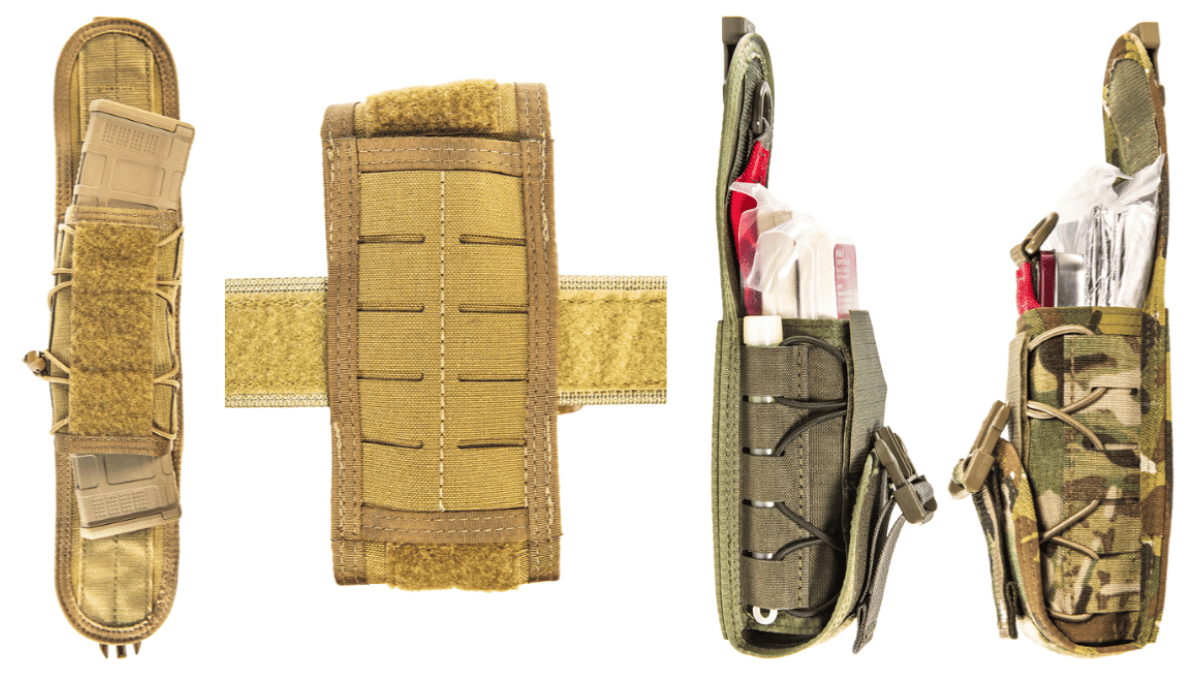 From HSG:
The AMP is a versatile, double-ended pouch that works perfectly as a small IFAK pouch or as a general-purpose pouch. The AMP fits medical supplies, two 5.56 magazines, a poncho and survival gear, or other similarly-sized items. Additionally, the pouch features dual openings, allowing easy access from both ends or with either hand, and can be mounted vertically on MOLLE and either vertically or horizontally on belts. A pull tab assists in removing contents and adjustable shock cord allows the user to compress the contents or attach external items.
Watch the demonstration:
XS Sights
Tritium License Opens Up More Industry Capabilities
This week, XS Sights announced that it is installing tritium in its own night sights, as well as offering the service to other OEM partners in the industry.
From XS:
Tritium installation services are available for customer-provided parts or turnkey solutions with multiple tritium options available to meet product design goals. XS is committed to maintaining a large inventory of tritium, significantly reducing lead time and inventory carrying costs to its customers.
XS offers an expanded array of manufacturing capabilities including rapid prototyping, MIM, additive manufacturing, glow technology enhancements, and automated quality control systems. XS has an on-site CNC machine shop to offer partners fast production runs with value engineering design assistance. All parts manufactured with the XS Sights logo are covered by a 10-year, no-questions-asked warranty program.
1791 Gunleather
Paddle Holster
From 1791:
The Paddle Holster provides the same great retention and fit you can expect from every 1791 Gunleather holster with the addition of the paddle for day to day functionality. The paddle allows you to slip the holster on and off at a moment's notice, making running errands easier and switching out your everyday carry for your range pistol quicker.
Although the paddle makes removing the holster easier, no retention or comfort is lost. The paddle positions the holster tight to the body and ensures that there is no movement on your waist while completing any physical tasks. This holster includes an adjustable cant which solidifies it as the best leather paddle holster on the market. This allows you to dial in your perfect drawing angle and personalizes your holster and carry style.
The 1791 Gunleather Paddle Holsters come at an MSRP of $64.99, are available in a wide range of styles, and three premium colors, including Signature Brown, Classic Brown, and Stealth Black.
Friday, August 23, 2019
Welcome back to Gun News 5×5! Ammunition companies have been releasing a number of new loads lately, so we created the Ammunition Dump series for The Mag Life readers. Each week, as we hear about new ammunition, we'll be adding it to the list. This is a new project, but if you take a look at it, you'll see that several companies have new ammunition specifically designed with cutting-edge technologies for hunting, training, and self-defense. We expect to see even more new ammo releases as SHOT Show 2020 approaches.
Colt
King Cobra Target Revolver
This new revolver features a 4¼" barrel, elevated fiber optic front sight, adjustable rear sight, and custom wood medallion grips. It was engineered to adapt the powerful .357 magnum King Cobra to the competitive range.
Pachmayr
New Line of EDC Knives
There are six knives to choose from in Pachmayr's new line.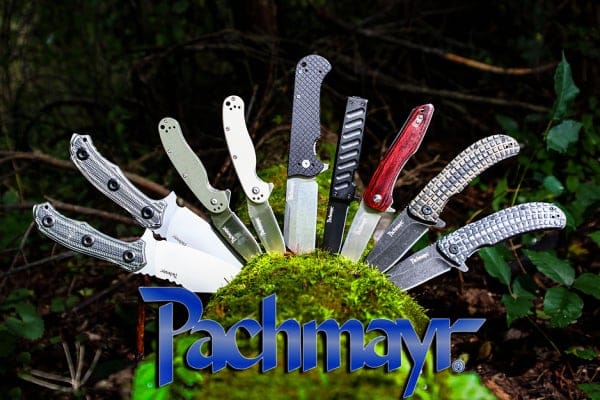 From Pachmayr: The line consists of six different knives for various uses and carry style. The Dominator, at the top of the product list, is the largest knife at 8.5" in overall length with a modified sheepfoot fixed blade and G10 handle with a Kydex sheath and belt clip (MSRP: $99.98). The Grunt features a stainless-steel liner and cleaver blade style with an overall length of 7.75" for an MSRP of $44.98. The Snare is a compact folding drop point blade with a stainless-steel liner for $32.98. The Grappler is an 8" drop point blade with a black stonewash finish and G10 handle and stainless-steel liner for an MSRP of $27.98. The rosewood colored renegade wood handle of the Griffin folder is an elegant and affordable drop point blade with a stainless-steel liner for $27.98 MSRP. Finally, for those looking for an EDC with a tactical edge, the Pachmayr Blacktail features a 6.75" drop point black coated blade with a black aluminum handle and stainless-steel liner for $23.98.
Choate Machine and Tool
Night Manager Accessory Mount for Mossberg Model 500
Now shipping, these accessory mounts have indexable Picatinny rail sections so you can add a light or laser to the Mossberg 500. From Choate:
The Night Manager Accessory Mount for the Mossberg 500 consists of a machined steel barrel nut/threaded adapter and an aluminum shroud. The aluminum shroud attaches to the adapter and is drilled and tapped along the bottom and sides for mounting Picatinny rail sections. Its unique design allows the shroud to rotate to orient the attached Picatinny rails where needed and then uses an AR-15 castle nut to lock it down in the desired location.
By mounting accessories on a tube extension, it allows use of the full length of the shotgun's forend, which often can be short on law enforcement models. It also prevents accidentally turning lights and lasers on or off while firing the shotgun due to recoil. The Night Manager also includes a sling mounting place that can be installed to attach the sling on the right, left, or bottom of the shotgun.
Winchester Repeating Arms
New Models in Super X4 20 Gauge Line
If you prefer a lighter-weight shotgun with reduced recoil (as compared to a 12-gauge), you'll be interested to know that Winchester just released seven Super X4 20-gauge models. These new models are available with Composite, Compact, or wood stocks.
From Winchester: Like the 12 gauge, the Super X4 20 gauge is gas operated and powered by the proven Active Valve Gas System that combines reliability, low felt recoil and record-setting cycling speed. An oversized bolt handle and bolt release button are both easy to manipulate with cold or gloved fingers. Speed Loading is a feature unique to Super X4 20 gauge models, sending the first shell loaded into the magazine directly to the chamber when the bolt is open. Super X4 20 gauge models tip the scales at approximately 6 ¼ – 6 ¾ pounds, depending on the model. Trim dimensions contribute to the lightweight feel of these fast handling shotguns Features:
Synthetic or walnut stock with improved ergonomics, rounded grip and textured gripping surfaces
Speed Loading
Back-Bored Technology
Invector-Plus Choke Tube System with full, modified and improved cylinder choke tubes
Chrome-plated chamber and bore
TRUGLO® Long Bead fiber-optic front sight
Active Valve Gas System
Drop-out trigger group
Ambidextrous cross-bolt safety
Larger bolt handle and bolt release button
Length of pull spacers included
Inflex Technology recoil pad
Learn more at Winchester.com.
Norma
Bringing Ammo and Special Offers to the Fall 2019 Worldwide Trade Show
Norma just announced that they will be at the Worldwide Show next week to showcase their new-for-2019 ammunition next week. The show runs from August 27-29 at the Reno-Sparks Convention Center in Reno, Nevada. Worldwide is a member-owned buying group that supplies independent retailers across the US.
From Norma:
Norma's 9mm Monolithic Hollow Point (MHP) personal defense, BONDSTRIKE Extreme long-range hunting, and ENVY match grade ammunition for pistol caliber carbines (PCCs) will be on display in booth 935. Attendees are encouraged to stop by the Norma booth to see these and other Norma products and to sign up for show specials.
"Customers will see this is a different Norma," said Paul Lemke, General Manager for RUAG Ammotec USA. "We have some excellent products available in our distribution channels and on retailers' shelves right now that are a new, exciting look for Norma. Our 223 Norma Tactical, for example, gives people a competitively priced, high-quality product in a caliber that's a must-have for every customer."
Sig Sauer
OSCAR8 HDX Variable Power Spotting Scope
Sig's new spotting scope features an angled eyepiece at 27-55×80 mm. It was designed for hunters and shooters who need all-weather performance and durability.
From Sig Sauer: The
OSCAR8 HDX Variable Power Spotting Scope
combines extra-low dispersion glass with high light transmittance glass, a SCHMIDT-PECHAN prism, and fully multi-coated lenses to provide unmatched resolution, image contrast, color clarity, and image brightness. Also featuring Spectracoat™ anti-reflection lens coatings to reduce surface reflections across the entire visible spectrum for superior light transmission. The OSCAR8 has an angled eyepiece and comes equipped with a rotating tripod collar for multiple viewing angles, a variable power eyepiece (can be locked into place or removed to accept other variable or fixed power eye-pieces), fast focus adjustment, and an ergonomic rubber armor for durability to accommodate setup and usage in any terrain or weather conditions.
Specs:
Model/Magnification: 27-55x80mm Exit Pupil: 2.96mm / 1.45mm Objective Clear Aperture: 80mm Length: 15.27in X 6.1in X 4in Eye Relief: 17-16mm Linear FOV FT at 1000 yards: 105-73ft. Angular FOV: 2°-1.4° Weight: 4.25lbs. The waterproof level at 1 meter: 5 min. (when the eyepiece is attached) MSRP: ($1,699.99)
Friday, August 16, 2019
Welcome back to Gun News 5X5 Friday. As I watched the national gun control news this week, I was reminded of something my Dad says: "Right wing. Left wing. It takes both wings to make the eagle fly." Drew Kimmell Both wings are working at max speed, as you'll see in the gun control articles mentioned below. This week in Gun News, we learn that the LAPD just contracted with three different ammunition companies for their force of 13,000 sworn and civilian employees. Leupold & Stevens just released a wicked-cool new scope line, Sig Sauer announced their new ammunition, and Lone Wolf Distributors has a new line of trigger upgrades for Glocks. You'll want to take a look at the Taurus USA PT 92 pistol, which features a unique Brazilian grip (not, I feel compelled to add, that sort of Brazilian). And if you like tactical watches, you'll be interested to learn about the new company that just declared for the House Morning Wood tactical buyers club.
Governor Chris Sununu
Vetoes Three Gun Control Laws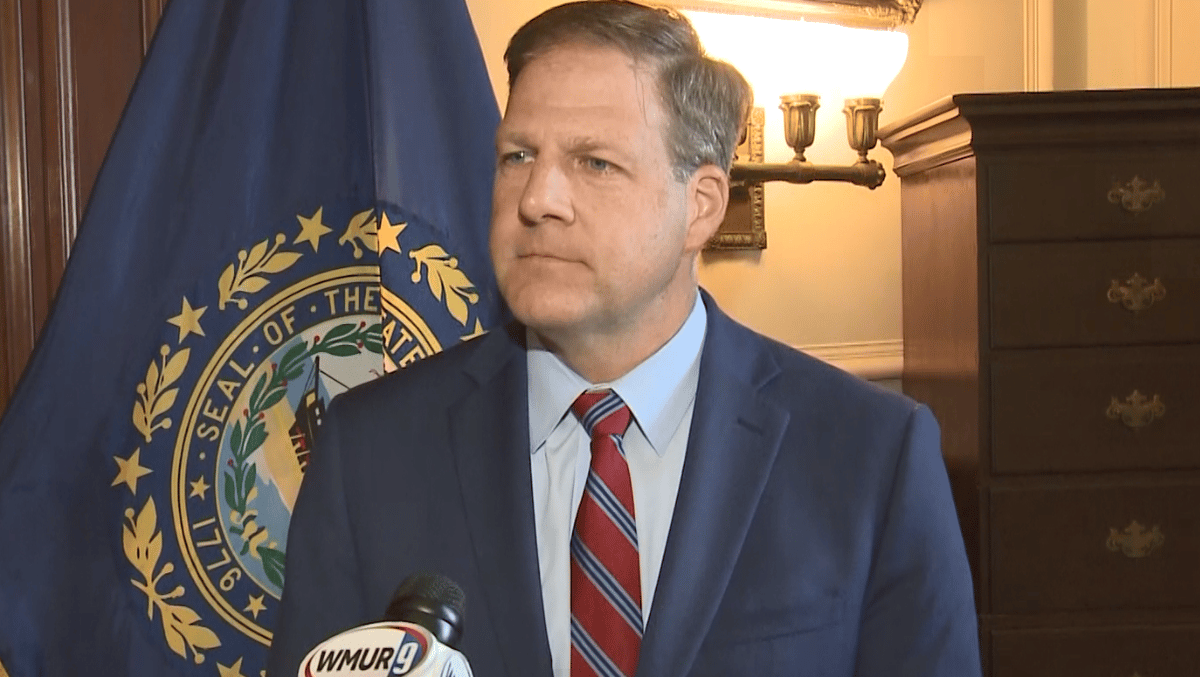 A week ago today, New Hampshire Governor Sununu vetoed three anti-gun bills that the General Court sent to him. Here is a list of the vetoed bills, from the NRA website. House Bill 109 would have essentially banned the private transfer of firearms, with very limited exemptions. House Bill 514 would have delayed Second Amendment rights by requiring a three day waiting period (excluding weekends and holidays) before an individual could receive firearms that they purchased. House Bill 564 would have prohibited law-abiding citizens carrying firearms for self-defense from going on school grounds except when picking-up or dropping-off students and only if the firearm remained in their vehicle.
Senator Warren
New Gun Control Plan
Last Saturday, Senator Elizabeth Warren introduced her new gun control plan. Through executive action and legislation, Warren hopes to reduce gun deaths by 80%. Here are just a few of the measures that she proposed:
Eliminate the filibuster so that gun control legislation can be passed more easily.
Limit the number of firearms an individual can purchase.
Increase taxes for gun manufacturers from 10% to 30% on guns and from 11% to 50% on ammunition.
Invest $100 million annually into gun violence research.
Conduct an investigation on the NRA.
She also poked at Walmart, saying that the retailer should cease selling firearms. More from NPR: Warren is going beyond some of the more commonly discussed ideas, such as stricter background checks or a ban on assault weapons. Her plan calls for creating a federal licensing system, limiting the number of firearms someone could buy, raising the minimum age to 21 for purchasing a gun, holding gun manufacturers liable (and, in some cases, even holding gun industry CEOs personally liable).
Leupold
SX-4 Pro Guide HD spotting scope line
This week, Leupold & Stevens announced their new SX-4 Pro Guide HD spotting scope line: the 20- 60x85mm model and the 15-45x65mm model. Both can be purchased with a straight or angled eyepiece design.
From Leupold: Built to take on the harshest conditions and deliver relentless performance all season long, the SX4 Pro Guide HD spotting scope should find a home with diehard hunters and shooters across the country. You'll see more in less light with Leupold's proprietary Twilight Max HD Light Management System, which is capable of adding up to 30 extra minutes of glassing light and will eliminate 90 percent more glare-producing stray light than its competitors. A generous, oversized eyebox, meanwhile, helps eliminate eye-strain and fatigue. Leupold has engineered it from the ground up to deliver unparalleled optical quality in its class. https://youtu.be/ZMGRcwsqynQ
New Ammunition for LAPD
Federal Premium – Gold Dot G2 – Force on Force
The LAPD announced this week that it has chosen some new ammunition for use in its force. They chose Federal Premium for multiple firearms platforms, including 45 Auto, 308 Win, and 12-ga duty requirements. The contract begins immediately with up to seven option years. From Federal: "Federal Premium is proud to provide the men and women of the LAPD with the highest quality duty ammunition," said Jason Vanderbrink, president of Federal. "At Federal Premium Law Enforcement, we understand that officer safety is paramount, and that's why we have developed a full line of LE ammunition, with options for every department and every situation" They chose Speer Gold Dot G2 ammunition to be the new duty round for 9mm Luger and 40 S&W. From Speer: Speer Gold Dot G2 offers the ultimate performance in duty ammunition, thanks to an exclusive nose design. Instead of a large hollow-point cavity, Gold Dot G2 has a shallow dish filled with a high-performance elastomer. On impact, the material is forced into engineered internal fissures to start the expansion process. The result is extremely uniform expansion, better separation of the petals, and more consistent penetration across barrier types through duty handguns. This video from Speer demonstrates G2 design and performance: https://youtu.be/7OkzN5_FeGY And finally, the LAPD chose Force on Force marking rounds for training purposes.
From Force on Force: Force on Force marker rounds boast superior performance, signature marking, and reliable function. Unlike other products on the market, Force on Force training ammunition is lead-free and safe for indoor use. Our special marking agent has an extended shelf-life and leaves a distinctive machine washable mark on target, with lead-free priming making it safe for indoor use.
Taurus
Classic PT 92 with Brazilian Walnut Grips
This week, Taurus USA announced two new models in its PT 92 semi-auto pistol line. These new pistols have Brazilian walnut grips and come with two magazines.
From Taurus: The new Brazilian walnut grip models represent the latest iteration of this renowned semi-auto. The rich variations in the wood's tone, depth, and distinguished grain patterns give each pistol a unique, custom look and aesthetic finish. Available in 9mm Luger chamber, the pistols are built on drop-hammer-forged alloy frames in either matte black or natural anodized finish for maximum durability and strength. The alloy steel and stainless-steel slide models are offered in black matte or matte stainless finishes, respectively, with both featuring 5-inch barrels and 17-round capacity.
Lone Wolf Distributors
Ultimate Adjustable Trigger
According to Lone Wolf Distributors: The most common complaint shooters have with a new Glock pistol is the factory trigger pull. Shooters say that it is heavy, long, and notchy. The quickest and easiest way to improve your trigger feel is with our Ultimate Adjustable Trigger. It has all the features you want in an aftermarket trigger at a price you can pull the trigger on. It allows you to adjust pre and over travel which will address the longer trigger pull. Specs:
Precision machined 6061 Billet Aluminum shoe
Smooth, symmetrical shoe with large radiused edges
In-gun adjustability! No need to remove to adjust pre and over travel
2 piece design allows easy trigger bar swap
Finer adjustments compared to competitors' triggers
Oversized safety lever allows more comfort to the shooter's finger
The safety lever is flush to the shoe for more comfort
No press out pins like competitors' designs
Single screw assembly – Simple and DURABLE
Tighter tolerances to lessen wobble between shoe and trigger bar
These trigger upgrades can be ordered as just the bare trigger shoe, or complete with the trigger bar.
Sig Sauer
Elite Hunter Tipped Ammunition
Sig Sauer's new tipped ammunition is a lead-alloy bullet with a yellow tip and boat-tail design.
From Sig Sauer:
The exclusive design of the concentric, blackened jacket ensures reliable, controlled expansion of the bullet with maximum weight retention. The translucent yellow tip increases the ballistic coefficient while improving terminal performance and aiding in consistent, reliable chambering.
"Our new Elite Hunter Tipped line of premium rifle ammunition is designed and engineered to be a devastating game load with exceptional long-range accuracy and performance," said Brad Criner, Senior Director, Brand Management and Business Development, Sig Sauer Ammunition. "SIG Elite Hunter Tipped ammunition delivers superior downrange energy and massive expansion for a clean kill whether you are hunting whitetail, mule deer, antelope, elk, predators or a variety of other game species."
Friday, August 9, 2019
Red Flag Law
What do you think?
As we all know the shootings last weekend in El Paso, Texas, and Dayton, Ohio dominated every news outlet this week. Secondary to that, memes and op-eds littered social media with simplistic theories. Proponents of stricter gun control laws have adopted the #dosomething hashtag, while Second Amendment advocates continue saying that a good guy with a gun is the only way to stop a bad guy with a gun. Ultimately, where does all the divisive conversation lead? Well, this week we saw more discussions about instituting a federal Red Flag Law. 17 states currently have these laws, which are intended to prevent mass shootings and suicides. If a judge decides that a person is a danger to themselves or others, he grants an Extreme Risk Protection Order (ERPO) that authorizes police to confiscate that person's firearms.
Early this week, according to the NY Times: Senator Lindsey Graham, Republican of South Carolina and chairman of the Judiciary Committee, said he planned to propose a bill along those lines. Because such a bill would not restrict gun access at the federal level, leaving gun policy up to individual states instead, it was seen as more likely than other gun control measures to attract Republican votes. President Trump made a statement in support of Red Flag Laws. If you haven't already seen it, you can see his statement in the video below. If you don't want to watch all the CBS speculation dialogue, just watch from 19-42 seconds in the video, and you'll get the statement. https://youtu.be/V1FicXIZL40 As the week went by, I watched people from all over the firearm ideological spectrum battle over the constitutionality of this proposed federal law. It will be interesting to see what comes of it. I'm also curious to know what GunMag Warehouse readers think about it. Do you think it's an appropriate (or effective) measure to take in order to prevent mass shootings and suicides? Or do you feel like it's an infringement on First, Second, or Fourth Amendment rights? Maybe you're somewhere in-between? Join the conversation by leaving a comment.
Less Restrictive Gun Laws for Texas
This week, Texas Governor Greg Abbott signed a gun-rights law that goes into effect on Sept. 1. The new law makes it easier for Texas foster parents, churches, schools, apartment buildings, and individuals who are fleeing disaster areas to store and/or carry firearms within the state.
According to NBCNews:
The bill's sponsor, state Sen. Donna Campbell, a Republican from New Braunfels, said in a statement that "those with evil intentions" would carry guns… regardless of the law. "It makes no sense to disarm the good guys and leave law-abiding citizens defenseless where violent offenders break the law to do great harm," she said.
Rosco Manufacturing
Sauce Packs
RoscoeManufacturing, an American manufacturer in Rhode Island just launched their "Sauce Packs." These bundles include a Bloodline barrel, Bloodline BCG, Bloodline gas block, and a Bloodline gas tube. These components are designed to work together to make a complete ignition system.
From Rosco: The Rosco "Sauce Pack" bundles were created after direct requests from our customers to provide them with the key components needed for their carbine/ pistol builds at a great combined price. The bundles feature a Bloodline barrel, Bloodline BCG, Bloodline gas block, & Bloodline gas tube. The result is a hand-picked list of parts that will produce results right out of the box. All parts within these kits are designed to synchronize together and create an un-interrupted system that will bring every individual component to its peak performance level. The perfect marriage of all our available Bloodline accessories and our in-house made barrels will make for the ultimate combo in performance and cost savings. They have four Sauce Packs available, which you can find online: roscomanufacturing.com/…/bloodline-sauce-packs
Apex
Upgrades For New FN 509 Midsize MRD
Apex is now offering some new drop-in upgrades for the Midsize FN 509 MRD.
From Apex: The following is a list of currently available Apex upgrades compatible with the new FN 509 Midsize MRD: – Action Enhancement Kit – Apex 9mm Threaded Barrel – 4.00″ – Apex Heavy Duty Striker – Apex Failure Resistant Extractor – Apex Optic Mount for the Aimpoint Acro P-1 optic Check them out at the Apex website: https://store.apextactical.com/
Galco
StukOn-U Pocket Holster
These new pocket holsters from Galco are made for small frame revolvers including Colt, Kimber, Ruger, S&W, Taurus,and more.
From Galco: The ambidextrous StukOn-U is designed for front-pocket carry in pants or a jacket. It keeps the firearm in the same general position so the grip can be quickly located during draw, conceals the shape of the gun so that its outline is not printed through the pants, and allows one-handed release of gun from both pocket and holster, especially when using a "hooking" draw technique to catch the trigger-guard edge of the holster on the pocket as the handgun is released. The holster's Gripper Shell surface assists in keeping the holster in the pocket during the draw. The StukOn-U helps accomplish multiple concealed carry tasks with excellent discretion – and at the very reasonable retail price of $27!
Mossberg
MC1sc Stainless Two-Tone Pistol
This week, Mossberg released their new MC1sc Stainless Two-Tone in 9mm. It's available in two versions: standard frame and cross-bolt safety frame.
More from Mossberg: The MC1sc Stainless Two-Tone features a bead-blasted, stainless-steel slide over a matte-black polymer frame. The stainless-steel slide features aggressive multi-angle serrations that provide positive slide manipulation and is topped with dovetail-mounted, low-profile white 3-dot sights. The durable frame is glass-reinforced which provides high impact and chemical resistance combined with high tensile strength and stiffness. The 3.4-inch barrel, constructed of stainless steel, features a black DLC (Diamond-Like Coating) finish and a 1-in-16 twist rate. Optional cross-bolt safety is available and is reversible for right or left-handed shooters.
Hogue
HandALL Beavertail Grip Sleeve for Ruger Security-9 Compact
Hogue Inc. just announced its newest grip sleeve.
More from Hogue: The frame of the Security-9 Compact is noticeably smaller, lighter, and easier to conceal than its full-size counterpart. The benefits of adding Hogue grip sleeves are vast: Recoil is reduced by Hogue's ultra-soft rubber, their patented beavertail design fills the palm, added finger grooves provide a solid grip, and their trademark Cobblestone texture delivers a secure and irritation-free hold. Hogue grip sleeves are manufactured using a long-lasting thermoplastic elastomer compound. "I've never seen one of our grips dry out or crack; even grips I've left outside for years. They only get more comfortable with use," stated Patrick Hogue.
Praise the Lord and pass the ammunition
Just for fun, here's an interesting story about the song that spawned from Pearl Harbor.