Gun News from the firearm, tactical, outdoor, training, and hunting world. But mostly firearms!
---
Friday, April 24, 2020
⊕IWA OutdoorClassics will not take place in 2020
Gun News. Back in February, we reported that the IWA Outdoor Classic, a show that is considered to be the European equivalent to the North American SHOT Show, had been canceled for the first week of March with intentions to re-schedule later this year. Since then, there was talk about holding the show in September. But recently it was decided that the 2020 show has been canceled altogether, and IWA is encouraging the industry to plan for the 2021 show, which is to be held from March 12-15, 2021.
"After this crisis, the need for information and knowledge-sharing will be greater than ever. This is why we are now looking forward and setting the course for next year," says Rebecca Schönfelder, Exhibition Director IWA OutdoorClassics. "The IWA OutdoorClassics 2021 will serve the industry as a platform for its global relaunch. "Due to travel restrictions caused by the coronavirus, the already announced IWA Customer Circle will probably not be able to meet for the first time to discuss the ongoing development of the IWA OutdoorClassics until early summer 2020. To ensure that exhibitors can reliably plan ahead in good time, the IWA OutdoorClassics 2021 will therefore be a trade-only fair closed to consumers."
⊕Triggrcon canceled
Gun News. In the seemingly endless sea of 2020 event cancelations, the 6th annual Triggrcon has also been shut down. Initially scheduled for July 29- August 1st at Meydenbauer Center in Bellevue, WA, it would have been a 4-day event including a range day open to media and an industry day for media and industry attendees. The final 2 days were scheduled for enthusiasts to see the latest and greatest products
"It is with a heavy heart that we decided to cancel this year's Triggrcon show, initially scheduled for July 29th through August 1st at Meydenbauer Center in Bellevue, WA. This decision also applies to all events and programs planned, including our Range Day, VIP Party, and Mediafest. Please know that we did not reach this decision lightly. We considered several factors to arrive at this decision, including the safety and well being of our guests and staff. We also felt strongly that the absence of particular key exhibitors and media partners to our show would impact the overall experience of our guests and exhibitors. And that we would fall short of our expectations and standard for our show."
⊕The Heritage Foundation
Launches Defensive Gun Use Database
Gun News. On Tuesday, the Heritage Foundation launched a new database of confirmed self-defense firearm instances across the US. The Defensive Gun Uses (DGU) database features an interactive map of the US. Users can click on dots based on location to get an instant break-down that includes the date, location, context (as in home invasion or business robbery, for example) if shots were fired, and a link to a media release where applicable.
From Heritage:
According to the Centers for Disease Control and Prevention, almost all major studies on defensive gun use have found that Americans use their firearms defensively between 500,000 and 3 million times each year. There's good reason to believe, however, that most defensive gun uses are never reported to law enforcement, much less picked up by local or national media outlets.
For this reason, the DGU Database is not meant to be a comprehensive list of all defensive gun uses that occur in the United States. Such a database would be nearly impossible to compile. Instead, this database features only cases that could be discovered and verified through public sources, and where the evidence indicated no wrongdoing on the part of the gun owner.
Key Takeaways
As stated by Amy Swearer, legal fellow in the Meese Center for Legal and Judicial Studies, these are the main benefits of the database:
The database features an interactive map that allows users to locate instances of defensive gun use in their own states and cities.
Lawful gun owners clearly play an integral role in promoting public safety and protecting individual rights.
This provides powerful answers to the common question: "Why would any rational, law-abiding American ever need to own a gun or carry it in public?"
⊕Ruger
Gun News. Ruger launched two new competition handguns this week.
American Pistol Competition
Ruger American Pistol Competition Specs
Caliber: 9mm Luger
Capacity: 17+1
Sights: Fiber Optic Front, Adjustable Target Rear
Slide Finish: Black Nitride
MSRP: $579.00
Features
Fully adjustable, serrated rear target sight and fiber optic front sight for rapid target acquisition and accurate shooting.
The slide is drilled and tapped for direct mounting of red dot reflex optics including Vortex®, Burris®, Sightmark®, Docter®, MeoRed®, MRDS or similar footprint optics, using #6-48 mounting screws (screws not included).
Ported stainless steel slide to reduce weight. Durable black nitride finish and top of slide serrations to reduce glare.
5″ stainless steel, competition barrel with durable black nitride finish has 1:16″ slow twist for enhanced accuracy with lighter weight match bullets.
Non-slip surfaces include front and rear slide serrations and an aggressive, competition-textured frame and grip modules for enhanced control.
Performance tested for sustained +P ammunition use.
The pre-tensioned striker system features a powerful striker spring for positive ignition without a heavier trigger pull.
Barrel cam distributes recoil forces over a longer period of time to reduce felt recoil.
MIL-STD-1913 Picatinny rail acts as a mounting point for a wide variety of standard lights and lasers.
Rigid, one-piece, precision-machined, black nitride, stainless steel chassis with integral frame rails and fire control housing.
Ambidextrous slide stop and magazine release.
Safe, easy takedown with no tools or trigger pull required.
The inspection port allows for visual confirmation of a loaded or empty chamber.
Safety features include internal, automatic sear block system, and integrated trigger safety.
It also includes – Two, nickel-Teflon® plated steel magazines.
Custom Shop Super GP100 Competition Revolver Chambered in 9mm Luger
Super GP100 Competition Revolver Specs
Model Number 5066

Caliber: 9mm Luger

Grips: Hogue Hand-Finished Hardwood

Front Sight: Fiber Optic

Rear Sight: Adjustable

Capacity: 8

Material: Stainless Steel

Finish: Satin Stainles

Twist: 1:16″ RH

Grooves: 8

Available in CANo

Available in MANo

Suggested Retail: $1549.00
Features
Triple-locking cylinder is locked into the frame at the front, rear, and bottom for more positive alignment and dependable operation shot after shot.
A high-strength stainless steel cylinder, featuring a PVD finish for excellent durability and ease of extraction, is extensively fluted to reduce weight.
Polished and optimized internals, a centering boss on the trigger, and centering shims on the hammer produce a smooth double-action trigger pull and a crisp and consistent let-off.
Utilizes the superior action of the Super Redhawk

to allow for a two-spring lock work arrangement providing a more even double-action cycle and better ignition.

Cylinder and extractor are cut for moon clips to speed reloading during intense competition.
Ships with three full moon clips that act as both speed loaders and aid in the ejection of spent cartridges. Moon clip unloading tool also included.
Hogue

hardwood grip is hand-finished for a glowing, smooth, polished feel.

Grip frame easily accommodates a wide variety of custom grips.
The ejector and chamber mouths have a light chamfer to aid loading with included moon clips.
The Transfer bar mechanism provides an unparalleled measure of security against accidental discharge.
Replaceable, fiber optic front sight and adjustable rear sight allow for quick target acquisition.
Cold hammer-forged barrel results in ultra-precise rifling that provides exceptional accuracy and longevity.
The half-lug 6″ sleeve and shroud barrel is contoured for fast manual ejection and also features an 11° target crown for competitive-level accuracy.
⊕Primary Arms and Strike Industries
Partnership Launch of Sentinel Rifle Lines
Gun News. These new AR15 rifles are chambered in .223 Wylde and there are ten models in the series.
The Sentinel and Sentinel Elite rifles are both available in California-compliant configurations. All 10 Sentinel and Sentinel Elite Rifles are exclusively available for purchase on primaryarms.com.As described by the companies:
The Strike Industries Sentinel Rifle Series is built from the ground up with all the most popular Strike Industries components, creating a nimble carbine with an intuitive manual of arms. The .223 Wylde 16" barrel features a carbine-length gas system and Manganese Phosphate finish for exceptional reliability and durability in the field. The Strike M-LOK handguard offers a attachment points for forward accessories, while the JComp Gen 2 Compensator helps level the muzzle for accuracy through rapid fire. At 6lbs and 10oz, this rifle is quick to handle and robust enough for heavy use. Basic Sentinel Rifles come priced at $799.99, making them an exceptional choice for most budgets.
For those seeking premium performance, the Strike Industries Sentinel Elite elevates the AR15 with several key enhancements. The Sentinel Elite has a full 15" free-floated M-LOK handguard, which protects the 16" 1:8-twist .223 Wylde cryo-treated QPQ Strikefighter barrel and mid-length gas system. The rifle's ambidextrous controls are also upgraded over the standard model, including an improved Strike Extended Latch Charging Handle. Priced at $1149.99, the Sentinel Elite series is an excellent value for its quality.
⊕Umarex
850 M2 Rifle
From Umarex:
The Umarex 850 M2 presents a wide range of features including: Picatinny rails, a removeable cheek piece, a fiber-reinforced synthetic stock in a modern design, fiber optic sights, 2-stage adjustable trigger, 11mm scope mounting rail, and a high-quality aluminum 8-round magazine. It can shoot as many as 200 shots with one 88 gram CO2 cartridge and sends pellets up to 700 feet per second with pellet-on-pellet accuracy. If you don't want to use an 88 gram CO2 tank, then get this Umarex 2×12 gram CO2 Adapter (sold separately).
Much like its Hammerli 850 Air Magnum predecessor, the Umarex 850 M2 is offered in both .177 and .22 calibers for everything from everyday plinking to hunting small game. Both calibers of the 850 M2 have an MSRP of $299.99. Additional 8-round aluminum magazines are available at an MSRP of $29.99. This spare magazine is made to the same specifications as the magazine that ships with the 850 M2. These magazines are long enough to house a wide variety of pellet designs and will also fit in the original Hammerli 850 Air Magnum.
Features:
Bolt Action Repeater
8 Shot Rotary Magazine
Powered by (1) 88 gram CO2 Cartridge
11mm Dovetail Rail
Threaded Muzzle for Compensator installation
Adjustable Trigger
Automatic Safety
Adjustable Fiber Optic Rear Sight
Fiber Optic Front Sight
Shoots .22 Caliber Lead Pellets
⊕Legacy Sports International
Two New CITADEL BOSS 25's
From LSI:
TWO NEW CERAKOTE Models have been added to the CITADEL BOSS 25 Semi-Auto 12 ga. Shotgun lineup (based on the popular AR platform). FDE – (Flat Dark Earth) and TACTICAL GREY models now compliment the already popular Semi-Auto that is full of some great features that is truly a versatile shotgun that is capable of home defense, recreational and 3 gun competition use. The CITADEL BOSS 25 is built from the ground up to be a user-friendly, workhorse shotgun that will perform under the harshest of conditions sporting great looks and features.
CITADEL BOSS 25 Specs
12 GA.
Semi-Auto
3" Chamber
18.75" Chrome lined Barrel
Muzzle Brake
37.75" Overall Length
LOP 14"
8 lbs
Textured Grip Forend
5 Chokes
2 – 5 rd Detachable Mag
Fully Adjustable Folding Sights
Picatinny Rail
MSRP $639
Friday, April 17, 2020
⊕ATF News
Drive Through Gun Shops Are Allowed. Really.
Gun News. Would you have ever guessed that the ATF would, one day, make it a bit easier to purchase a firearm? Well, last Friday, the Bureau published an industry letter informing firearm retailers that they can offer drive-through and curbside services to sell guns and ammunition to customers amid the COVID-19 pandemic. Here's provision #1, verbatim: "An FFL may carry out the requested activities through a drive-up or walk-up window or doorway where the customer is on the licensee's property on the exterior of the brick-and-mortar structure at the address listed on the license."
Also, "An FFL may also carry out the requested activities from a temporary table or booth located in a parking lot or other exterior location on the licensee's property at the address listed on the license, but any such activities must occur in a location where the licensee has the authority to permit ATF's entry for inspection purposes."
Well, Whaddya think of that?
ATF to Reach Out to Firearms Retailers Next Week
Gun News. According to the grapevine, the Bureau of Alcohol, Tobacco, Firearms and Explosives plans to reach out to firearm retailers next week. The effort will be conducted by phone call, and is intended to make sure that licensed dealers have all of the information they need through the pandemic. Participation is voluntary, and the calls won't have anything to do with compliance inspections. These calls are will function to reassure firearm retailers that the ATF is available to assist with regulatory compliance and answer questions that may come up during these unprecedented circumstances.
⊕Italian Firearms Company Back in Production
Gun News. As Italy is in the beginnings of pandemic recovery, we've heard some heartening news from Pietta. It's a family-owned company in Brescia, Italy, that produces western replica pistols, shotguns, single-action rifles, black-powder firearms, as well as modern-day firearms. The company recently reopened its manufacturing facilities.
Alessandro Pietta, one of the Pietta brothers tells us, "We are proud of our country and proud of our company. For half a century we've been committed to producing the finest replica and modern-day firearms, and nothing will change that. We are highly focused on implementing all the necessary safety measures, but our attention to quality and to customer service will always be of the most importance."
Cheers to Pietta! This is great news to hear, as our own country struggles with the politics of how to re-open everything. It's coming, guys. Hang in there!
Here are this week's releases.
⊕Volquartsen
Habu 22 LR Pistol
Gun News. This newest Volquartsen pistol is named after a Japanese pit viper. According to the company, "The Habu is next in the line of pistols that started with the Scorpion in 2012 and was followed by the Black Mamba in 2019. Each of these models are built on the same principles of accuracy and precision." With a Scorpion upper, the Habu is unique in that it has a different grip angle, an aluminum frame instead of polymer, and Ruger MKIV push-button takedown functionality.
From Volquartsen:
The Habu features the Volquartsen LLV Competition Upper designed with a stainless steel barrel, laser hardened stainless steel breech, and housed in an aluminum shroud. This design provides match grade accuracy in a lightweight package. Available in a 4.5″ or 6″ barrel length. The integral Picatinny rail on top and bottom is standard.
The Volquartsen Competition Bolt with DLC coating ensures smooth operation and functioning whether it's a day of plinking at the range or competing at the highest level.
The Habu build utilizes a Ruger® MK IV™ standard aluminum frame that has been retrofitted with the Volquartsen Accurizing Kit providing a crisp, clean 2.25 lb. trigger pull. The frame is outfitted with Volquartsen's Volthane grip, designed to give the shooter more control. This unique grip design features an aggressive no-slip diamond checkering. Made from a proprietary material, the Volthane Grip will withstand the elements as well as hold up to moisture, gun oils, and cleaners.
MSRP is starting at $1,528.00
Configuration
Compensator

Black Anodized Aluminum
Single-Port

6 or 8 inches
Fiber Optic Front and Target Rear
Black Anodized Aluminum
Volthane Grips
Specs
6-inch model is approximately 2lb 3oz; 4.5-inch model approximately 2 lbs
Product Number: VF4H‑0001
Made in the USA
These items must ship to an FFL dealer.
⊕Faxon Firearms
Bantam 9mm Pistol Caliber Carbines
Gun News. This week Faxon Firearms announced their first PCC, the Bantam. It's available in two configurations, a 10.5-inch 9mm AR15 Pistol, and a 16-inch 9mm Pistol Caliber Carbine. Probably some readers will think this is good, and some won't: the Bantams accept Glock mags.
From Faxon:
The Faxon Bantam 9mm PCC's are the perfect choice for the buyer who is looking to jump into the PCC market. As part of Faxon's First Line, the Bantams are feature-packed while maintaining great value for the customer. The Bantam series of firearms feature upgrades that are typically found on more expensive rifles but at a price the average American can afford. Bantam PCC's make for a great foundation for future upgrades while featuring our renowned barrels, nitrided PCC bolt carrier group, enhanced forged receiver sets w/ tensioning screw and last round bolt hold open, and a free-floated M-LOK handguard.
Faxon Bantam 16″ 9mm AR15 Pistol Specifications
16″ 9mm PCC Barrel – Nitride Coated
Enhanced Forged Receiver Set w/ Tensioning Screw
Last Round Bolt Hold Open
Nitrided 9mm PCC BCG w/ Superfinish
13″ M-LOK Aluminum Handguard
Glock Magazine Compatible
M4 Stock
Mil-Spec Charging Handle
A2 Pistol Grip
A2 Birdcage Flash Hider
Rifle Weight: 6.2 lbs
Pricing ranges from $949 to $975.
⊕Nighthawk Custom
Tactical Ready Series; 9mm Double Stack
Gun News. Shooters who prefer higher-capacity pistols will be interested in this new series from Nighthawk Custom. The Tactical Ready Series (TRS) double-stack magazines offer a 17-round capacity. There are two models available, one with an integrated compensator and one without.
"Up until this point, we have only offered a double stack as an upgrade," says Mark Stone, owner and CEO of Nighthawk Custom. "With the current demand in the market, releasing a permanent double stack series meets consumer demands and shows customers what we can do with a double stack."
The TRS Comp follows up on the game-changing innovation of the Fire Hawk's integrated compensator, this time with a double stack mag. This compensated model comes standard with a recon rail under the barrel for an optional light, making this pistol ideal for low-light settings. A dimpled rear cocking design provides ample traction when racking the slide while the custom grip always gives the shooter confidence on their hold of the gun.
Even without the compensated barrel, the smaller TRS Commander brings a wealth of benefits to the table. A standard recon rail allows for the addition of a tactical light with the standard 17-round mag packing enough firepower to topple any scenario. The TRS Commander also comes with a dimpled cocking design at the front and rear of the slide. With low mag capacity no longer a concern, the TRS Commander makes for an ideal carry pistol.
The TRS Commander starts with a price of $3,999, while the full-sized, compensated TRS Comp starts at $4,599.
TRS Comp Specifications
Frame Size: Commander
Caliber: 9mm
Light Rail: Recon rail
Safety: Single
Height: 5.81 inches
Overall Length: 8.47 inches
Pistol Width: 1.44 inches
Slide Width: 0.92 inches
Grip Thickness: Nighthawk Double Stack
Weight, Empty: 39.6 oz.
Sight Radius: 6.1 inches
Barrel Length: 5 inches
Magazine Capacity: 17 rounds
Rear Sight: Heine Black Ledge
Front Sight: Gold Bead
Finish: Black Nitride
Firing Pin Size: .38 Super
Firing Pin Material: Stainless Steel
Pricing: $4,599,00
TRS Commander Specifications
Frame Size: Commander
Caliber: 9mm
Light Rail: Recon Rail
Safety: Single
Height: 5.81 inches
Overall Length: 7.76 inches
Pistol Width: 1.49 inches
Slide Width 0.92 inches
Grip Thickness: Nighthawk Double Stack
Weight, empty: 36.7 oz.
Sight Radius: 5.81 inches
Barrel Length: 4.25 inches
Magazine Capacity: 17 rounds
Rear Sight: Heinie Black Ledge
Front Sight: Tritium
Finish: Black Nitride
Firing Pin Size: .38 Super
Firing Pin Material: Stainless Steel
Pricing: $3,999.00
⊕WOOX
Exactus Precision Rifle Stock
Gun News. Woox, a new outdoor gear company based in South Carolina that manufactures high-performance rifle stocks and chassis, as well as outdoor gear such as knives and axes. The company just announced the release of this new rifle stock. According to the company, the Exactus stock is a professional tactical rifle stock made for precision shooters.
From Woox:
Crafted from a forged monoblock body, the stock is comprised of highest quality stabilized hardwood and an aluminum chassis. A hard-anodizing process is used to improve the overall strength and durability of the rifle stock. Adding to the sturdy construction is a braided aluminum skeleton paired with high-quality front- and rear stocks. These front- and rear stocks are customizable and adjustable, and come with vibration reducing hardwood grips.
As with all WOOX precision rifle stocks, the Exactus has been sub MOA accuracy tested using manufacturer rifles and components. This stock requires no bedding and is M-LOK® compatible to accept a wide range of accessories. Currently the Exactus is available for Remington 700 short-action and long-action BDL models, with more options becoming available in the coming months. The MSRP for the WOOX Exactus precision stock is $649.00.
⊕MTM Case-Guard
Tactical Rifle Case
Gun News. If you need a good case for storing your tactical rifle, you may just want to take a look at this one from MTM. Reportedly, this is the company's first rifle case, after 52 years of experience in designing products for the shooting industry, from ammo boxes to clay-target throwers.
New for 2020 is the made-in-America Tactical Rifle Case—designed to protect rifles and shotguns during transport and to be stacked for storage. The case features plastic molded construction and fits most rifles or shotguns up to 42-inches long. It includes rugged snap latches for a secure lock, quality foam padding for maximum protection, and multiple internal tie-down points and padlock points for increased security. Tiedown points conveniently positioned on the outside of the case allows for easy attachment to ATV cargo boxes.
Tactical Rifle Case Features:
Quality foam padding interior with adjustable Velcro tie-downs
Snap latch design
Stackable for convenient storage
Multiple padlock points for security
Compatible with most 42-Inch rifles and shotgun models
Tiedown points for easy ATV attachment
Current color option: Black
Made in the USA
MSRP: $72.95
Friday, April 10, 2020
Welcome back to GunMag Gun News 5×5 Friday. The firearms industry is still booming as the nation continues to manage the Coronavirus catastrophe. This week, we take a look at current crime rates, which appear to reflect some changes due to the pandemic. Likely the statistics will evolve over the next weeks and months, and the issue is certainly relevant to all of us as we get through these unprecedented times.
You'll be interested to see the new 9mm from Wilson Combat, as well as the other new releases that came out this week.
⊕How has COVID-19 affected crime rates?
Gun News. Seeing how new firearm and ammunition purchasing continues on a record-breaking trajectory, the public at large is obviously taking self-defense more seriously now than in previous times. There are a couple of ways to look at that. The most obvious reason behind the trend is the reasonable projection that crime rates will increase as economic struggles deepen. A less-discussed issue is that law enforcement officials are just as susceptible to the virus as every else. Should a PD face a situation with multiple officers temporarily out of commission, the community would (theoretically) feel the effect.
But now that we are several weeks into the pandemic in North America, are crime rates any different? After looking around at different sources, the consensus appears to say: "It depends."
Earlier this week, Citizens Committee for the Right to Keep and Bear Arms (CCRKBA ) chairman Alan Gottlieb said, "Fortunately, most of the crime now being reported involves commercial burglary of unoccupied businesses, but how long before the people responsible ramp things up?" He also noted that some published reports indicate an increase in burglaries in cities such as San Jose and Seattle — both in states where governors arbitrarily decided gun stores are "non-essential."
However, according to St. Louis preliminary reports crime statistics, shootings and certain types of assaults and thefts are down by as much as a third when compared to the same week last year, but vehicle theft is up. Here are some St. Louis stats, according to University of Missouri-St. Louis Criminologist Rick Rosenfeld:
Assaults are down by 34%.

Assaults with a gun are down 29%.

Thefts without any use of force are down by 18% for the week ending March 25 when compared to the same week in 2019

Homicides, burglaries, and carjackings remain relatively stagnant.
Homicide numbers are too low for meaningful comparisons.
Vehicle thefts are up by 47%.
Rosenfeld thinks that the rates in St. Louis mirror the rates for other locations around the globe, saying that Italy is reporting declines in crime overall as high as 75 to 80%. The Wall Street Journal reports that New York City saw a 16.6 percent decrease in serious felonies from March 16 to March 22, and according to Chicago PD crime statistics, the murder rate in the past 28 days is down by 44 percent, while robbery rates rose by 22 percent from March 30 through April 5. Other reports indicate that domestic violence rates have increased as families and couples remain largely confined to their homes.
So, it depends on which kind of crime you look at, and as the pandemic response continues to evolve, so will the data. If the whole COVID-19 catastrophe has taught us nothing else, we have learned that life can spin on a dime (or a microbe). As readers of The Mag Life already know, there is a solid reason for self-sufficiency and the mentality behind the "Noone is coming, it's up to us" mantra. Stay safe, and keep training!
Here are some of the new guns and gear from the industry that we learned about since last Friday.
⊕Wilson Combat/Sig Sauer
WCP 320
Gun News. Here's an interesting new 9mm born of a collaboration between Wilson Combat and Sig Sauer. It starts with an unfinished P320 slide, and continues on with Wilson Combat enhancements and Sig Sauer Features.
Basic WCP 320 Specifications
Magazine Capacity: 17 rounds
Barrel Length: 4.7"
Overall Length: 8.25"
Sight Radius: 6.7"
Height: 5.5"
Width: 1.5"
Weight Empty: 29.2 oz
Weight Loaded: 36.7 oz
From Wilson Combat:
Wilson combat, in collaboration with Sig Sauer, is pleased to announce the arrival of a new, enhanced 9mm semi-automatic pistol innovation, the WCP320 Wilson combat gunsmiths and engineers have completely reworked the Sig Sauer p320 chassis, and unfinished Sig-manufactured slide, into our ideal version of a perfected high-performance striker-fired pistol.
More Detailed Specifications
Wilson Combat P320 Carry Grip Module (Choice of Black or Tan)
Wilson Combat X-TAC P320 Slide with Machine Bevels
Black DLC Finish on Slide/Barrel
X-TAC Pattern Front and Rear Cocking Serrations
X-TAC Pattern on Slide Top
Carry Cut
Wilson Combat Logo on Slide
Wilson Combat Battlesight with Red Fiber Optic Front Sight
SIG factory magazine release
SIG factory Slide Stop
SIG P320 X-Full Size Steel trigger
2 17rd X-Series Magazines
Beveled magazine well
Rail for mounting light or laser
Special serial number range with WC prefix
Base Price: $1,195.00
⊕FN America
509 Midsize MRD in Flat Dark Earth
Gun News. The FN 509 Midsize is a striker-fired, autoloading, double-action EDC pistol with fully ambidextrous controls. It features the FN Low Profile Optics Mounting System, so you can direct mount more than 10 different miniature red dot optics to your concealed carry pistol. Now, it's available in FDE.
From FN America:
The FN 509 Midsize MRD FDE, equipped with the company's low-profile optics-mounting system, is FN's solution for those who want the performance, controllability, and capacity of a Standard model but want a smaller frame that is more easily concealed.
The FN 509 family of pistols are all striker-fired and chambered in 9mm. Each pistol features FN's signature cold hammer-forged barrel with recessed target crown, enhanced slide serrations for easier slide manipulation, aggressive grip texturing to ensure secure grip while shooting and much more.
The FN 509 Midsize MRD FDE ships in a soft-sided case with 15- or 10-round magazines and all optics mounting hardware. The pistol is available to retailers today and has a manufacturer's suggested retail price of $799.00.
SPECS
Caliber: 9mm
Operation: Double-action
Magazine Capacity: 10 or 15 Rd.
Weight: 26.5 oz.
Barrel Length: 4.0″
Overall Length: 7.4″
Twist rate: 1:10″ RH
Height: 5.2″
Width: 1.35″
Trigger Pull: 5.5 – 7.5 lb.
Sight Radium: 5.79″
⊕Ruger
Commemorative USA Shooting 10/22 Takedown Rifle
Gun News. Ruger is offering a limited edition of patriotic 10/22 rifles to commemorate and support the USA Shooting Team that was originally supposed to compete in the 2020 Olympics that were originally scheduled to begin in July in Tokyo in July. The International Olympic Committee recently stated that the Olympics will be rescheduled to a date "beyond 2020 but not later than summer 2021."
Ruger produced only 2,020 of these rifles, with serial numbers that range from "2020‐001" through "2020‐2020."
From Ruger:
After hearing the unfortunate news of the Olympic Games postponement, we wanted to take this opportunity to express solidarity with our friends on the USA Shooting Team. To commemorate their hard work and dedication, we have created just 2,020 of these unique USA Shooting 10/22 Takedown Rifles. This patriotic new 10/22® boasts an attractive red, white and blue laminate stock with a Monte Carlo style comb and USA Shooting medallion inlaid in the buttstock. The limited run of commemorative models feature a special serial number range from 2020-001 to 2020-2020. This model comes packed in a USA Shooting carry-case and includes an enrollment card for USA Shooting as well as a "Shooting Is My Olympic Sport" decal. To help support our friends at USA Shooting in raising $50,000, a portion of the profits from these celebratory rifles will be donated directly to the USA Shooting Team to #raisetheflag.
Features:
Barrel: 18.5″ threaded barrel with thread protector
Front sight: bladed brass bead
Rear sight: White diamond folding sight
Magazine: 10-round rotary
Scope base with mounting screws included — drilled and tapped receiver
Buttstock: Monte Carlo style comb with raised cheekpiece
Nickel silver 2020 USA Shooting Team medallion inlaid in buttstock on right side
"Shooting is My Olympic Sport" sticker and USA Shooting enrollment card included
MSRP of $679.00
⊕Crosman Airguns
1077 FreeStyle

From Crosman:
Crosman Airguns will soon release the 1077 FreeStyle, a new take on the best-selling RepeatAir 1077. This multi-shot, semi-auto CO? air rifle is built in America and has all the features of the ReapAir plus a three-tone dynamic and sporty color styling, as well as a modernized butt pad and magazine design. "The Freestyle is all about fun", said product manager Jesse Newman. "With this gun, we are trying sell the experience and the story and hopefully engage a market who is more interested in the fun experience of shooting an airgun."
1077 FreeStyle Specifications
.177 caliber
Shoots up to 780 fps
12-shot rotary clip
Adjustable rear sight
Fiber optic front sight
Rifled-steel barrel
Bonus – two turkey targets included
⊕Vortex
Strike Eagle 5-25×56 FFP Riflescope
Gun News. According to Vortex, this new riflescope is for tactically-minded, long-range shooters who "can expect an incredible number of long-range tools in an incredibly affordable package." The scope has the capacity to switch from close quarters to long-range precision rapidly with the included throw lever. Then, if you need a fast, reliable return to zero, they say their patented RevStop Zero System provides a fast, simple, rock-solid return.
From Vortex:
When you're ready to step up your long-distance game, the Strike Eagle gives you more of the tools you need for less than you'd expect. Start with excellent edge-to-edge sharpness, and add a first focal plane (FFP) illuminated reticle for fast reads at any magnification and lighting situation. Add in our RevStop Zero System for a hard return to zero, and locking turrets for fast, stay-put adjustments. Build it around a 34mm tube that accommodates massive amounts of elevation and windage travel, and a throw lever for rapid magnification changes, and you've got a long-distance impact machine that'll have you wondering how you ever shot without it.
Ships with the following:
Sunshade
Lens cloth
CR2032 battery
Turret tool
2mm hex wrench
Throw lever
Rubber style lens covers
Objective Lens Diameter
56 mm
Field of View
24.0 – 5.2 ft @100 yds
Elevation Turret Style
Locking/Zero Stop
Windage Turret Style
Locking
Adjustment Graduation
1/4 MOA
Travel Per Rotation
25 MOA
Max Elevation Adjustment
110 MOA
Max Windage Adjustment
78 MOA
Parallax Setting
15 yards to infinity
MSRP: $799.99 – Strike Eagle 5-25×56 (MOA) and $799.99 – Strike Eagle 5-25×56 (MRAD)
Friday, April 3, 2020
Welcome back to this week's GunMag Gun News 5×5 Friday! The industry is experiencing an unprecedented boom due to measures and concerns regarding COVID-19. As the nation scrambles to understand how to function with stay-at-home orders, the word "Essential" has taken on new meaning. Whether you approach the issue from a personal or professional perspective, the fact that the firearms industry is now officially and legally considered "Essential" is something to appreciate — deeply.
⊕Firearms Industry Deemed Essential
Gun News. March 28, 2020, the Department of Homeland Security released a memorandum that outlines which industries are to remain open and in business through the duration of the COVID-19 pandemic. The firearm industry was included in the list, including manufacturers, retailers, importers, distributors, and ranges. Here is the memorandum in its entirety.
CISA Guidance on Essential … by Danny Chaitin on Scribd
The National Shooting Sports Foundation applauded the move.
"We are deeply appreciative to the Trump Administration and Department of Homeland Security for recognizing the vital role our industry fulfills in our nation," said Lawrence G. Keane, Senior Vice President and General Counsel for NSSF. "We have seen over the past week hundreds of thousands, even millions of Americans choosing to exercise their right to keep and bear arms to ensure their safety and the safety of loved ones during these uncertain times. Americans must not be denied the ability to exercise that right to lawfully purchase and acquire firearms during times of emergency. This guidance from the Department of Homeland Security's Cybersecurity and Infrastructure Security Agency (CISA) is crucial to governors and local officials as they craft the orders to preserve public health."
According to information from the National Shooting Sports Foundation, firearm background checks rose exponentially last month, suggesting a corresponding jump in gun sales. The chart below shows adjusted data with gun permit checks and rechecks removed — which shows an increase of 80.4 percent compared to March of 2019.
The National Association of Sporting Goods Wholesalers (NASGW) SCOPE data platform supports these reports. saying that to date, ammunition sales are up 49% in 2020 compared to the three-year average. Further, the data show that sales have grown from $9.9m to $18.6m. The charts below show the record increase in shipments reflected up to the week ending March 21, 2020.
Firearms shipments were up 67%, as of the March 21st, the data indicates a modest growth of 2% YTD against the 3YR AVG. It will be interesting to see how these charts look over the next months.
And now here are the new releases for the week. Sig expanded the LEGION line to include 10mm, Magnum Research has a new, ornate offering that honors our president, Allen Company has something new that might make it easier to keep fresh targets in reach when you're on the range, and Leupold's new specs are now available.
We also included a few April Fool's releases, because who doesn't appreciate some humor in times like this?
⊕Sig Sauer
P220 LEGION 10mm SAO
Gun News. The newest in Sig Sauer's LEGION series is now available as a full-sized single-action only, chambered in 10mm. The hammer-fired pistol has a Legion Gray stainless steel frame and slide with X-RAY3 Day/Night sights and ambidextrous manual safety. The firearm features several enhancements, including a solid-steel guide rod, more aggressive checkering on the front strap and under the trigger guard, front cocking serrations, and black G-10 checkered grips. It comes with three 8-round magazines.
From Sig:
"The P220 was the pistol that started it all for modern day SIG, and the introduction of the P220 LEGION 10mm SAO brings new features to a SIG classic," said Tom Taylor, Chief Marketing Officer and Executive Vice President, Commercial Sales. "This is a single action only pistol giving it a lighter trigger pull, combined with the increased energy of the 10mm round, for more power and performance. On top of that, we've added the exclusive SIG SAUER LEGION series features and enhancements, which really takes it to the next level, putting a modern twist on this SIG classic."
P220 LEGION 10mm SAO Specifications:
Overall Length: 8.8″
Barrel Length: 5″
Overall Height: 5.5″
Overall Width: 1.5″
Barrel Length: 5″
Sight Radius: 7″
Weight (including magazine): 44oz.
⊕Magnum Research
Presidential Desert Eagle
Gun News. Magnum Research just introduced this new firearm in honor of the 45th US President, Donald Trump,
Each Presidential Desert Eagle begins as a Magnum Research Magnum Research Desert Eagle. The gun is chambered in .50 Action Express with a 7+1 capacity and the integral muzzle brake is constructed of high-quality stainless steel. The stainless steel barrel is 6″ long, and it comes with a bottom Picatinny rail and a full Weaver-style rail on top with fixed, combat-style sights. A 7-round magazine is included, and the MSRP is $3007.
Specifications:
Weight: 4lbs 7oz
Height: 6.25″
Width: 1.25″
Sight Radius: 8.5″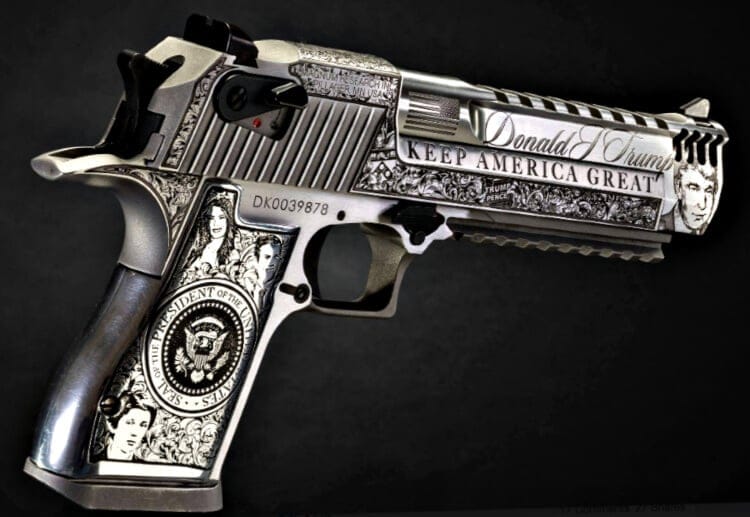 From Magnum Research:
For the ultimate fans of President Trump, Kahr Firearms Group presents the "Presidential Desert Eagle". This beautifully adorned .50AE pistol will be distributed exclusively by Davidson's Inc. The artists at Outlaw Ordnance ornately engraved the slide and frame with detailed illustrations depicting President Trump, his signature, motto, title, and elegant scrollwork. Within the scrollwork are hidden "Easter eggs" commemorating various achievements throughout his life. The left side of the slide denotes his status as "45th President of the United States". The polished Hogue aluminum grips contain the Presidential Seal, and images of the Trump family. All metal surfaces on the gun are matte stainless.
Allen Company
PPE and EZ Aim Pull-N-Shoot Target Dispensing Systems
Personal Protective Equipment
As explained through Allen Company Social Media:
The Allen Company, who has been manufacturing outdoor gear for over 50 years in Broomfield Colorado, has transitioned its manufacturing capabilities to help the desperate fight against COVID-19. In an effort to better supply health care workers and first responders with much needed personal protective equipment (PPE) products, our normal cut and sew operations have been reengineered to begin manufacturing protective facemasks and gowns for local Hospitals. All of us at ALLEN Company would like to thank all of our brave first responder personnel on the front lines.
The EZ Aim Pull-N-Shoot Target Dispensing Systems
As described by the company:
The EZ Aim Pull-N-Shoot Target Dispensing Systems deliver a number of solutions for today's target shooters through an innovative approach. These target dispensing systems help shooters by first, providing a mountable target platform that reduces the need for staples. Who has not forgotten a target stapler in their range arsenal before? Secondly, this system internally houses additional clean targets so that once a target is shot up, the next clean target may be effortlessly pulled downward from the dispenser. Each dispenser holds up to 8 clean targets per roll so that your accurate shooting pursuit will not be interrupted. Lastly, Pull-N-Shoot Target Dispensers come in a variety of offerings catering to handgun shooters, rifle shooters and air gun/ rimfire shooters.
Three Options Available:
EZ Aim Pull-N-Shoot Splash 12 x 12 Bullseye Target
Great Target for All Around Shooting Uses
Splash Targets that Flake Revealing Bullet Impact
8 Targets per Roll
PN #15256
EZ Aim Pull-N-Shoot Splash 12 x 12 Sight-In Grid Target
Great Target for Practicing Accuracy and Sighting In
Splash Targets that Flake Revealing Bullet Impact
8 Targets per Roll
PN #15257
EZ Aim Pull-N-Shoot Splash 12 x 12 Handgun Trainer Target
Great Target for Refining Proper Handgun Grip and Shooting Accuracy Drills
Splash Targets that Flake Revealing Bullet Impact
8 Targets per Roll
PN #15258
⊕Leupold
Performance Eyewear
This week, Leupold announced that its new Performance Eyewear is now available for purchase. The five models include the Katmai, Becnara, Packout, Switchback, and Tracer.
From Leupold:
The Katmai is the choice for any adventurer. Lightweight, rugged, and exceptionally clear, they can be trusted to keep your vision true. The Becnara, meanwhile, fuses Leupold performance with everyday style. Polarized, rugged, and incredibly clear, they won't let you down. The Packout and Switchback designs are at home with any hunter or shooter, and pair proven optical clarity with an ANSI Z87.1 high-velocity impact protection rating. The Tracer carries that same ANSI Z87.1 high-velocity impact protection and ships with additional clear and yellow interchangeable lenses, making it a must-have for any diehard shooter.
"Leupold consumers expect the highest-quality optics in the world, and that's exactly what we're delivering with the Performance Eyewear line," said Zach Bird, Product Line Manager for Leupold & Stevens, Inc. "There's a style for every need, and they're all packed with top-of-the-line features. Plus, every model is proudly designed, machined, and assembled right here in the USA."
---
⊕Kahr Arms Firearms Group
V9
From Kahr Arms:
In a bitingly powerful collaboration with local monasteries, we're proud to introduce the Kahr V9. Designed from the ground up for the monster hunting community, it packs enough firepower to ward off ANY fanged assailant in the night. All models blessed before purchase.
⊕Franklin Armory
BFSIII 870-C1
Gun News. On Wednesday, Franklin Armory announced this new binary for Remington 870. Truly, it's revolutionary!
From Franklin Armory:
The Binary Firing System™ GEN 3 (BFSIII™) is a 3-position trigger. In position 3 it fires one round on pull and one round on release, making it the fastest semi-automatic trigger on the market. This trigger is ideal for both tactical and competition use. The BFSIII™ provides greatly reduced split times between rounds, allowing for tighter groups.
GOTCHA! In case you didn't recollect, Wednesday was April Fools Day. Ha! Kudos to FA and Kahr Arms for some comic relief from the F***ing virus.