Gifts for gun lovers? Damn skippy. The way things are going these days, what gun lover wouldn't want a good gift? Or ten? Seasoned shooter or new gun owner, you're bound to make that special shooing someone smile with a red-dot sight, some maintenance tools, and of course more mags!
So we've put together some of the gun stuff we think would make great gifts. This is the stuff that'll keep their blasters fed, focused, and functioning. If you don't see exactly what you're looking for in this Gifts for Gun Lovers guide, just head over to the Warehouse. More likely than not, you'll find it there!
Gun Stuff for Feeding and Maintenance
Let's start with something that's sure to make your shooter smile.
Just imagine how much easier it's going to be for them to get out to the range with one of these babies. They'll be able to scoop cartridges right out of the box and load them into the magazine 10 at a time with one quick push.
Not only does it save wear and tear on the thumbs, but it also ramps up reload time. Which, you know, is a good thing.
Another benefit to using this speed loader? These loaders help to avoid unnecessary wear and tear on magazine feed lips, thus extending magazine life.
Each ETS C.A.M. loader comes with a lifetime warranty, so if your shooter ever has an issue with it, you'll receive a free replacement.
2. Real Avid Gun Tool Core for the AR15
Whether you're adjusting your sights during zero or doing some maintenance.
This sweet little tool is just forty bucks in The Warehouse (which is just ₮113,583.51 in Mongolian tögrög!; you know, if you're in the ole Mongkhe-tengri-gal stomping grounds).
3. Hoppe's Gun Cleaning Brushes, 3 Pack
Get 'em a 3-Pack of Hoppe's Gun Cleaning Brushes, for less than a cup of coffee! Well, depending on where you get your coffee. Expand your cleaning capabilities with this 3-pack of cleaning brushes from Hoppe's! Ergonomic polymer handles with angled heads make it easier to get into the nooks and crannies.
Steel Brush— Used for the most aggressive cleaning, the stainless steel bristles scour tough carbon more efficiently than other brushes.
Bronze Brush— Made with phosphor bronze, this brush is perfect for surfaces too sensitive for stainless steel cleaning products.
Nylon Brush— Designed for more delicate tasks, the nylon brush cleans wood stocks or expensive finishes without marring the surface.
Red Dot Sights: Gun Stuff for Shooting Fast and Accurate
4. Holosun HS403B
It wouldn't be fair to make a Gifts for Gun Lovers guide if we didn't include a red dot sight, would it? Of course your person is going to want one. Or you do.
And don't worry, this'll be the priciest item on the list (but it's worth it).
The HS403B is a micro red dot designed to be used with a rifle or carbine. It has push-button adjustments on the top for easy access, even when it's being used with a magnifier.
One of the cool things about this red dot is the Shake Awake feature. It activates immediately when it senses movement. When it's not in use, it turns off, saving battery power.
As for power, if you use the Holosun Super LED, you'll get a battery life of up to 50,000 hours.
The HS403B has ten daylight and two (2) night vision settings. It's able to operate between -22° F to 140° F and has a water resistance rating of IP67, which means it'll still work even if it's dropped in water up to a meter deep for half an hour.
How About a Holster?
Have you heard about these light-bearing holsters? Whether you get one as a gift for a loved one, or heck, a gift for yourself, they offer some compelling advantages.
How?
Well, considering that weaponlight technology has advanced to the point that it's now common to have one mounted to your EDC pistol, it can be a bit tricky to find a holster to fit your weapon.
This is where the PHLster Floodlight comes in.
Based on the two most popular weapon lights—the Streamlight TLR-1 and the SureFire X300—this holster is designed for retention around the light instead of the firearm itself.
And that is why it's called a universal holster. It's compatible with most popular handguns with a TLR-1 or X300 attached. So not only can you get a good fit for your gun with a light, but you can also switch guns without a whole lot of headache (so long as it's the same weaponlight model, of course).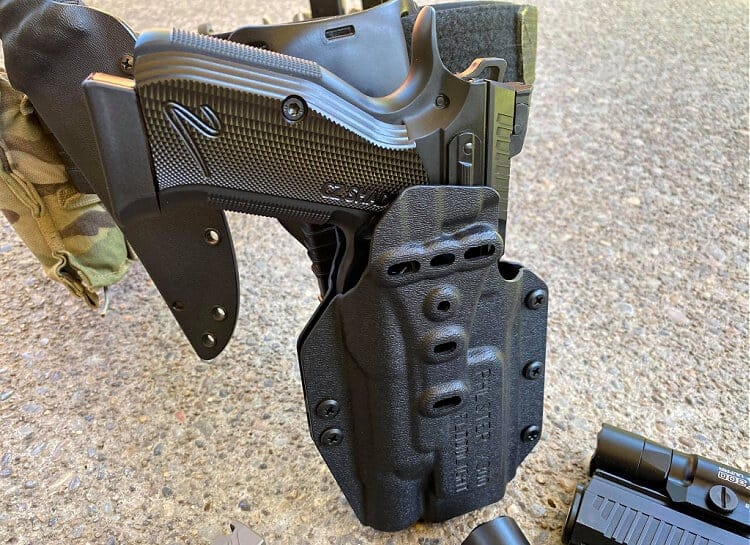 9mm Glock Magazines
It's a Glock world, and the 9mm is seated at the top as the most popular handgun caliber. This Gifts for Gun lovers list just wouldn't be complete without some of these because you're sure to make someone happy with a 9mm Glock magazine. Or ten!
6. 10 PACK Magpul PMAG Glock 17 GL9 9mm 17-Round Polymer Magazine
More is better, right? If you're looking for G17 mags to wrap up and set under the tree, why not grow the love while you're at it and get a ten pack? At 17 rounds per mag, that stacks up to 170 rounds of readiness for a day at the range. Just think of it as meal prep. That G17's going to be hungry and this ten pack'll keep it happy for quite some time.
Oh, and these mags are compatible with all standard, compact, and sub-compact 9mm Glock handguns. They've got high-visibility anti-tilt followers for reliable feeding, ridged floorplates for easier handling, and they drop free whether they're loaded or unloaded. Order this 10-pack today!
Want to really knock the socks off your intended gift-receiver? Surprise them with this 50-round drum magazine. Heck Yeah! Drum magazines can raise capacity without increasing magazine length, and well, more bullets is better, right?
This particular magazine from KCI works with all double-stack 9mm Glock pistols (that's Glock 17, 19, 26, and 34 pistols Gen 3 or later) as well as compatible carbines like the Kel-Tec Sub 2K and AR-15's chambered in 9mm.
*Note: NFA C-9 lowers will require slight ejector modification to work with KCI drum magazines.
As far as reliability goes, each KCI drum magazine has an internal chrome silicon wire spring that has been heat-treated for consistent, smooth feeding. And, it comes with a lifetime warranty so if there's ever an issue with the mag, they'll send a free replacement.
Can't get better than that!!
AR-15 Magazines — Feeding America's Rifle
Plenty of people call the AR-15 America's Rifle, and for good reason. It's flexible, customizable, and reliable. As far as gifts for gun lovers go, you probably can't go wrong with AR 15 magazines and we've got some great options!
A ten-pack of 30-rounders… ahhhhh that's 300 rounds. Maybe get one ten-pack to gift to one person, or split it up and spread the joy ten ways?
These mags have a pop-off cover to protect from dust and impact during storage and transit. It's also got the anti-tilt, self-lubricating follower and an insertion stop on the spine. So, whoever receives these mags should be able to load them easily, and they're less likely to have over-insertion issues when they slap the mag into the magwell with just too much vigor.
Want to see it closer? Here's what Daniel has to say about it:
9. Hexmag Series 2 AR-15 .223/5.56 30-Round Polymer Magazine
These mags should rank high on your shopping list, just because they're torture-tested, combat-ready, and affordable. But get this. If you've got an AR-15 owner to shop for with Type A or OCD tendencies, you're going to make them smile real big with the color-coded ammo ID that these mags offer.
This is a first in the industry. Hexmag magazines offer an integrated color-coded ammunition ID system. So, if your person wants to customize these mags for their own ammo ID system, the Tool-Less design allows them to easily remove the floorplate and replace the original follower with the colored follower of choice.
Grab a few 30-round Hexmags and find out what you've been missing!
These 30-round ProMag magazines feature an updated design with improved grip texture and ultra-tough DuPont Zytel construction.
Providing the ultimate in flexibility, customizability, and reliability, the AR-15 platform is a perfect addition to any shooter's arsenal. Customize and modify your rifle to your heart's content—and ProMag magazines are there to keep it all running smooth…
Featuring heat-treated chrome silicon internal springs, these ProMag magazines are designed to maximize durability, performance, and service life. They come with ProMag's lifetime guarantee, so if you ever have a problem you can just return your magazine and get a new one, no questions asked.
If you're looking for rock-solid performance at a price that can't be beat, look no further than ProMag AR-15 magazines!
Some people are suckers for engineering. If you're buying for somebody who goes glassy-eyed for that kind of thing, get them this ProMag Polymer magazine and tell them about the patented anti-tilt roller follower that's inside.
You probably already know what an anti-tilt (or self-leveling) follower is, but what about the roller follower?
Well, basically, it's an anti-tilt follower on four wheels. With the wheels, the follower rolls up and down inside of the magazine instead of sliding. It stands to reason that there's going to be less friction with this kind of design, and some report the ability for longer storage of loaded magazines, thanks to the follower.
GunMag customer Ricardo B. left a review about this one, saying, "this is my favorite magazine now. I can't believe how well it works. I wish I had this on deployment."
Holy Smokes, 60-rounds! This glass-reinforced magazine has a follower system that allows double the capacity of a normal AR magazine. You're sure to see some smiles with this one!
AK-47 Magazines
Also known as the 'Weapon of the Century,' The AK-47 is ranked among the most prevalent weapons in the history of military armament. As such, it is bound to be found in your buddy's closet, safe, truck, wherever. Here are a couple of 30-rounders to check out.
This Bulgarian AK-47 30-round magazine is constructed with steel-reinforced polymer with steel feed lips and locking lugs. It's one of Daniel's favorite AK magazines in the world.
Designed to mimic the look of classic Bakelite magazines, they're made of high-strength polymer for greater durability and strength with a flat, anti-glare finish to help keep a rifle low profile.
14. US Palm AK30R AK-47 7.62x39mm 30-Round Magazine
Here's another 30-round mag for the AK-47. Special features include US Palm's signature impact-resistant baseplate and steel mainspring. The follower is made of low friction, self-cleaning polymer for reliable feeding of both brass and steel 7.62x39mm ammunition.
This mag is available in four color options: Clear, FDE, Black, and Translucent Dark Earth. Made in the USA and 922(r) compliant, they're affordably priced at under $15.
Ruger 10/22 .22 LR
15. Promag Archangel 9-22 for Ruger 10/22 .22 LR 25-Round Polymer Magazine
If the person you're shopping for has a Ruger 10/22, well there's a good reason. It's one of the most popular rimfires in the US—a favorite for hunting small game and target shooting. But check this out! The Promag Archangel 25-round extended mag transforms the Ruger 10/22 .22 LR into a tactical rimfire carbine.
Disassembly and cleaning are easy with the simple one-piece housing. Also, special design features eliminate many problems common with rimfire feeding. They come with ProMag's lifetime guarantee so if anything happens to it, you'll receive a free replacement.
Gun Apparel
Haut Gun Couture
16. Beware the Old Man Shirt
Perhaps the simplest example of gun apparel: a gun t-shirt! This particular gun shirt is just about perfect for those gun-lovers who're growing thinner up top and thicker around the middle.
Motorcycle and helmet (and for that matter, FAL, helmet, NODs, and mag) are not included.
GunMag Gear
Does the person you're shopping for collect patches? There's a good chance they do, so that's why we're including these patches in our Gifts for Gun Lovers guide.
We have a few to choose from, and they're affordable enough that you could even buy a bunch for the gang!
So there you have it. A whole slew of things to get you started on your gift-buying expedition. Hey, shopping for gun stuff is wayyyy better than any other kind of shopping, right?
Have fun with it, and if you have any other ideas to add to our gifts for gun lovers guide, let us know in the comments.