GOAT Box is a rough-and-tumble storage system designed for modularity, durability, and versatility. From what we can see, the reality of use in the field meets design intention. If you follow them on social media, or just peruse the website, you'll see that in addition to roll your own organization options they frequently put together "packages" in conjunction with other outdoor industry companies.
One such package is The Overlander (the The Overlander?). The Overlander consists of some specific GoatBoxCo CANs (q.v.) and their flagship container, the Hub 70.
The Overlander includes a Basic First Aid CAN, Power Boost CAN, Hydration CAN, and Hygiene Can.
What are CANs? GoatBoxCo says, "The cornerstone of GOAT's modular gear storage system, our stout CANs were engineered to hold essential gear for any situation. Built from the same polycarbonate that NASA uses, these damn near indestructible CANs integrate securely into GOAT's HUB 70 and RACK like a glove. Our CANs come fully loaded with kits of gear from our best-in-class partners or empty ready to be filled with whatever you can dream of. In a pinch, they make for a great beer stein."
You had this fictitious reporter at beer stein!
GOAT Box CANs
Let's take a look.
"The Overlander is for anyone who likes to venture deep into the unknown. For us, we never know what we will be getting ourselves into when we venture down some far-flung dirt road, so it's nice to come prepared for anything. With the GOAT HUB, we never had to worry because in addition to cold beer we are always equipped with first aid, hydration, power, and hygiene all covered in one organized, grab-and-go system. It also eliminates the possibility of forgetting something, like I often do!"
The Hub 70 System, which is built around a pretty badass cooler, is described as an "all-in beast…designed to haul all your gear to any of life's adventures with 4 CANs included…"
Hub 70 System
Here's what GoatBoxCo has to say about the Hub 70 System.
How do you get more functional storage out of a high-performance cooler without grossly increasing the footprint or weight? The X-Shape Design of our HUB 70 is how.
❌ The corners of a traditional cooler are commonly unused real estate and the best place to incorporate additional storage without increasing the overall dimensions
❌ The design is visibly and functionally strong, stable, and secure
❌ The CAN turrets provide more insulation for the interior cooler portion
❌ The ergonomic shape allows for easier carrying
❌ By adding the cargo net, we increased the system storage capacity while keeping that storage within the overall footprint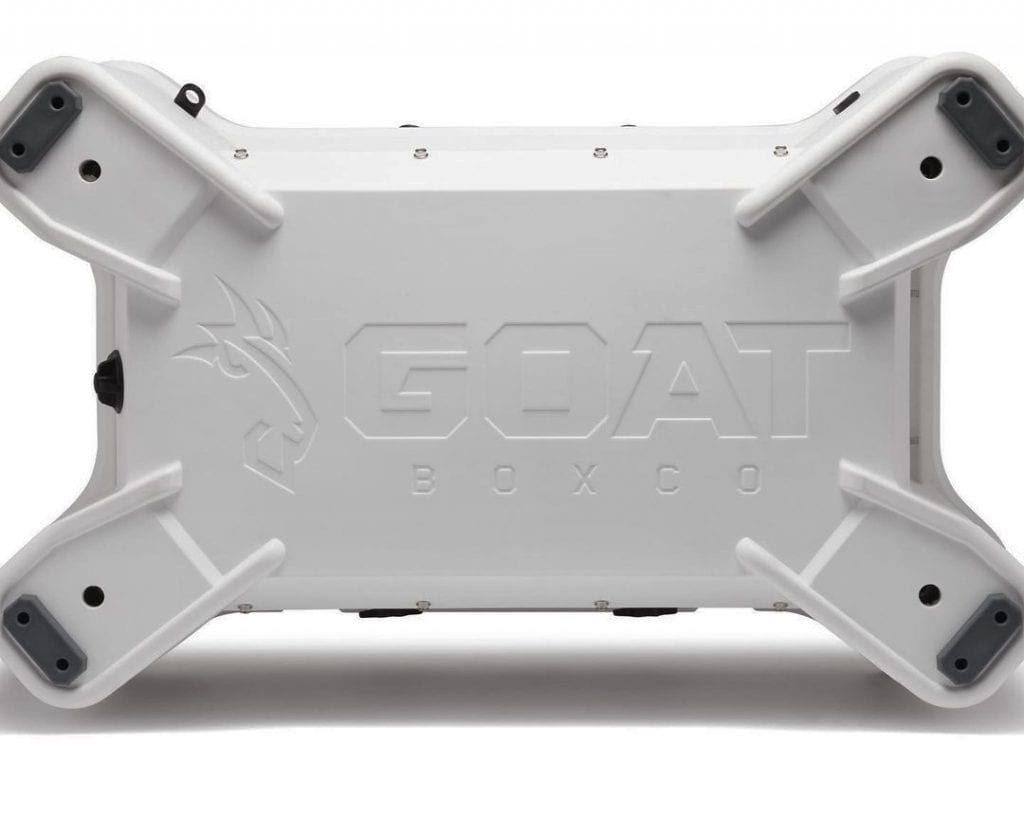 Bottom line, the HUB 70's X-Shape" design enhances balance and stability and delivers improved thermal retention.
To learn more, hit one of these links:
The CAN: https://goatboxco.com/products/the-can
The HUB: https://goatboxco.com/pages/hub-page
Their packages: https://goatboxco.com/pages/shop
On Instagram: https://www.instagram.com/goatboxco/
On Facebook: https://www.facebook.com/goatboxco
Know of a smaller or niche company making interesting gear suitable for range trucks, outdoor adventurin' or making that vehicle better in general? Let us know in the comments below.