Glock has added a few models to its Gen 5 line-up, including the 9mm G47 and variants of the G20 in 10mm and the G21 in .45. Shown initially at SHOT Show 2023, the Gen 5 models are readily welcomed by consumers, some of which have been waiting for these updated models for over 10 years.
The Glock 21 was initially released in 1990 and had its last update in 2011, essentially frozen in time since then. Glock seemed to be following market trends since then and focused more on the smaller framed 9mm, but what some have seen as a resurgence of large framed pistols, has breathed a fresh breath into the larger full-sized framed 10mm G20 and the .45 G21 pistols.
So, what got updated on the Gen 5 Glock 21?
According to Glock, all the Gen5 qualities are present in this compact-sized pistol. The G21 Gen5 MOS has improved accuracy, lighter recoil, and is ready to accept an optic on the slide. The G21 has dropped the finger grooves on the grip but added a flared magwell and a standard ambidextrous slide-stop lever.
It has a barrel a little over 4.5" and an overall weight of just under 26 ounces unloaded. Although the G21 Gen5 MOS does not have the freshly announced flat-faced Glock Performance Trigger, its trigger does have a smoother pull and an improved reset when compared to previous models.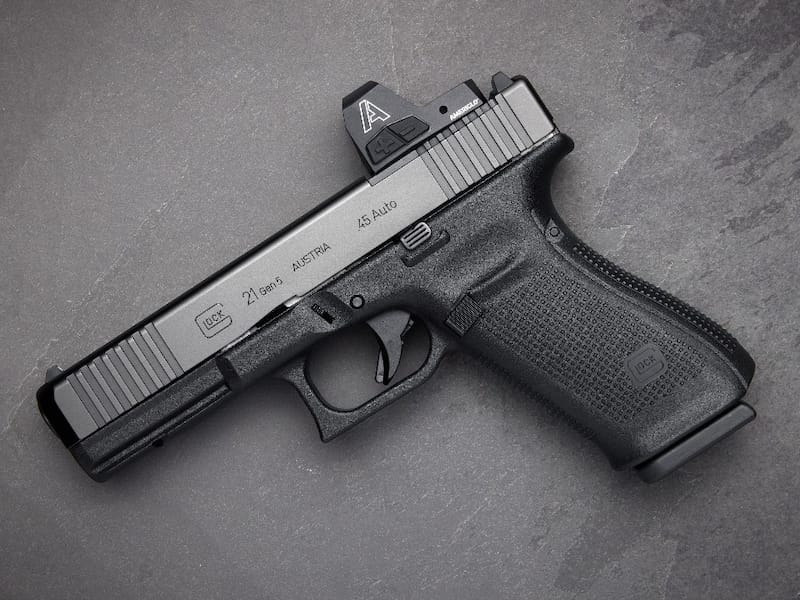 The G21 Gen5 MOS pistol has the nDLC surface finish on the major metal components that give the pistol unmatched hardness and rust resistance. The frame has a high traction texture for a better feel and grip on the hand. The pistol also features a reversible magazine catch that can be quickly changed, and the Glock Modular Backstrap System (MBS) so the shooter can adjust the fit of the pistol to their hand easier.
To help round out the features on the Gen5 Glock 21 is the MOS portion standard from the factory, which stands for Modular Optics System, meaning it's optics-ready out of the box. So far, the G21 Gen5 MOS is one of only a few .45 ACP pistols in the Glock catalog that have the MOS standard. Initial reports state that the Gen5 MOS pistol will come with the No. 2 optics plate that is compatible with Trijicon, Ameriglo, and Holosun patterned red dots, with other plates available from Glock.
The Gen5 Glock 21 MOS has a 13-round capacity with Glock's Safe Action System and the high visibility orange magazine followers. The G21 Gen5 MOS pistol is available with an MSRP of around $650.