If you don't own a Glock, there is a good chance you own a gun that takes Glock mags. Glock mags are becoming the AR-mag of the pistol world. Glocks are being copied by other manufacturers more each day. PCCs are making versions that accept Glock mags because there is a demand for them. People like using firearms that take the same magazines and with Glock mags you get the most popular and most available handgun mag on the planet.
Glock mags didn't just get popular because of the handgun. The magazine has its own reputation for being rugged and reliable. It has undergone every kind of torture test mankind can dream up and continues to spit out bullets. The Glock 19 uses 15-round mags, the model 17 takes 17-round mags, and the Glock 33 round mags? Well, those work great in them all. I call them stick mags and I keep them around the house, in the cars, and in all my bags. If you need a lot of ammo, it's only one mag away.
Why all the ammo?
The first thing you may notice when looking at the Glock 33 round mag is that it doesn't say 33 rounds on the back. The numbers that go down the back allowing you to see how many rounds you have left only go up to 31. Why is this? Because Glock included the two-round mag extension on their 31-round mags just in case you need those two extra rounds. It could also be that Glock likes to outdo the competition.
Most high-capacity mags are 30-rounders. The mag extension serves another purpose, however. It provides a grip to get ahold of from a mag pouch. This isn't something that stands out, but if you carry these stick mags on a vest, it does make a difference when pulling them out. By the way, the MP5 mag holders work great for the Glock 33 round mags if you're looking for something to strap on a vest.
So why all the ammo in one mag? Because under stress, ammo can disappear very quickly. During my time in law enforcement, I found it very common for anyone involved in a shooting to think they fired a "few" rounds. They look surprised when you tell them they fired all the rounds in their mag. Most of the time, a shooting takes place in seconds and is over before there is a need to reload. But that does not mean this will always happen. You never know when you may need more ammo.
Glock Mags Compared to Aftermarket Mags
There are a ton of aftermarket mags for Glocks. Most of them are good mags and will work great on the range. I have nearly every brand of aftermarket mag available and use them all on the range. But when I load up my primary mags (the ones I put on my vest), they are factory Glock mags. This doesn't mean all other brands are of lesser quality. But Glock is the one that designed them, so I use factory mags first. I use the other brands as backup mags and for training.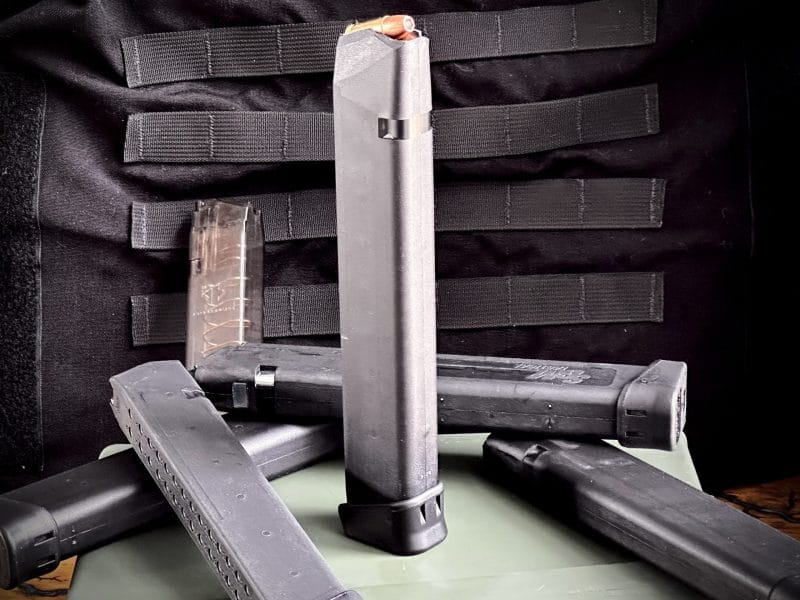 While other mags on the market are quality mags that can last a long time, the biggest difference is in the spring and how the base plate attaches to the mag housing. When comparing Glock mags to ETS, KCI, and SGM, Glock possesses the strongest spring. This can be important for proper feeding when you have that many bullets lined up in a magazine. I have not had the others fail to feed in a gun before. But I also wouldn't want the first time to be when it really matters.
Spring Strength (hardest to easiest)
Difficulty Disassembling (hardest to easiest)
Glock
KCI
SMG Tactical
ETS
Disassembly
This is the second thing that is very important when it comes to quality. I have dropped some mags before and had the base plate come off, sending ammo flying everywhere. The more ammo a mag holds, the bigger the spring. This equals more pressure against the base plate. Glock did a good job attaching the plate to the body of the mag. It also makes it a pain to remove. I found the easiest way to disassemble a Glock 33 round mag is to put a small piece of tape on each side of the mag, just above the base plate. This is to protect it from being scratched. I then use channel locks and squeeze the side of the magazine in.
There is a notch on both sides of the mag that fits into the base plate. The mag needs to be squeezed just enough to slip out of these notches. The hole in the bottom of the base plate allows you to push something into it and clear the spring so it can come off. I use an Allen wrench because I have a million of those things laying around. But they also make a tool for this. Once the spring is pushed out of the way and the base plate has slid past the notches, you can lay the tools aside and slowly finish sliding the base plate off the magazine, keeping your thumb over the opening to catch the spring that will be trying to fly out.
Re-installing base plate
Once this step is done, the spring and follower can come out. Re-assembly is the same process but reversed. The base plate will go back on and does not require any tools. If you take your mag apart, make sure it is in an area where you can find the spring if it gets away from you. I have taken hundreds of mags apart and I still occasionally send a spring flying across the room!
Summary
Aftermarket Glock mags have their place, and most are reliable. One of the biggest differences I have not mentioned yet is price. Glock mags are the most expensive of the group. This has driven me to buy aftermarket mags and as I said, I use them a lot. They're great for training, and I keep some of them loaded up as backup mags. But the mag I keep in my weapon at work and for self-defense is Glock OEM (original equipment manufacturer). I would not discourage anyone from picking up some aftermarket mags when they are on sale. There are good deals out there from time to time. But I would also recommend keeping a few Glock mags for that self-defense ammo.