Fix It Sticks have been around for several years now. The company started off in the cycling industry and then branched into firearms. If you are not aware, these two industries typically don't have much bleed over. They are basically cats and dogs. Once, I asked a question about a product that I was going to purchase for an article in another publication that has guns in it on occasion, and was met with very anti-gun sentiment. So it's awesome that a company that deals in both industries is flourishing—on both sides. Fix It Sticks has said that the firearms community is their larger customer though, so let's talk about one of their very useful products.
Fix It Sticks AR-15 Maintenance Kit
The AR-15 Maintenance Kit consists of a pile of useful tools in a compact case that takes up to no space in your pack. This is not a builders kit, but it has pretty much everything you need to maintain your rifle, and attach or remove accessories.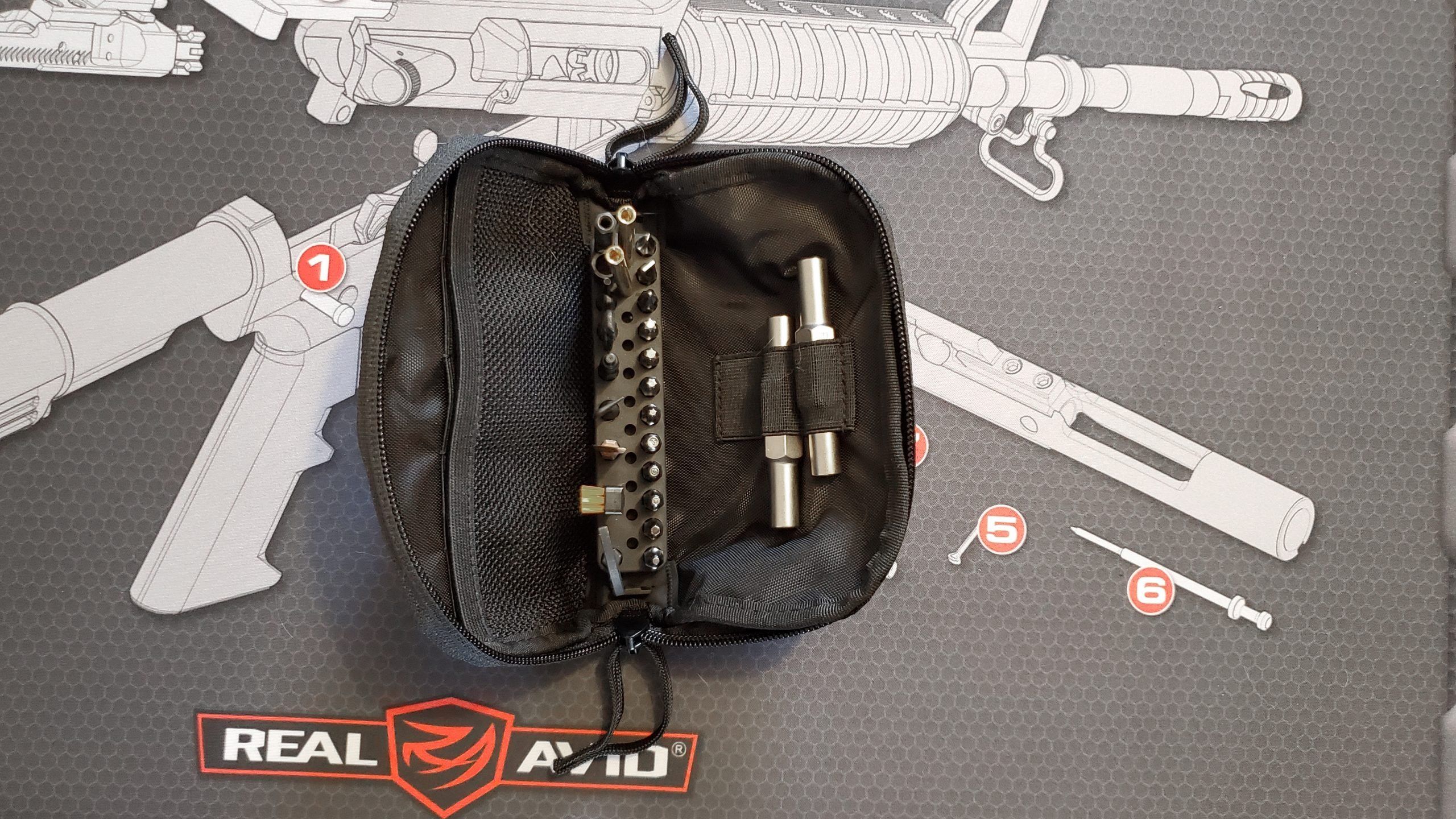 We say pretty much everything because it is missing a cleaning kit for your chamber and barrel and a torque driver. It does have some pretty handy cleaning bits in it that not all cleaning kits come with that can save you some time and frustration.
The Cleaning Bits
To clean your AR-15 or rifle that has a similar bolt you have a few items in your Maintenance Kit arsenal: two short sections of cleaning rods along with an area to add any screw-on brushes in between all the bits in the kit. You get a nylon brush that you can either use in the Sticks using the magnetic 1/4″ socket or screw it onto the cleaning rods if you really need to scrub.
The kit comes with a bronze carbon scraper that, much like the brush, attaches to the cleaning rods.
You can also take apart the 1/4″ bit adapter revealing an 8-32 thread since bronze is not magnetic if you want to attach it to the Sticks. You get a dental pick that much like the others can attach to both and it's great for getting to the hard-to-reach areas. Last but not least is the bolt carrier group scraper which helps clean off all that nasty baked-on carbon because you never clean your gun your dirty person.
The Maintenance Stuff
We build a lot of guns here. We mean, a lot, like some of the guns we have built cost more than the cars we drive. So good tools certainly matter to us.
The Sticks in the AR-15 Kit are the original version of their T-wrench. It consists of two silver Sticks that take a 1/4″ bit at either end and have a slot in the center. The bit adapter we talked about earlier is used to join them together into a T-Wrench or make them one long tool to get a bit of leverage when using the next tool.
The castle nut wrench is something everyone who uses an AR-15 should have on them. A properly staked castle nut should not come loose. When they do it can cause you some issues at the range. Why not have a tool for those just in case scenarios? We actually used it recently on our Maple Ridge Armory Renegade (more on that later) build when swapping from a carbine buffer tube to an A2 one when attaching the Magpul PRS and it easily broke the torque.
If you have an A2-style front sight post it comes with a fancy bit for adjusting it up and down for elevation. The kit comes with two pin punches: a plastic non-marring one and a thin steel punch. Along with all these tools, you get 12x 1/4″ screwdriver bits ranging from hex to Torx, along with Philips and common. These bits should cover just about any situation that comes up when installing parts and accessories.
The Pouch
The Kit comes with well built MOLLE compatible pouch that comes in a multitude of colors—as long as you're looking for black. The outside of the pouch has a 5″x3″ velcro section on it to attach patches or a name tag. We used it for the Fix It Sticks Magnetic Patch. There are certain small parts like the firing pin retaining pin that you just don't want to sacrifice to the floor gods. With the magnetic patch, you can pop these small parts onto it and not worry about them migrating away.
The pouch has two zippers with zipper pulls on them. If you want to quickly open the pouch put both the zippers on the top with a small gap. You can grasp the front and back and rip the clamshell pouch open.
Inside is a rubber bit holder that, as we said above, holds 1/4″ bits along with cleaning rod items like brushes in the center. The backside of the interior has three elastic loops, two of which hold the Sticks. The front side of the interior has an elastic mesh pouch with five elastic loops behind it for any other loose items you want to toss in the kit.
Fix It Sticks makes a ton of additional accessories.
If there are parts of the kit that you just don't use and others you would prefer like say a bit for the front sight of a Glock or an Aimpoint sight adjustment tool your good. We will be going through our kit over the next little while and seeing what all we want to swap out as we just don't need all of those bits in our range bag.
They do make a more generalized kit that would be great for building different firearms and attaching accessories since it includes a bunch of torque limiters. This kit would be great for mounting scopes although we would likely toss in their Scope Jack or an Arisaka Optic Leveler. If you have a Spuhr ISMS Scope Mount though you can just toss the wedge in your kit since it has a built-in leveling wedge.