Light? Check. Optic. Check. M-LOK Rail? Check. I could go on and on with the various modifications and upgrades I can make to a rifle. There is certainly a multitude of them. What about your magazines? How you ever considered magazine upgrades? I don't mean buying new mags, but modifying your current crop of magazines to fulfill your mission needs better. If this has dawned on you, then you are in the right place. Here are my top five magazine upgrades that you can make today.
1. Magpods
I always thought these were silly until a friend finally gave me one. It was then that I realized that these were a great little invention. They took up no room, added barely any weight, and still allowed me to have a very stable platform while shooting.
Does it replace a bipod? No, but it does improve stability with no penalty. Magpods are sold in a three-pack and fit PMAGS. They are relatively affordable and perfect for taking more stables shots in the prone and improvised shooting positions. As far as magazine upgrades go, this has the best bang for your buck potential.
2. Magazine Extensions
Well duh! Magazine extensions are the most common magazine upgrades. They allow you to carry more rounds in a shorter package than most extendos. Magazine extensions come out for most popular weapons, and they are especially prevalent for the AR 15 and Glock series pistol. However, if you look hard enough, you can find extensions for guns like the:
3. Recover Tactical Magazine Clips
These magazine upgrades have a silly name, but it's genius. I've reviewed them before. Recover Tactical's Magazine Clips replace your standard baseplate with a new one outfitted with a small plastic clip. They are available for a few different magazine types, and in my experience, they work very well.
The clip allows you to pocket carry a spare magazine like a pocket knife. It makes the magazine easily accessible and negates the need for a magazine pouch. Also, they are 50% off right now.
4. Magpul's Magpuls
Magpuls is what built the Magpul brand. These simple devices latch onto the magazine and provide you an aggressive rubberized grip texture to make drawing magazines from mag pouches quicker and more intuitive. These magazine upgrades are simple and apply to both 9mm sub gun magazines and standard AR 15 variants. They fit magazines outside of Magpuls and have been in use for decades for a reason.
It's interesting to see how far Magpul has become. A perfect example of the American dream. It all starts with some clingy rubber Magpuls.
5. CMMG 9mm PMAG Adapter
Lastly, if you wanna build an AR-based PCC, then you have a choice. You can buy an expensive proprietary lower made for Glock, Colt SMG, and even MP5 magazines. Or you can use a standard AR-15 lower with these CMMG PMAG Adapters. These adapters allow you to turn a PMAG into a 9mm magazine. It's simple and will enable you to use a cheaper lowers, standard magazine pouches, and more.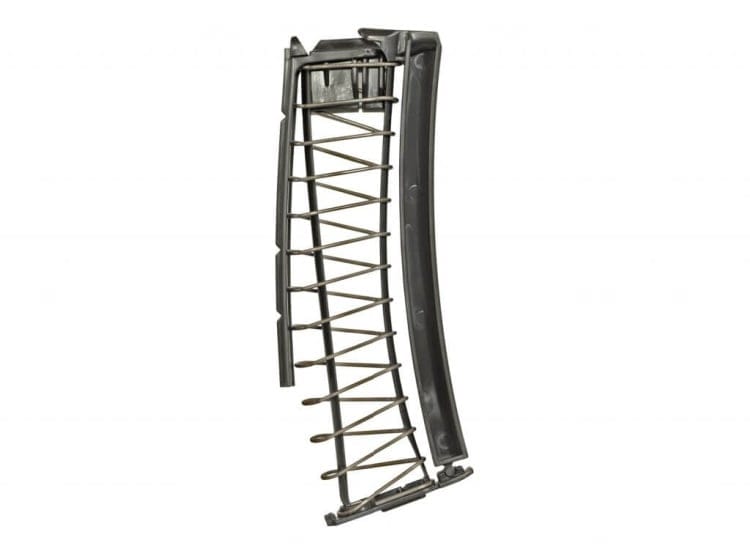 These are a simple means to convert the AR 15's most popular magazine into a PCC option. I would advise using the Dot Matrix on the PMAGs to mark which is which because it might get a little tricky.
Magazine Upgrades
You may never have a reason to commit to magazine upgrades, but if so, know you have plenty of options. We upgrade our weapons to a crazy extent, and magazine upgrades allow you to address one of the most valuable pieces of your guns. What are your favorite magazine upgrades? Let us know below.