Most folks that carry a semi-automatic handgun and are serious about concealed carry make sure to carry a spare magazine as often as possible. A spare mag obviously provides additional ammunition should you be forced into reloading the handgun while responding to a violent encounter, but there are other reasons that may be more important for carrying a spare. As far as I'm concerned, the ability to provide a solution for malfunctions is at the top of the list of reasons for carrying a spare mag.
Regardless as to why you carry a spare mag, you should understand that if you carry a compact Glock like the G19 or a sub-compact model such as the Glock 26, you have brand and capacity options when it comes to the spare mag that you carry.
We will talk about the brands in a bit.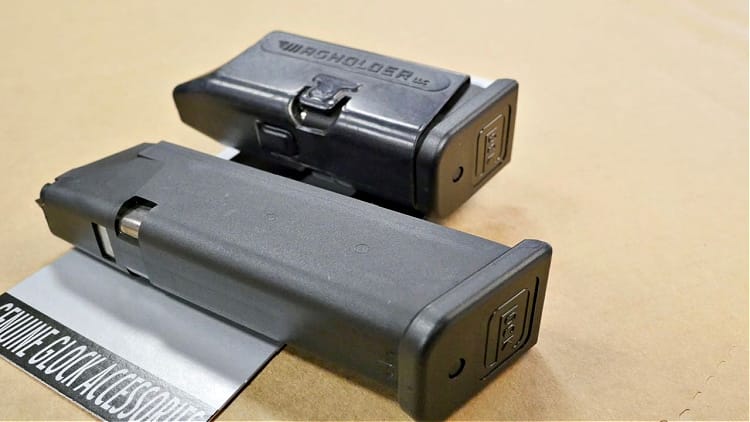 First, Let's talk about magazine capacity.
The standard capacity of a Glock 17 is 17 rounds in the magazine. A Glock 19 mag holds 15 rounds, and a Glock 26 mag holds 10 rounds. A great thing about Glock handguns is that a G19 can accept both Glock 19 mags as well as Glock 17 mags. A G26 can take mags for the 19 and the 17.
There are some great advantages to this versatility.
Glock magazine compatibility can provide extra capacity on reloads.
Whether you are on the range or involved in a self-defense encounter, more ammunition is typically better. Having higher capacity magazines than your gun typically holds is a great way to increase the capacity of your handgun. Increasing the capacity of a full-sized Glock like a 17 isn't terribly practical for concealed carry. Although 21 and 33 round mags exist, they are large, heavy, and difficult to conceal. When it comes to carrying a 17 round magazine compared to a 15 or even a ten-rounder, the difference is minimal as far as weight and concealment are concerned.
There are other great advantages as well!
Higher capacity Glock magazines can help you keep up with other shooters on the range.
The extra capacity probably won't ever come into play in a self-defense scenario, but the peace of mind is nice to have. Where that extra magazine capacity can come into play is when you are training with a compact or sub-compact gun. During training or practice, you might find yourself running dry before the full-size gun guys do.
In situations where this matters simply stuff your mag pouches with higher capacity mags. Sure your G19 or G26 will look different with a 17 round mag hanging out of the bottom, but it will perform perfectly and let you keep up with the big guns.
Reloads are easier with compact guns when using higher-capacity magazines.
One of the biggest disadvantages of carrying Glock 19 or 26 mags for reloads is that they can be difficult to grasp. Depending on your magazine and magazine pouch combination, you may not have much surface area to grasp when you reach for that spare during a malfunction reload.
Placing a longer, higher-capacity magazine into your mag pouch can give you the extra length you need to be able to grasp your magazine firmly and securely when it matters most.
When it comes to Glock, versatility is one of the first ideas that come to my mind. To keep it simple I gave 9mm examples throughout the post, but the versatility of Glock mags isn't limited to 9mm handguns. You will find the same interchangeability in Glock magazines of any caliber within the same caliber. The versatility of Gaston's handguns doesn't end with the interchangeability of magazines. Caliber conversions add to the versatile nature of guns like the G22.
Find Compatible Mags
To make it easy for you to find compatible Glock magazines simply take a look at this table to see what magazines will work with your handgun.
There are plenty of reasons to carry extended spare magazines if you carry a compact Glock.
The additional capacity, the ability to keep up with other shooters on the range, and the increased area to grip the mag in the mag pouch all make sense for most shooters in some situations. Of course, you need to consider your unique situation and determine if carrying a larger capacity reload makes sense for your situation.