Gun modifications. They're nothing new. Sometimes they're made to improve a weapon's performance. Sometimes it's an aesthetic choice. Other times it's more of a repair than an upgrade. Regardless, many people alter their "stock" firearms, even if it's just adding accessories
The Backstory…
Recently I was tarred and feathered in the comments of my post on expanding the capacity of the S&W M&P Shield. Don't worry, my feelings weren't and aren't hurt. That isn't why I'm writing this. Instead, I want to clarify my position on gun modifications made to a defensive.
When it comes to writing, there can be issues in communication where the ideas in the author's head don't successfully translate to the reader. It only makes sense that this happens.
Think about it.
Ideas twice removed…
When I have ideas and thoughts, they are filtered through my collective experiences as I put them into words. My experiences color the meaning of those words.
Often, my editor reads those words, filters them through his life experiences. Those experiences are different than mine and the result is the words may have a slightly different meaning for him. He might make some changes to what I say, or how I say it in an attempt to communicate more clearly. My editor almost always improves my writing.
After the ed works his magic it is your turn. You aren't an empty vessel. You as a reader have a wide base of experience that again, changes the meaning of what I wrote to your meaning. Your meaning is really the only one that matters, at least to you and it is my goal to try and communicate in a way that helps you to develop meaning that provides you with benefit.
At times it doesn't work out the way we hope. My experiences, assumptions, omissions (I can't write everything,) coupled with your filter add up to a misunderstanding.
We are all human and at times we disagree. And that is O.K.
That seems to be the case with the post on expanding the capacity of the Shield.
Why Modify Your Defensive Firearms?
In a perfect world, we wouldn't need to modify our guns, especially our defensive guns. They should come from the factory perfect, right?
Unfortunately, it doesn't really work that way.
Just like all of us have different life experiences, we also have different sized hands, varying ability to carry or conceal a handgun, and different end goals with our guns. I think we all have to admit that it is impossible to build the perfect handgun for everyone.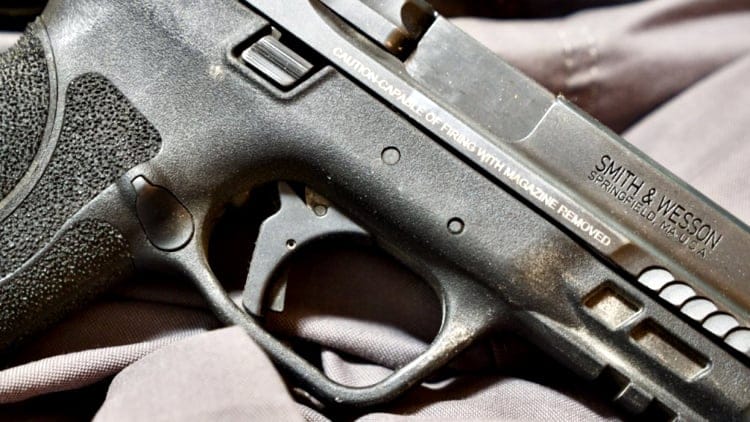 Even if there is a perfect gun for you, it doesn't mean that you can own it. At times there are shortages due to events outside of our control, (like spring 2020). Other folks might live in a political climate that prevents them from owning "the perfect gun".
Even simpler, it might be economically more reasonable to make a small change to a gun you already have instead of footing the bill for a new gun. And all the accessories. That still won't be perfect…
Heck, some people might just enjoy tinkering with their guns.
It is in this spirit that I wrote the post about expanding the capacity of your Shield.
The Worries
When you decide to modify a gun there are some things to worry about.
Does the gun function reliably?

Have you created any safety concerns with your modifications?

What about legal worries? Will your modified gun get you in hot water if you have to use it, or even just for owning it.
These are all things to think about when you try to decide whether or not you should modify your defensive firearms. These issues (and many more) are probably what got folks worked up with the article. Some were also a bit miffed at why someone wouldn't just buy a P365 with its hi-cap mags. Or even better a Hellcat that has a 13+1 capacity. California is one pretty big reason.
Yup, there are worries about making modifications to your defensive firearms, even simple ones like swapping out the magazine springs. There are just as many arguments that might support making some modifications.
As is usual, I don't know the answer to the question that is really being asked.
Should You Modify Your Defensive Guns?
I don't know the answer because there is no single answer. For some folks, the answer is a definite no. For others, it might be a maybe. Still, others would say it's a resounding "hell yeah!"
Only you can find the right answer to the question.
You need to consider the worries I pointed out above, factor in the difficulty of doing the mod along with your capability to do it, and compensate for how important the modification is. I also think it makes sense to consider your ability to articulate the reason why you made the modification.
You've got to make your own decision on this. Go about making that decision in an educated manner.
What Should You Do if You Decide to DIY?
First off, you should remember that you — and only you — are responsible for the consequences of your decisions.
Second, you are asking for trouble if you don't educate yourself. There are tons of resources available for you to learn what mods are appropriate, within your ability level, and how to complete them successfully. Spend time learning before you dive in. For me, learning is half the reason to mod…
Finally, when you decide to mod, focus on attention to detail and test, test, test.
When I make a modification to a defensive gun, it gets a minimum of 200 rounds of target ammo and 50 rounds of defensive ammo before I call it good.
If you arent ready to commit to testing, you aren't ready to mod.
Gun Modifications: Final Thoughts
As the text and images from this post drift through all of our collective filters there is bound to be some miscommunication. I encourage you to share your thoughts and ideas in the comments where we can have a kind, reasonable, and educational discussion about making gun modifications to a defensive pistol.
What mods have you made to your guns?
What mods did you decide against?
Are there any modifications that you left to a real gunsmith?
What is the worst trouble you have ever gotten into with your Dremel?
I look forward to the discussion below.