The Daniel Defense DD5 SBR is a 7.62 NATO carbine that offers all the benefits of the full sized rifles, in a smaller package. Here's a quick rundown of its features.
The DD5 SBR boasts a 12.5" cold hammer forged proprietary steel chrome-lined barrel for a lifetime of accuracy and durability. Adding to the accuracy and durability of the rifle is the mid-length gas system and an adjustable gas block that allows for a consistent feel, shooting suppressed or unsuppressed.
The barrel of the DD5 SBR is attached with an innovative 4-bolt Connection System, a design that reportedly dramatically increases the connection surface area between the barrel and upper receiver for increased rigidity and stability according to Daniel Defense. This allows for better accuracy, to the level that is traditionally only found in high-end bolt action rifles.
In the upper receiver, there is a super finished and DLC-coated bolt carrier group that allows for ease of cleaning, maintenance, and operability in all conditions. The bolt itself is machined from Advanced VAR Stainless Steel and incorporates enhanced extractor geometry and dual ejectors for reliable cycling. The bolt carrier is also equipped with a buffer for optimized cycling and improved recoil impulse.
The charging handle is the GRIP-N-RIP variety and is ambidextrous with anti-gas features. The handle was designed for suppressed fire and the anti-gas feature redirects the gas flow upward and away from the face and from the operator in general. This helps give a better shooting experience overall.
DD5 SBR Specs:
Caliber: 7.62×51 mm NATO
Barrel Material: DD Proprietary Steel Cold Hamer Forged
Barrel Profile: S2W (Strength-to-Weight)
Rifling Twist: 1:10"
Gas System Length: Mid-Length
Bolt Carrier Group: Advanced VAR Stainless Steel Bolt & 8620 Carrier
Muzzle Device: DD Linear Compensator
Trigger: DD Mil-Spec
Overall Length: 30.38" – 33.63"
Weight (unloaded): 8.2 lbs.
Rail System: DD5 10.5 M-LOK Free-Floating
Magazines: Accepts all SR-25 Magazines
The upper also has a free-floating rail that is 10.5" long and features M-LOK. The trigger group is the DD Mil-Spec to round out the rifle. With ambidextrous controls, the DD5 SBR accepts all SR-25 Magazines.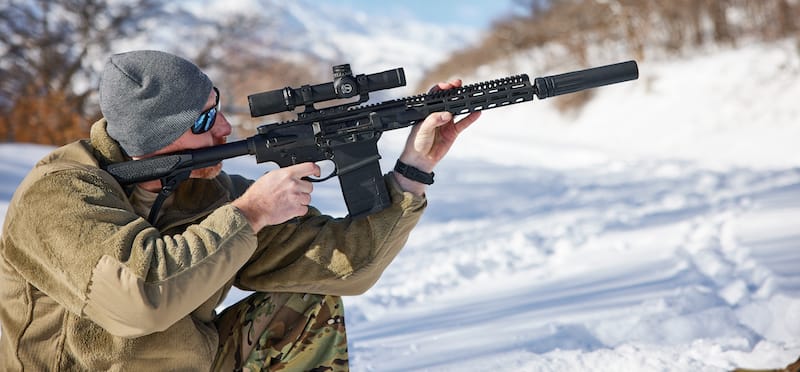 The DD5 SBR has an MSPR of $2,599.00.