Seeing newly released guns and gear at the SHOT Show comes in second to all the interesting people I get to interact with there. One such individual this past show was Mike Harvey, president and founder of Cimarron Firearms Company in Fredericksburg, Texas. Mr. Harvey took time to visit with me at his booth in Las Vegas and we discussed various firearms, mutual friends, and other interesting topics while being surrounded by his company's fine reproduction single-action revolvers, lever-action rifles, single-shots, and the list goes on. Despite what you may have heard in the past, today's firearms reproductions from Italy are quality guns and Cimarron's standards ensure shooters have numerous options to fulfill every cowboy's and cowgirl's firearms wants and needs.
Sometime back my buddy "Repo" Simpson asked what type of old-style revolver he should buy. I offered up a few ideas and it wasn't long until he showed up with a brand-new Cimarron 1872 Open Top Navy with a 5.5-inch barrel. This revolver has wonderful balance, excellent fit and finish, and the action functioned perfectly.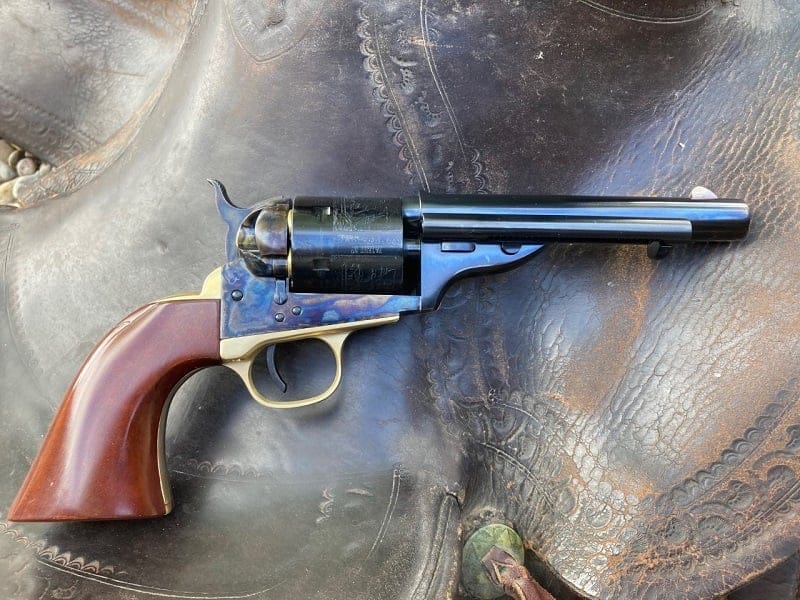 While it is marked 44 Special under the barrel, this gun will also fire 44 Colt and 44 Russian cartridges, shorter versions of the Special case. This sixgun is meant for reasonable, "cowboy-action" loads, not high-pressure rounds. This particular revolver also adheres to the old "five-beans-in-the-wheel" standard of carrying the gun with an empty chamber under the hammer. For a six-shot revolver follow the adage "load one chamber, skip one chamber, load four chambers" then bring the hammer to the full cock position and carefully lower it on the empty chamber. This open-top design makes verifying the empty chamber under the hammer simple because you can see the rim of the cartridge through the frame/cylinder gap.
These Old Guns Shoot!
I saw no need to try for sandbag-rested groups at 25 yards with this particular revolver. It is made for fun and Cowboy Action-style shooting while standing and off-hand. So, I determined that a standing, two-handed hold at a small target at 10 yards should suffice for accuracy testing.
The sights on Open Top Navy are minuscule, with a shallow rear notch and a short, thin brass blade front. While they are small, they did not hamper accuracy at all. The HSN 44 Special loads I had on hand put five rounds in a 1.5-inch group. Our local hardware store happened to have two boxes of Black Hills 44 Colt ammunition on the shelf that I just had to try. It proved very mild in recoil and exceptionally accurate. Shooting off-hand with a two-handed hold produced less than a ¾-inch group. After shooting a little paper I moved to the small, steel torso targets at the range and rang them more often than not out to 50 yards.
Everyone Needs a Single-Action Revolver
Everyone needs at least one good single-action revolver. Some of us need at least one sample of every model! Cimarron Firearms has plenty to choose from, one being this good-shooting Open Top Navy. Check them out at cimarron-firearms.com. And if you're ever in Fredericksburg, Texas you can handle most of Cimarron's fine guns at Texas Jacks (texasjacks.com). Pick up some traditional old west clothes, hats, and leather gear while you're at it! For some interesting firearms information and stories visit "Cimarron Originals with Mike Harvey" on YouTube.