PROOF Research and MDT just announced a new precision rifle. It's the new PROOF MDT ACC Competition Chassis Rifle and it incorporates parts and mechanisms from several companies including TriggerTech, Zermatt Arms, and Area 419. Whether used for competition or hunting, users will appreciate the sub 1/2 MOA accuracy guarantee. And, it's available in six different chamberings.
Here's how PROOF describes it:
Whether you're new to the competition scene and want to jump in with both feet, a seasoned shooter who wants to take their game to the next level, or you just enjoy a superbly accurate rifle, the PROOF Competition Chassis rifle is for you. Rather than reinvent the wheel, we have partnered with companies whose products are already on the podium weekend after weekend to assemble the ultimate precision rifle.
It all starts with a solid foundation. The MDT ACC Chassis looks the part with custom PROOF Research colors and engraving. The adjustable length of pull and comb height are adaptable to any shooter and any unconventional shooting position. The ACC Chassis sports a full Arca rail down the entire length of the forend and M-Lok mounting points for weights and accessories.
Our competition contour steel barrel has been the choice barrel for some of the worlds top precision rifle competitors. Our competition contour barrel when coupled with the MDT buttstock weight works to balance the rifle and decrease felt recoil.
The PROOF Competition Chassis features a Zermatt Arms TL3 action, Triggertech Pro Curved Diamond Trigger with an adjustable pull weight from 4 to 32 oz, an Area 419 Hellfire muzzle brake, and a MDT 12 round AICS-pattern steel magazine. A custom fit hard case is included to haul your rifle to your next match.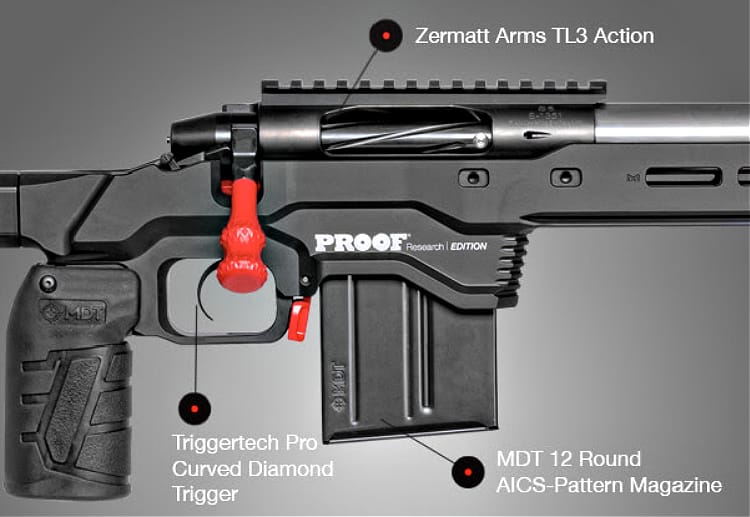 The Proof Competition Chassis Rifle is backed with an accuracy guarantee and is available in 223 Rem, 6 ARC, 6 Dasher, 6 Creedmoor, 6.5 Creedmoor, and 308 Win.
PROOF Competition Chassis Rifle Specs
MDT ACC Chassis
Zermatt Arms TL3 Action
Adjustable Triggertech Pro Curved Diamond Trigger
MDT 12 Round AICS Steel MAG
26″ PROOF Competition Contour Steel Barrel
Area 419 Hellfire Brake
20 MOA rail
Weight – 15lbs-14oz w/ mag
Accuracy Guarantee
MSRP: $5,699