The Bushnell AR Optics brand is an expansive one that includes a wide variety of red dots, prisms, and LPVOs. Today we look at one of the lowest-priced LPVOs on the market, a true Ramen Noodle LPVO. This particular model is the Bushnell AR Optics Drop Zone 223 variant, and if you shop smart, you can find it for under 100 bucks. The big question is, what kind of LPVO can you get for 100 bucks? We'll let's dive in and find out.
The Bushnell AR Optics LPVO is a 1-4 power optic that's relatively compact and lightweight. There is a multitude of different Bushnell LPVOs, and this is the cheapest and simplest model. As you'd imagine, this is a second focal plane scope, and with the name Drop Zone present, you can safely assume this is a BDC reticle. The BDC reticle provides drop points out to 600 yards. That's an optimistic range for a 1-4X budget optic, but here we are.
The AR Optics Reticle
Oh, also, the reticle lacks any form of illumination. Trying to use this optic for quickly-moving close encounters will be challenging at best. LPVOs are designed to be versatile and should do well in both close quarters and moderate range shooting. Brightly illuminated reticles help with close quarter's shooting, and the lack of an illuminated reticle brings down the AR Optic's usefulness to a small degree. If the low price and suspicious quality didn't eliminate this as a defensive optic, then the lack of illumination should.
The reticle is very, very simple. It's a crosshair with five dots representing holdovers for bullet drop. The crosshair portion is surprisingly thick, as are the dots. This is only a 4X optic, but the thick crosshair kinda cuts your ability to see smaller targets.
AR Optics Clarity and Beyond
What did surprise me was the clarity. I didn't expect much from an optic this cheap, but I can see and make the details of a target out to a quarter-mile away. Not bad for an ultra-cheap 1-4 optic. I could see the differences between the head and chest of the Viking Tactics torso target. I also dropped plenty of rounds into both the chest and head of the target.
The drop zone goes out to six hundred yards, but I didn't have that kind of range available to me at the time. The drop points seem to be accurate enough. They allowed me to lob every round approximately where I wanted it at 300 and 400 yards. If you've never used a BDC, then the AR Optics Drop Zone model is a great place to start. The reticle is ridiculously simple. The crosshair is the 100-yard setting, and each dot below that represents an additional 100 yards.
The optic holds zero fine, but personally, I'm out of practice. The COVID quarantine has me chasing shotgun shooting and ignoring rifles due to ammo requirements. It took me a little bit to get back used to focusing on clean trigger control, good breathing habits, and becoming a stoic, unmoving rock when shooting.
The BDC Further Explained
You have to dig through the manual to find the projectile weight the drop zone dots are tuned for, and apparently, they are set for 55 to 62-grain rounds. Barrel length isn't mentioned, so I assume a 16-inch barrel works. I equipped it to my Ares SCR build, and because of the SCR design, I have to use low rings for a worthwhile cheek weld. The fit was perfect, and the SCR is superbly light, so the short and compact AR Optics LPVO fits well on the gun.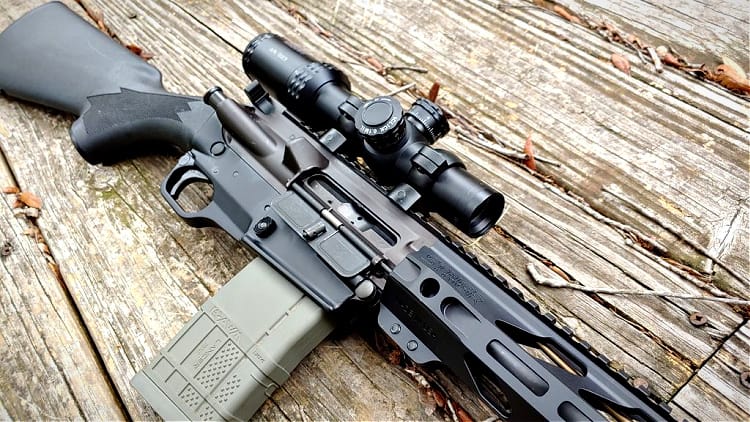 To properly use the BDC, you have to sight the optic in at 100 yards. This is wasteful, and why not just use a 50/200 zero? It would make the reticle simpler while establishing the same points of drop. Zeroing out at 100 yards is just annoying in general.
The AR Optics Drop Zone reticle only accurately works when the magnification is maxed out. The joy of single focal plane scopes is on full display here. This isn't necessarily a bad thing, just something worth knowing.
Beyond the Glass
The AR Optics LPVO does come with an impressive set of tactical turrets, which is a nice surprise for a budget optic. But that's kinda where the niceness ends. The adjustments are barely tactile and audible. You can easily dial in an extra adjustment or two without noticing. Also, each adjustment is 0.1 MIL. Those are absurdly small adjustments for a 1-4X optic. No one needs that slight of an adjustment on an optic like this.
How precise are people trying to be with a AR 15 and a cheap 1-4X LPVO? It's a real pain in the ass, and if you have to make adjustments, you're between suited bracketing with broad adjustments rather than making teeny tiny .1 MIL adjustments you can barely hear or feel.
The magnification ring is highly textured and rotates smoothly from side to side with little effort. That's a nice touch, and other than that, the AR Optics LPVO doesn't get a lot going on. It's a remarkably simple optic that meets the definition of LPVO at a bargain price point.
This leads us to the question of who exactly is this optic for? The lack of an illuminated, dynamic reticle design kicks it out of the tactical and competition crowd's hands. There is no way you can use it as a red dot at red dot ranges, and for some, that's a clear deal-breaker.
Hunting is the best practical use I can find for this optic. Other than that, it's a pure plinker's optic. The low price makes it better than not having an optic, but my recommendation would be to save a little more scratch for a Primary Arms or even a more affordable Vortex LPVO. Heck, the Bushnell BTR-1 is a way better choice than the Drop Zone 223. The AR Optics Drop Zone 223 is a fully functional optic, but it leaves a lot to be desired, makes some silly choices, and overall I don't see much use for it over other budget options.