My personal experience with the AR-180 started about 30-years ago. I saw one on a wall in my local gun shop and was intrigued. I knew its price was probably a little out of my reach but I asked about it anyway. The clerk quoted me the wrong (as in much lower) price and I walked out the door with my new-to-me rifle.

Originally, it was designed as a select-fire military weapon known as the AR-18 intended for countries that could not afford to forge M16 receivers because folded and welded sheet metal receivers were cheaper to produce. Interestingly enough, the AR-18 was never adopted by any military throughout the world. It would go on to influence other designs and its civilian semiautomatic-only version known as the AR-180 would be more familiar to most shooters.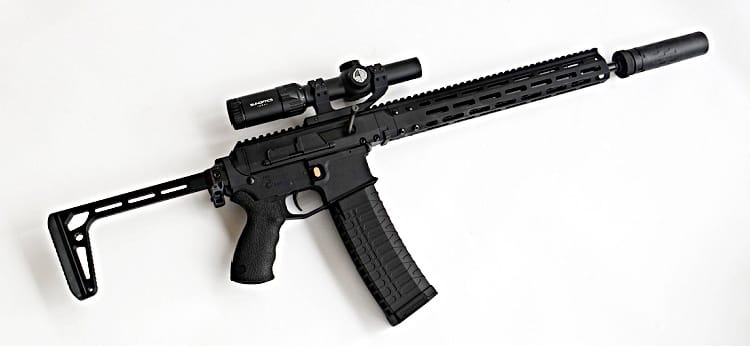 The AR-180 was made by Armalite of Costa Mesa, California, and under license by Howa of Japan and Sterling of England. Its greatest claim to fame would be its use in the 1984 movie, The Terminator, wielded on-screen by Arnold Schwarzenegger.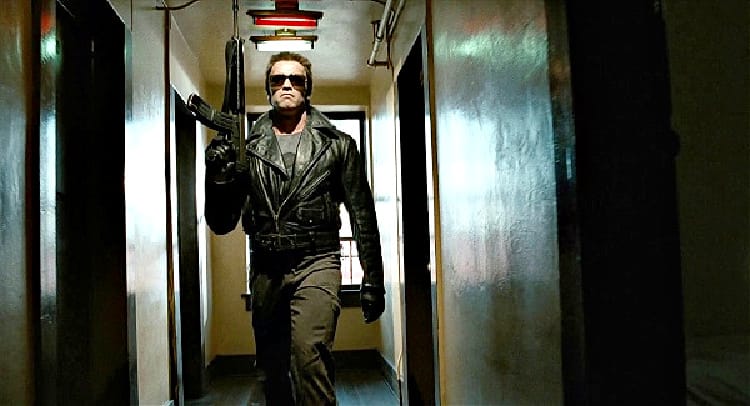 While I liked the light recoil, available carrier, and side-folding stock, the rifle was not as accurate as my AR. The main problem I had with it was the proprietary magazines. I only had one and as the rifle was out of production, factory magazines were non-existent. Ram-Line (aka Jam-Line) offered a magazine that was compatible with the AR-180, AR-15, and Ruger Mini-14 and it was abysmal in all 3 with regard to reliability.
I sold the rifle off during the period in which US citizens lived under an oppressive and noxious piece of legislation known as the Federal Assault Weapon Ban for nearly 4X what I paid for it. I liked it enough that it would stay somewhat on my radar. That is, if I were to find another at a reasonable price with a stash of magazines, or if someone would improve the rifle by allowing it to use standard STANAG AR-15 type magazines.
Roughly 25 years later, my prayers would be answered by Brownells when they rolled out their AR-180. To be fair the company which took on the name Armalite (Eagle Arms) did produce aversion known as the AR-180B between 2001 and 2007. It used a molded polymer lower receiver and the rifle took standard AR-15 magazines. Unfortunately, it did not prove to be a popular seller.
Brownells makes good guns better
If there was any company that could pull off a correct redesign of the AR-180, it was Brownells with their BRN-180 design. The original Armalite version had crude sights and a wonky scope with a mount. Brownells solved this issue by adding a Picatinny rail to the top of the upper receiver so the shooter could add whatever sight or scope option they preferred.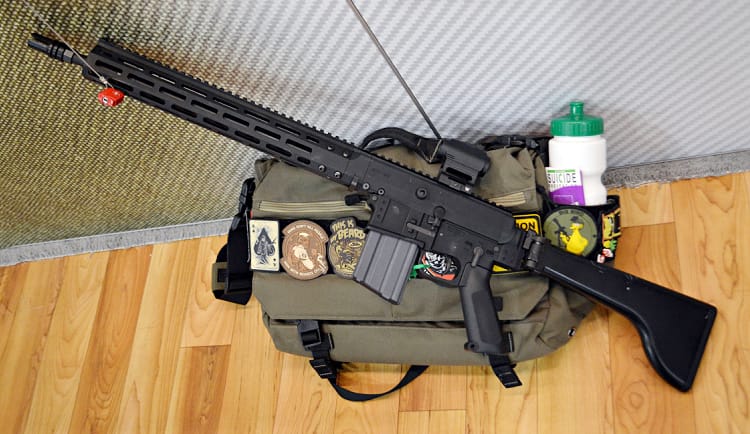 Like the original, the charging handle is side-mounted and reciprocating. As it extends from the right side of the receiver, shooters should not have the locking hardware on that side for their mount as it could be problematic. The rear of the upper receiver is sealed and there is no way for the gas to vent or bleed through the upper as it would on an AR-15. This makes the BRN-180 a good candidate for suppression without the use of an automotive silicone sealant, oversized charging handle, etc.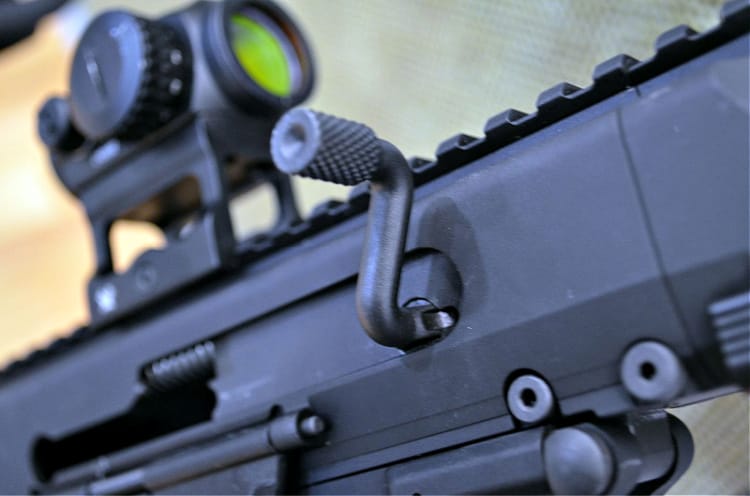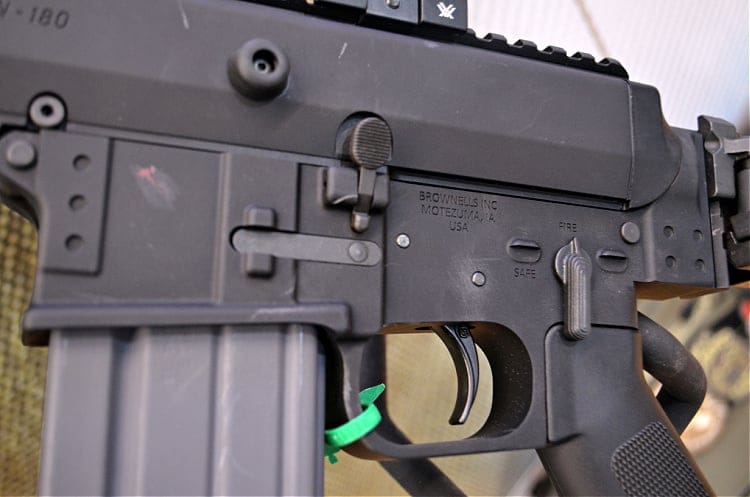 The barrel on this build is a standard 16" version made from 4150 carbon steel with a 1:8 twist to the rifling. It is chambered in 223 Wylde, allowing the use of both 5.56 NATO and 223 Remington ammunition safely. The barrel is threaded ½ x 28 and features a three-prong flash suppressor like the original.
If you want to remove the factory muzzle device, it is secured with a jam nut. You will need to rotate this nut counter-clockwise (toward the receiver) and then the flash suppressor will turn off correctly.
Should you want to add a silencer, there is another important step. On the 16" and 18" versions, the piston cup will need to be swapped out to run the rifle suppressed. The10.5" version is equipped with an adjustable gas block and the rifle-length versions may be shipping that way as of this writing, but this version needed the change.
Detailed instructions are given for this procedure, but you will most likely need a solid rubber mallet to beat the handguard off the rifle because it did not move easily at all for me. Once removed I mounted a SilencerCo Saker in order to run this rifle suppressed.

Brownells initially offered the upper receiver of the BRN-180 as being able to be mounted on any mil-spec AR lower receiver. The only problem with that is the cost of adapters if you want to take advantage of using a side-folding stock. A Sig Sauer MCX lower should host the BRN-180 upper but as of this writing, that has never been available from Sig as a stand-alone item.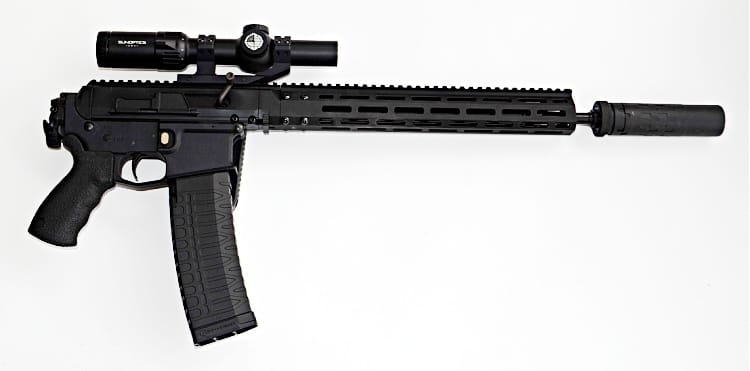 Fortunately, Brownells came to the rescue by releasing a BRN-180 lower receiver a while back. Completing one is on par with assembling an AR lower, with two notable exceptions: the threaded pin for the bolt catch and no need to install the buffer tube/receiver extension, etc.
I used a standard lower parts kit with a few upgrades including a Geissele Maritime bolt catch, Blackhawk Industries pistol grip, a tan Seekins Precision magazine release, and a CMC trigger.
The rear of the lower receiver has an M1913 Picatinny rail to attach a stock or brace and I went with Sig's excellent aluminum side folder. Unlike an AR, you can fire this rifle with the stock folded if you choose.
With the BRN-180 completed to this point, I marveled at how much better the new version was. The look of the forgings was superior to the old stamped sheet metal of the original. The aluminum stock and forend were light years ahead of the old plastic furniture developed in the 1960s and most importantly, there is a near-endless supply of magazines out there.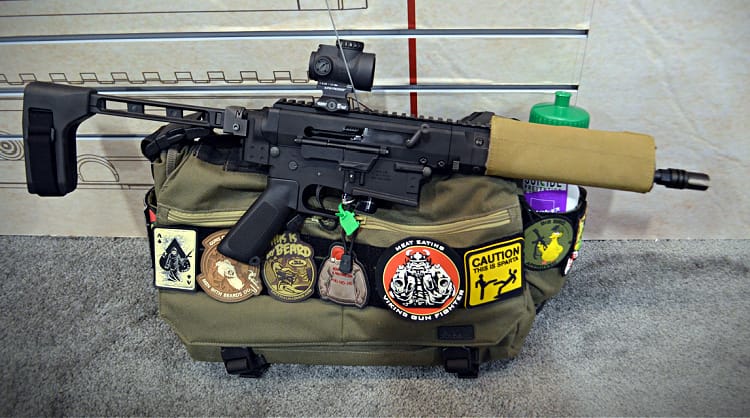 BRN-180 Accessories
I decided on a Sun Optics USA low-powered variable optic for this build. The Mantis is a 1-6X24 LPVO with an illuminated reticle and a Weaver tactical cantilever mount with wing nut mounting screws on the left-hand side. There are several illumination settings and the reticle resembles a horseshoe with a rangefinder off to the side.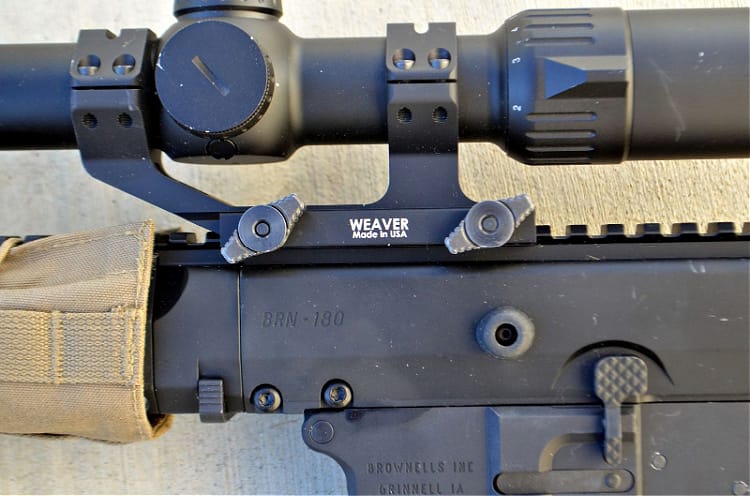 Additional accessories included a nylon suppressor cover to wrap the rear of the handguard and a Mid-Evil Industries 360 degree vertical foregrip. Off to the 6 o'clock position I mounted a Streamlight equipped with a Fire-Tail.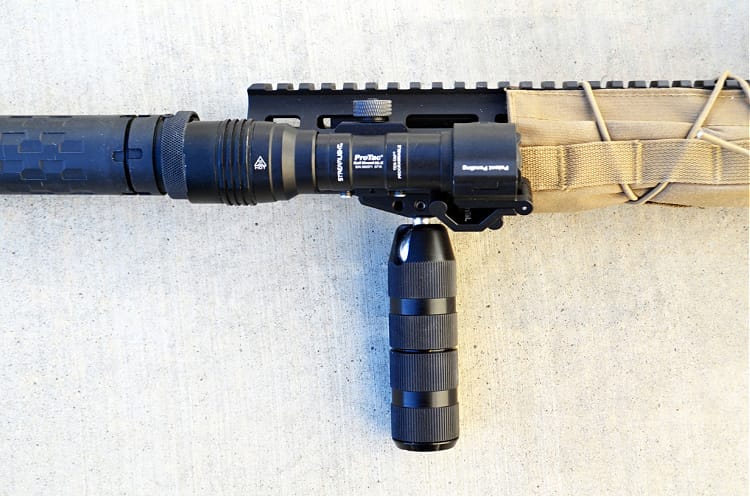 The Fire-Tail attaches to the body of a handheld 1" diameter flashlight with a push-button tail cap. The activation arm rests against the push button itself. It is especially useful for mounting lights on rifles on the opposite side of your support hand without having to use a remote switch.
At the range
Being that we are still in the midst of an ammunition shortage, I did not have the opportunity to do a 1,000+ round torture test but was able to shoot 200 rounds in one session with a later session of 300 rounds.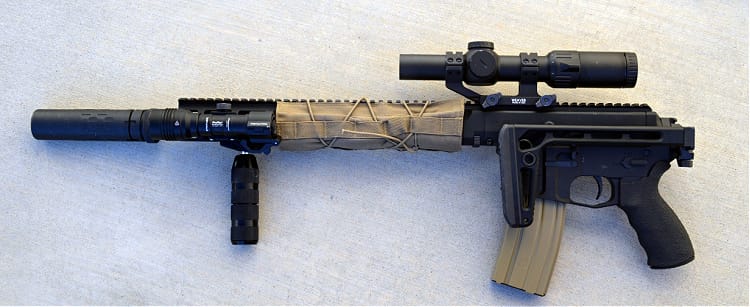 The rifle functioned flawlessly with a variety of magazines between GI and PMAGs. Felt recoil is about on par with a typical AR-15. The twin carrier springs are more than sufficient.
As far as suppression with the SilencerCo Saker goes: the can meters at about 136 decibels. The SilencerCo crew chose Stellite for the baffles and stainless steel for the body of this unique can. Even though small in stature, its durability is never a question, and its 14.2-ounce weight and 5.5" length simply screams maneuverability. The sealed rear of the upper receiver made it downright pleasant from a gas perspective.
With regard to accuracy, the first session was ringing steel at various distances and the report from the steel was louder than the actual shots fired it seemed. Flat range time in the second session was devoted to accuracy and 1.5 to 2.2" at 100 yards seemed to be the average from the bench using range bags. A bipod or tripod might have helped improve this.
Brownells now offers the BRN-180 in 300 Blackout and if you want a piston-driven rifle in either 300 Blackout or 5.56 NATO caliber this is a good way to achieve that without going the typical AR route.
The AR-180 may have seen like a niche firearm when black rifles were more of a novelty act in the 1980s, but Brownells managed to bring this one back to life with some very much needed improvements.