No, you can't always get what you want
You can't always get what you want
I love music, but I'm not much of a Rolling Stones fan even though they speak the truth. Last night I ran my AR15 pistol build through the table saw to make a modification because I needed a shorter handguard.
You can't always get what you want
But if you try sometimes, well, you might find
You get what you need
I didn't get what I want, but I ended up with exactly what I needed; a handguard that fit my specific application.
Relax…
To be fair I didn't run my whole gun through the saw, just the handguard. At the same time, it felt pretty odd to be cutting down AR parts on my saw. People get worked up when the Dremel tool comes out. This took the home gunsmithing game to a whole new level.
But there was a reason for my actions…
My Life is Quiet Now…
Recently I started to work more closely with Black Boar Armory and Coatings. One of the things they do is suppressors. Now suppressors haven't really been my bag because of the cost and wait times associated with getting ahold of suppressors.
All that changed when BBAC added me as an agent on their FFL. I now have the ability to check cans out from the shop for testing and evaluation. This has caused an interesting chain reaction when it comes to my AR15 pistol setup.
The AAC M4-2000
One of the suppressors I have been putting to use is the AAC M4-2000. This can is pretty slick. It has a durable feel to the build with a fully welded Inconel 718 core and stainless steel can over top. The suppressor reduces sound from 32-34 dB and the can attaches to the included 51T 1/2×28 Blackout Flash Hider with the 51T Ratchet System.
So, Why Did I Run My AR15 Through the Table Saw?
That 51T Ratchet system is where the problems started. I love the positive feel of the can locking in place. The fact that I was running a 12" handguard on an 11.5" barrel made it difficult to remove the suppressor. The ratchet release needed to be depressed to unscrew the can. With the release sitting under the handguard, depressing the release was spotty at best.
I tried to use the tip of my blade.
I used a bobby pin.
Even a plastic knife from some take-out…
I could make it work, but it wasn't pleasant and it wasn't "quick release."
My upper is an Aero M4E1 Enhanced upper which limits my handguard choices. Aero makes a 12" and a 9". Neither is perfect as I want to get my light out as far toward the end of the can as possible. The 9" would have been sufficient, but the fact that it is currently out of stock was a deal-breaker.
So I decided to hack off my handguard.
Cutting Aluminum
Cutting aluminum isn't a bid deal on a table saw. You can buy a special blade intended for cutting aluminum, but it really isn't necessary if you have a sharp blade. Carbide teeth make it easy peasy.
I measured. Then measured again and made a conservative first cut and dialed in the adjustment to get the best cut I could.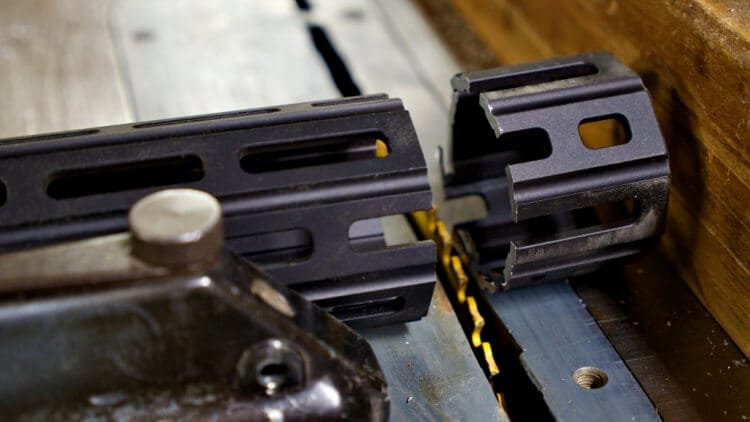 I set the blade low so I was only cutting one side of the handguard at a time, so I repeated the cut on each side of the handguard. I was done in a matter of minutes.
The Final Product
I took another few minutes and hit the edges and corners with some fine-grit sandpaper and then hosed down the raw metal with some flat black rattle can and put it all back together.
The result isn't disappointing. It isn't perfect either.
What I want is the perfect handguard for me from the factory. It might exist, but if it does, it costs money. My project didn't cost me a dime.
You can't always get what you want
But if you try sometimes you find
You get what you need
And that is what I ended up with. Exactly what I need.
My Shift in Thinking
I'm a relatively resourceful and capable person when it comes to making things work. Finding a workable solution that had me up and running in short order for no additional money was satisfying. More satisfying than dropping coin on something I wanted but didn't need.
I'm not suggesting you should take your AR15 pistol to the table saw, or even a Dremel. However, finding ways to adapt the gear that we have to fit our parameters just makes sense.
I'm still looking for a section of MLOK rail that I have stashed someplace special so I can fully complete the modification, but I'm pleased to have made headway on my AR15 Pistol.