It's April Fools! Now is the time when the gun industry finds its sense of humor, and social media marketing people get to stretch their legs with all manner of silly posts. I've been paying attention to all the big names in firearms and thoroughly enjoying the April Fools posts. I gathered my favorite April Fools post for you, just in case you missed them.
Springfield Goes Retro, Really Retro
Springfield Armory presented the first April Fools joke I saw this year. They premiered the Springfield Model 1807, a .69 Cal Smoothbore handgun…and yes, it's red dot ready! You can't bring a new gun out without red dot compatibility, right?
The Springfield Model 1807 is a .69 caliber ball shooting, muzzle-loading firearm with a 10.5-inch barrel with a walnut stock, and well, you can read the flyer. While unbelievable, I would love to see someone bring out a red dot-ready replica, just because. Maybe add a pic rail? I wouldn't buy it, but someone would. Maybe.
Beretta Adds One Barrel
Beretta's April Fools joke starts with an understandable concept. The Federal Migratory bird act means you can only hunt with three rounds in a shotgun. That's why so many pumps and semi-autos come plugged, but over-unders are still a favorite. With that in mind, why not an O/U/U.
Beretta unveiled the O/U/U, a three-barreled shotgun with the barrels stacked vertically. It's not the first three-barrel shotgun, but it's a Beretta. As a shotgun guy, I unironically love this. It'd be heavy….but give me a coach gun version.
Vortex Goes Nerf or Nothing
Vortex unveiled this morning that they were getting into Nerf guns. Specifically, nerf gun training. The new Vortex Edge course would be a Nerf Overview, and Vortex wants to fill a gap in the market by offering tier 1 Nerf gun training. The lead instructor, Jayden, will teach classes before his nap time every Friday.
Vortex leaned into the idea and equipped a few polymer dart guns equipped with Vortex red dots. It's a pretty sweet setup, and honestly, the link was a great way to get eyes on their Youtube channel.
Get a Grip With Smith and Wesson
Smith and Wesson popularized the idea of replaceable backstraps. When they unveiled the feature on the original M&P, I doubt they knew they were starting a revolution that changed firearms. On this April Fools day, they continued to pioneer with the advent of two new grip options.
The first is grass that lends a natural feel to the rear of your gun. Plus, now, when those little turds on Fortnite tell me to go touch grass, I guarantee I will! The second is Silly putty. Sure it seems unusual, but how else can I put Sunday comic strips on the back of my gun's grip?
Primary Arms Goes Tall
The recent theme in the world of risers has been taller. 1.93 risers rule, and they're great. Seriously, there are super sweet, but why can't we go taller? That's what Primary Arms asked, and then they went tall, real tall. Tall enough to measure in feet and not inches. The new Hipfire riser means you don't ever have to shoulder your rifle.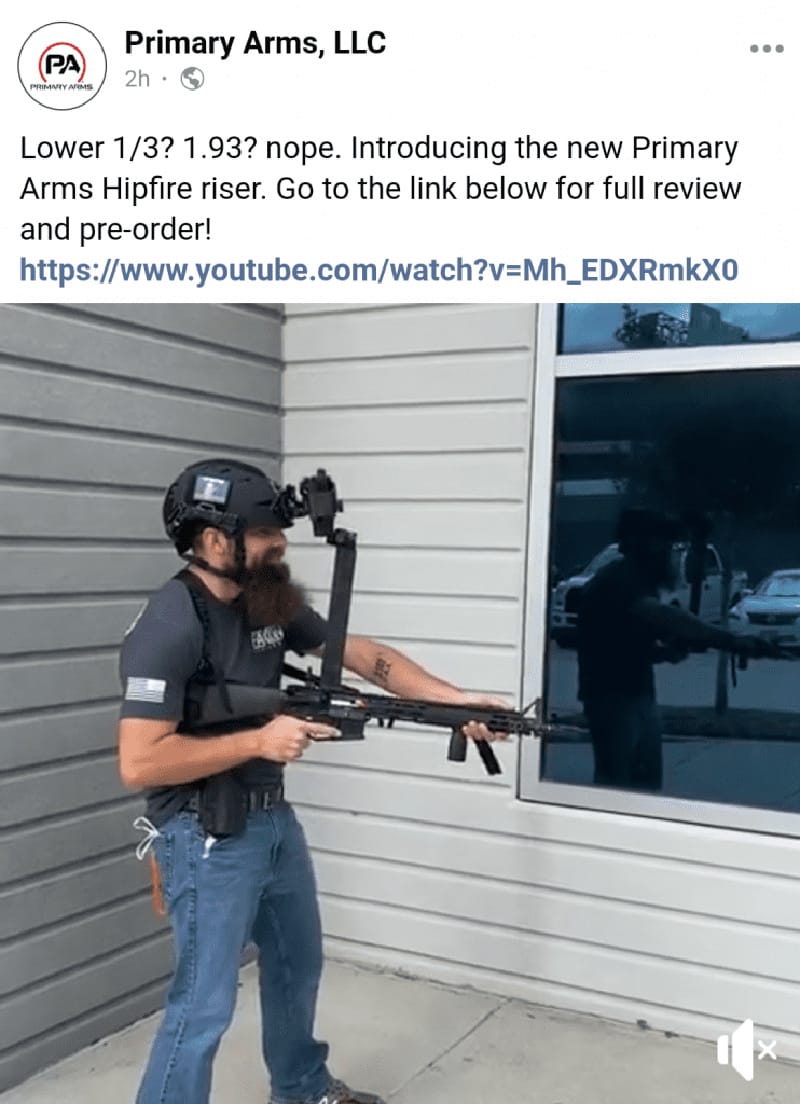 What I love most about this is that Primary Arms actually went and stacked risers to make this a real thing. Most of these April Fools jokes are mock-ups, but Primary Arms went real with it, and they deserve credit.
Tulster Adds A Wipe
Red dots have become the norm on handguns these days. Why not? They rule, but they also present new problems. What happens when your screen gets too dirty or too wet? What do you do? Well, Tulster has your back, and they produced a cover to fit your RMR that provides a windshield wiper or red dots lens wiper.
It's spring-loaded and promises to keep your screen clear and clean. Tulster calls it the Viper Wiper, and it's available for pre-order now! Well, not really, because it's an April Fools joke.
Guns.com Suggests Concealed Carry Pistols
A Guns.com email hit my inbox early today that advertises the best-concealed carry pistols. The top of that list was the obnoxious Heritage Manufacturing Rough Rider with that obnoxious 16-inch barrel. It's absolutely ridiculous and also genius. Plus, not only do they provide a hilariously bad CCW gun, but they toss it in a generic Uncle Mike's Sidekick holster.
The email goes on to also advertise a pistol variant of the Sten gun as a very handy concealed carry gun, as well as an Army and Navy 45-70 single-shot rifle line thrower. They put it simply, go big or stay home.
Brownells Starts a Holographic Gunsmith Service
Brownells has become well known for their retro options for various rifle and even 1911 platforms. So it took everyone by surprise when they unveiled the ultra-modern Holographic Gunsmith service. Brownells unveiled this new technology that would take the online chat and phone line advice to new levels.
With an introductory price of $99,999.99 you get a Bronwells Hologram projector, and of course, expect the monthly fee. Like everything today, a subscription is required to get the most out of your service. But hey, at least you won't install your muzzle device wrong ever again.
Dark Star Gear Solves Problems
On this April Fools, Dark Star Gear has finally solved the Enigma. The Enigma from Phlster comes with a silly little leg leash, and forever no one knew what it was for. I used mine to carry my keys. However, Dark Star gear figured it out. Well, they just tossed and made something better.
The Dark Star Gear replaced that pesky leg leach with a heckin ton of duct tape. This way, you can make the leg leash that directly attaches to your leg. Duct tape is the M-LOK of human flesh.
Langdon Teases My Heart
Langdon Tactical dropped the hottest Beretta ever on April Fools, and it breaks my heart that it's not real. I love the Tomcat and Bobcat series and tip-up barrels in general. These tip-up barrels guns are so cool, and Langdon Tactical released a picture of the most advanced gunfighting model ever.
The LTT Chocolate Chip RDO Bobcap introduces RMR compatibility with the little gun. You get a threaded barrel as well as suppressor height sights to top it all off. Replace the RMR with a smaller Shield RMSc sized optic, and I'm all in.
FN USA Gets Into Housewares
Last but not least, FN unveiled Herstal Homegoods, including a variety of products. We got plates, a precision knife set, a tactical apron, and an FN 509 Grill Striker Fire lighter. Oh, and my favorite, the SCAR cutting board. I know it's an April Fools joke, but make that cutting board, and I will buy it. I promise FN. I will!
April Fools Out
These were my favorites. My all-time favorite is still Vortex's 2016 classic, the EBR-12GA, a shotgun scope made for turkey hunters. I've certainly missed some. Let me know your favorites below.