I love old Colt handguns. 1911s, 1903s, Peacemakers, Pythons… the list can go on. There is just something about the designs and workmanship on these old guns. The feel of American steel in your hand, the history these firearms have seen, and some of them have even been a part of changing it, are all there in spades with these old handguns — this 1913 Colt 1911 is a perfect example of old Colt gravitas and history. This will no more be a "typical" Colt 1911 review than the Opus X is just a stogie.
1913 Colt 1911
The old Colt in these photos is 107 years old. She started life in the Colt Factory in 1913 as a Commercial model, meaning it was for civilian sale. It was around this time that the Argentina Navy had a couple of battleships built here in the US. They also chose to outfit their arms lockers with American small arms. This old Colt was one of these. Colt roll-marked the slide "Marina Argentina" and off she went off to sail the seven seas.
There's even a wee little loop on the bottom of the original mag, so you could tether it to you (or to the gun). Mags are hard to find on the high seas.
Not here. We have plenty of 1911 magazines: including Colt mags. in several calibers.
Skip ahead to about 2006 and she shows up in a Pawn Shop in northern Nevada, about as far for the sea as you can get. At some point along the journey, she was Parkerized. But many of the original parts remained and they all sported the inspector stamps from when she was conscripted into the Argentina Navy. A few years back I sent her off to Turnbull to be redone in her original finish. She now looks and shoots like the day she was born.
⬇️ More below some mag suggestions. ⬇️
---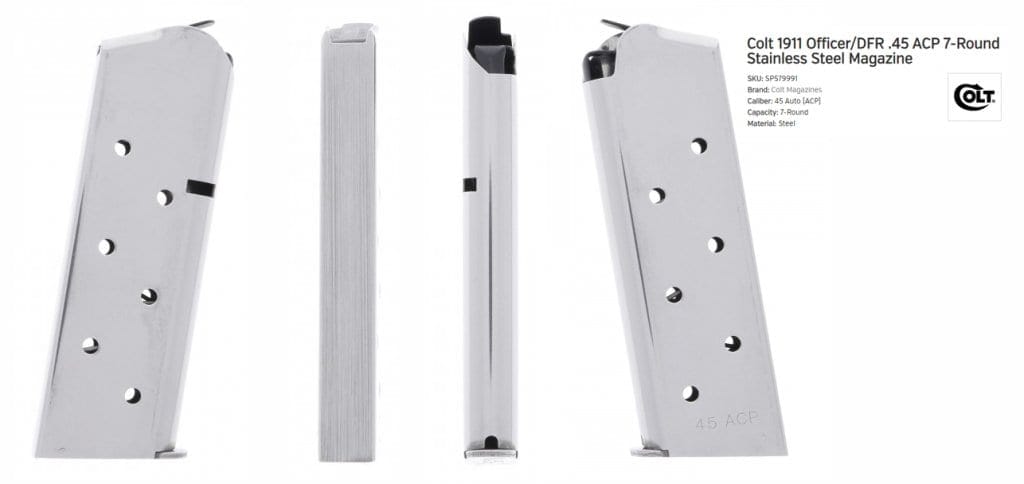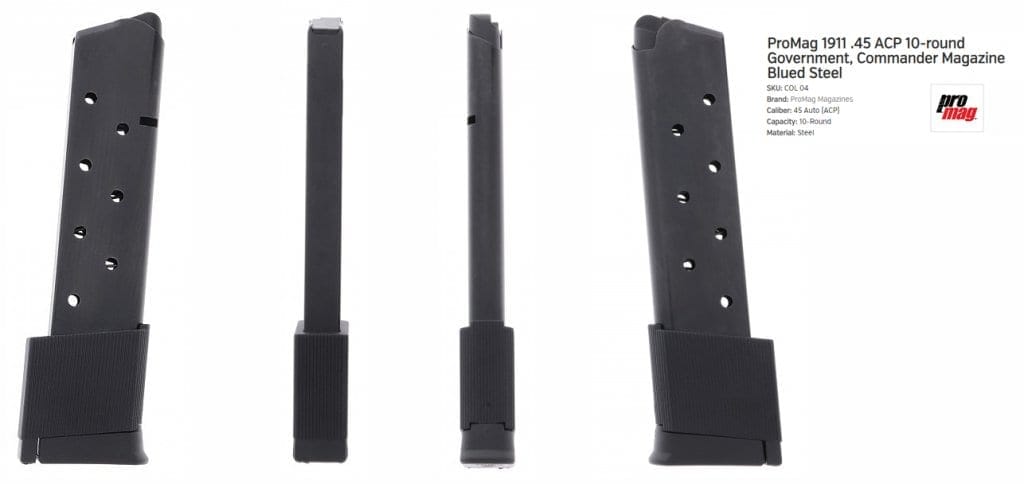 ---
What to Smoke?
Fuente Fuente Opus X
A special gun like this deserves a special cigar and they don't get a whole lot more special than a Fuente Fuente Opus X. As rare as regular Opus X cigars are, the ones here are even rarer. You are looking at Opus X BBMF (Big Bad Mother…), LBMF (Little Bad Mother…), and a Chili Pepper.
These special shapes are not typically found in stores but are used by the Fuente Family as fundraisers for charity or are given as gifts.
Shooting Notes: Like stepping back in time. She handles like you expect a venerable 1911 to handle, but there is just something special about it when you pull the trigger.
Tasting Notes: Rich, full-bodied cigars with a good amount of peppery spice, cedar and leather with hints of cinnamon.