Mini red dots are all the rage these days, right? Most follow a pretty simple setup of a screen and an open emitter. However, Aimpoint did it differently. They broke the mold when they created the Aimpoint Acro. The Acro was the first closed emitter mini red dot appropriately sized for a pistol. It defied expectations and created what's likely the most reliable red dot on the market. Holosun followed with the second-ever enclosed emitter in the form of the Holosun HS509T. So which is better? Which is the best-enclosed emitter red dot? Who wins when you put them in an Acro vs. 509T showdown?
That's the main reason I wanted to compare the two. Both use enclosed emitters, so I thought, heck, let's see which one is better. Along the way, I discovered that outside of the enclosed emitter, the optics didn't have much in common. But let's dive into it and really sus out which makes the most sense for you.
Aimpoint Acro vs. Holosun 509T Specifications
The Aimpoint Acro weighs 2.1 ounces and is 1.9×1.2×1.2 (LxHxW). The HS509T comes in at 1.72 ounces and is 1.6×1.16×1.13 (LxHxW). Both optics are relatively compact but notice the Holosun compares better to traditional red dots like the Trijicon RMR in size. The Acro occupies a larger than average space in the red dot market and seems to lean more towards duty use and even use on red dots.
In terms of window size, the Aimpoint Acro presents a .63x.63 perfectly square window, and the Holosun 509T offers you a slightly larger .66x.9 inch screen. You can say, "Oh, bigger is better, but on handguns and heck, even long guns window size doesn't make an operational difference on mini red dots. One is clearly larger than the other. Holosun made their design more efficient, but ultimately I don't see a huge victory for either side in this section of our Acro vs. 509T debate.
It's the Inside that Counts
So we saw the size and weight, but what really matters is what's on the inside. That's what momma always said, but maybe I was just an ugly kid? Well, since this is getting dark quick, let's look at reticles first.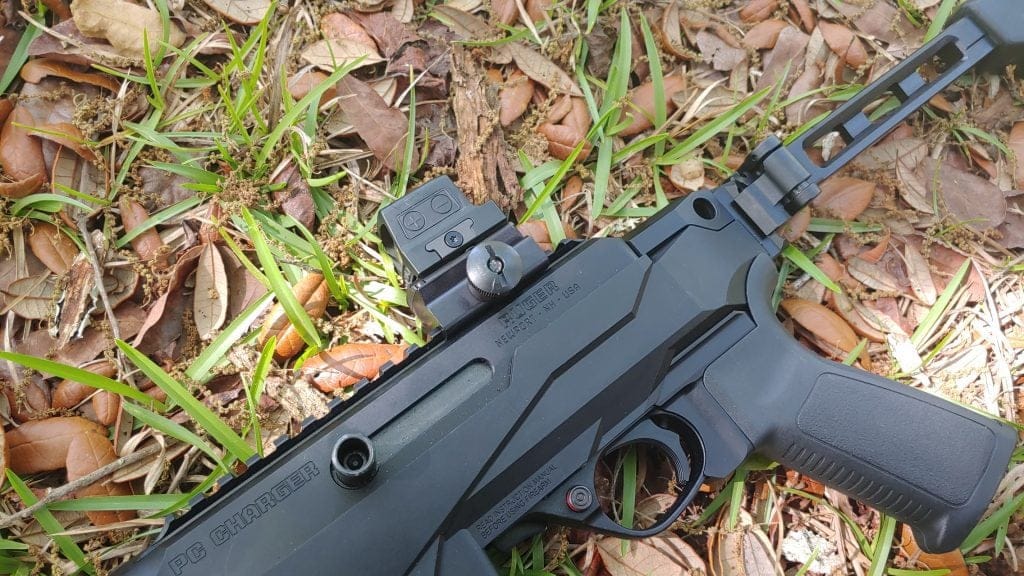 The Things You Aim With
Reticle wise we have two very different optics. When we started talking Acro vs. 509T, I instantly knew this would be an interesting playground. The Acro comes with a super smooth and clear 3.5 MOA dot. The dot represents a perfect compromise in size and versatility. On a handgun, it's small enough to be easily seen, and on long guns, it can be used at various ranges with the precision of a long gun.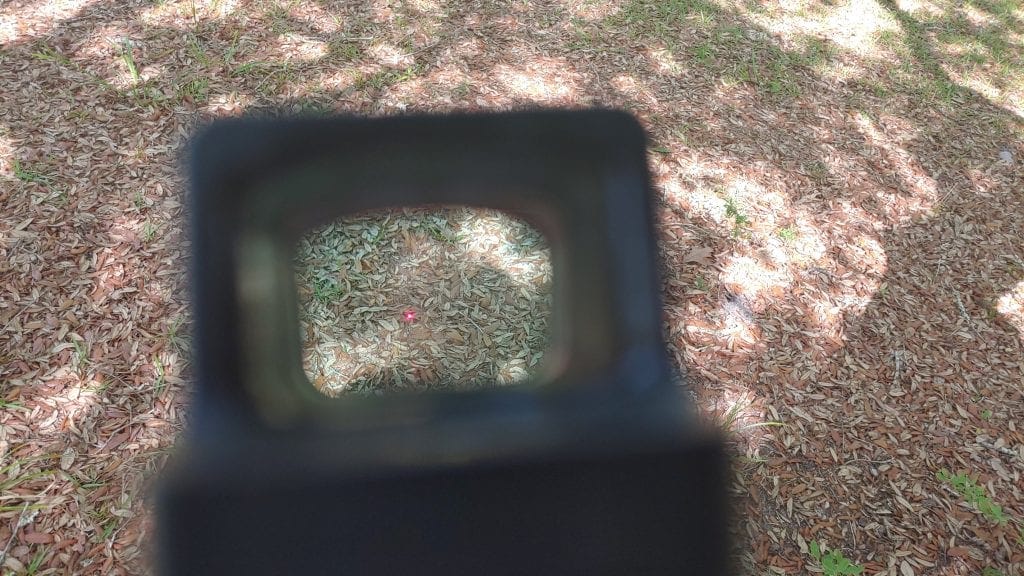 Holosun fills their optics with what they call the multi reticle system. The 509T is no different. We get two reticles. One is a 2 MOA dot, and the other is a 32 MOA Circle with a 2 MOA dot in the center. 2 MOA is pretty dang good for a long gun. Small enough to be precise for long gun ranges. The big 32 MOA reticle is great for close-quarters shooting but gets a little crowded at extended ranges.
I like the multi reticle system, but shooters might find the 2 MOA dot a little small for handgun shooting. On a long gun or sub-gun, it's perfect. The Acro's 3.5 MOA dot provides a simple reticle for any firearm. However, having more than one reticle is also a nice touch—that 32 MOA reticle grants astigmatism sufferers with a clear reticle for easy use.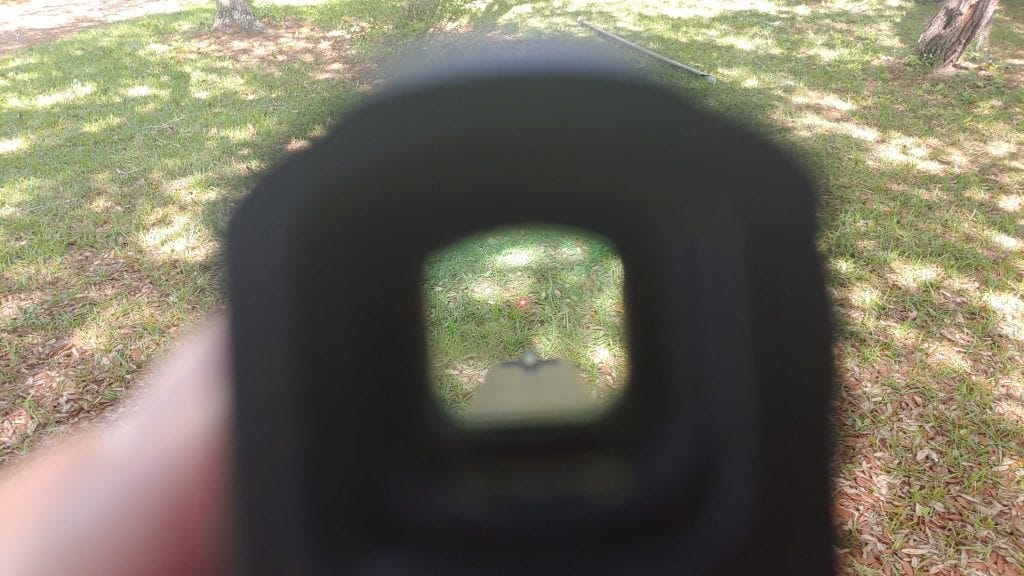 Brightness Settings
Red dots are all about being the brightest guys at the party, but where does each optic stand up in the Acro vs. 509T grudge match? Well, the Acro P-1 comes with six daylight settings and four-night vision settings. The 509T has ten daylight settings and two-night vision settings.
Both get adequately bright under daylight conditions and do a fantastic job of facing down any level of daylight level lighting. The Acro, in particular, has a super bright setting I very much like for high noon in the Sunshine state.
More options are often better, but with the Acro, I enjoy the efficiency of fewer settings. I can spin up to daylight bright and down to indoors bright or low light much quicker than I can with the 509T.
Optical Ergonomics
Ergonomics seems like a weird sticking point for optics, and believe me, and I don't have a ton to say. Both optics require a small tool for adjustments. The Acro delivers weird 17mm at 100-yard adjustments, and the 509T sticks to 1 MOA adjustments.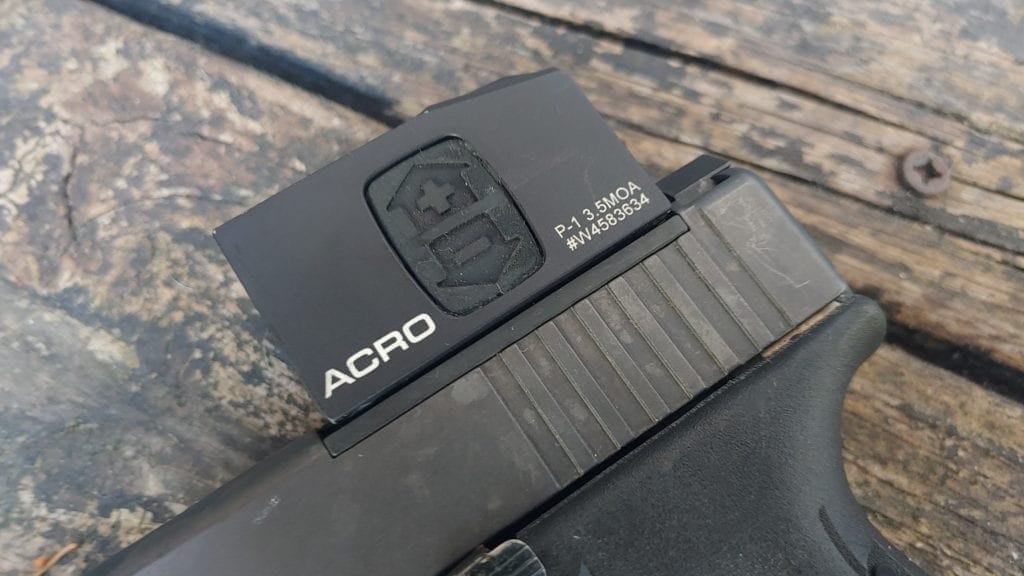 While the Aimpoint Acro has weird adjustments, it didn't make much of a difference in my shooting. The big ergonomic departure comes from the controls. The Acro blows it out of the water. The huge buttons are very easy to reach and textured, so you can identify which is which with just the feel of your thumb.
The 509T packs little buttons for adjustments. Accessible, but not as ergonomic as the Acro. The Acro has a clear advantage and puts the size of the optic to good use when it comes to button designs. This round goes to the Acro in this Acro vs. 509T fight.
Battery Life
Since I gave an easy one to the Acro, let's give an easy one to the 509T. The Acro packs 15K hours of battery life which translates to 1.5 years on setting 6. The HS509T packs 50K hours of battery life and backs it up with a solar panel.
This was an easy checkmark in the 509T category of our Acro vs. 509T battle of the enclosed emitter optics.
Keeping it Clear
So which optic provides a clearer view? To be fair, in this category, the difference isn't significant. A mini red dot is not a magnified optic, so clarity isn't as important as other categories. However, that all being said, the Acro presents a clearer set of lenses. The downside to enclosed emitters is the two lenses which can cause greater distortion.
Both have a noticeable blue tint, but the Acro presents an overall clearer image when you focus between the two.
Durability
The Houston 509T has a decent durability rating for its price range. It can be submerged up to 1 meter for 30 minutes. It's also rated for 5000Gs of vibration. It's not bad, but how does it hold up in our Acro vs. 509T grudge match?
Well, the Aimpoint Acro outperforms it. The Acro can dive deep, down to 80 feet. That's further than I'm ever going to take a swim at. Aimpoint tested the Acro on a 40 S&W handgun for 20,000 rounds, and it shrugged it off.
Aaron Cowan has proven the 509T can take some serious abuse too. It's no baby bunny. However, I have to be fair, and when we are talking Acro vs. 509T, the Acro takes a lead durability-wise.
Price
Oh my, here is where a big difference comes to be. The Acro retails for around 600 bucks. The 509T retails for around 430 bucks. Neither is exactly cheap. However, if budget matters, the 509T presents a cheaper price point by a rather large margin.
Which For Who?
If I was shopping for an optic, specifically a mini optic with an enclosed emitter, I would first and foremost consider what the optic was for. If I was doing an Aimpoint Acro vs. Holosun 509T comparison, I would consider the optic's role. If I was a professional user, like a police officer, private security, etc., then the Acro would be my choice.
Aimpoint has a very well-respected reputation for high-quality optics. Holosun has made waves recently, but Aimpoint has been putting out good optics for decades.
If I was a concealed carrier, someone interested in home defense, plinking, or whatever the 509T would be an easy choice. It's a very well-made optic that's passed the sniff test of some very demanding industry professionals. Also, If I had astigmatism or was specifically outfitting a shotgun, then the 509T would be an easy choice too.
Want the good news? Well, both optics are absolutely outstanding. Aimpoint always makes good optics, and Holosun is a rising brand that provides excellent optics at a great price point. Consider your needs, your limitations, and your overall use, and you'll get a good optic out of it.