Okay, we've all heard of the standard 30-round magazine. But, have you heard of the 32-round magazine? Well, guess what? Strike Industries has officially announced they will be releasing a new 32-round magazine to fit your AR-15. According to reports, it's a lightweight, high-strength polymer magazine with an anti-tilt follower and anti-slip finger grooves, and it's going to be available soon.
Yes, you read that right. In fact, we're told their first batch of magazines is almost ready.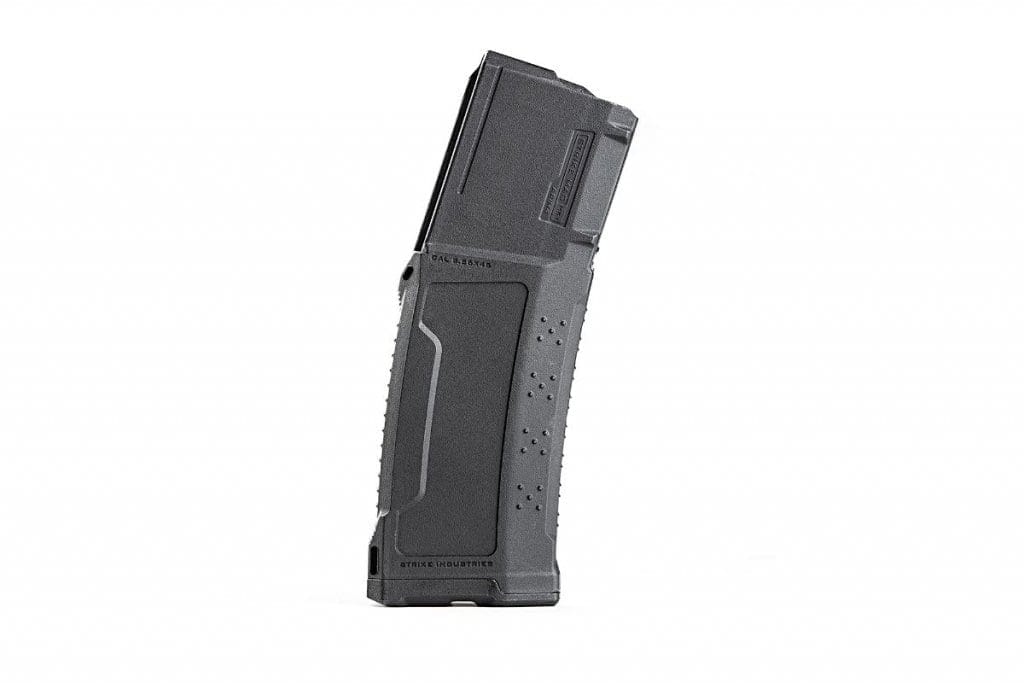 Strike Industries Magazine
Here's what you need to know:
32-round capacity
.223 Remington/5.56 NATO AR-15/M4/M16 compatible magazine
"AccuRamp" first-round feed tray design
Anti-tilt follower
Enhanced Geometry with anti-slip finger grooves
Lightweight high-strength polymer
Slick-profile design
Tool-less disassembly of magazine
And guess what, they're all made it the great ol' US of A! Now check out these photos.
Strike Industries has been busy this year, with several new releases in the past few months. The new AR Modular Magazine Release has three different magazine release options. Strikes Angled Vertical Grip with Cable Management sits on the handguard at 86º with an SI cable management function — the grip is intended to both organize and store excess wire/cable from weapon accessories.
The new Strike Industries Liteslide and Slide Completion Kit for Glock, released just last month, weighs less than the factory production model and is intended to reduce recoil momentum and allow for faster and more efficient follow-up placement. It's currently available for Glock G19 GEN3, but Strike says the G17 option will be available soon.
And then there's the new Magwell for Polymer80 PF940C and PF940v2 frames, released in July. Strike says the frames act almost like a funnel to the magwell to prevent reload bobble. The company says the magwell cuts fractions of seconds from reload time, which can make a huge difference in talking life-saving measures or during competitions.
We can't help wonder what's next!