Precision rifles are typically dedicated platforms, which means you have an entire, large rifle with a single purpose: Making beautifully precise shots. And while that is fantastic, it can also be nice if the rifle in question has some versatility. What if your dedicated caliber rifle was capable of performing as a multi-caliber platform? That's what the 21st-Tec Bellator has to offer. It's a multi-caliber precision rifle that makes it possible for shooters to have one rifle capable of running a variety of calibers with just a few quick parts swaps. With the Bellator, you have options.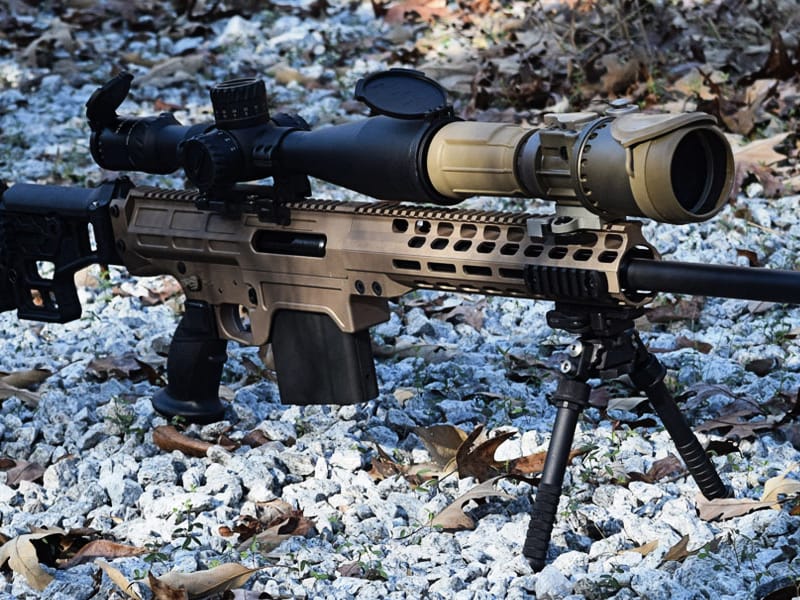 21st-Tec states their patent-pending Bellator Rifle System is a multi-caliber modular bolt action rifle that's specifically made to deliver superior precision. In fact, the gun maker says the gun is designed for sub-MOA long-range accuracy in not one but four calibers: 338 Lapua Magnum, 300 Norma Magnum, 308 Winchester, and 6.5 Creedmoor. That means whether you prefer magnum rounds, classics, or the current hotness, you're covered. This modular system was made with long-range shooting enthusiasts in mind and does it all from competitive shooting to range time to law enforcement applications.
The Bellator was created to offer the modularity typically associated with the AR platform. It has a variety of useful features such as a drop-in AR trigger, selector, take-down pin, grip, and magazine release. The barrel system, bolt, and magazine well are user changeable and created to make the process straightforward. The company also made the bolt with a forward-located left-hand handle and right-sided ejection.
Converting the rifle from 338 Lapua Magnum to 300 Norma Mag is accomplished by simply swapping the barrels. It's that easy because these two calibers utilize the same bolt and 10-round box magazine. The change from 338 Lapua Magnum to 308 Win is done by changing out the barrel, bolt, and magazine well, which remains a relatively easy process. When converted to 308 Win/6.5Creedmoor the rifle uses standard AR-10 magazines. The gun ships with either a folding fully adjustable stock or a non-folding fully adjustable Magpul PRS stock, giving shooters options according to their specific needs.
This rifle is offered in Hard Coat Anodized Black or FDE (flat dark earth). All rifles are shipped in custom-cut high-density foam hard cases with wheels to protect the firearm and provide easy storage and/or transport. The Bellator's button rifled barrels are made from 416SS and come in the following lengths: 338 Lapua Magnum and 308 Win in 24-inch length with 300 Norma Magnum and 6.5 Creedmoor in 26-inch length.
Rifles have Picatinny rails to make it easy to mount optics and other aftermarket accessories. All rifles have a listed empty weight under 12 pounds regardless of stock or finish.
MSRP for the 21st-Tec Bellator multi-caliber rifle is set at $5000 for non-folding stock and $5600 for folding stock models.